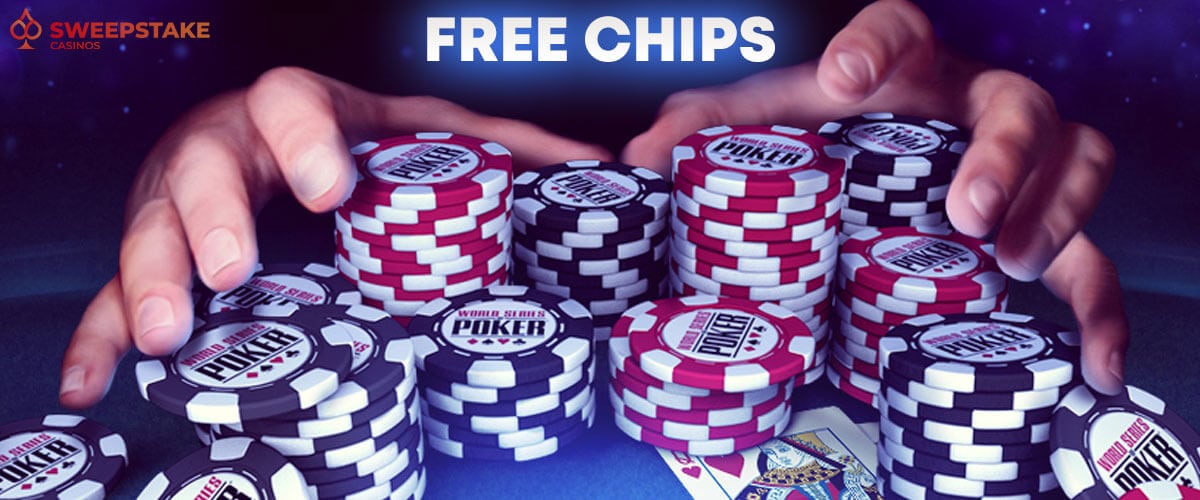 Texas Holdem poker fans can now celebrate with the new WSOP game, allowing US users to play poker online via their computer or mobile phone. Even better, though, it's 100% free to play.
In poker, there's no name more respected than the WSOP (World Series of Poker). All the biggest poker tournaments are hosted by them — the only problem is that to play with them, it'd usually cost you at least $1,000. Fortunately, with the WSOP poker game, WSOP has partnered with sweepstakes casino giant Playtika to develop the new WSOP app. With this app, you can play free poker through the WSOP website or on their official social media channels such as Facebook.
There are many ways to win and gain even more WSOP free chips; in this guide, we'll cover them all.
🎱WSOP Game Welcome Bonus
📜Bonus Code
Not Required
🎁Welcome Bonus
1,000,000 Free Chips
📅Expiration Date
None
🇺🇸 Valid States
All US States
⏱️Last Verified
December 2023
The only downside is the lack of cash prizes on WSOP; other sweepstakes poker sites like Global Poker, WOW Vegas, Pulsz Casino, and Fortune Coins let you cash out your winning poker hands though:
WSOP Free Chip No Deposit Bonus Code
Currently, there is no WSOP no deposit promo code. But don't worry — when you sign up, you'll get a whopping 500,000 chips for free and an additional 500,000 chips when you connect your account via Facebook, Google, or Playtika. This brings the total no deposit bonus to 1,000,000 WSOP chips.
These chips can initially only be used to play Texas Holdem and Omaha cash games — but as you rank up, additional game types will become available, like Jackpot Spin 'N' Gos and Heads Up cash games.

What is the WSOP First Purchase Bonus Deal?
With the WSOP first purchase bonus, you'll get 37,350,000 chips for only $2.99. That's a 150% bonus on your first purchase. Factor in that specially tailored offers are frequent on this site; it might well be worth holding out for a few days to see if they offer you an increased and much more attractive bonus percentage offer!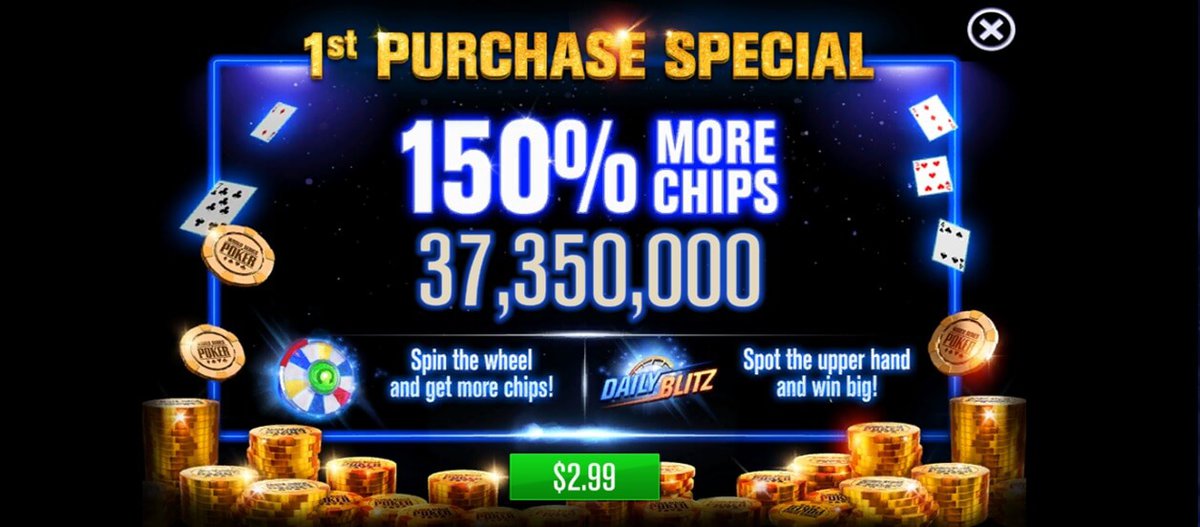 Additionally, you'll also get a free spin of the wheel to try and get an extra 10,000,000+ free chips, plus a free round of Daily Blitz.
No promo code is required for their first purchase special. Just click the limited time button on your dashboard to get immediate access to it.
How to Use the WSOP Free Chips Bonuses
The first step to getting WSOP free chips is by signing up. Below, we'll cover the entire sign-up process step by step to show you how to get the no-deposit WSOP welcome bonus.
There are many sites you can play WSOP Texas Holdem through. But to get the full advantage of the WSOP no-purchase welcome bonus, you must sign up on your chosen platform. Register on https://playwsop.com
From there, you can either register through Facebook, Google or sign up through Playtika.
Google and Facebook are the most simple to sign up through, only requiring you to link your account. But signing up directly is also very easy. Just enter your email and desired password.
Next, click through the prompts. And that's it. The 1,000,000 free chips welcome bonus is yours — no rewards code or sign-up promo code is required.
That's it. You're ready to jump into the action with a Texas Holdem cash game.
Since the WSOP app does not offer any real money gambling, it's available across the entire US. The only caveat is that all users need to be 21+ to play.
We recommend that new users first play through your free money bonus before going on to your first purchase discount offer. There are a wealth of additional bonuses, level-ups, bonus features, tutorials, and numerous ways to extend your free chips just by exploring all of the features in the lobby.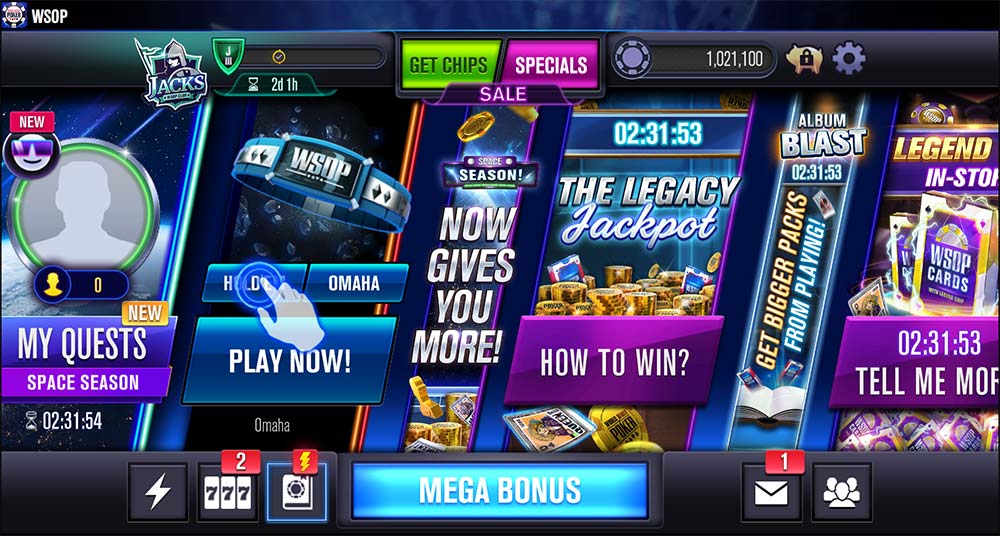 Who can use World Series of Poker Free Chips?
While a lot of legit poker sites have to abide by strict rules that limit their use to specific states— the WSOP is free from these rules. This is because the World Series of Poker app is 100% free to play without the possibility of gaining real money prizes. That may be a shame to some, but the upside is the WSOP mobile app is available in every US state. There are still some age restrictions, though, and per Playtika's terms & conditions page, all users must be at least 21 years old to play.
There's no state restriction to WSOP free chips either. If you can sign up with them, you'll also be able to take full advantage of their numerous free chips offers.
WSOP Reward Codes and Free Chips for Existing Players
WSOP free chips aren't just for new users either. Because at WSOP — there are countless ways for users to consistently win free chips. As always, these promos don't require any sort of unique promo code, and if you're an existing player, you'll be eligible for them. Below are the five easiest ways to win free chips at WSOP for existing customers.
Turbo Time Free Chips
Turbo Time is probably the easiest way to get WSOP free chips. Just log in once every four hours to collect your free chips. Exactly how many free chips you get will depend on your poker club level — but even if you've only got your Jacks, it's still 100,000 chips.
Even better, once you've triggered turbo times five times, you'll get a spin of the Turbo Time wheel for your shot at a grand prize of over 10,000,000 chips.
WSOP Free Spins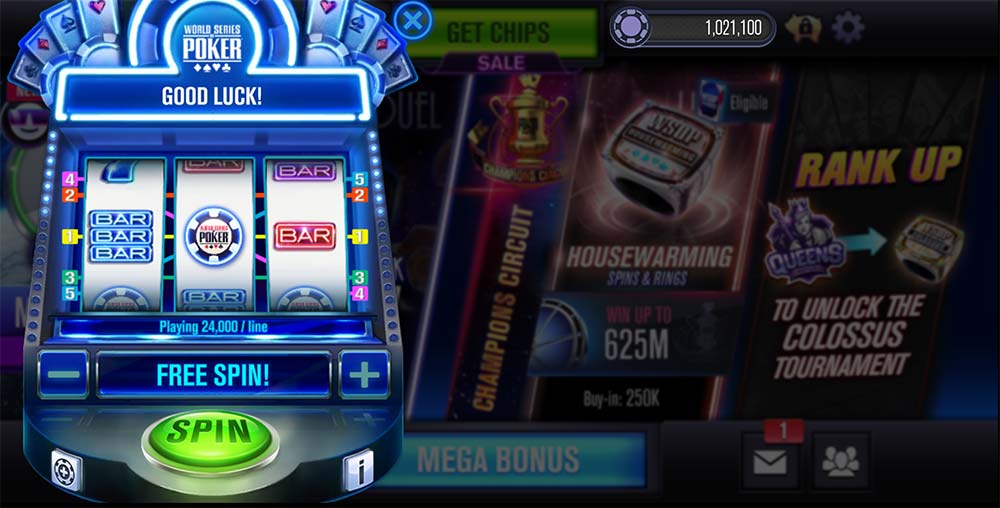 There are two types of free spins offered at WSOP. The most common is free spins at the WSOP slot machine, which awards free chips when you match three symbols in a row. The other type of free spins is awarded at the WSOP Win Machine, where not only can you free chips, but you can also win virtual WSOP rings.
Both types of WSOP free spins are awarded for free as you play poker.
WSOP Quests
WSOP quests award you free chips and other cool bonuses just for playing the game. The types of quests offered will vary — but they're usually in the form of winning 'X' amount of chips, with prizes being awarded on both a free track and a premium track which can be unlocked with a seasonal pass.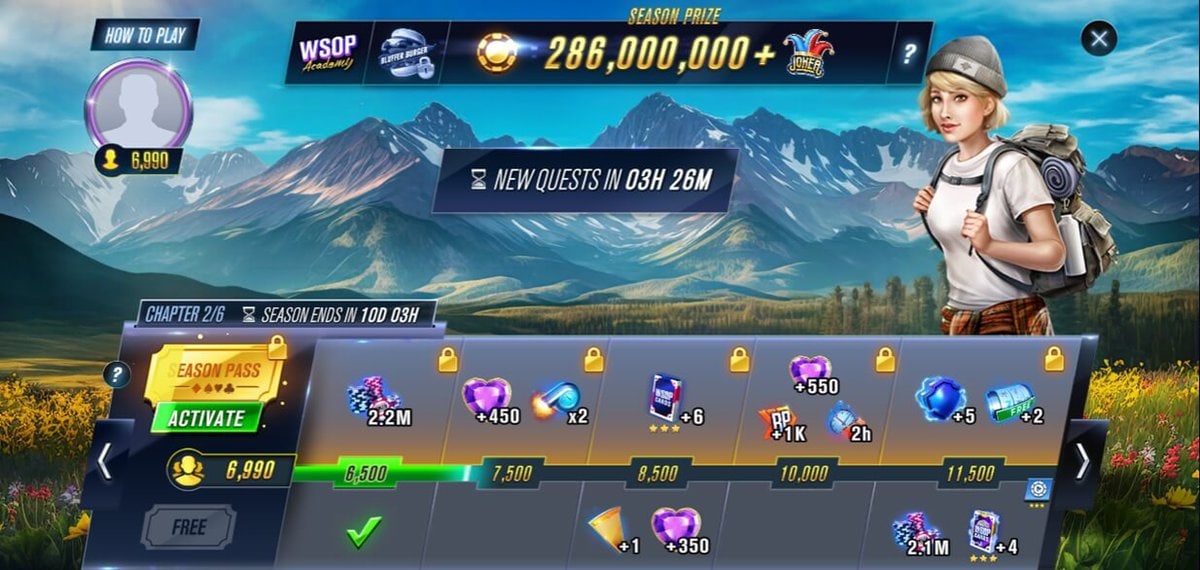 Even if you don't unlock the seasonal pass, you can complete the free pass to try and win the cumulative prize of 286,000,000 chips, plus some other cool bonuses.
Reload Bonuses
The first purchase bonus isn't the only premium bonus offered by WSOP — because if you're an existing customer, you'll find that all of your purchases come with a reload bonus. These bonuses will give you a starter bonus of 100% more chips, but the higher your Playtika status is, the more bonus chips you'll get. Additionally, once you make your first purchase, you'll get access to the WSOP Lucky Lounge.
Social Media Promotions
Social media promotions are common amongst most sweepstakes casinos we reviewed. And with the WSOP app, it's no different. Follow the World Series of Poker Game Facebook page to get access to quizzes and other free to play tournaments that pay the winners out in WSOP free chips.
WSOP Social Poker Site Standout Features
| ✅Pros | ❌Cons |
| --- | --- |
| 1,000,000 Free Chips For Registering | No Real Money Play |
| Great For Playing Poker | Limited Banking Options |
| Lots of Free Chips Bonuses | Lack of Poker Variations |
| Mobile App is Great | Lots of pop up offers |
| Available Across Entire US | |
| Easy to Register | |
| Tutorials for new poker players | |
Free Poker Games
The undisputed standout feature of the WSOP app is that you can play Texas Holdem anywhere across the US for free. Texas Holdem has always been one of the few game types that sweepstakes casinos haven't been able to replicate from their brick-and-mortar counterparts, but fortunately, this is no longer the case. Cash games are the main feature. However, users can also play a few tournaments and some Omaha poker once they've leveled up their poker club status.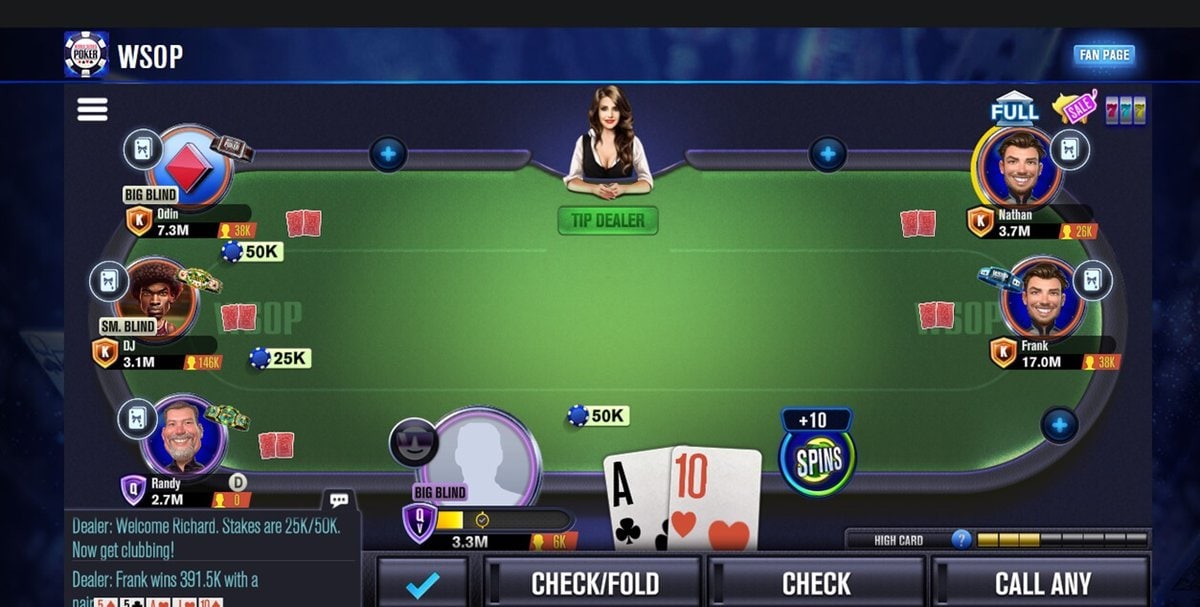 Most games are full-ring. Though there is a special executive game that features heads-up holdem.
Accessibility and Software
Having partnered with Playtika — the WSOP mobile app is superbly designed and allows players an identical experience whether they're playing on their desktop or mobile phone. The interface is easy to navigate. The buttons are all well-sized, so there's no real risk of hitting the wrong button — and when raising or betting, the slider scale system makes it easy to select the size of your bet.
Available on both iOS and Android devices, just type in WSOP Poker: Texas Holdem Game into the search bar in the relevant play store and click the download button.
Banking Options
With so many WSOP free chips bonuses, you don't need to purchase additional chips. But if you do decide to take advantage of one of the WSOP chip packages — you'll find it's very easy.
Banking options aren't as vast as they are for most sweepstakes casinos. However, while there are only two methods to deposit — I'd say they're probably the two most widely used banking methods. These methods are Credit/debit cards or PayPal. Just select the WSOP chip package you want to purchase, choose your preferred payment method, and then follow the prompts. Once completed, any purchase funds will be instantly available in your account.
Remember though, the WSOP poker app is free to play and offers no real money prizes, so no matter how many chips you win, you won't be able to redeem them in any form.
Social Network
The WSOP poker game has made a home on Facebook. And with over 3,300,000 followers, it's the best place to go for not only regular poker free chips promotions, but also for help on any issues you might come across.

On average, you'll get about one free chips promotion a day. This will usually be in the form of a quiz where you have to put your answer in the comment sections. If you guess correctly, they'll send you a free chips promo code via Facebook messenger.
With the WSOP poker game being heavily based around Facebook, it's not surprising to find that there aren't really any other official social media channels for the World Series of Poker game.
Tips to Win Free Chips on WSOP
Winning WSOP free chips is easy. You'll get free chips every few hours just for logging in. Though if you are looking for some tips to get even more WSOP free chips — below we'll be going over our top five tips for winning WSOP free chips.
Log in consistently — Log in once every six hours to receive free bonus chips as part of the WSOP Turbo Time bonus. Exactly how many chips you'll get will depend on your club rank, but it will always be at least 100,000 chips. Even better though, every five times you collect this bonus, you'll get to spin the wheel for a chance to win over 10,000,000 chips.
Collect all daily bonuses — Turbo Time is great, but it's not the only WSOP bonus on offer. Because once a day, you'll also get access to the Daily Blitz promo with a grand prize of over 50,000,000 — plus you'll also get access to new quests and an entry into the Lightning Show promo. These promos can easily award over 10,000,000 chips daily. So even if you don't feel like playing poker on that day, it can still be worth logging in once a day to collect these bonuses.
Follow the WSOP Facebook page — By following the official WSOP Facebook page, you'll not only stay up to date on all the latest happenings, but you'll also get access to daily quizzes. If you're able to work out the answer to these quizzes, just pop your answer into the comment section, and if you're correct, you can look forward to WSOP free chips sent directly to you through Facebook messenger.
Purchase the best WSOP chip packages — All WSOP chip packages have bonuses. However, not all bonuses are equal. If you cherry-pick only the best bonuses like the first purchase bonus and the piggy bank bonus, you can look forward to getting a bonus upwards of 200% on any chips purchase you make. While not technically free — for hardcore players, this is an excellent way to get more bang for your buck by getting extra WSOP free chips.
WSOP referral bonuses — Referral bonuses are a little bit different at WSOP. Instead of getting a one-time bonus for referring friends, you instead can send daily chip gifts. Either refer one of your Facebook friends to the app, or add one of your opponents at the table to your WSOP friends list. From there, you'll be able to send chip gifts once a day to each of your friends and receive chip gifts from each of them.
Sites like Slotomania, Huuuge Casino, Caesars Slots, and Bingo Blitz are all Playtika owned free casino apps. Users looking to win money through free chip promo code bonuses should check out these alternatives:
WSOP Texas Holdem Poker Bonus Codes Summary
There's no bigger name in all of poker than WSOP. And now, with the WSOP poker game, you can play poker for free on both your computer and mobile device. All states have access to this amazing offer — and by signing up via our links, new players can look forward to 1,000,000 WSOP free chips.
The only downside of the WSOP poker game is that there's no opportunity for real money play. For the best sweepstakes casinos that offer real money play, check out our complete list of sweepstakes casinos in the US.
FAQs
Can I redeem my WSOP chips for real money?

No. The WSOP game does not offer any sort of real money play, and as such, WSOP chips cannot be redeemed for money or any other prizes.

How long do bonus funds take to arrive on WSOP?

No matter which bonus you claim, bonus funds will appear in your WSOP account instantly.

How to redeem the WSOP promo code?

Most WSOP bonuses don't use promo codes. However, if you get a WSOP promo code, you can enter it at the chip store. Just click "Get Chips", then select "Redeem". You'll then be prompted to enter your WSOP free chips code, and once entered, your free chips will immediately appear in your account.

Can you win tickets to live WSOP events through the WSOP poker app?

No. WSOP does not currently offer any sort of real world prize through the WSOP online game. As such, there is no way to win any WSOP live events ticket through the WSOP app.

How to win free spins on the WSOP game?

The best way to win free spins on WSOP is through playing poker and completing quests. As you play, you'll sometimes win free spins in addition to winning chips.

How to move chips from WSOP to WSOP.com?

While WSOP does host a real money poker site, it is 100% separate from the WSOP Playtika app. As such, there is no way to move chips from the WSOP app to your WSOP.com account or vice versa.

Is there a way to get free chips on WSOP?

Yes. Getting free chips at WSOP is very easy. The simplest way is just by logging in regularly and claiming the Turbo Time bonus, as well as the numerous daily bonuses. These bonuses can award anywhere between 100,000 to 60,000,000 chips.

How often does WSOP offer coupon codes?

Through the WSOP Facebook page, you can compete in their quiz promos for the chance to win WSOP free chips promo codes. These quizzes are hosted daily, and you can find them on the official World Series of Poker Game Facebook page.