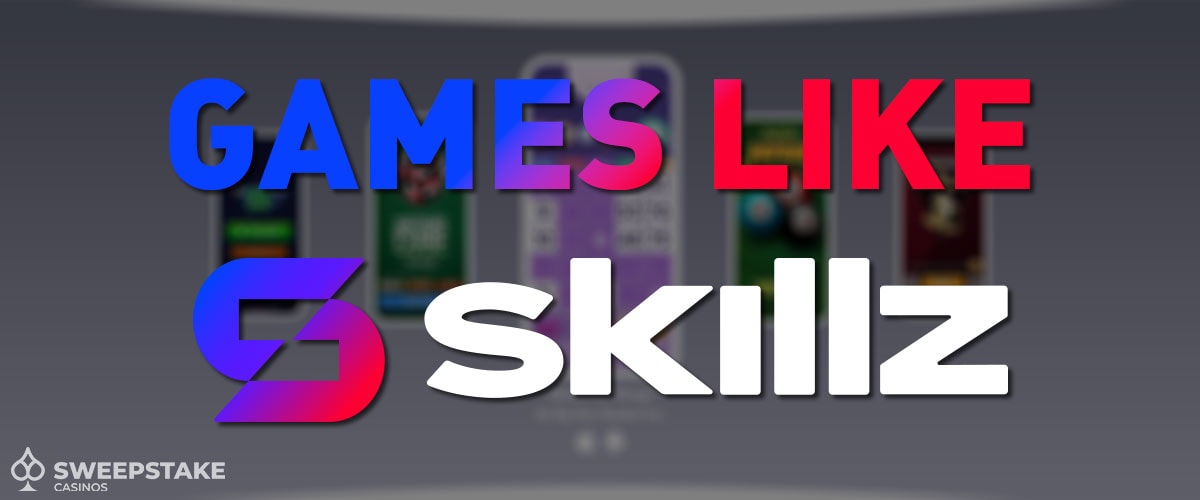 Skillz Games are very popular among US players, with games like Solitaire Cube, Bubble Cash, Pool Payday, and Bingo Blitz stealing the show. But are these the best skill games to play and win real money? Not really, and there are some similar sites to Skillz that set up the perfect environment to play and win.
Skillz is becoming increasingly popular because it allows Americans to play multiple games in a tournament format and get a chance to earn extra cash.
You can download Skillz games from the Apple Store, while those with Android devices must download an APK file of each cash app from Skillz's site since they are often unavailable for download in the Google Play Store.
Despite its great choice of mobile games, you might want to look for games like Skillz that pay real money without having to pay to enter 100+ tournaments or pay 20% fees to Skillz.
While Skillz-powered games are exciting, they require you to take the time to understand how to play and learn different strategies.
If you are looking for games like Skillz that pay real money but have straightforward gameplay, this guide is for you. Here are the best apps with skill and casino games like on Skillz.com, but with free sweeps cash promos and easy to play titles:
Why Look for Skillz Games Alternatives?
While Skillz offers thousands of unique money playing games that allow you to earn money when you win tournaments, many players are looking for alternative options that offer a more straightforward way to win cash prizes and bonuses. Because Skillz games involve the use of tactics, strategy, knowledge, and technical expertise, they are not favored by most Americans looking for other types of easy-to-play games in which the player's ability does not influence the outcome.
Here are more reasons you might want to find Skillz games alternatives:
Games Created by Independent Developers
Skillz doesn't develop games, but it features skill-based games from over 20,000 developer partners. Expect this list to keep growing since anyone can set up an account on the Skillz developer console, then create games and add them to its platform. As a result, most games are substandard and built by unknown studios.
For this reason, people who prefer playing games created by leading developers might have to look elsewhere.
No Real Cash No Deposit Bonus
While each game on Skillz offers a no deposit bonus, don't expect to get real cash. Instead, you'll receive Z Coins from Skillz no deposit bonuses, which you can only use to play for entertainment. That means they do not have a redeemable value, and winning a tournament while playing with Z Coins will only give you bragging rights.
Sweepstakes games are the best alternative if you are looking for a standard sort of no deposit welcome offer that grants a virtual currency that can be traded for real cash prizes.
Cash tournaments are not available in South Dakota, Louisiana, Delaware, Connecticut, and Arkansas. Additionally; players from Maine and Indiana cannot participate in any paid tournaments involving playing cards. New Jersey players are also not eligible to compete in Dominoes Gold cash tournaments.
To rub salt into the wound, you must make a deposit to enter matches that allow you to compete for real cash prizes, with the minimum needed to participate in a cash tournament being $0.60.
Things are different with sweepstakes games since you can play for real money prizes without purchasing, as they operate under sweeps rules.
Referral Bonus Not Enticing
Although Skillz allows you to collect bonus cash for every friend you refer, they must deposit real money using your invite link to activate the offer. But you will only get $1 free bonus cash for every referral, which is uninspiring. You also cannot use this bonus cash to enter tournaments, nor can you withdraw it.
When you refer a friend to our recommended sweepstakes sites, you'll receive 20x or more free sweeps coins, which you can redeem for cash prizes or gift cards.
Skillz Games Info & Highlights
🎰Skillz Games
🌐Website
www.skillz.com
📅Launch Date
March 2012
💳Payment Methods
Discover, Visa, Mastercard, Apple Pay, and PayPal
🇺🇸 Availability
Legal in 40 US states
📱Accessibility
Mobile (Android and iOS)
🎲Game Categories
Card, Action, Board, Bubble, Arcade, Puzzle, Bingo, Pool, Dominoes, Chess, Physics, Mahjong, Solitaire, Sports, Spades, Sudoku, Strategy, Trivia, Word
🔥Popular Games from Different Categories
Solitaire Cube, Spider Solitaire, Bingo Cash, Blackout Bingo, Pool Payday, Dominoes Gold, Big Buck Hunter: Marksman
🖥️Model
eSports
Founded in 2012 by Casey Chafkin and Andrew Paradise, Skillz is a legit online multiplayer tournament platform that allows players from different parts of the world to compete against each other for virtual in-game currencies or real cash. It integrates into mobile games to offer eSports-related features.
The Skillz platform facilitates matching players at similar ability levels to give everyone a chance of winning when they participate in a tournament. Once you enter a tournament, you'll play knockout games, where the number of entrants will reduce until only a single player remains. The amount the last person standing will receive will depend on the number of players who entered the tournament.
Players can also stream or record their games via the platform. Most games are named after popular app titles and have avoided copyrighted names. Mobile gamers can enjoy games from 19 genres right from their iOS or Android devices.
Each game has tons of free-to-enter tournaments and multiplayer tournaments with real-money prizes. You can join leaderboard contests, enter head-to-head matches, or set up a private tournament that allows you to only compete with your friends.
To play for real money, head to the main menu and tap Store. You can then deposit money via PayPal or credit card and use it to enter cash tournaments. If you have won, you can request a withdrawal by heading to Menu>Account>Withdraw. Z Coins only allow you to play for fun to familiarize yourself with the games before switching to cash gameplay.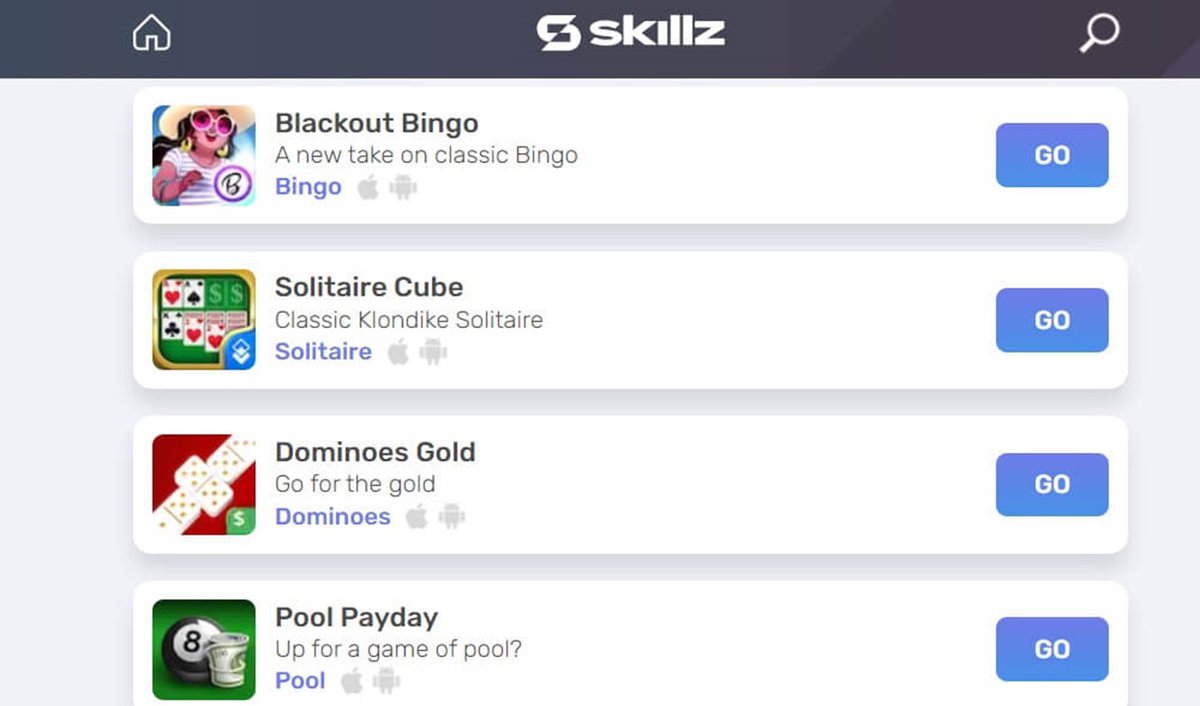 Do Skillz Games Pay Real Money?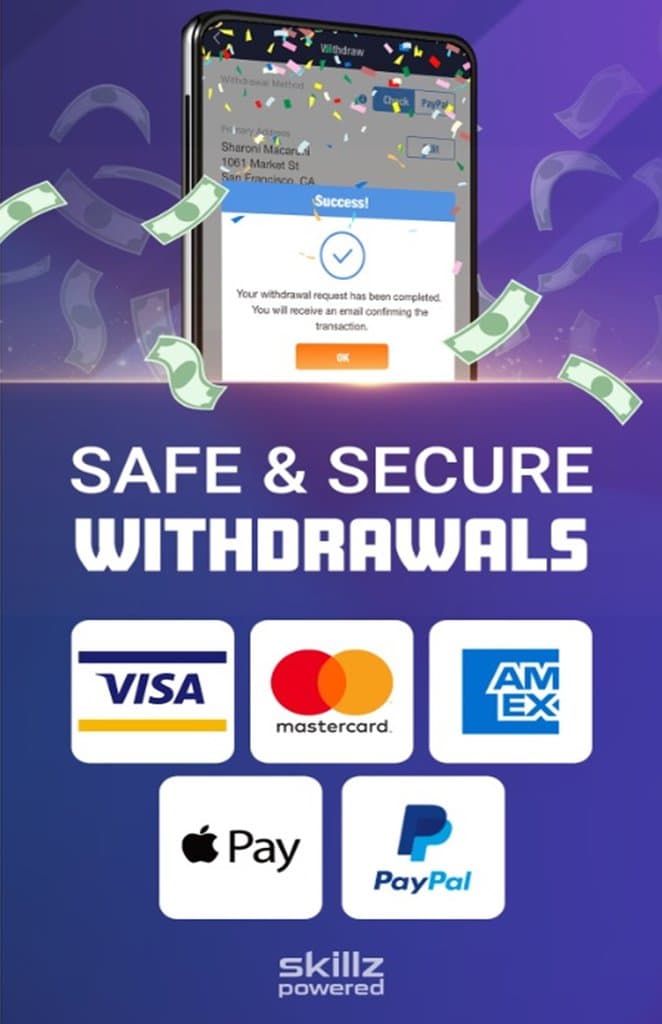 Skillz games pay real money only if you enter cash tournaments and win. The problem is that it is not free to participate in paid tournaments. To play cash games and get a chance to earn cash prizes, you must first deposit real money via one of the supported payment methods including Apple Pay, PayPal, or accepted credit cards. You'll then have to use this money to pay entry fees if you want to participate in cash competitions.
However, the odds of winning these tournaments are not in your favor since you will be going up against other players who also want to earn real prizes. Statistics show that a high percentage of US players have lost money when playing Skillz games with real cash.
Even if you play real money tournaments, win a cash prize, and then make a withdrawal request, you will still have to wait for a long time to receive your money. We discovered that all credit card and PayPal cash outs take between 4 and 6 weeks to receive the money. Nothing is more frustrating than when you win money and have to wait more than 40 days to receive your withdrawal.
In comparison, you can play sweepstakes games and win real cash prizes without buying gold coin packages. Cash redemptions are also speedy, with the process taking between 2 and 5 days.
Similar Games to Skillz.com that Pay Real Money
Our team found that there are lots of exciting games like Skillz that you can play and win real cash. But before we explain how Skillz.com stack up against other sites, we suggest you first find a platform that allows you to play the same game types.
Pulsz Slots vs Skillz Slots


Known for its hottest slot action and jackpot thrills that keep players entertained for hours, Pulsz has over 350 Vegas-style sweepstakes slots from some of the industry's leading developers. Their online slot collection includes titles from NetEnt, Pragmatic Play, BGaming, Evoplay, and more. That means you can be sure that Pulsz slots are fair since reputable authorities like Gaming Laboratories International regularly test them.
With new titles released weekly, slot fans have plenty of exciting options that provide fresh entertainment opportunities. You can play Pulsz slots for fun when you use Gold Coins. I had a blast spinning the reels of Sweet Bonanza, Wolf Gold, and Curse of the Werewolf Megaways.
The best part is that when you spin the reels of Pulsz slot machines with Sweepstakes Coins and land some wins, you can redeem them for cash prizes if you have at least 100 SC.
Pulsz also offers new players 5,000 Gold Coins and 2.3 free Sweepstakes Coins, allowing you to get started without spending a fortune. Additionally, you can claim more free coins daily through regular competitions and other promotions. That means you will always have free coins to play your favorite slots for free while having a chance to win real cash prizes.
Skillz, on the other hand, does not cater to slot enthusiasts because we didn't see this game category on its platform. Overall, Pulsz is superior when it comes to online slot games and free coin promotions.
WOW Vegas Poker vs. Skillz Card Games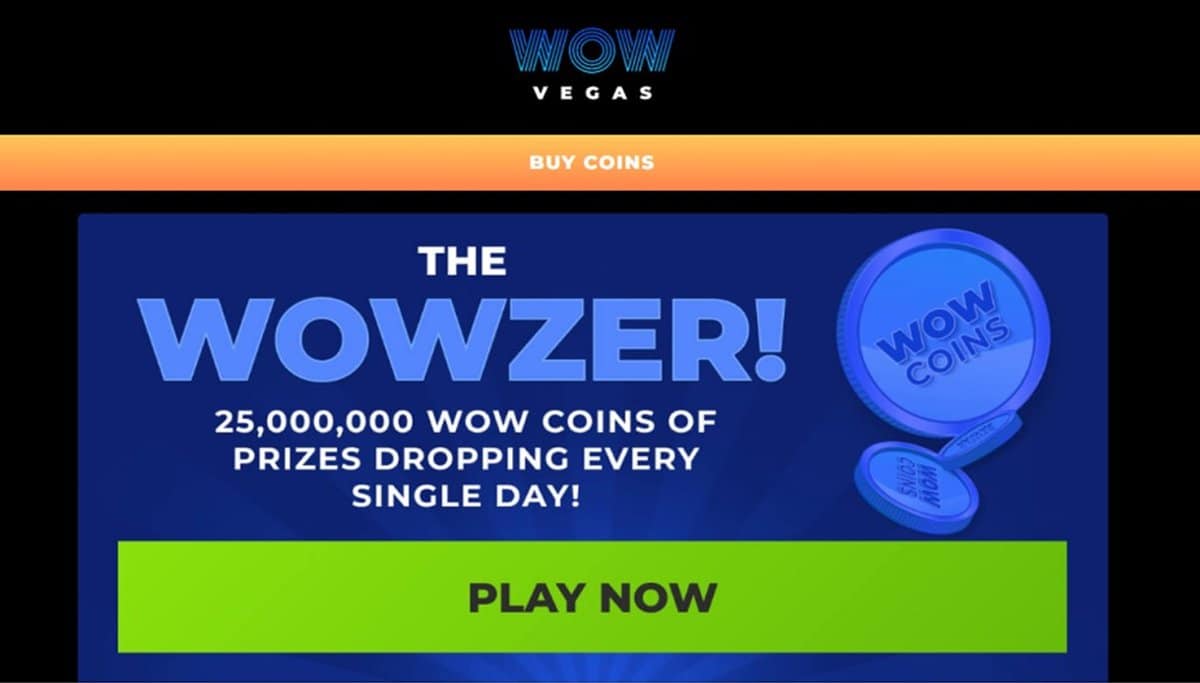 WOW Vegas is a reputable sweepstakes site that works with virtual currencies (Wow and Sweepstakes Coins). Wow Coins are not redeemable, as they act as gold coins. You can play WOW Vegas games with sweepstakes coins and get a chance to win real cash prizes right after account verification.
The site has a clutter-free layout and is available in 47 US states, excluding Nevada, Idaho, and Washington. WOW Vegas offers over 350 free games from 3 Oaks Gaming, Pragmatic Play, and Betsoft. Fans of card games looking for alternative card games like Skillz that pay real money will enjoy WOW Vegas video poker, three blackjack games, and baccarat.
With Skillz, card game lovers can play a variety of solitaire games, including Solitaire Cash, Spider Solitaire Cash, and Big Run Solitaire. Skillz also offers blackjack games, including Supreme Blackjack 21 and a game that combines traditional blackjack with solitaire rules.
While Skillz has more games than WOW Vegas, you must deposit money to play card games for real money in a tournament format. Things are different at WOW Vegas Casino because new players receive 4.5. Sweepstakes Coins and 8,500 WC that come as a 3-day sign-up bonus.
Once you have finished the free coins from the generous WOW Vegas welcome offer, there are many other ways to collect free Sweepstakes Coins and play card games for real cash. That means you can play at WOW Vegas and win real cash prizes without spending a dime, which is impossible with Skillz card games.
Bingo Blitz vs. Pulsz Bingo


Pulsz Bingo offers a unique social gaming experience with six Pragmatic Play's bingo rooms. It's one of the freshest sweepstakes sites that allows you to play a range of bingo game variants and win cash prizes.
The site ensures bingo fans play bingo for real cash without purchasing Gold Coin packages. When you join the Pulsz Bingo, you'll immediately credit your account with 5000 GC + free 2 SC. The site also has a loyalty program that allows VIP members to enjoy exclusive bingo rewards.
That's not all: Players receive daily free bingo tickets, and the massive daily SC prize pool will ensure you always play bingo for cash prizes.
When it comes to Playtika's Bingo Blitz, it's undoubtedly the world leading social bingo site; it has numerous bingo rooms with unique themes. However, it does not allow you to play bingo games for real cash prizes.
For this reason, Bingo Blitz is ideal for those who want to play bingo games for fun while connecting with other like-minded players worldwide. Pulsz Bingo, on the other hand, is an excellent option for those who want to go on exciting bingo adventures that give them a shot at winning real cash prizes.
Bingo Blitz only has one currency called credits, while Pulsz Bingo allows you to play bingo games with either Gold Coins or Sweepstakes Coins.
Fortune Coins Fish Games vs. Skillz Shooter Games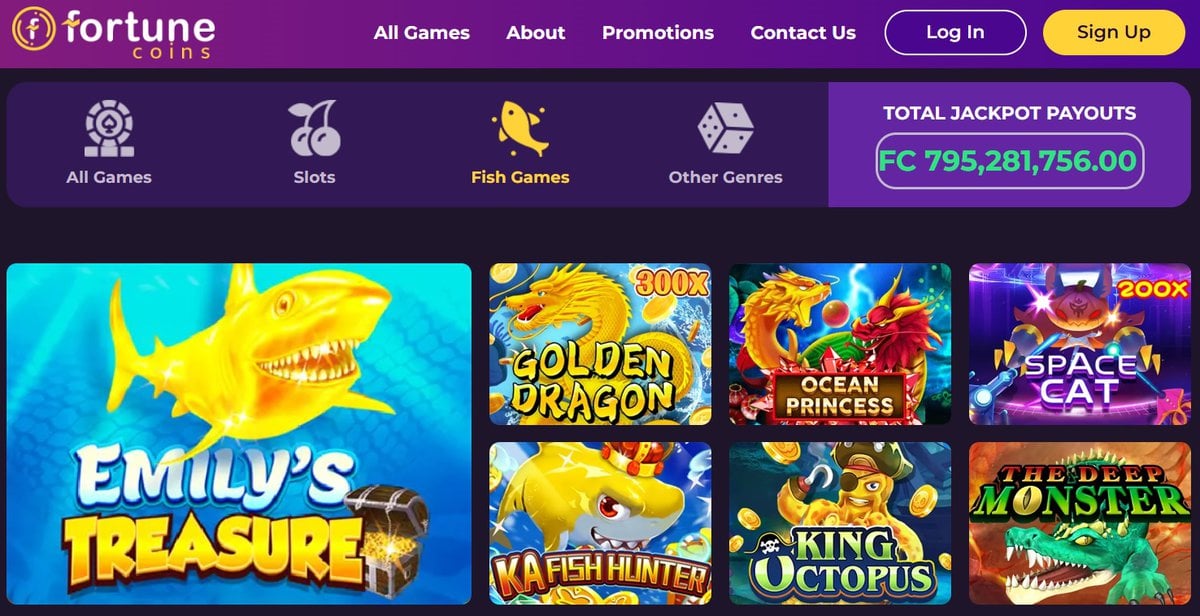 Fortune Coins boasts seven unique fish games that take you on memorable adventures. These Fortune Coins games include the classic arcade-style shooting game Emily's Treasure and KA Gaming's KA Fish Hunter.
The site allows you to play fish games in premium and standard modes. Premium mode offers players a chance to win real prizes, while the Standard mode is designed for those who want to play for fun. Fortune Coins offers an impressively large sign-up bonus that will see you getting started with a whopping 360,000 GC plus 1200 FC if you use our links.
While Skillz offers 15 multiplayer bubble shooter games, they are hard to understand and master; this makes winning a cash tournament a mission impossible. On the other hand, Fortune Coins fish games have simple gameplay, exciting features, and progressive jackpots.
Stake.us Original Games vs. Skillz Original Games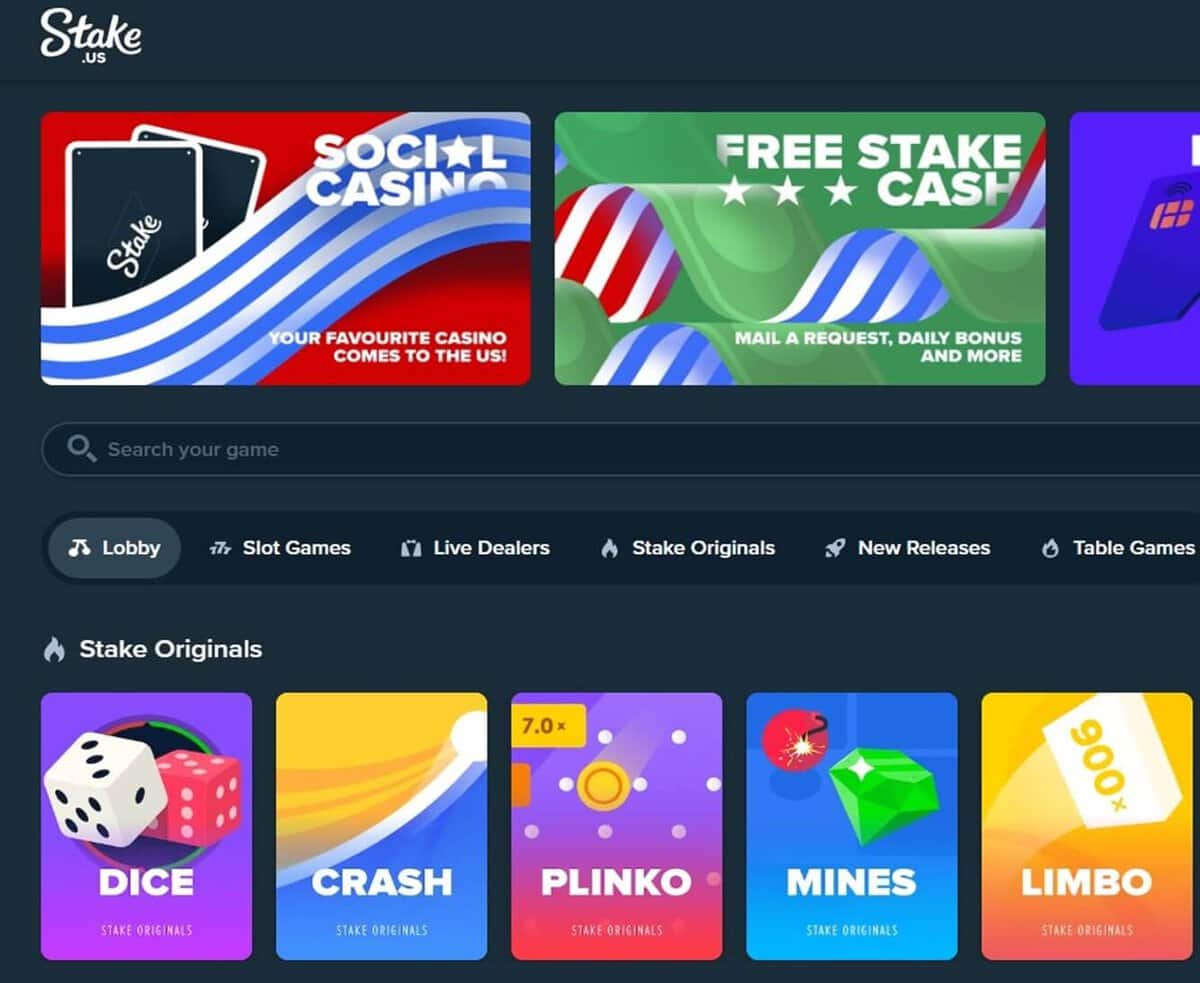 Stake.us offers an unrivaled crypto gaming experience with its 18 in-house Stake.us games that are provably fair. Players can independently verify the result of Stake Originals games, which guarantees that the site does not have any influence on their outcomes.
Popular games in the Stake Originals section include Plinko, Dice, and Mines. You can play Stake Originals games for fun with Gold Coins, while Stake Cash allows you to play for real cash prizes. By taking advantage of the free 10,000 GC and 1SC awarded on sign-up, you can play these games for free.
Skillz does not offer in-house games like Stake.us because all its titles are from independent developers. Skillz games are also not based on the provably fair algorithm, meaning their outcomes aren't verifiable.
Additionally, Skillz games don't support crypto gaming, whereas you can redeem your SC winnings for various crypto prizes when you play Stake.us Original games in Promotional Play. These include some of the major cryptocurrencies on the market, such as BTC, LTC, and ETH, as well as over ten altcoins.
Other Game Apps Like Skillz.com
If you are thirsty for more game apps similar to Skillz.com, here are a few options that we found while doing our review:
Pomu.com: With more than 15,000 online games on its platforms, Pomu.com has an extensive collection that caters to gamers with different tastes. You can choose from 12 game genres, including Skills, Sports, and Classic Game categories.
SolitaireCity.com: This universal app offers a range of solitaire card games played against time to win points. The faster you finish a game, the more points you'll get. The player with the most points will be the winner of the tournament.
BVS Solitaire Collection: Owned by BVS Development Corporation, the BVS Solitaire Collection app features over 300 Solitaire games that you can play on iPhone, iPad, Mac, and Windows in landscape or portrait mode.
While these apps have entertaining games, they do not offer real cash prizes.
Are There Game Apps Like Skillz That Pay Real Money?
While the operators on this page and Skillz are like chalk and cheese in terms of how they work, they allow Americans to legally play casino-style games without using a dime and pay them real money in Sweepstakes Coins redemptions.
Unlike Skillz, Pulsz Bingo, Pulsz Casino, and WOW Vegas employ the sweepstakes model, meaning they use gold and sweepstakes coins as currencies. While Skillz uses virtual currency like these three platforms, it only has one type of currency known as credits.
The gameplay on these gaming apps is also straightforward since you only need to register an account and find your favorite game to start playing with free money, which is easy since you'll find all the titles in a single app.
Skillz works in a complicated way; it hosts skilled-based cash games that you can only play in a tournament format. You can only enter cash tournaments and compete with other players for real money if you make a deposit and pay the entry fee.
Additionally, you must download each free app separately to play, which is time-consuming and annoying. That means players will have to clutter up their mobile devices with a truckload of games.
Are Gaming Apps That Pay Real Money Legal in the US?
Pulsz Bingo, Pulsz Casino, and WOW Vegas are some of the best game apps that offer free play opportunities that enable you to play slots, bingo, and other casino-style games in SC mode without purchasing coins. While you cannot place bets with real cash or win real money when playing on these platforms, you can redeem your winnings for real money. As such, this model allows them to operate legally in almost all US states except Idaho, Washington, and Nevada.
That means players from 47 US states can join these three sweepstakes sites and play games that pay real money in SCs redemptions. These sites allow you to make a redemption request if you have a minimum coin balance of 100 SC.
You can trade sweepstakes coins for real cash at a rate of 1SC to $1. But you must first provide proof of address and age to play in SC mode.
Skillz provides skill-based gaming that does not involve playing games of chance. Instead, the outcomes are achieved through the player's ability or skill. For this reason, Skillz cash-based tournaments are not considered gambling but similar to eSports competitions; this makes them legal in 40 US states. The following states are excluded:
Louisiana
South Dakota
Delaware
Connecticut
Arkansas
South Carolina
New Jersey
Tennessee
Arizona
Montana
Skillz complies with US state and federal laws, verifying the residency of all new users who want to set up an account. They also use IP addresses and other location-based services to determine if players are eligible for real prize competitions.
FAQs
Yes. Skillz offers skill-based gaming, making it legal in most US states. It also has over 8 million registered users worldwide.

What Skillz games pay real money instantly?

Although most Skill games pay real money, you won't receive your winning instantly when you make a withdrawal because it takes up to six weeks if you won more than you deposited.

Do all Skillz games pay real money?

Skillz games pay real money only if you compete against other players in paid tournaments and win.

What is the #1 played online game that pays real money on Skillz?

With an overall rating of 4.5/5 from 97,377 reviews, Blackout Bingo is undoubtedly the most popular Skillz game.

Which Skillz game that pays real money has the highest income?

Blackout Bingo has the highest income, as players can earn more than $50 when they win a competitive game. However, this is not easy because the probability of losing money is high due to the odd matchmaking done by Skillz.com.