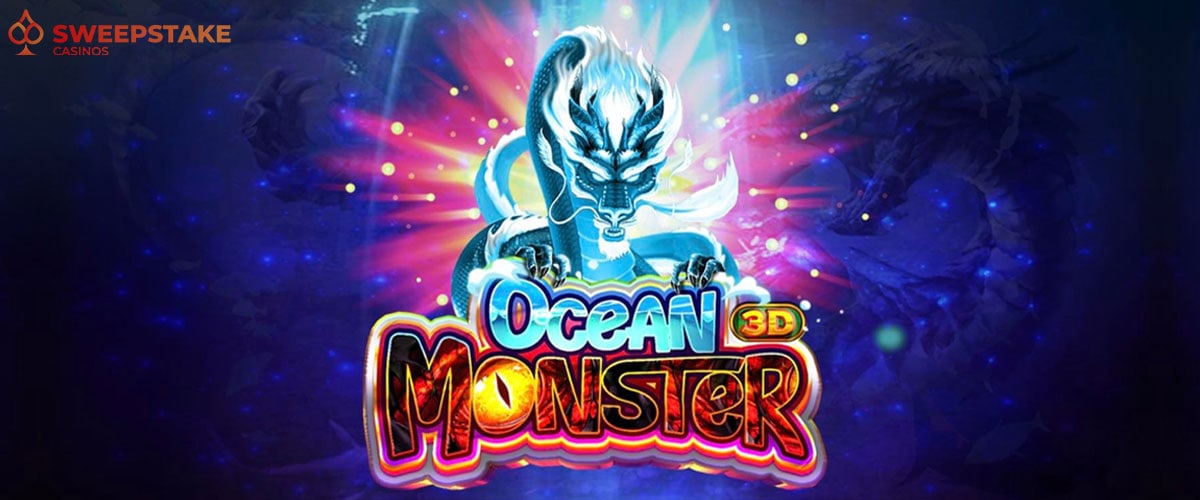 Get ready to dive deep into the lovely underwater World of Ocean Monster fish game. It's a sequel to the renowned Ocean King series and one of the most entertaining fish shooting games. Here you can reel in a wide range of fish species, meet new characters and enjoy exciting features.
Ocean Monster has stunning 3D visuals, with different aquatic creatures to hunt for in the vibrant undersea world. The game also features new mini-games and characters. Each comes with its own powers that add depth to your gaming experience. You can hunt many kinds of fish and three crab characters or take on the challenge of defeating four powerful monsters. You will encounter Almighty Octopus, Ancient Crocodile, Emperor Crab, and Darkness Monster among bosses. Defeating these legendary bosses will reward you with grand prizes.
Players can join these sea monsters on both desktop and mobile devices. All you need to do is aim, fire, and use your strategy to seize the most precious fish under the waves. Read on if you want to learn about the bosses, features, and strategies that can lead you to wins.
Ocean Monster Fish Gaming Apps
Ocean Monster is a popular arcade fish game in internet cafe sweepstakes but it has yet to be licensed for legit online sweepstakes casinos.
You can find some free fish games like it at OceanKing99.net, OceanMonster.net, or other fish gambling sites with questionable status.
We urge you to give up playing this game online and try out some equally fun fish hunter games on the following social casino apps and win cash prizes:
What is Ocean Monster?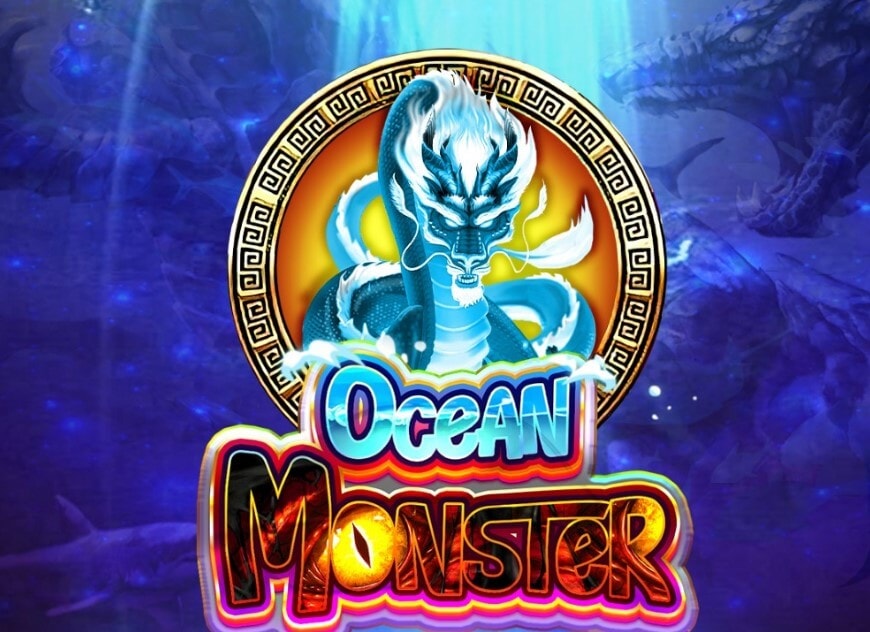 If you're not aware of fish shooting games, they're casino games that have grown in popularity due to their ability to be both fun and lucrative. The attraction of these games lies in their easy-to-play nature, vibrant visuals, and engaging sound effects. They combine the rush of shooting games with the pleasure of winning real money from wagers. All you have to do to get prizes is shoot down fish or other creatures with your gun.
Ocean Monster is an online fish-hunting arcade-style game where up to 6 players can play simultaneously. The game also includes powerful weapons that will assist you in catching more or larger fish. You'll buy ammunition, use a sea cannon to catch aquatic creatures, and win related rewards. However, your winning chances depend heavily on your skills and decision-making ability.
The Ocean Monster game has superb graphics, bringing the sea creatures to life and creating an incredible atmosphere. You can engage in many mini-games, including Drill Crab, Lightning Chain, Vortex Fish, and more throughout the gameplay. For those who want big wins, there are also opportunities to hunt down huge bosses.
How to Play Ocean Monster Fish Game Online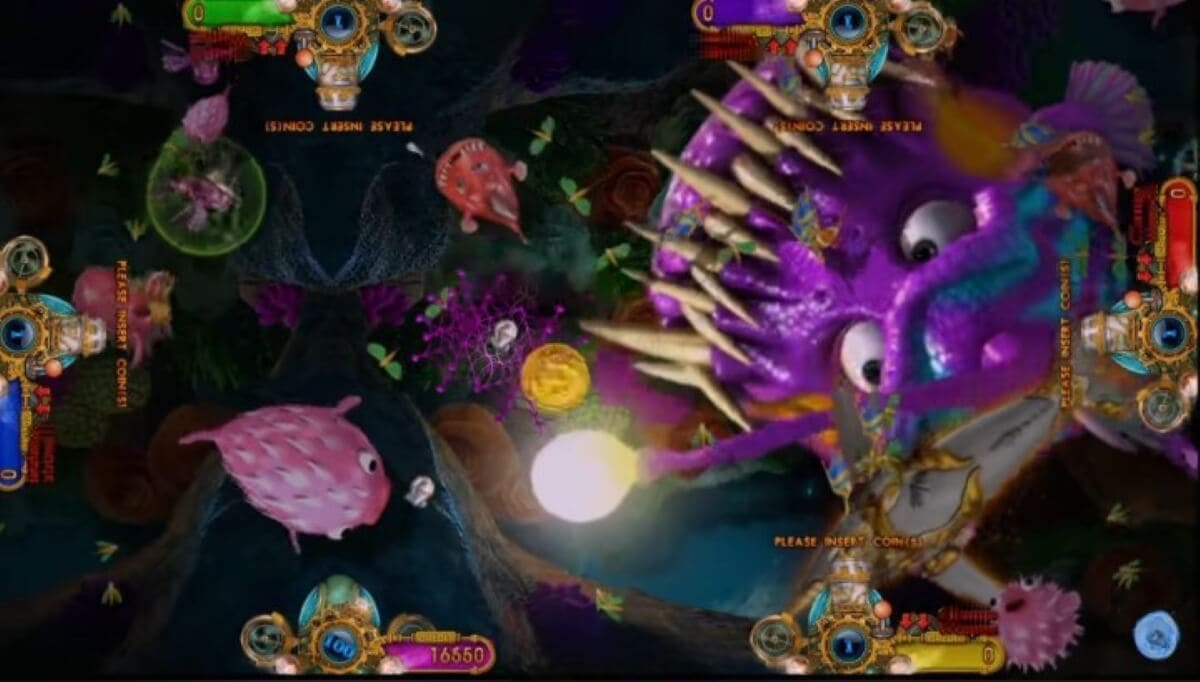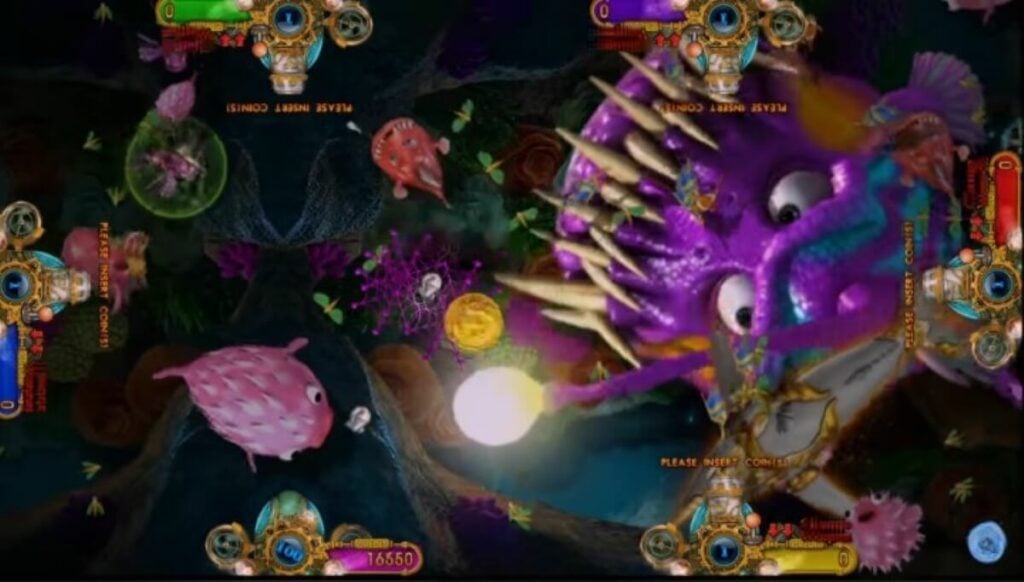 You can play the Ocean Monster fish game at our recommended casino sites or apps. Register by entering your personal info, and you'll be ready to go on this multiplayer fish-shooting experience. It is just as simple to play as other fish shooting games.
The first step in the game is to select a weapon from the three main guns offered. You can change these at any time during gaming by clicking the "Change Weapon" button. But remember that each one has its own bet size and strength when firing, so select wisely for the best gaming experience.
After that, your goal is to carefully aim and shoot to catch as many fish as possible. You can easily do this by clicking on any marine creature you like to capture. If you successfully catch it, you will get rewarded with its payout.
As previously said, there is a wide variety of fish species, each with different values, and many other creatures in the game. So, it's critical to know the reward for each swimming species on the screen from the paytable. Larger targets often provide big wins, but they also tend to be harder to track down and kill.
Ocean Monster Features & Special Bonuses
The Ocean Monster fish game offers many exciting special bonuses and mini-games. Some of these are the crab characters appearing randomly, like the Super Bomb Crab, Laser Crab, and Drill Crab. You will also encounter many other features, so let's see what you can get from these.


Super Bomb Crab: When you catch a Super Bomb Crab, it unleashes a massive chained bomb attack. This wide explosion can cover all of the fish in the gaming area, making them easier to catch. You will get awarded based on how much the bomb explosion affects the fish.
Laser Crab: Catching Laser Crab gives you access to a special laser beam weapon that can capture everything in its path with a single shot. Remember that this weapon is only available for a limited time, and you only have one shot.
Drill Crab: When you catch a Drill Crab, you will receive a unique drill shot that will shoot through the gaming area. The drill bounces around the playfield, assisting you in catching more fish. After some time, it explodes and catches even more fish within range.
Lightning Chain: If you catch a Lightning Fish, the Lightning Chain effect activates. It then immediately starts catching all the other fish until the effect expires. You will then get awards for all fish captured during this chain reaction. The Clown Fish, Fugu, Flying Fish, Butterfly Fish, Lionfish, Octopus, Lobster, and Spearfish have this unique lightning effect.
Vortex Fish: Catching a fish with the Vortex effect starts a whirl pool that draws all fish of the same kind from the surroundings for big wins. The Crown Fish, Flying Fish, Fugu, Butterfly Fish, Lionfish, Lobster, Flatfish, Octopus, Lantern Fish, Saw Shark, and Sea Turtle all have this unique effect.
Fire Storm: It is a unique solo game that players can receive randomly. They get a flamethrower in this game that can greatly harm the fish and make them worth more points. However, this flamethrower only works for a limited amount of time, but you can find ways to get additional time.
Golden Treasures: You can play with others in this game and use a special searchlight to locate the Golden Fish and Imperial Whale King. If you catch these, you will get rewarded handsomely. There's also a possibility of getting a roulette treasure box that increases or multiplies your overall score.
Ocean Monster Payouts & Odds
The Ocean Monster fish game features 16 characters from previous Ocean King games. You can hunt for up to 17 fishy characters, 3 Jumbo Fish, and 4 Bosses, each with its own advantages. There are also new characters like Blazing Dragon and Cannon Crab, and the less valued fish have grown in size, making them more lucrative.
Prizes for each species depend on size and difficulty, but the operator can set the fish values to low or high Odds Levels. So, before you begin, make sure you check out the paytable and know which target delivers the most return.
Tips & Strategies to Win at Ocean Monster Fish Game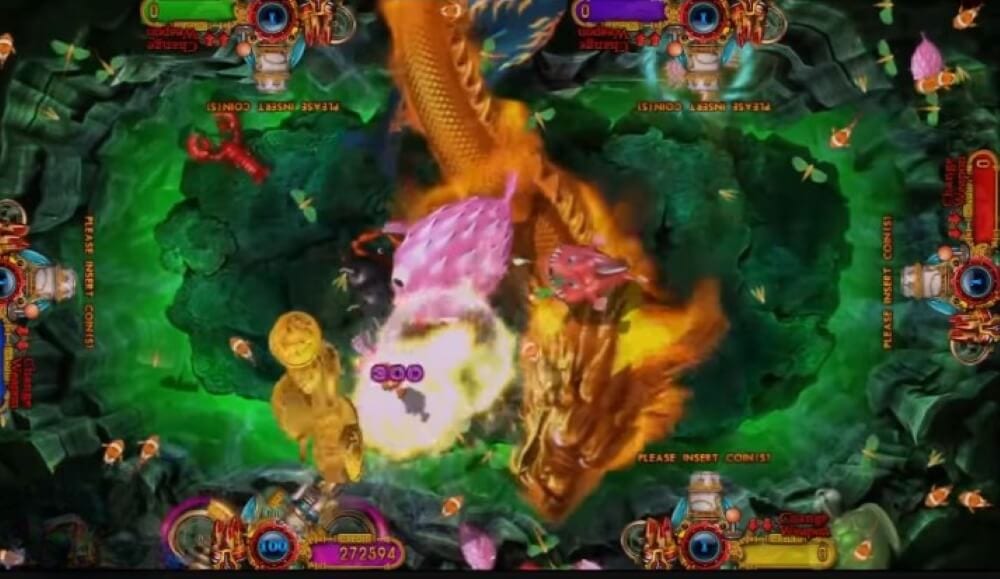 Like other fish games, the Ocean Monster requires fast thinking and skills. You can't win by simply shooting randomly; you must employ a strategy to avoid challenges. Here are some best tips that can boost your winning chances.
The first tip is to aim and shoot quickly because the fish always moves randomly. If you fail to align your aim and shoot fast enough, your bullets may hit empty places, resulting in no victories.
It's crucial to remember that you can use three guns to shoot at fish in the Ocean Monster game. So, it is advisable to use different weapons, as relying on a single cannon can limit your chances of killing many fish species. Using different guns is an ideal way to take down big sea creatures.
The four Boss species are the most difficult to defeat in Ocean Monster. But, the more difficult it is to kill a specific species of fish, the larger winnings you will receive. So, whenever these monsters appear, you have a good chance of achieving bigger prizes. However, keep in mind that their defeat requires higher effort and spending.
We know larger fish species provide higher payouts, but it is critical not to underestimate the importance of smaller fish. These smaller fish provide lower rewards and are less difficult to catch. So, it's essential to maintain a balanced approach by engaging both small and large fish. This strategy can assist you in balancing your bankroll better.
Other Fish Games Like Ocean Monster
If the Ocean Monster fish game sparks your desire for more aquatic adventures, there are many more to try. Playing these exciting games will take your underwater experiences to new heights:
Emily's Treasure
Emily's Treasure is an online fishing game that you can play for free or real money at Fortune Coins. It takes you to an HD aquatic scene with arcade-style music, encouraging you to begin fishing. The goal is the same: catch fish with a special cannon and earn big rewards.
While playing, you can use Lock Attack and Auto Attack to help you easily capture any fish you desire. You'll also encounter unique fish symbols like Fire Dragon, Energy Shot, and Group of Fish. Capture these, and they will help you win great prizes. And guess what? Emily's Treasure Fish game also offers four progressive jackpots you can win randomly at the end of any round.
Thunder Fishing
NetGame's Thunder Fishing is another exciting game that takes you into a magnificent undersea world. The basic gameplay is the same, but there is a thundering twist. It introduces Thunder Gods, giving the fishing experience a whole new level. You can try to take down bosses like Thor, Zeus, and Buffalo to get bigger wins.
Thunder Fishing is a game for up to four players in which you can win up to 2500x the bet. The game features nine bonuses inspired by fish games. But if you like slot games, you're in luck! You can enjoy features like the Bonus Wheel and Game Machine. There's also a chance to win one of four jackpot prizes: the Red, Silver, Gold, or Diamond Jackpot.
You can play this game on Funrize, TaoFortune, and NoLimitCoins sweepstakes casinos.
KA Fish Hunter
KA Fish Hunter is a KA Gaming online fish shooting game. The game setting is an appealing underwater realm where you can hunt for tiny fish to big sharks and whales. This game has a 96% RTP and offers unique features like Chain Win, Random Multipliers, and Freeze Bombs.
There are three rooms in KA Fish Hunter, each with a distinct betting range where up to four players can play simultaneously. You can also use the Auto Fire and Lock Target settings while playing the game. The biggest potential win is 200x your bet, which you can win by capturing the Killer Whale and Gold Shark.
Grab the $12 Fortune Coins no deposit bonus and try this title out today.
Summary
Ocean Monster is an incredible video redemption arcade game that follows the Ocean King series. It takes the series' most popular elements and boosts the action with new features. You will find new characters, big fish, tough monsters, and updated firearms.
The game's stunning graphics and design will grab you as you explore this incredible aquatic setting. It's jam-packed with new features and fun marine creatures to make the experience even more rewarding and pleasurable. So, dive in and go on a thrilling underwater adventure with these deep-sea monsters.