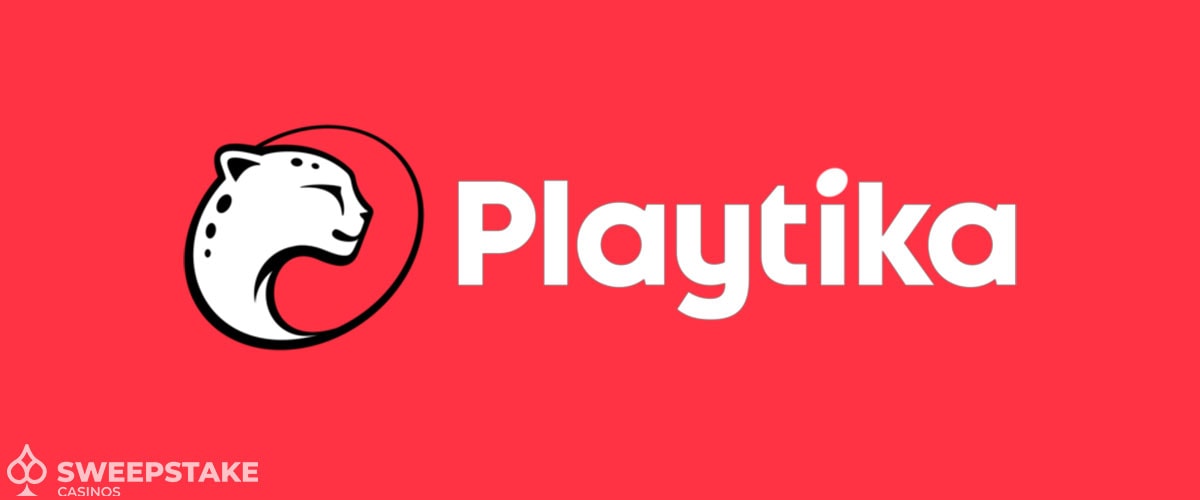 Playtika is a social gaming company owned by Caesars and managed by Robert Antokol. They have been around since 2010 and have five renowned social casinos – Slotomania, Caesars Slots, WSOP, House of Fun, and Bingo Blitz. They develop all their games in-house and provide an online and mobile free gaming experience. This approach has helped them acquire millions of followers.
Playtika games and apps are yet to turn into sweepstakes casinos. This means you cannot win real money there; H5C was a similar product that took this approach and is now more popular than ever.
If real money gaming doesn't concern you, you can learn more about Playtika, their social casinos and best games to date below.
What is Playtika?

Playtika is a high-profile digital entertainment firm that owns multiple social casinos and specializes in creating mobile games. With over 35 million users and dozens of offices worldwide scattered across Europe, the Middle East, and the USA, Playtika is now recognized as a major player in the iGaming industry.
Some of its most popular game titles include the famous Texas Hold'em online poker "World Series of Poker" and one of the trendiest bingo-style games "Bingo Blitz". Besides slot machine-based games, Playtika has also launched numerous mobile-friendly video games, such as Redecor, Solitaire Grand Harvest, June's Journey, Best Fiends, and 1v1.LOL.
Who is the CEO of Playtika Games
Playtika's founder Robert Antokol is its original and current Chief Executive Officer. Robert also assumed the position of the company's Chairperson of the Board in 2020 and continues to oversee the firm's global expansion.
Merely a year after its founding, Playtika was bought by one of the biggest names in the industry, Caesars Entertainment Co. Caesars recognized Robert's managerial and executive skills, and so he continues to lead Playtika as its CEO to this day.
Playtika-Owned Social Gaming Platforms
Playtika dipped its toes into the social casino industry with the launch of Slotomania in 2011. Two years later, this company followed up with House of Fun – a more comprehensive social gaming platform with an expanded library of slot games, more generous bonuses, and titles that resemble real casino games.
The same year when House of Fun was launched, Playtika launched its critically acclaimed World Series of Poker app, which has been one of the trendiest poker-based social gaming platforms around for quite a while.
Slotomania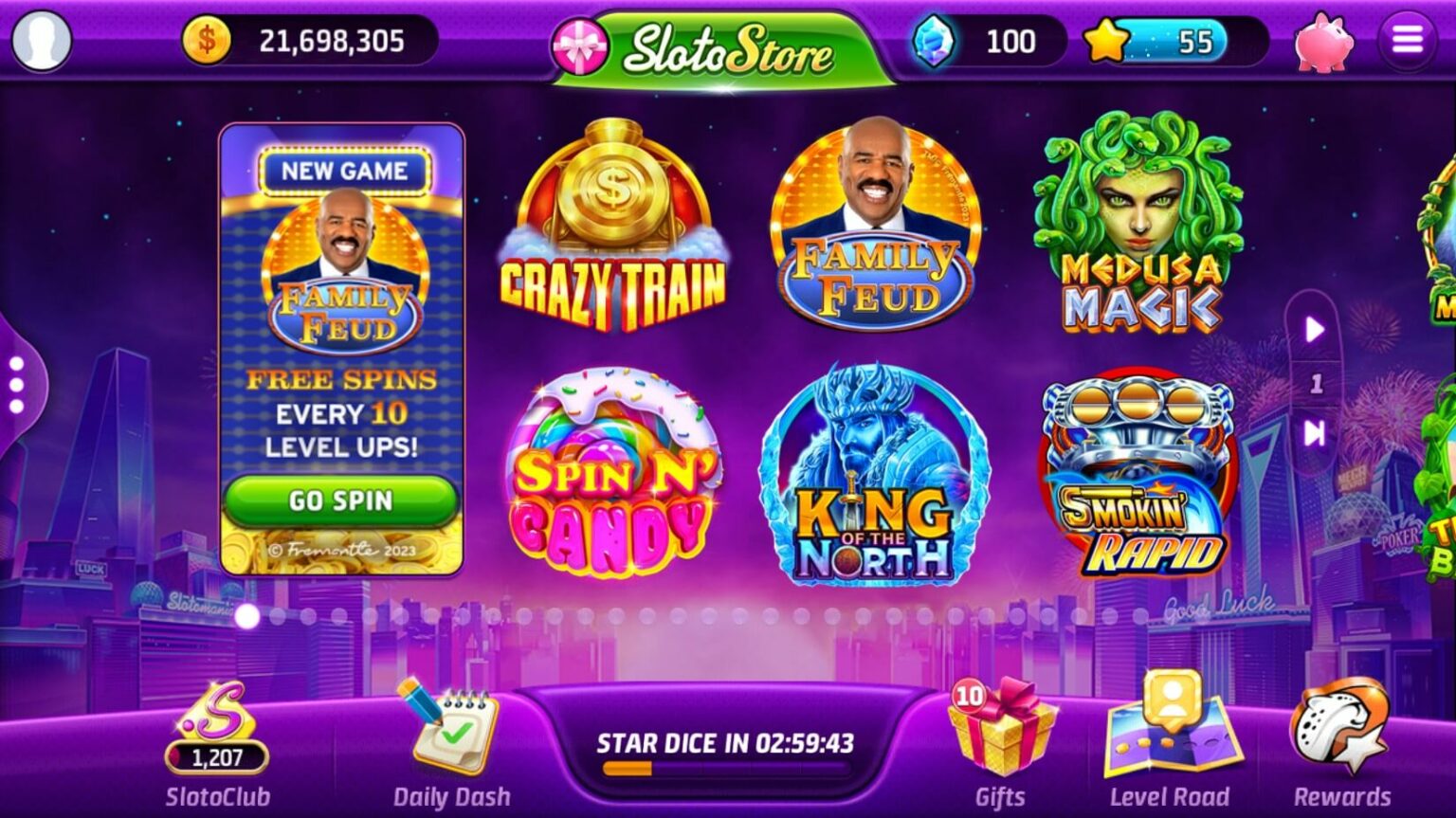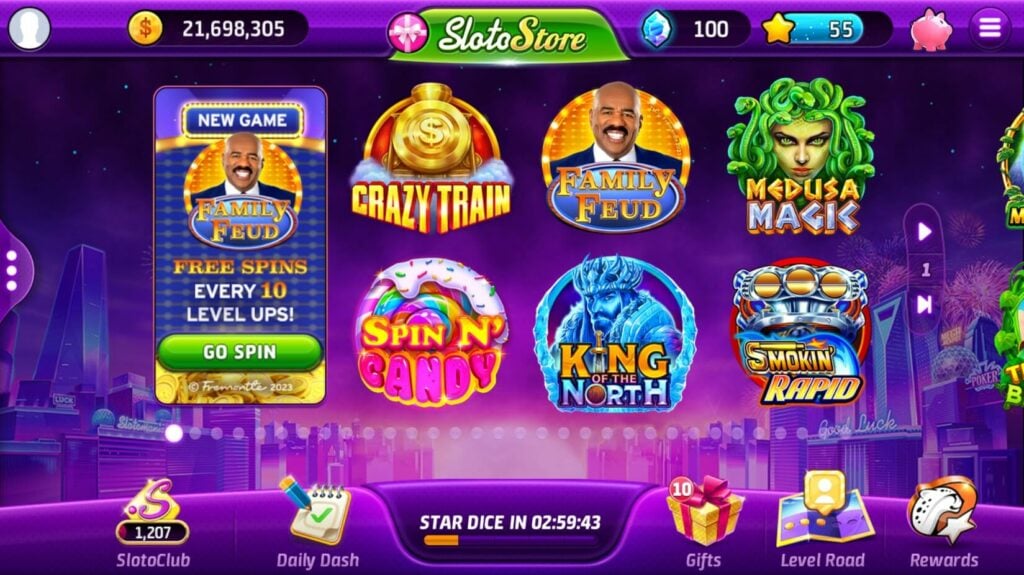 Slotomania is Playtika's first social casino, and it's quite easy to see why it's been so popular ever since it was launched in 2011. Its accessibility is phenomenal, it boasts over 170 unique slot games, and true to Playtika's slogan, it offers "infinite ways to play" and earn virtual currency. We won 20 million coins on our first try as soon as the first scatter appeared, and upon further testing, all Slotomania slots have incredibly high RTPs.
According to Business of Apps data scientists, this social casino platform has around 4.5 million active users on a monthly basis. With daily, hourly, and progression-based bonuses, it's almost impossible for users to run out of coins. The games are well-designed, and the concept of unlocking new slot games through gameplay keeps things fresh and exciting.
Playtika has leveraged the immense popularity of its Slotomania platform to address a myriad of pressing issues in one of the world's poorest countries, Malawi. The company has collaborated with Innovation: Africa, providing daily access to basic needs for Malawi residents, such as a clean water system, medical supplies, and electricity. The small village in Malawi called Sandalemu now has a virtual place in Slotomania while hundreds of African children live better, healthier lives.
House of Fun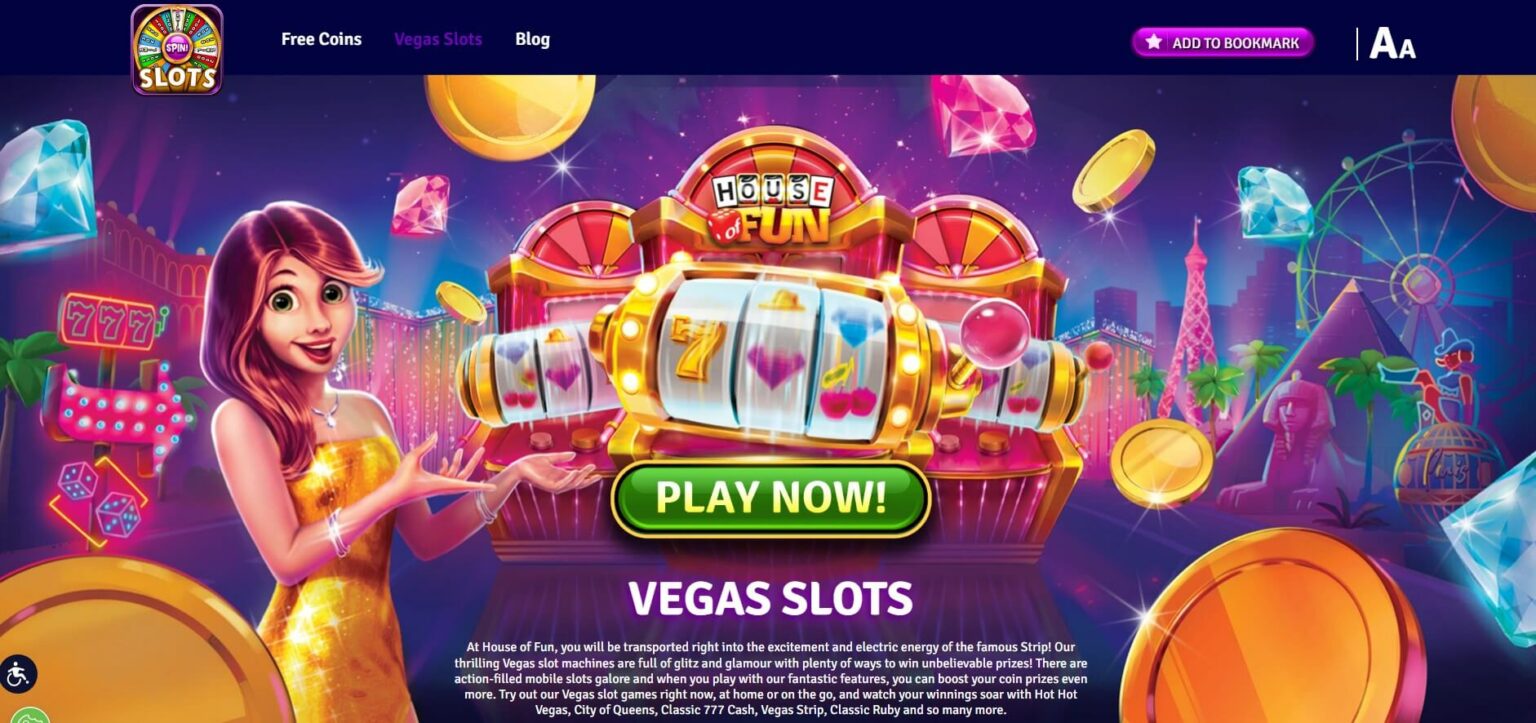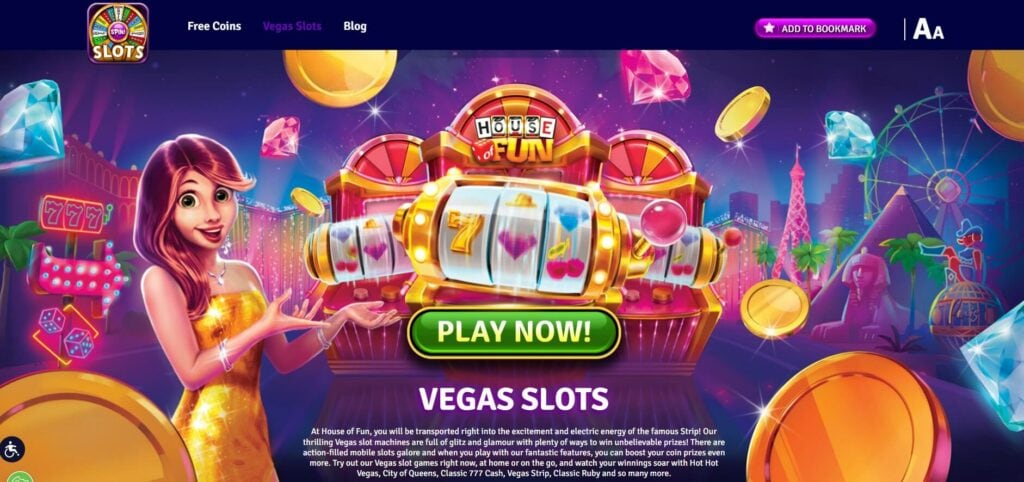 House of Fun was launched in 2013. With this social gaming platform, Playtika covered everything slot enjoyers wanted – a casual, relaxing experience at Slotomania, and a more authentic casino experience in House of Fun.
What separates HOF from Slotomania is a higher accent on Vegas-style and jackpot slots. Several key mechanisms bring them together, such as level-locked slots and the revolving door of free bonuses.
Playtika games in House of Fun are more polished, boast improved graphics, and come packed with dozens of unique features (e.g. 4 sticky stacked wilds in Irish Princess 2). Furthermore, this casino has almost twice as many casino games compared to Slotomania.
Even though House of Fun doesn't have as many downloads or active users as Slotomania, it's still a remarkably popular social casino with over 100,000 downloads. Its Google Play Store rating is 4.5/5 while it's ranked among the Top 100 casino apps in the Apple App Store with a rating of 4.6/5 stars.
World Series of Poker (WSOP)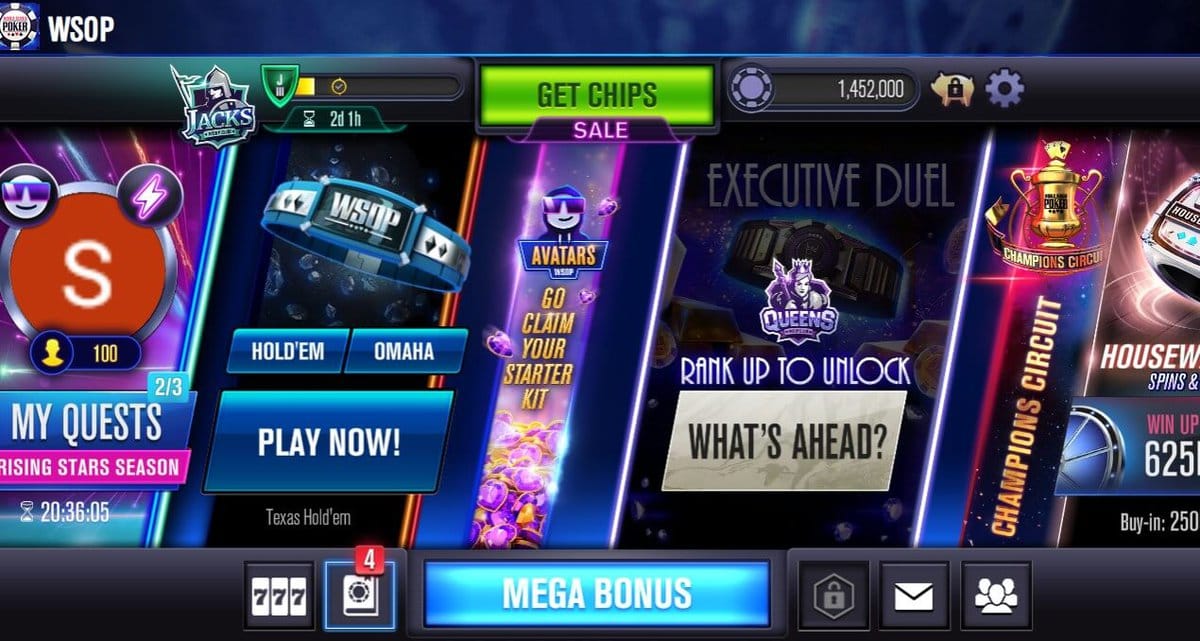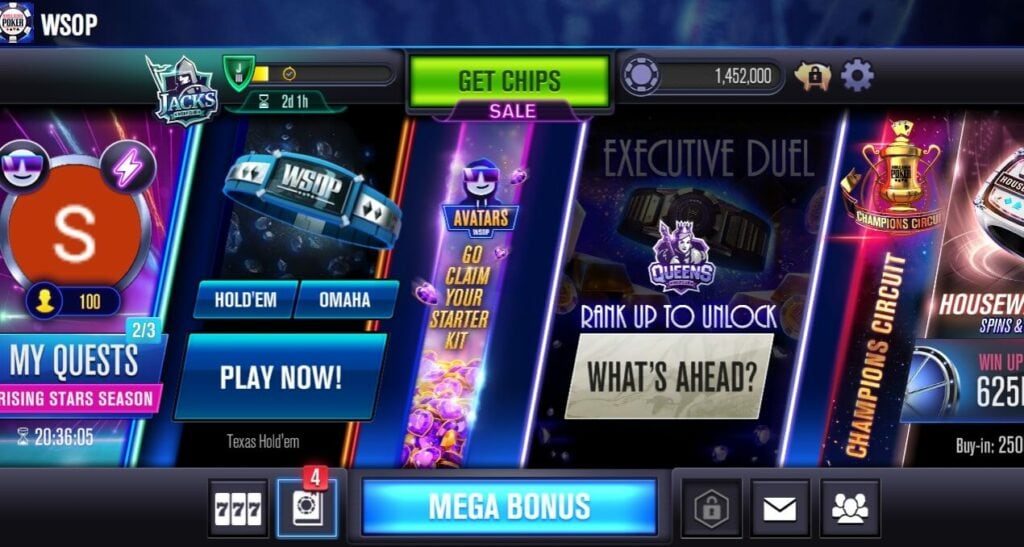 World Series of Poker is a major real-life poker tournament series that dates all the way back to 1970. The massive popularity of WSOP has inspired Playtika to create a poker-focused app and platform, which was ultimately launched in 2013.
Playtika officially launched its free access World Series of Poker app and platform in 2013. Initially, it was a poker-exclusive app, but to make it more fun and give it more variety, Playtika also introduced elements of slot machine gaming and collectibles to WSOP.
World Series of Poker: Texas Holdem Game has two enviable accolades under its belt. It's not only one of the best-rated poker apps (based on over 1,610,000 reviews), but it is also among the most downloaded apps ever (more than 50,000,000 downloads so far).
Similar to more mainstream social casino games and platforms, WSOP features bonuses, VIP levels, unlockable game types, and credits (chips). Moreover, players can receive 500,000 free WSOP chips by inviting friends, which resembles Refer-a-Friend offers that are commonly available in contemporary social casinos.
Even though there is only one "main" poker game in this app, several other games are available in WSOP such as the Penny Slot minigame or The Lightning Show, as well as a broad range of different poker tournaments.
Fun fact, the "real" WSOP has been sponsored by the Caesars Entertainment Co. since 2004 – the same company that bought Playtika in 2011.
Best Playtika Games
Playtika games vary greatly depending on which platform you're using. Before diving into the best Playtika games, let's briefly break down what you can expect from each of their casinos:
Slotomania – the oldest Playtika social casino with roughly 170 games. It offers a combination of casual free casino games and megaways slots
House of Fun – the second Playtika casino has more than 300 titles. This platform features Vegas-style slots, jackpot slots, and a broad range of modern video slots.
World Series of Poker – despite being renowned as a "poker-exclusive" platform, the WSOP app also offers several slot-like minigames that are meant to supplement your chip income.
Crazy Train (Slotomania)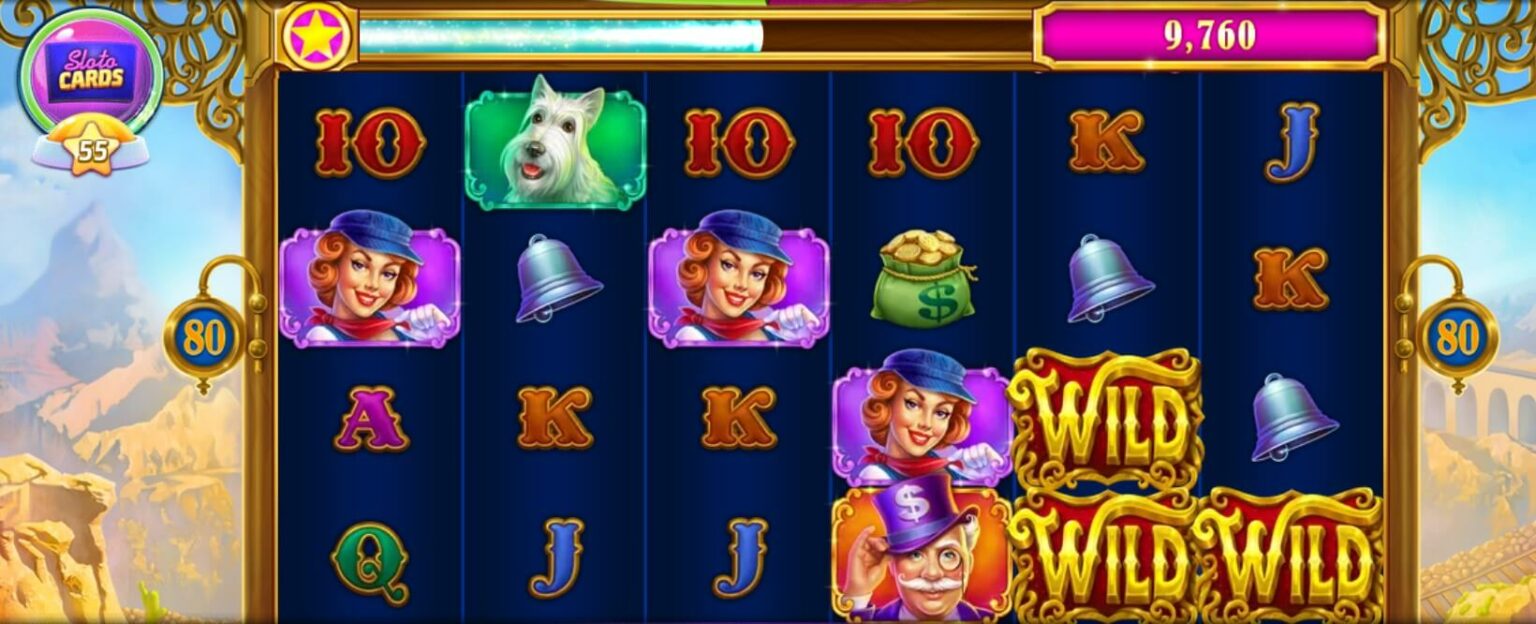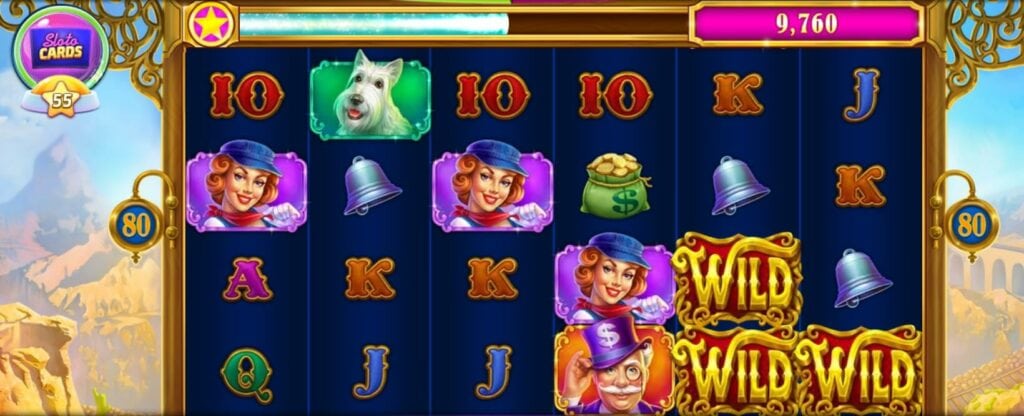 Although its graphics look a bit dated, Crazy Train is an addictive slot with a sky-high RTP. Since it features 80 paylines, regular wins will usually pay out less than the player's wager. However, earning 40+ free spins is a breeze since Crazy Train scatters are very frequent.
Speaking of which, players can earn free spins by lining up Silver Trains, Golden Trains, or a combination of both next to each other. Each holds a random number of free spins while Golden Trains evolve into sticky wilds.
King of the North (Slotomania)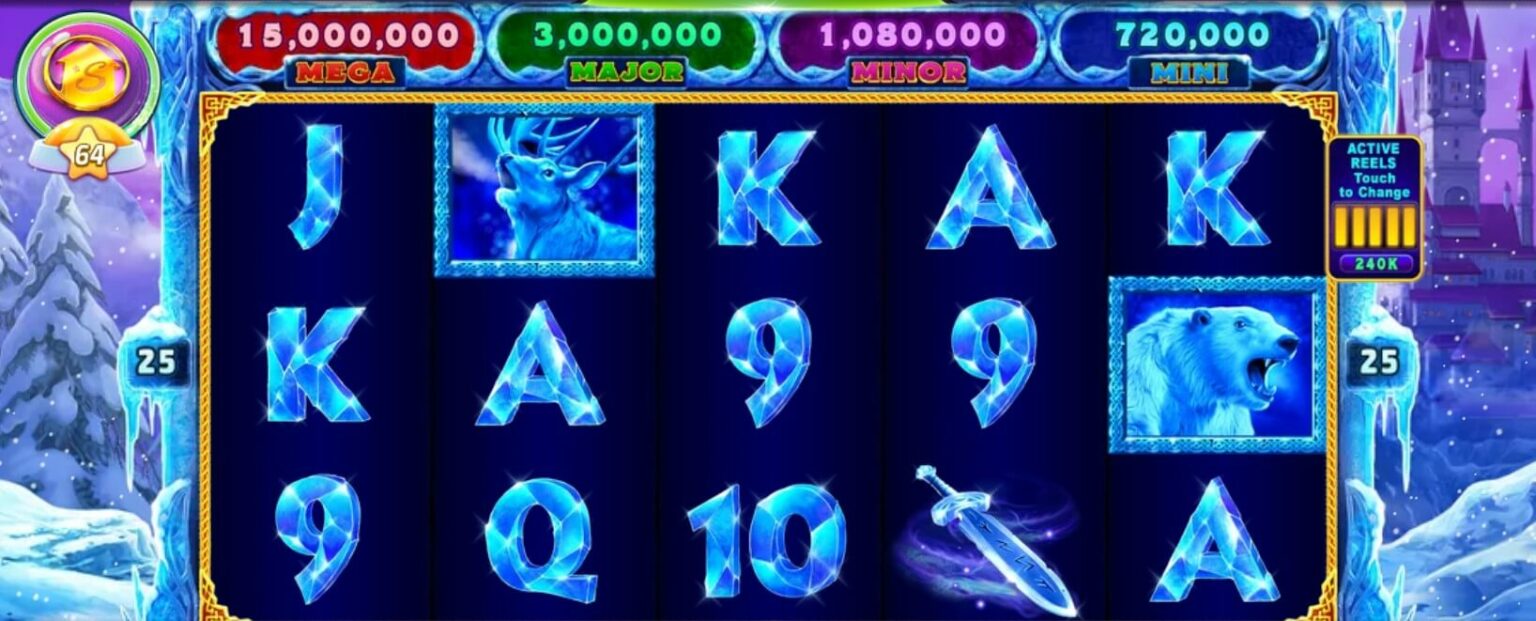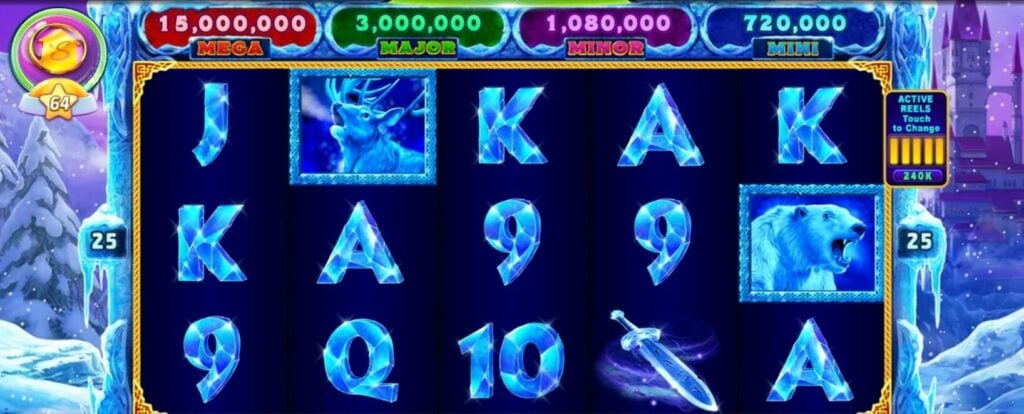 In The King of the North, players can choose from 1-5 active reels; the more reels remain active, the higher the base wager cost will be. However, since this is primarily meant to be a 25-payline game, having all reels onboard gives the best chances of scoring big wins.
Unlike most Playtika slots, King of the North offers excellent earnings from standard wins. The main reason why we recommend playing on all reels is that the bonus wheel symbol can randomly appear anywhere on the table, giving the player a chance to win one of the four jackpots.
Irish Princess 2 (House Of Fun)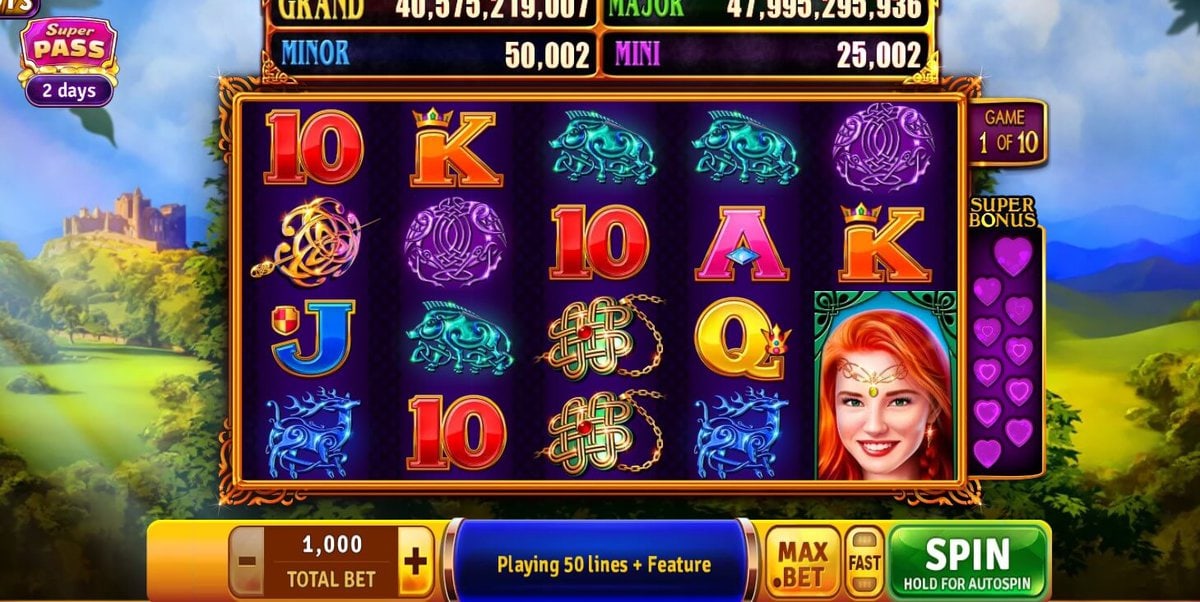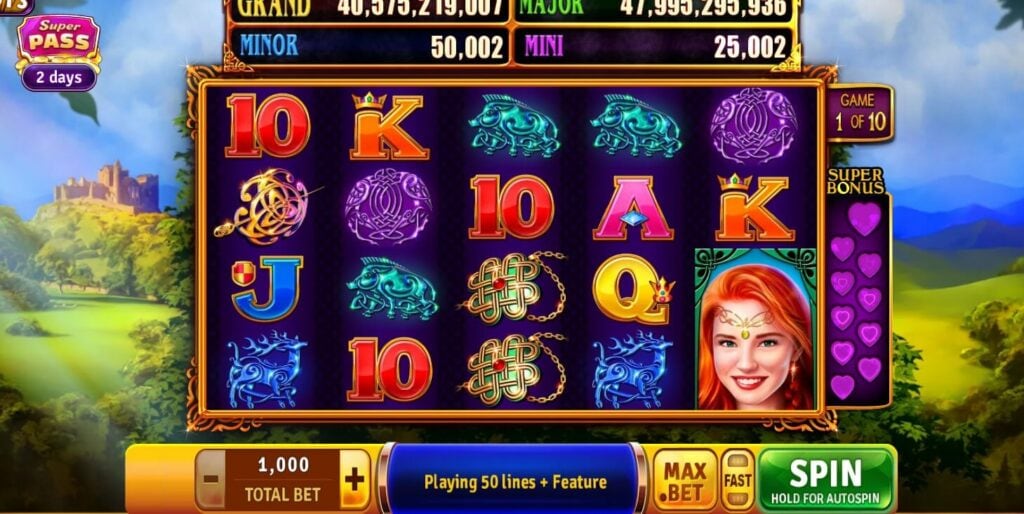 Irish Princess 2 is a 50-payline slot with four progressive jackpots. It's one of the most popular games in House of Fun's catalog for two reasons – it's one of the few games that are unlocked from the start, and its stacked wild feature can turn the tables in an instant.
In real casinos, games with stacked wilds usually limit where this symbol can be drawn to one reel. In House of Fun, the Princess Wild symbol can appear anywhere, meaning that staying afloat during the base game shouldn't be an issue.
With scatters awarding free spins and reels randomly evolving into wilds after 10 spins, the bonus round in this slot game can be ridiculously generous.
WSOP Texas Hold'em (World Series of Poker)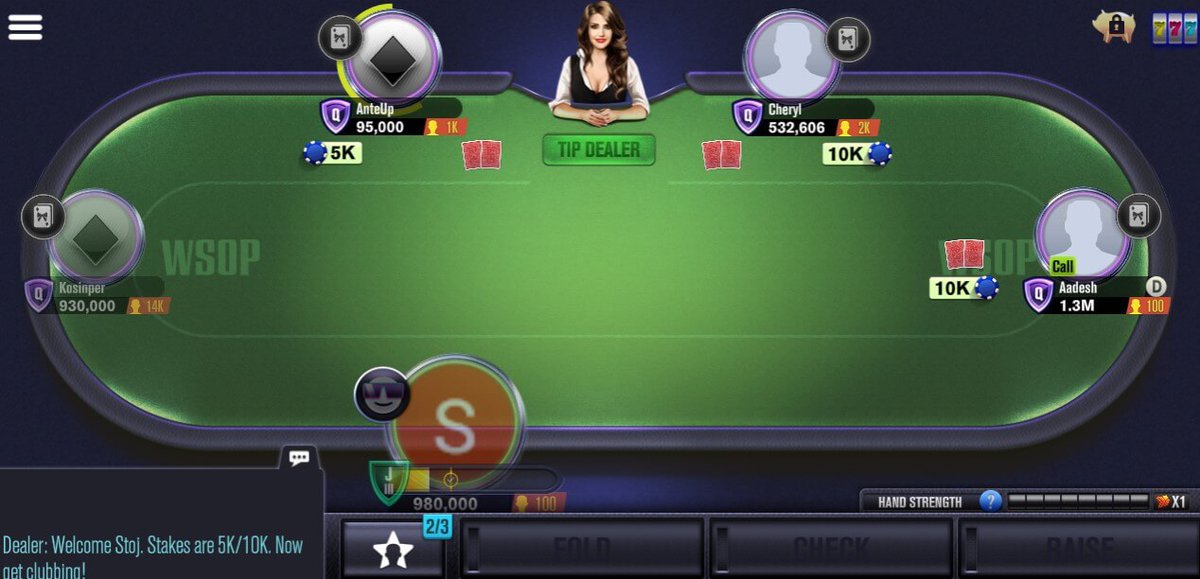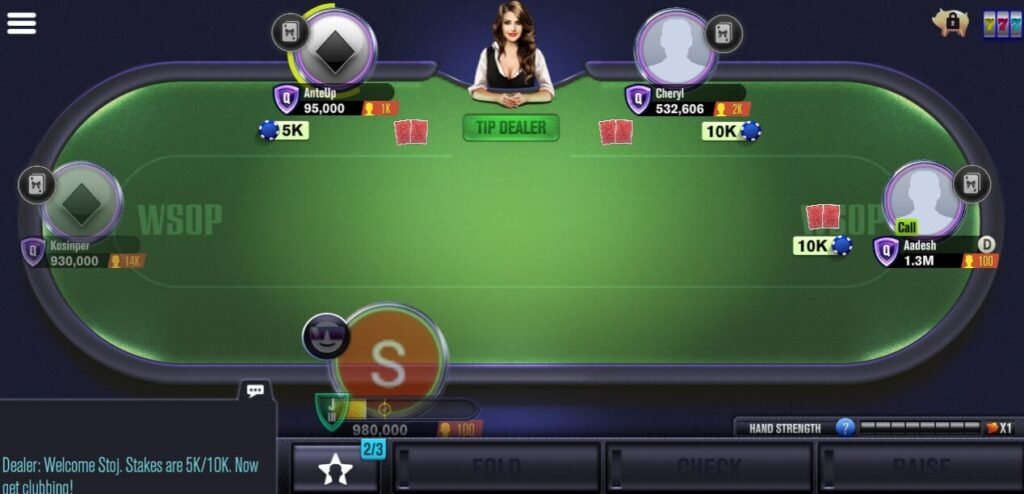 WSOP Texas Hold'em is one of the most popular live poker games in the current market. It follows the standard rules of Hold'em poker in which players compete against other real players, but there's an interesting twist – you can refill your chips by playing penny slot minigames without returning to the lobby.
This adds an exciting element to this poker-style game since all players are required to select how many chips they want to start the game with. Returning to the lobby screen forfeits the invested chips. Fortunately, WSOP offers plenty of ways to earn more chips before the real game begins.
Monsterpedia: Vile Vixens (House of Fun)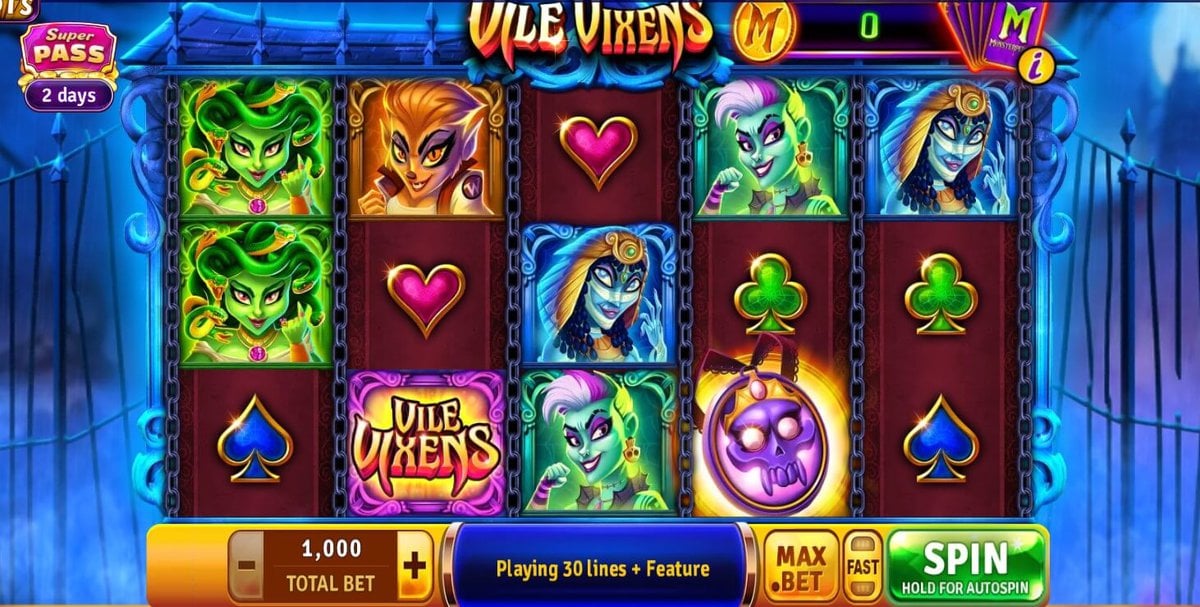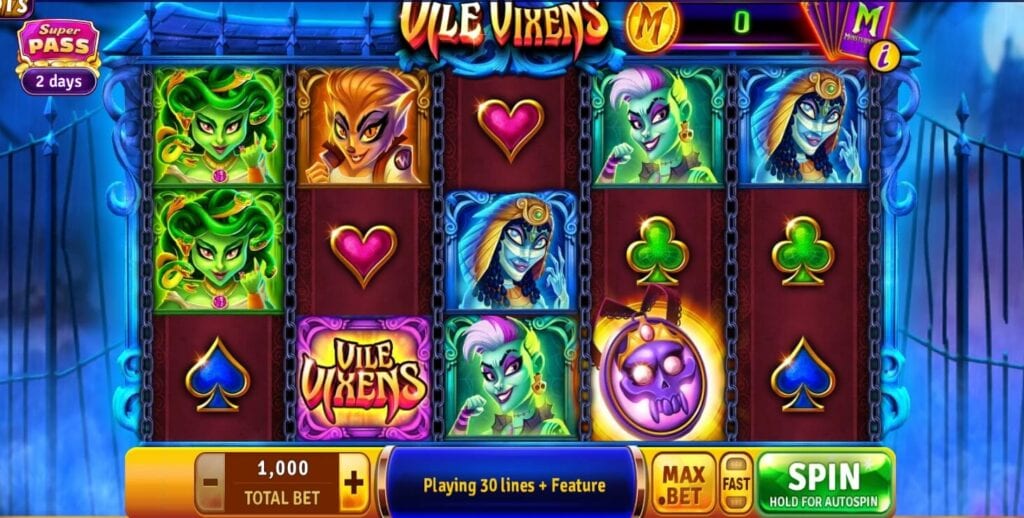 Monsterpedia is one of the most unique slots we've ever played. Instead of featuring scatter-based bonus rounds, this game features a collectible currency that can only be used in this game. The collectible "M" tokens can be used to purchase album card packs, and completing three sets instantly awards 15 free games.
"M" tokens are always awarded when a winning combination is drawn, especially if wild symbols are a part of it. The only problem is that these coins fall in increments of 5-10 on lower bets, and you'll need at least 3,000 Ms to buy the cheapest pack.
Fortunately, wild symbols in Monsterpedia will frequently evolve into "tilting wilds". They will remain on the table and move up by one position with each spin.
How Playtika Social Casinos Work
All Playtika casinos work on the same principles. The player makes a free account, receives the welcome bonus, and unlocks new games by playing.
Each social casino offers different bonuses, but none of them have any wagering requirements, for example:
Daily bonuses are awarded upon sign-up
Hourly bonuses refill every 1-4 hours
Level-up bonuses and new slots are unlocked by reaching the next level
Playtika platforms are "pure" social casinos, meaning that players can't redeem their coins, credits, or chips for real money. The Playtika Rewards scheme is an interesting feature shared by all their platforms, where users can make the most of their gameplay.
How Does Playtika Make Money?
Playtika offers in-app purchases in all of its social casinos. Even though real money purchases aren't necessary to play Playtika games since bonuses automatically refill hourly and daily, it's understandable that some players don't want to wait that long to continue having fun.
Additionally, Playtika also makes money through ads, although its main source of revenue lies in coin and chip packs.
Lawsuits and Controversies
Playtika was operating smoothly within the borders of social gambling laws until 2021. Its first lawsuit coincided with its IPO of a whopping $80,000,000, which may have compelled players who wanted a slice of that pie to take Playtika to court.
The first major lawsuit Playtika was involved with occurred in January 2021. Playtika along with Caesars Interactive LLC faced complaints that alleged some of their games conflicted with Washington's gambling & consumer protection laws.
More specifically, complaints were aimed at Playtika's in-game purchases being fraudulent. The Western District Court of Tacoma, Washington ruled that Playtika's online casino "contains unlawful games of chance", arguing that the company "attempts to lower the perceived cost of the coins while simultaneously maximizing the value of the award, further inducing consumers to bet on its games" (direct quote from case 3:18-cv-052777).
A similar incident occurred in the case of Mills v. Playtika. This time, Playtika was involved in a class-action lawsuit filed by Bedford Rogers & Bowling and Davis and Norris on behalf of Gayla Hamilton Mills. Similar allegations were brought before Alabama's Northern District Court, arguing that Playtika's casino games conflict with Alabama's anti-gambling laws.
The main difference in the case of Mills v. Playtika is that the plaintiffs wanted to "seek an injunction to prevent the company from offering those games in the state."
Recently, Playtika was also involved in a shareholder derivative lawsuit (case 1:22-cv-06758), which implies that the firm misled its investors "over the prospects of its two most successful online casino games." According to the plaintiffs, Playtika made significant changes to in-game purchases of Bingo Blitz and Slotomania shortly before launching its initial public offering.
Alternatives to Playtika Games in the US
Even though Playtika has made great strides in the iGaming industry over the last 13 years, its social casino platforms and apps pale in comparison to more reputable casinos, especially legal sweepstakes casinos that offer chances of winning real money. Here are some of the reasons why you should consider playing in sweepstakes casinos over Playtika-owned platforms:
Better online reputation
Superior slot game libraries
Superior bonuses and promotional offers
Live games, tournaments, and contests
Sweeps coins can be redeemed for real cash
High 5 Casino is widely considered among the best Playtika alternatives, offering over 800 slot games, live dealer games, and a generous welcome bonus comprising 5 SC, 250 GC, and 600 diamonds.
Sweeptastic is also a great option, featuring 1,000+ slots, dozens of promotional offers, and a hefty sign-up bonus of 27,777 LC and 2 SC.
Slot enjoyers who loved Playtika games but found its lack of redeemable sweeps unfun will find their needs catered to by Stake.us. This sweepstakes casino boasts a comprehensive slot library filled with more than 400 slot games, offers numerous original titles, and a barrage of contests.
Summary
Playtika has come a long way ever since it was founded, but even though it kept adding new games to its social casinos, they can still look and feel a bit dated at times.
More importantly, it didn't reach out to popular iGaming software developers like Evoplay, Pragmatic Play, or the NetEnt game studio to expand the variety of its slot catalogs. We'd also argue that many players don't like having to spend weeks unlocking all games.
As a social casino, it does a good job of entertaining people who like simple slots with basic features. Players who prefer tournaments, contests, live games, and the surprising thrills of wagering sweeps for a possibility of real cash prizes will probably like sweepstakes casinos like High 5, WOW Vegas, Pulsz.com, or Stake.us better.
What could take Playtika to a new milestone is following the approach of High 5 Casino, who moved from a social gaming site to a sweepstake casino and has since acquired thousands of new players.