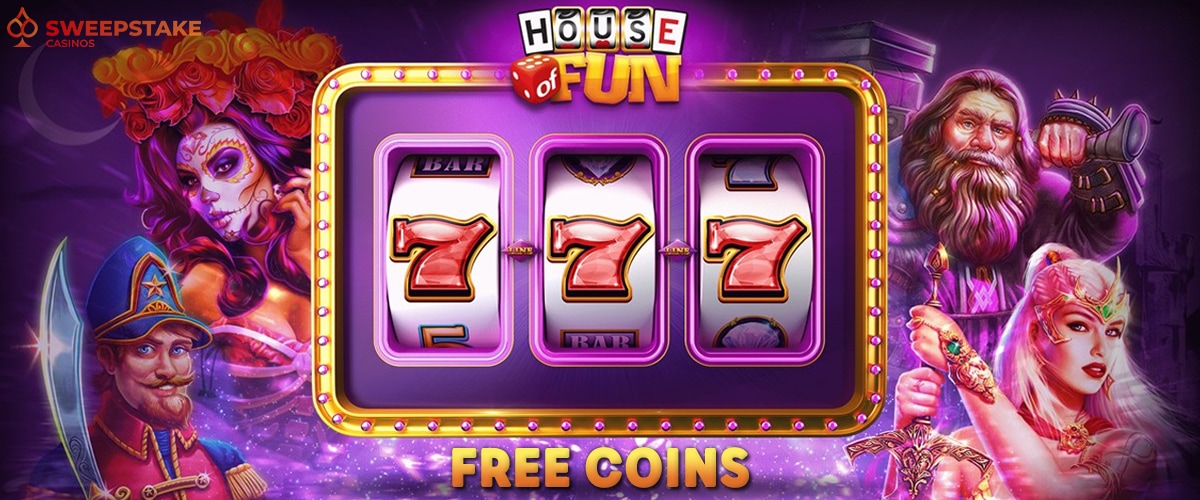 Are you ready to have some fun playing free slot games? If so, you should definitely check out the House of Fun free coins promos for new and existing players. In this guide, we will look at some of the best ways to collect free coins and how you can get free spins on the slots too.
House of Fun is a unique social casino powered by Playtika Games that allows players to enjoy 200+ free casino games using the platform's virtual currency called free coins.
When you start playing at House of Fun, you'll receive a total of 100,000 free coins without the need to purchase any with your hard-earned real money. Plus, you can enjoy tons of additional bonuses and promotions to earn even more House of Fun free coins, boosting your virtual bankroll.
If all that sounds interesting, keep reading this free House of Fun coins guide to learn more about the platform and how to earn additional free coins so that you can enjoy the best free casino games, as well as many free slot games.
🆓House of Fun Free Coins Promos
📜Promo Code/Links
-
🎁No Deposit Bonus
100,000 Free Coins
💵First Purchase Bonus
Up To 100% Additional Free Coins
🤑Other Promos
Daily Email Subscription Bonus, Social Media Promo, Daily Bonus Giveaway, Wheel of Fun, Friend Giveaway
🔞US Eligibility?
✅Yes, 21+ years old
⏱️Bonus Last Verified?
October 2023
How House of Fun Works
House of Fun is one of the best places to enjoy fun slots with free coins. Since the platform is a social casino, it doesn't require you to purchase any coins with real money if you don't want to. Instead, you can collect free coins by completing missions, leveling up, or participating in one of many House of Fun free coins promos.
The free coins you earn are used as virtual currency for you to spin your favorite slot games. Specifically, the minimum amount you can spin with is 1,000 free coins, whereas the maximum bet varies depending on your level.
One difference between House of Fun and other popular sweepstakes casinos, like WOW Vegas Casino and Pulsz Casino, is that you can't redeem your free House of Fun coins for real cash prizes. House of Fun is all about having a good time and enjoying some fantastic free slots.
How to Get Free Coins for House of Fun Slots (New Players)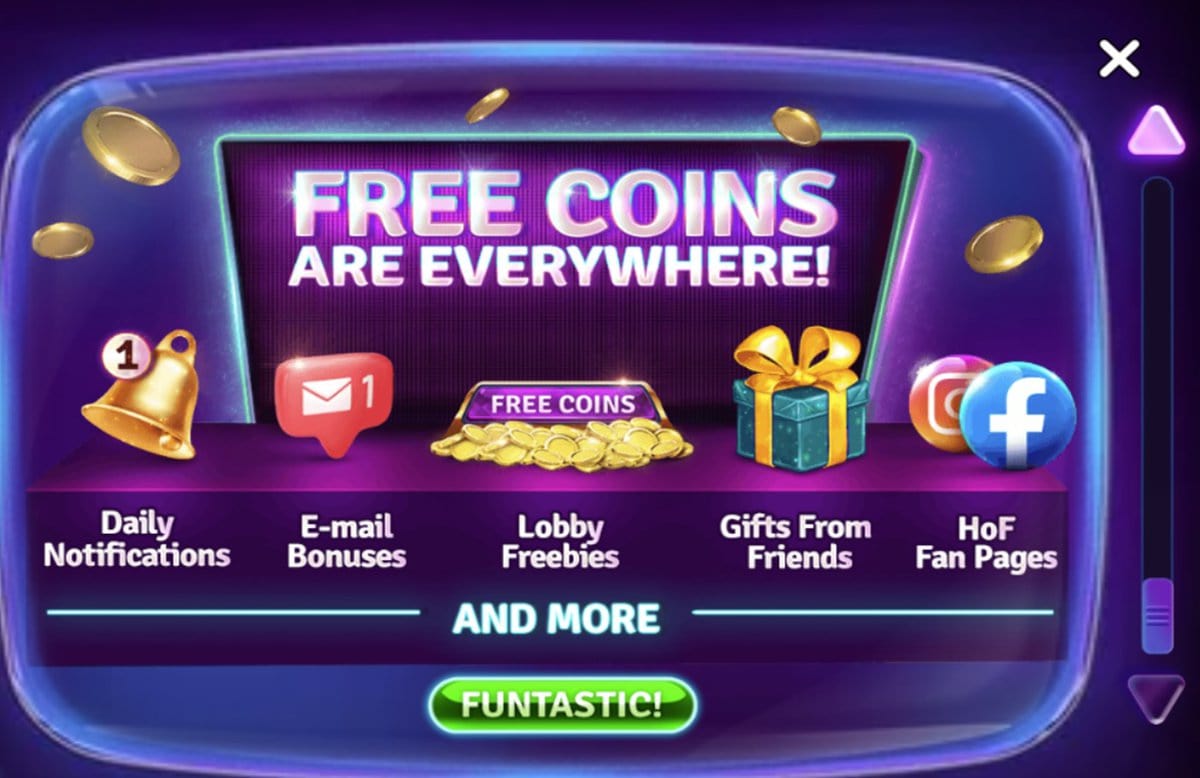 If you're a new player looking to get your hands on some House of Fun free coins, you'll be happy to know there are plenty of ways to do so. Here are some of the best House of Fun promos for free coins for new players:
No Deposit Bonus

Every social casino has a generous no deposit bonus for new players to enjoy its catalog of free slots and casino games, and House of Fun is no different. Once you launch the platform for the first time, you'll receive a welcome bonus of 100,000 free House of Fun coins without the need to deposit any real money.
The best part is you don't need any promo code to unlock this offer. Just visit the House of Fun website, or download the mobile app for iOS or Android devices, and click on "Play Now". The game will immediately launch and credit your account with 100,000 free coins.
These free coins will allow you to start playing the House of Fun slots and leveling up your account, giving you even more free coins in the long run.
First Purchase Bonus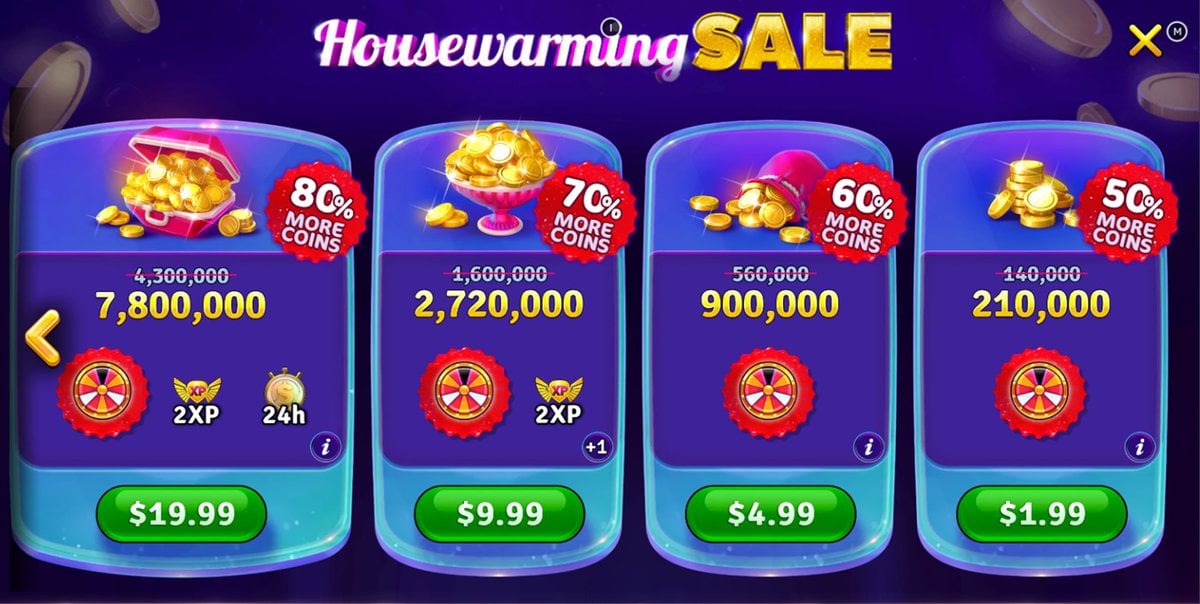 Apart from the free coins you can earn from different House of Fun offers and promos, you can also purchase free coin packages for real money. However, as per social casino rules and regulations, you're not required to do so and can enjoy all the House of Fun slots for free.
But, if you choose to purchase a coin package, you can utilize the House of Fun first purchase bonus, which will give you additional free coins for your purchase. Depending on which package you choose, you can receive free extra coins (up to 100%), so you can enjoy even more play time on your favorite House of Fun slots.
Email Verification Bonus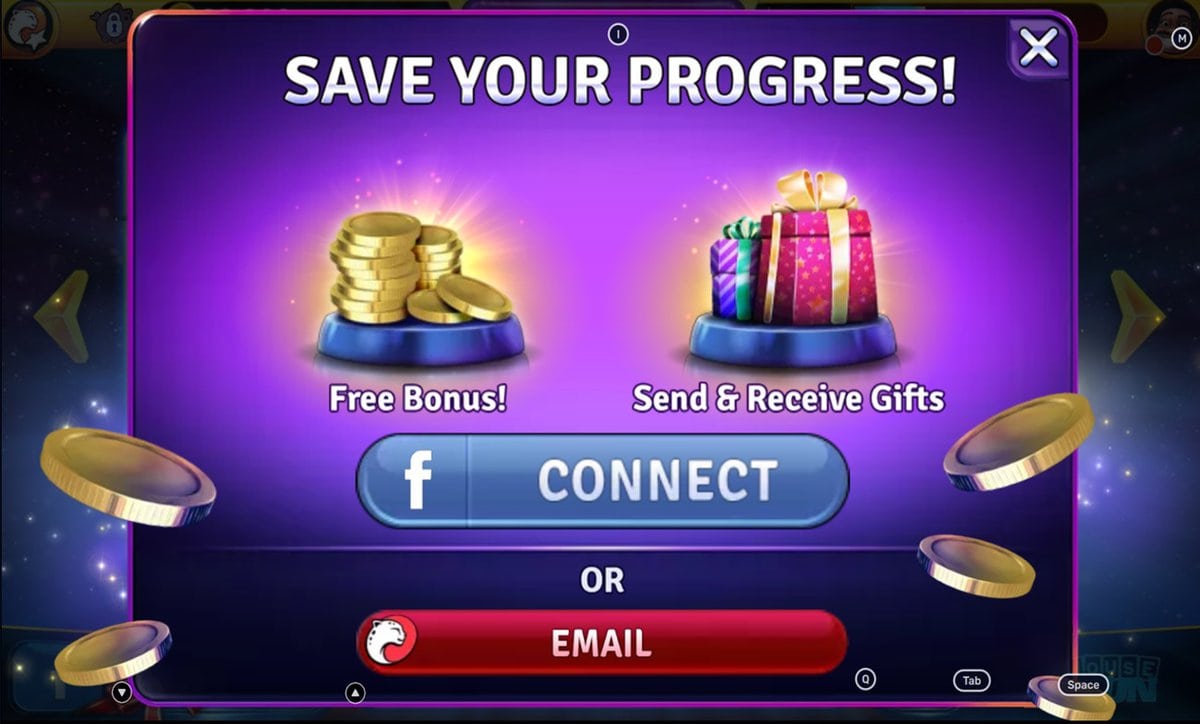 One benefit of the House of Fun social casino is that you don't need an account to start playing.
Therefore, you can just launch the game and start spinning immediately. But, having a proper account on the casino is beneficial since it allows you to track your progress, receive level-up rewards, and gather all the collectibles the website has to offer.
On top of that, you also get some free House of Fun coins when you sign up through email or connect your Facebook account.
All you need to do is fill in your email address and password or log in to your Facebook account, and you'll immediately have your own account ready, with some House of Fun free coins as a small bonus.
Playtika Rewards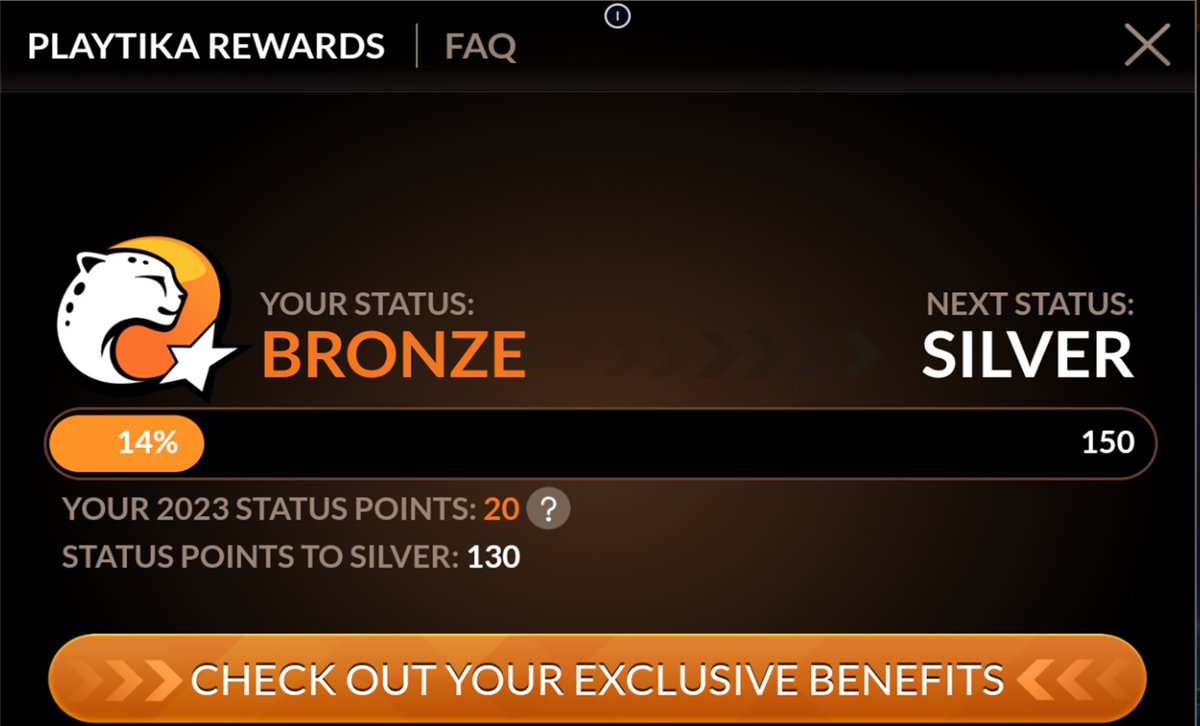 Since House of Fun is part of the Playtika umbrella, all new players can get access to the Playtika Rewards loyalty program. Through this program, you earn Status Points every time you enjoy Playtika free slots, which help you increase your Playtika level.
Depending on your level, you earn additional free coins, as well as other rewards and in-game benefits. All you need to do is opt into the loyalty program and accept the necessary terms and conditions. Afterward, every time you spin a slot, you'll earn your Status Points and climb all the way to the top rank.
House of Fun Free Coins Promo Codes & Links (Existing Players)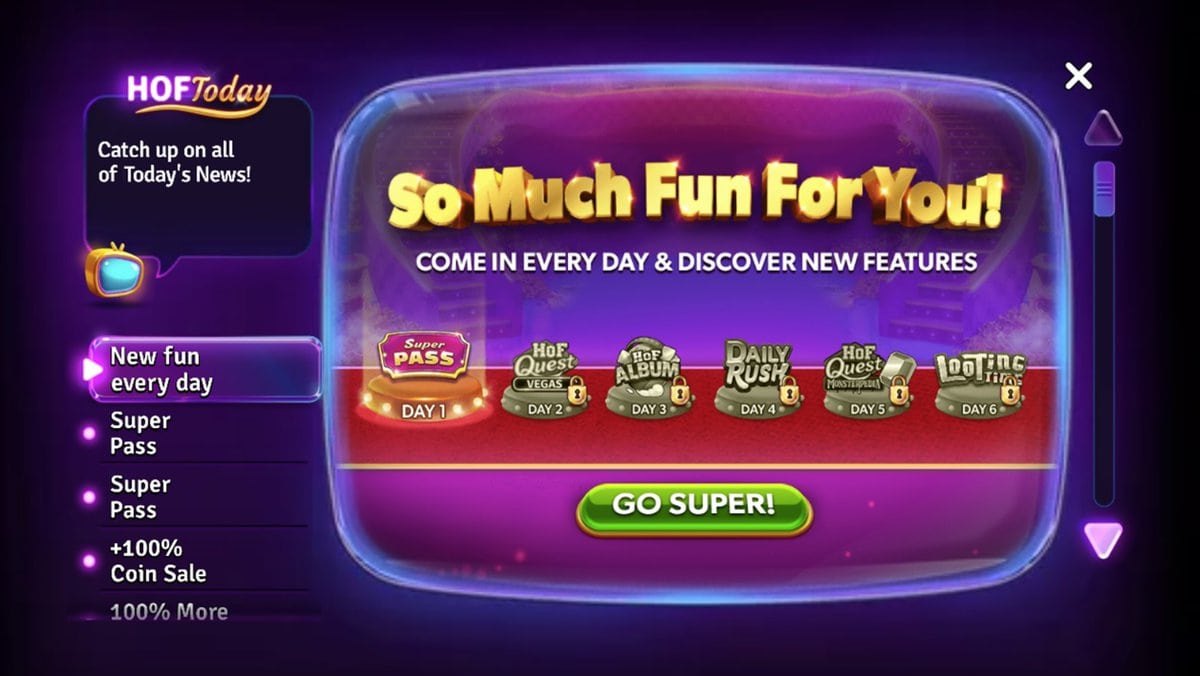 Apart from the bonus for new players, there are tons of bonuses and promotions where existing customers can earn House of Fun free coins. Some of the most popular ones include:
Level-Up Rewards: This is one of the simplest ways to earn free House of Fun coins. The more you play, the more EXP points you earn, which increases your account's level. Each time you level up, you earn a few House of Fun free coins, which can add up to a significant amount over time.
Daily Email Subscription Bonus: House of Fun allows you to sign up for their email subscription service for free. Once you register, you'll receive an email daily containing some bonus free coins, along with other goodies.
Free Coins Turbo Collect: You can find the Turbo Collect feature at the bottom of your House of Fun home page. This promo gives you free coins every few hours, so you can always have some funds to play. While not a huge sum, the fact that you can utilize it multiple times every day can be very beneficial in the long run.
Wheel of Fun: The Wheel of Fun is a unique House of Fun promo that allows you to enjoy spinning a virtual wheel and earning bonus free coins. You can spin the Wheel of Fun and earn up to 180,000 free coins every time! Plus, depending on your Playtika level, you also get a multiplier on your win for even more free coins!
Social Media Free Coins: Every successful social casino relies on its social media following. That's why House of Fun offers tons of free coins through its social media accounts on Facebook and Instagram. If you haven't already followed them, make sure to do so because you're missing out on tons of free coins.
Daily Notifications: House of Fun rewards active players, which is why it comes up with different freebies and notifications throughout the day. If you log in to your account regularly, you may find some inbox notifications that contain free spins or free coins for you to enjoy.
House of Fun Friend Giveaway: Social casinos are all about having fun with your friends, which is why the platform allows sending and receiving free coins between friends. If your buddies need some free coins, you can just send them a small amount, so you can enjoy your favorite slots together!
Can I Win Real Money From House of Fun Free Coins Bonuses?
Some social casinos also come with real cash prizes, where you can exchange your sweeps coins for money, gift cards, merchandise, etc. Unfortunately, since House of Fun is exclusively a social casino, it doesn't have any sweeps coins or other premium currency that you can redeem for real prizes.
Instead, there are the free House of Fun coins, which you can earn through several bonuses and promos or purchase directly, but you can't redeem them for real money. Additionally, House of Fun offers plenty of collectibles for you to amass and create huge collections for fun.
House of Fun Social Casino Overview
House of Fun is one of the earliest social casino platforms since it was established all the way back in 2013. The platform is owned and operated by Playtika Holding Corp., a public digital entertainment company from Israel.
House of Fun allows all players to enjoy 200+ slots from Playtika using its free coins virtual currency. You can win free coins online through various means or purchase them directly using real money. But you can't redeem them for real cash prizes.
You can freely enjoy House of Fun in the US, as long as you're over 21 years old, through its online website, Facebook app, or mobile app for both iOS and Android devices.
🎰House of Fun Casino
🌐Website
www.houseoffun.co
🏛️Parent Company
Playtika Holding Corp
📅Established
2013
💵Currencies
House of Fun Free Coins
🎲Casino Games
200+ Slots
🧑‍💻Software Provider
Playtika Games
📱Accessibility
Online Website, Facebook App, Android App, iOS App
🇺🇸 US Availability
Available, Must be over 21 years old
House of Fun Free Slots & Casino Games
House of Fun offers a large catalog of 200+ slots from the reputable Playtika Games software provider. Some of these slots are also found in other Playtika platforms, but most of them are exclusively built for House of Fun.
You can enjoy tons of different free slots, including the ever-popular Vegas slots, progressive jackpot slots, and the rapid-fire jackpot. Additionally, you'll find plenty of themed slots with popular themes, such as Ancient Egypt or famous fairytales.
Unfortunately, you won't find any other casino games, such as table games or fish games, at House of Fun. The platform focuses on its free slots catalog and doesn't offer any popular table game options, such as blackjack, roulette, or poker.
Are House of Fun Free Coins Worth It?
In general, free House of Fun coins bonuses and promotions are a great way to earn free coins and enjoy the vast catalog of Playtika slots offered on the platform. Plus, the casino has an engaging and user-friendly interface that's easy to navigate and find all the slots and games you want.
However, despite the huge catalog of slots from the reputable software provider Playtika, House of Fun lacks any other types of casino games, such as fish games, table games, or live dealer games.
Additionally, the platform doesn't support redemptions of free coins for real cash prizes, which is a bummer for those that want to have fun playing free slots with a chance at real money.
That's why if you're interested in trying out some new casino games or playing on a platform that supports real cash prizes, you should consider some alternative sweepstakes casinos instead. A few of the most popular ones include:
WOW Vegas Casino: The best sweepstakes casino with 300+ slots and table games, tons of generous bonuses for free coins, and a unique modern online interface.
Fortune Coins Casino: A very reputable sweepstakes casino provider with real cash prizes, a very lucrative no deposit bonus, and tons of fish games and specialty games.
Stake.us: Backed by the world-famous Stake crypto casino, Stake.us offers 400+ free slots, table games, and even live dealer games, along with crypto transactions and a great user interface.
Summary
All in all, House of Fun offers social casino players the chance to enjoy some top-quality free slots for fun using free coins. Also, the platform feels very intuitive to use and provides plenty of promos and offers to earn free coins every day, including a welcome bonus of 100,000 House of Fun free coins.
It's not without its downsides, though; the lack of real cash prizes may be off-putting for some players, while others might miss their favorite table games. But, for the most part, House of Fun offers a great alternative to other popular sweepstakes casinos, such as McLuck Casino and High 5 Casino, if you just want to enjoy some free slot games for fun.