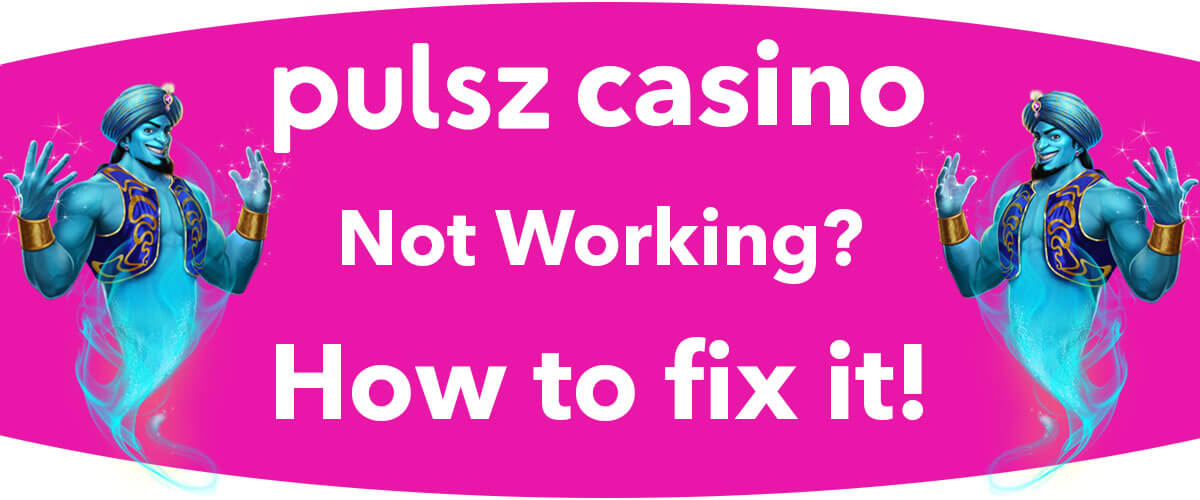 Pulsz is a sweepstakes casino and home to 200+ free casino-style games like jackpot slots, Texas Hold'em, and other exciting games. It is one of the promotional sweepstakes sites where you can win real cash prizes from games.
Ever since it was founded in 2020, Pulsz Casino was rated as one of the best social casinos in the industry, especially for those looking for a legal gambling route. Seeing how important Pulsz Casino is in offering free slots, table games, and other Las Vegas-style games and allowing players to win cash prizes as they would in real money online casinos, finding out the Pulsz social casino is not working can be a nightmare.
Regardless of whether it's caused unknowingly by you or not, you are cut off from all the excitement that comes with Pulsz Casino. Fortunately, you wouldn't be the first to experience this, and in this piece, we will take you through the possible reasons Pulsz is not working and how you can regain access to the many goodies offered by the sweepstakes casino.
Pulsz Casino App Troubleshooting
As we've mentioned before, several things can prevent your Pulsz app from working properly, and in this section, we'd be walking you through common problems and their remedies.
Getting Black Screen When Loading The App
Getting a black screen when trying to log into the app or when loading a game is quite common among users, and it's caused mainly due to the game or app lagging. If your screen goes dark when trying to get into the Pulsz app or play a game, you should close it and wait a few seconds before opening it again. If this doesn't work, you can resolve this issue by restarting your device.
If the above solutions don't seem to work, you might take it further by hard rebooting your mobile phone if it's an Android device. This solution has a very high success rate, so chances are the Pulsz app would work after this. For players whose screen is still dark after doing this, you should uninstall the app, clear the cache and data before reinstalling as a last-ditch effort. While this would require you to input your login details again, it could be what you need to get the Pulsz app working again.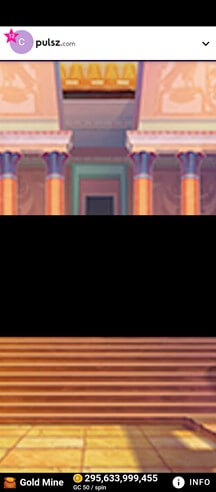 Pulsz Casino App Keeps Crashing
The main reason that could cause your Pulsz Casino app to crash is phone incompatibility. The Pulsz app has a minimum required operating system for you to use on your Android or iPhone. So, while you can download the app from the App or Google Play Store, it will keep crashing if your device doesn't meet the required OS. Before troubleshooting it, know that the latest Pulsz Casino app requires an android version of 7.0 or later and an iOS version 13.0 upwards to run.
If your smartphone or tablet's version is lower than these, we recommend you download an outdated app or add the Pulsz website to your home screen and play your mobile browser.
However, if your device meets the OS requirement to run and it keeps crashing, you should close all run applications on your phone before trying to open the app again. This would reduce the overall ram used by your phone to maintain all running apps and focus it on opening the Pulsz app. If that doesn't work, we suggest you uninstall the app and delete all history and app cache before re-installing.
I Cannot Install the Pulsz: Fun Slots & Casino App
You can download the Pulsz app from the App Store or Google Play Store. But, if you cannot install it or are getting an error message anytime you click the "install" button, you need to check if you have enough space on your smartphone. You need around 30mb memory space on your phone to install the Pulsz app. If you have enough space and are still unable to install the app, the issue might be your internet connection. Close the app store, reconnect your device to the internet, then try to start the installation again. Everything should work this time if your connection is good.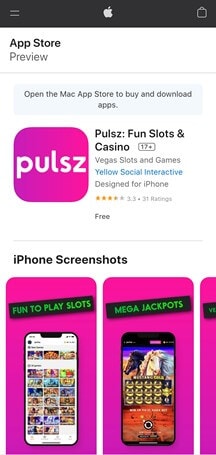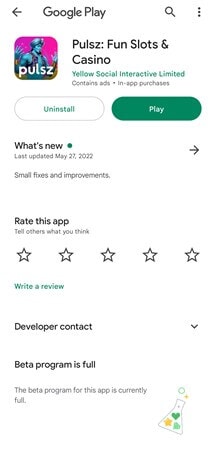 The App Is Not Updating Properly
The Pulsz app is constantly updated with new features and fun games where you can win cash prizes. If you are unable to install the update or it stops downloading halfway through, then it might be because of a weak or poor connection. To be able to update it, your connection must be uninterrupted. Another thing that could prevent your Pulsz app from updating is the phone storage. If you do not have enough storage on your phone or SD card, your mobile device will prevent the update until you free up some space. You can do this by deleting some files or analyzing your file manager to know what is taking up the device's storage.
Sound and Video Problems
Audio and video issues when playing casino-style games via the casino app can be caused by several reasons. The first is to check if your phone is on silent; if yes, you can rectify it by increasing the media volume. If this doesn't work, go to the game setting of the game you are playing and ensure that the soundtrack or music is on. After trying these, you should be able to hear sounds. Still doesn't work? Try using EarPods or playing a sound from your phone to see if the problem is from your mobile device or the app. After confirming this, you might need to repair your phone's speaker if the app works with headphones.
Most video or visual issues are caused by poor internet connection, so check your router, mobile data, or Wi-Fi connection to see if it's good. You can also check your internet speed through third-party websites.
The Pulsz Casino App Notifications Don't Come Through
One perk of the Pulsz app is that you'd get real-time notifications on promotions, new game releases, and much more. But what happens if you fail to receive these notifications? Well, you can quickly resolve this by going to the phone settings, head to the notifications, and switch on the notification setting for Pulsz app. If, after doing this, you are still not getting notifications, or it doesn't come as often as it should, the problem could be that the mobile app is not running in the background.
To allow your Pulsz Casino app to run round the clock in the background, head back to your mobile device's settings and select battery optimization. Click on the Pulsz social casino app and turn off the battery optimization option.
With this, even if you are not using the Pulsz app to play slots or any casino games of your choice, you'd still get live updates on promotions that offer free coins. Note that if your phone is placed in battery saver mode, you will stop receiving notifications until it's turned off.
Other Issues and Errors With Pulsz Casino
Aside from the general issues that could prevent you from accessing your account to play games via the Pulsz app, you might also encounter some errors relatingto your balance or other services offered by the social casino.
I Cannot See My Sweeps Coins Balance at Pulsz
Pulsz social casino is only legal in all US states except Nevada, Idaho, and Washington. Although players outside the US or in the above states can sign up for an account to play Pulsz games, they would not be able to win cash prizes as promotional sweepstakes games are only entered through sweeps coins.
So, if you were once in a legal state but moved, you wouldn't be able to see your sweepstakes coins as Pulsz's geolocation has noticed the change of location. However, if you are within the legal state line and can't find your promotional sweepstakes coins balance, you would have to get in touch with the Pulsz Casino customer support team.
I Have Trouble Logging In at Pulsz.com
There is a plethora of reasons that could be preventing you from logging into your account. The first and most common reason is that your mobile data connection is weak. Logging in session is always timed, and if your internet connection is unable to send your login credentials to the Pulsz Casino server on time, you'd have trouble logging in.
In cases like this, you'd get an error message like "Login session expired." Check your internet connection and try logging in again. What if I have a good internet connection? You might ask.
Another reason causing you trouble logging in could be that you are using the wrong login details. Verify and ensure that your email and password are correct before clicking the "log in" button. If you signed up by linking your Facebook account to Pulsz Casino, we suggest you check if your account on the social media is going through. If Facebook is down, you wouldn't be able to login until it's back online. Aside from these, the problem might be coming from Pulsz Casino itself. There are designated times of the month or year when the Pulsz server would be temporarily down for maintenance. During this period, you wouldn't be able to sign into your account or play games. In cases like this, we'd advise that you wait for at least 30 minutes before attempting to log in again. If all the above solutions don't work, then the problem might be that your Pulsz Casino account is restricted or banned. In cases like this, you would have to contact customer support for possible solutions to getting your account back.
Pulsz Casino Score and Points Not Updating
If you notice your VIP points, sweepstakes, or gold coins are not updating in real-time while playing games, the problem might be caused by huge traffic on the server. Pulsz Casino has millions of players across the US, and the chances of playing a game with thousands of people simultaneously are high, especially if a free SC no deposit bonus is attached to it. When this happens, it might take a couple of minutes before the correct balance on your VIP points or virtual currency.
If everything's the same after waiting, try logging out of your account and closing the app. You can sign in again on your mobile browser or try logging in via the app. Doing this would resolve the issue most times, but if it doesn't, you need to call the support team's attention to this.
The Pulsz Casino Referral Link Not Working
The Pulsz referral bonus is a strict promotion only reserved for existing players. So, if you just joined Pulsz Casino, you wouldn't be able to invite friends with your referral link. We'd advise that you play the social casino games for a couple of minutes and close the app before reopening it.
This would get your account recognized as an existing one, and you should be able to send your referral link. Note that for you and your invited friends to claim the referral bonus, they must signup for an account using the personalized link you sent and purchase any of the gold coin packages within the given timeframe.
My Pulsz Casino Withdrawal Takes Too Long
You can withdraw your winnings directly to your bank account (online banking) or PayPal. These two Pulsz payment options have different processing times, so you must first confirm if the processing time for the banking option you chose has elapsed. If that is the case, you can check your withdrawal status on your Pulsz Casino account by clicking on the withdrawal status option.
For a successful withdrawal, you should confirm from your bank or PayPal if there is a pending transaction. In case there isn't any, you should contact the support with proof of withdrawal, proof of identity, and possibly a statement of account to prove you aren't lying. You can do this via phone, too, with this number +1 (424) 371-7304 provided for payment related queries.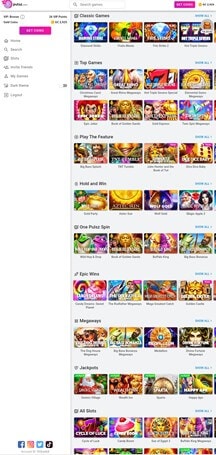 How To Reach Out to Pulsz Casino for Help
Regardless of your issue with the Pulsz app or your Pulsz Casino account, the solutions we have proffered would go a long way in resolving them. But what happens if none of our recommended troubleshooting tips works?
This is where Pulsz Casino customer support comes in. you can reach customer support via different methods, the most common being support@pulsz.com. Queries sent to email support have an estimated response time of 24 hours. You can also follow Pulsz social media pages like Facebook, Instagram, and Twitter to stay updated on Pulsz Casino promotions. These platforms are also effective ways to get in touch with support faster.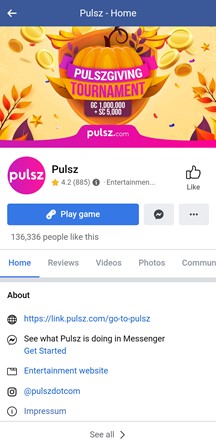 What to Do If You Are Unable To Troubleshoot Pulsz Casino
The solutions we have highlighted to the different issues that might prevent you from accessing Pulsz Casino will work most of the time. But what happens if you cannot resolve the problem or get access to play Pulsz Slots, among other games?
Well, in situations like this, there are several alternative promotional sweepstakes sites you can sign up on. These free online casinos also operate using the sweepstakes model, which means they are legal in all 50 US states, and you can also win cash prizes there as you would in a real money online casino.
If you'd like to start playing at Pulsz sister sites, here are some top alternatives you can choose from. You can read our dedicated reviews on each of them and the welcome bonus offer you can claim to start playing there:
Pulsz Casino Not Working FAQs
Why can't I play bingo at Pulsz?

Even though Yellow Social Interactive owns Pulsz Casino and Pulsz Bingo, they are completely different online social casinos and operate on different servers. If you are a bingo lover, you can sign up at Pulsz Bingo, but if you want to play slots and other casino-style games, you will get that at Pulsz Casino.

Is Pulsz under maintenance?

This depends on the time and day. To keep the casino games and features running, Pulsz Casino often schedules site maintenance. If there is ever going to be one, you would have been notified before D-day. During site maintenance, certain features on the Pulsz app would be slow or inaccessible, so we'd advise you not to play casino games or even log into your account.

No, Pulsz Casino is still functional, with over 200 casino games covering slots and table games. If you are unable to access the site or its features, we suggest you check the list of common issues we tackled above and implement the solutions we offered.

How can I reach out to Pulsz customer service?

Pulsz customer support can be reached through various means. Email support at support@pulsz.com is the easiest; you can get a reply within 24 hours. Alternatively, you can message customer support via the Pulsz Facebook page, Instagram, or Twitter for quicker response. If the issue you are having is payment-related, you can call the Pulsz Casino hotline at +1(424)371-7304. 

How to fix the Pulsz Casino App for Android?

There are various ways to fix any issue you encounter with the Pulsz app. However, this depends on the error message you are getting. If, for example, a game is not loading or you are not seeing all the games available at Pulsz social casino, the problem could be a poor internet connection. But this doesn't fix the problem of not being able to log into your account.

Is there a Pulsz Casino app for iOS software?

Yes, there is a Pulsz Casino mobile app for iOS users, and you can download it from the app store by searching for Pulsz: Fun Slots and Casino. For it to run seamlessly on your device, your iOS must be version 13.0 or a newer version.

What are the requirements to install Pulsz Casino app?

You can install the Pulsz app on your Android or iOS phone or tablets, but your operating system should be at least Android OS 7.0 or iOS 13.0 for optimal functioning. If you do not have a smartphone, there is still a way around getting the Pulsz app on your windows PC or Mac. To do this, download an Android emulator like BlueStacks on your Windows or Mac, then install the Pulsz app via the emulator.