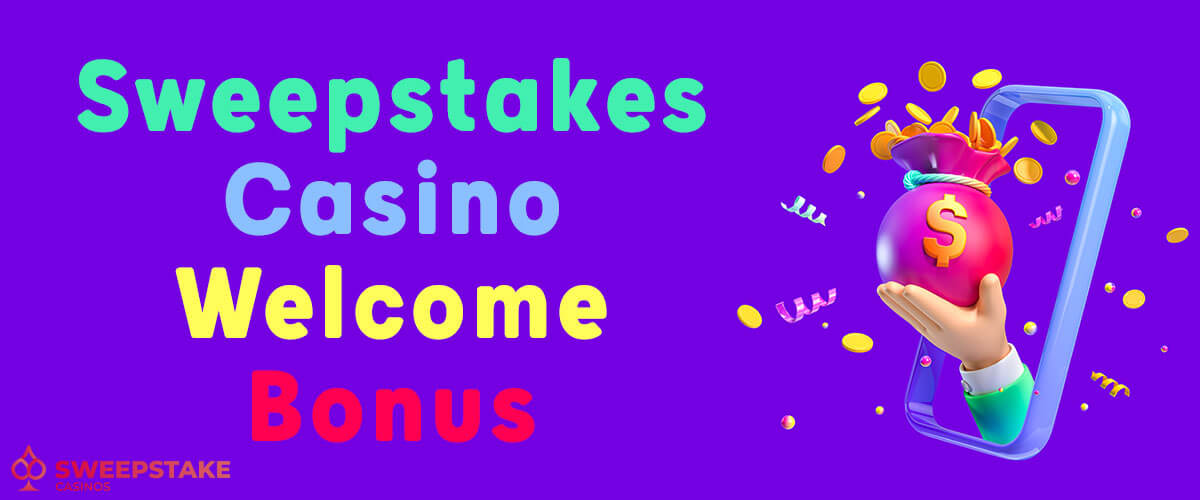 As is standard with online casinos, you will have bonuses you can look forward to at a sweepstakes casino. These bonuses are in place to ensure your account is loaded with gold coins and sweepstakes coins to play games for fun or cash prizes.
Like all gambling sites, the welcome bonus is arguably the most popular, and it is the same at sweepstakes casinos, where players can expect a package on legit sites.
The welcome bonus package, in most cases, will include a no deposit bonus, where your account is loaded with free gold coins and sweepstakes coins after signing up. Also included is a first purchase bonus, where you get a discounted offer or matched bonus as you purchase gold coins.
Our guide reviews the first purchase bonus in detail and points you to the top legit sweepstakes online casinos you can claim the bonus.
New Sweeps Cash Offers on your First Purchase
Best First Purchase Bonus Sweepstakes Casinos Reviewed
Wondering where to start on the first purchase sweepstakes bonuses? Here are the top five social casinos we recommend:
Pulsz Casino – 200% Bonus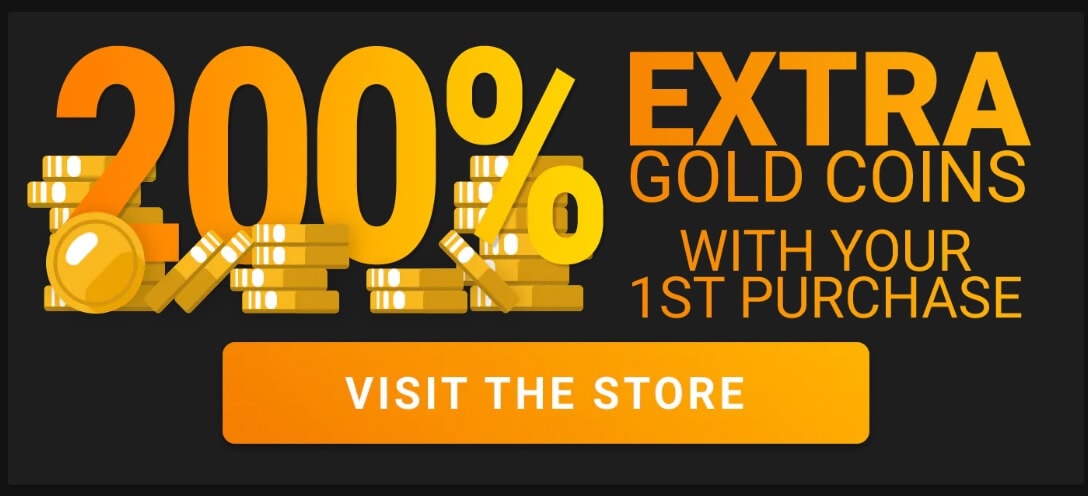 Pulsz Casino is among the leading social casinos accessible in 47 states, except WA, ID, and NV. Its portfolio features 300+ online casino games, including regular and progressive jackpot slots and table games.
Immediately after signing up, you will have two bonuses. The first is the no-deposit bonus of 5,000 gold coins and 2.3 sweepstakes coins, with Pulsz Casino adding a 200% first purchase bonus, where you can claim two discounted bundles.
They are as follows:
$9.99 purchase to get 15 free sweeps coins instead of 10.
$19.99 purchase to get 30 free sweeps coins instead of 20.
You will not need any exclusive Pulsz Casino promo code to claim the bonus. The social casino lets you purchase a Pulsz gold coin package via Visa/MasterCard, Skrill, Trustly, ACH, and online bank transfer.
Chumba Casino – 200% Bonus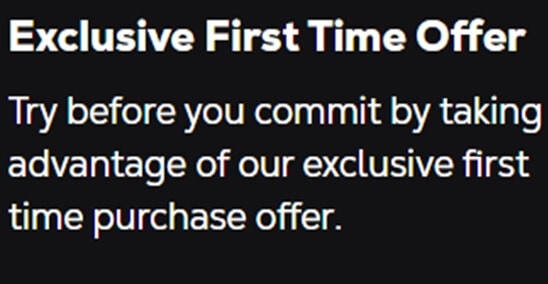 Chumba Casino is a pioneer in the social casino gambling world and is available all over the US, except WA and ID. It is another sweepstakes casino with a decent range of casino-style games, including 100+ slot games and a few table games.
Like Pulsz Casino, new players will have a no deposit casino bonus and a discounted first-purchase offer. Immediately after signing up, the sweepstakes casino will load your account with 2,000,000 free gold coins + 2 sweepstakes coins and complements with a first purchase discount where you get 2x the coins. Here, you will have 10,000,000 gold coins + 30 sweeps coins loaded into your account for $10 instead of the standard $30.
Looking at it, it is a 200% bonus which is impressive. And like most social casinos on our list, you will not require any exclusive Chumba Casino promo code to claim the bonus. Chumba purchases can be made via Visa/MasterCard, Skrill, PaySafeCard, and bank transfer.
Fortune Coins – 100% bonus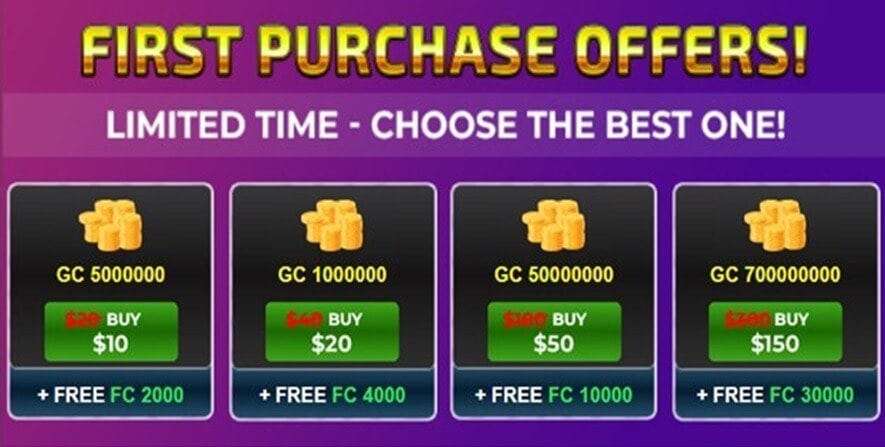 Fortune Coins is one of the top free sweepstakes casinos with 150+ casino-style games that you can play for free or to win cash prizes. The sweepstakes casino is accessible in all US states except WA and welcomes users with a generous package.
After successful account registration, your account will be loaded with a free bonus of 140,000 gold coins + 500 fortune coins. In addition, a first purchase offer will be available. At the time of writing, you would buy limited discounted offers as follows:
5,000,000 GC + 2,000 free FC for $10 instead of $20
1,000,000 GC + 4,000 free FC for $20 instead of $40
50,000,000 GC + 10,000 free FC for $50 instead of $100
700,000,000 GC + 30,000 free FC for $150 instead of $300
The discounted offer is a 100% bonus you can claim without any Fortune Coins bonus code. Purchases at Fortune Coins are via Visa/MasterCard, PayPal, and Skrill.
WOW Vegas Casino – 200% bonus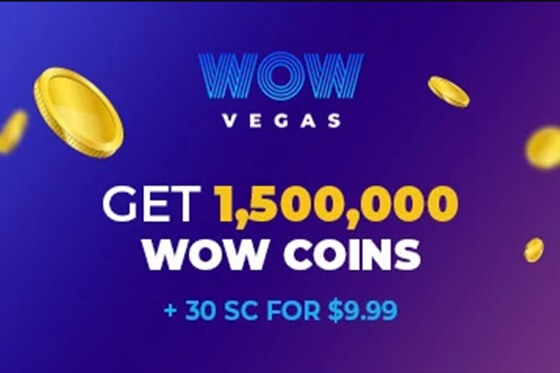 Being one of the newest online sweepstakes casinos, WOW Vegas has been keen to impress from the onset. Besides its accessibility in 47 states, except WA, ID, and NV, you will have a no deposit welcome bonus of 5,000 WOW Coins + 1 SC after signing up and an extra 3,500 WOW Coins + 3.5 SC after logging into your account in the next two days. It does not stop there, with a 200% bonus available on your first purchase.
WOW Vegas offers a coin package of 1.5 million WOW Coins + 30 SC for $9.99 instead of $29.99. Essentially, the sweepstakes casino has arguably the most generous welcome bonus package, with new players having 1,508,500 WOW Coins + 34.5 sweeps coins to play the 330+ sweepstakes casino games.
All this will be available without any WOW Vegas bonus code required. Purchases at WOW Vegas are via Visa/MasterCard, Trustly, Skrill, and Apple Pay.
Funzpoints Casino – 100% bonus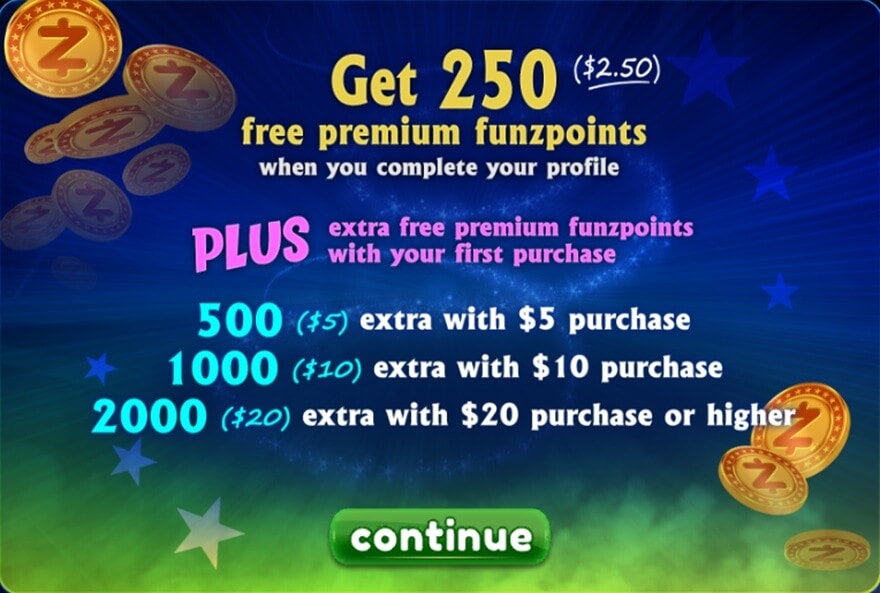 Closing our list of the best sweepstakes casino sites with first-purchase bonuses is Funzpoints Casino. With a portfolio of 70+ sweepstakes games that you can play free slots and keno games, Funzpoints online casino offers every reason to sign up and get going. After signing up, you will have a no deposit bonus of 1,000 standard funzpoints and 250 premium funzpoints, an equivalent of $2.50. Adding to the bonus will be a 100% deposit match bonus of up to $20 on your first purchase of at least $4.99. The $20 bonus is equivalent to 2,000 premium funzpoints that you can use to play games and redeem real cash prizes.
Comprehensively, the welcome offer at Funzpoints online casino is a $22.50 bonus + 1,000 standard funzpoints. The bonus is available without any exclusive Funzpoints Casino promo code, with deposits/purchases made via Visa/Mastercard and American Express.
What is a First Purchase Bonus?
You will likely find a first purchase bonus incorporated as part of the popular sweepstakes casino bonuses on legit sites. It is a welcome offer eligible for new players who purchase the online casino's virtual currency for the first time. And as you will notice, you can only buy gold coins, with free sweepstakes coins added as a bonus to the package.
On the one hand, the social casino might discount the gold coins price. For example, Chumba Casino offers 10,000,000 gold coins + 30 sweepstakes coins for $10 instead of the regular $30. The discount, in this case, is $20, representing a 200% bonus. Alternatively, the online casino might offer a deposit match bonus on the first purchase. For example, Funzpoints provides a 100% match bonus of up to $20. After your first purchase bonus, your next purchase will be at the standard price.
How First Purchase Sweepstake Casino Bonuses Work?
The first purchase bonus will work just like all other casino bonuses. Once you have completed your purchase and your coins are loaded into your account, you can play online casino games for fun via gold coins and for real cash prizes via sweeps cash.
But we always advise you to exhaust the free no deposit bonuses awarded after registration before making your first purchase.
Something that is not common with social casinos, as opposed to real money online casino sites, is that these bonuses will have a few to no game restrictions. You must also play the sweepstakes coins a set number of times, depending on the sweepstakes casino, to redeem prizes. We shall look at the rules & restrictions in detail later in our guide.
Types of First Purchase Bonuses
With signup bonuses available in deposit or no deposit bonuses across traditional online casinos, are there types of first purchase bonuses at sweepstakes casino sites? The answer is yes, and below are the popular types across the legal sites:
Deposit match bonus: Like in real-money online casinos, some sweepstakes sites will match the first deposit to a set amount. For example, the first purchase bonus at Funzpoints Casino is a 100% deposit bonus of up to $20 after purchasing the first package of at least $4.99.
Discounted bonus: The most popular first purchase bonus seen across many sweepstakes online casinos is the discounted offer, where you receive more value for a discounted price. For example, Fortune Coins Casino provides a 100% bonus, where instead of getting 5,000,000 gold coins + 2,000 FC for $20, you get the package at a discount of $10 to purchase it at $10.
How to Claim a First Purchase Bonus at Sweepstakes Casinos
The process of claiming a first purchase bonus is straightforward. Below is the step-to-step guide:
Identify a legal sweepstakes site: Find one platform you prefer and create a free account by providing accurate information. This ranges from your email address, username, password, full name, address, state, ZIP Code, and phone number.
Verify your account: This is a necessary step at all listed legal sweepstakes casinos for hassle-free purchases and redemptions.
Claim your welcome bonus: Your first welcome bonus will be a no deposit bonus, where you get free gold coins and sweeps coins loaded into your account. Use them first before your first purchase.
Check the terms & conditions: It is important to read the T&Cs to understand aspects like the value of each coin, wagering requirements, game restrictions, minimum and maximum redemption limits, etc.
Purchase your package: Click on 'buy' and purchase your package via the supported payment options. Check the one with the offer since not every package will be eligible for a match bonus or discount.
Receive your gold coins + sweeps coins: After your purchase, the coins will be loaded into your account immediately, and you can start playing games.
Rules & Restrictions
Every online casino bonus will have terms and conditions attached. It is not different from the first purchase bonuses at the sweepstakes casinos. Below are some of them:
Game restrictions: Despite its rarity, some social casinos may restrict some games, where you cannot play the selected games with the bonus.
Time limitations: The bonus may have a validity timeline to which you need to use it. At the same time, some purchase bonuses may have a limited timeline to which you can claim them.
Wagering requirements: Similar to real money casinos, the sweepstakes casinos have playthrough requirements attached to the bonuses. The only difference is that they are not placed highly, with most social casinos placing a 1x wagering requirement on SC before a withdrawal.
Bonus codes: It is essential to check if the bonus is redeemable via exclusive bonus codes before purchasing. However, most legal sweepstakes casinos do not require a bonus code to claim.
Limits: Finally, check the minimum SC required to withdraw and the maximum redemption limit after winning cash prizes.
Pros and Cons of First Purchase Sweeps Cash Bonuses
We look at the pros and cons associated with the first purchase bonus:
| ✅Pros | ❌Cons |
| --- | --- |
| An incentive to attract players | Time limitations |
| More value for lower cost | Available only once |
| A boost to your account balance | Not available in every social casino |
| Free sweeps coins are available | |
On the positive side, the first purchase bonus brings a win-win situation, with the social casino attracting new players who can get additional value for a lesser price. What's more captivating is that free sweeps coins are attached that can win real money prizes.
However, some negatives are associated with the bonus, including game restrictions and time limitations. While game restrictions are not common on legal online casinos in the US, some sites like Fortune Coins have a time-limited first purchase bonus that may keep changing. Finally, you will not find this bonus on every social casino, with online casinos like Stake.us not offering it.
Summary
Whenever you want to get started at a social casino, the first purchase bonus is one of the bonuses you should take advantage of besides the no deposit bonus. It is the surest way for newbies to get a high-value package with gold coins and free sweeps coins for playing casino games. But as we insist, reading the terms & conditions attached to the sweepstakes casino bonuses, including the first purchase bonus, is essential to understand aspects like eligibility, how to claim, and the validity period.
Find your preferred casino on our guide, click the links to sign up, and enjoy the first purchase bonus without any purchase or deposit bonus codes. And while at it, take advantage of other sweepstakes casino bonuses like the daily login bonus, mail-in bonuses, and social media contests.