Moonspin Casino is one of the youngest sweepstakes to enter the U.S. market. It caused a buzz among online casino players by offering a hefty no-deposit bonus and multiple ways of obtaining free entries. However, its library of online games leaves a lot to be desired.
Pros
Beautiful user-friendly interface
Simple and unique games
Pays out in gift cards, merch, and crypto
Hefty no-deposit bonus
Cons
No traditional table games
Very little is known about the owner
Fortunately, all bonuses and promotional offers at Moonspin.us require no promo codes and players don't need to hunt for promo links to claim their free sweeps and GCs.
Even though there a limited selection of games at Moonspin.us, it's a breath of fresh air for players tired of rigged slots that are spreading like wildfire among new sweepstakes casinos.
Crash, Chart, Dice, Hi-Lo, Limbo, and Moonspin's exclusive "When Moon Bro" games are all "provably fair" titles. Even so, they're quite linear in terms of gameplay, and no matter how "fair" these games are, we're sure not many casino players would describe betting on outcome 1 or 2 as "fun".
In this review, we'll take you through Moonspin.us Casino, break down its main features, show you how to claim its bonuses, and recommend a few more established sweepstakes casino venues if you don't find Moonspin to your liking.
Moonspin Casino Bonus Codes and Free Credits
🆓Moonspin Casino Bonus Codes and Free Credits
🎁No Deposit Welcome Bonus
1,000 Gold Coins and 1 Moon Coin
📜Bonus Codes & Links
None Required
🇺🇸 Eligibility
21+, all U.S. states except for Washington, Nevada, Idaho, and Kentucky
🏛️Owner
Moonspin Sweepstakes
💵Supported Currencies
Bitcoin, Ethereum, Litecoin, Tron, XRP, Doge, USDT
🎰Sweeps Redemption Rollover Requirements
3x
🤑Other Bonuses
Refer A Friend, Daily Reload, Mail-in Bonus, Social Media Contests & Giveaways
Moonspin Casino No Deposit Bonus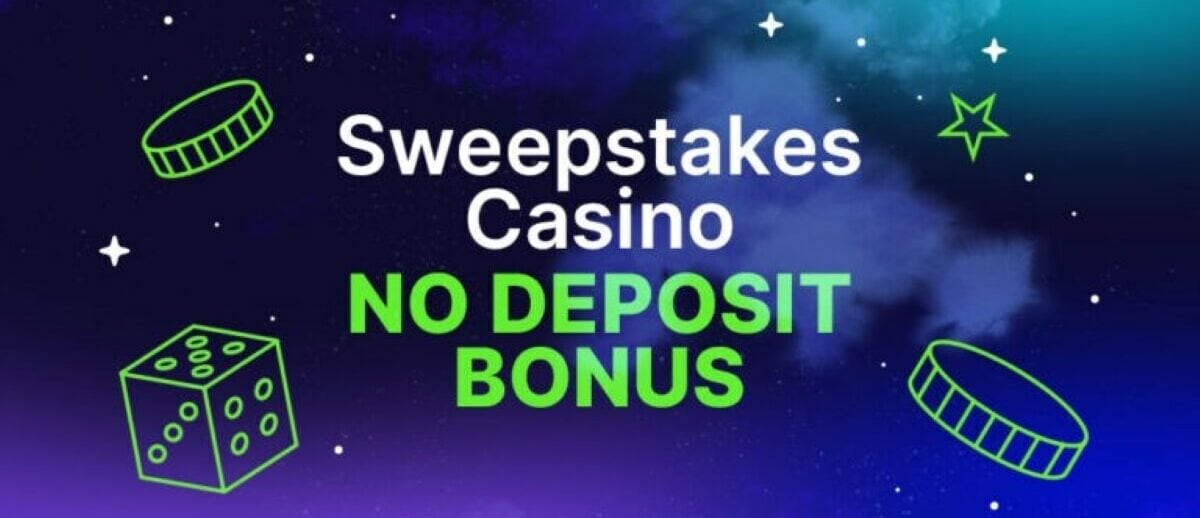 Moonspin Casino's no-deposit bonus awards 1 free MC atop the free 1,000 GCs when you sign up and verify your profile. Gold coins are used for fun play while wagering sweeps gives you a chance to win real money.
Mail-in Bonus
Moon Coins are hard to come by at Moonspin Casino, and your best shot at grabbing some for free is sending Moonspin a postcard like many other sweeps casinos that offer this kind of mail-in bonus.
Although it's great that such an option exists, you'll only get 5 free MCs at the end of the day. Check the requirements in Moonspin's T&Cs to see what you need to write on the postcard.
How to Play at Moonspin.us Casino


You'll need a verified account before you can play games at Moonspin Casino.
Moonspin uses two in-game currencies – gold coins (GC) that hold no real-life value and Moon Coins (MC)  that serve as redeemable sweeps. This system helps sweepstakes casinos circumvent most legal obstructions and enables them to payout players, whether in cash, crypto, or gift cards.
You'll get a thousand Gold Coins as soon as you sign up at Moonspin Casino. It's easy for newbies to burn through this amount since the default bet on all games is 100 coins – 10 unlucky spins, and you're out. Fortunately, you can simply tap "Min" to reduce your wager to 0.5 coins.
Moon Coins are used in the Promotional Mode (and are often referred to as Promotional Entries by Moonspin). When wagering MCs, everything is the same apart from the currency – all the games are available to play and all of the functions otherwise accessible from the Free Play mode work the same here. You'll need to play through your Moon Coins three times before you can redeem them for real money.
Promo Codes to Get Moonspin Casino Free Coins
You don't need promo codes or special links to get free coins for Moonspin Casino. Besides its no-deposit welcome bonus, you can top up your balance by claiming your Daily Reload bonuses or inviting your friends to join the casino via the Refer a Friend scheme.
Another way to increase your Moon Coins balance is by signing up to your account and tapping "Reload" on your profile once per day.
Refer a Friend Bonus
Moonspin.us announced that it has a referral program but didn't bother to explain it in detail. We've gathered that as soon as you create (and verify) your profile, you can enter the Referral Scheme and invite friends for exclusive bonuses – most likely some free GCs and possibly a handful of bonus MCs.
Moonspin Software and Casino Games
Our biggest gripe with Moonspin is its library of casino games. "Different" is not necessarily better, which is especially true for casino players who love watching the reels spin, scatter symbols lining up, and jackpot lights.
Moonspin has little of that because it features games other sweepstakes casinos would categorize as "minigames" – Crash, When Moon Bro, Chart, Dice, Hi-Lo, Limbo, and Wheel of Fortune are the only 7 non-slot games you can play at this sweepstakes casino.
I'll have to give Moonspin some credit – these games truly look beautiful. They are also remarkably easy to play since they mostly share the same features. We'll break down how they work in the following sections, but meanwhile, feel free to check out Pulsz.com, Stake.us, and High 5 Casino if you'd rather play fun and innovative slots from NetEnt, Pragmatic Play, and other top-notch companies.
Slots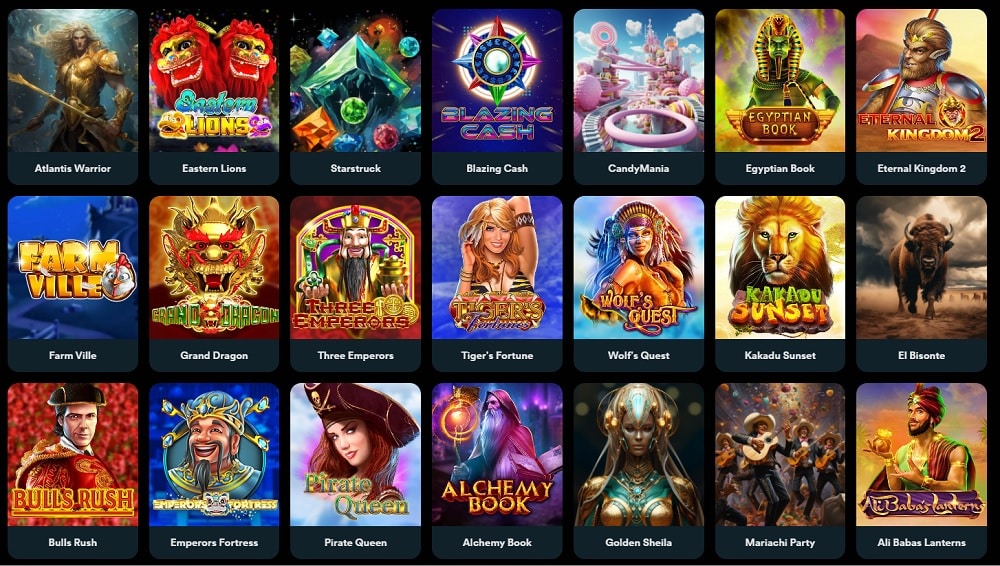 Moonspin initially launched with in-house provably fair games only. Recently, they updated their library with 70+ slots from GameArt. Most of these games look fairly standard, with cool graphics and typical features such as wilds, scatters, and free spins. The range of themes is more than enough, but don't expect ground-breaking mechanics or above the board RTPs. Some of the games you could try at Moonspin.us include:
Pirate Queen
Circus of Freaks
Mariachi Party
Ali Babas Lanterns
Coins of Luck
El Bisonte
Egyptian Book
Farm Ville
Atlantis Warrior
Crash Gaming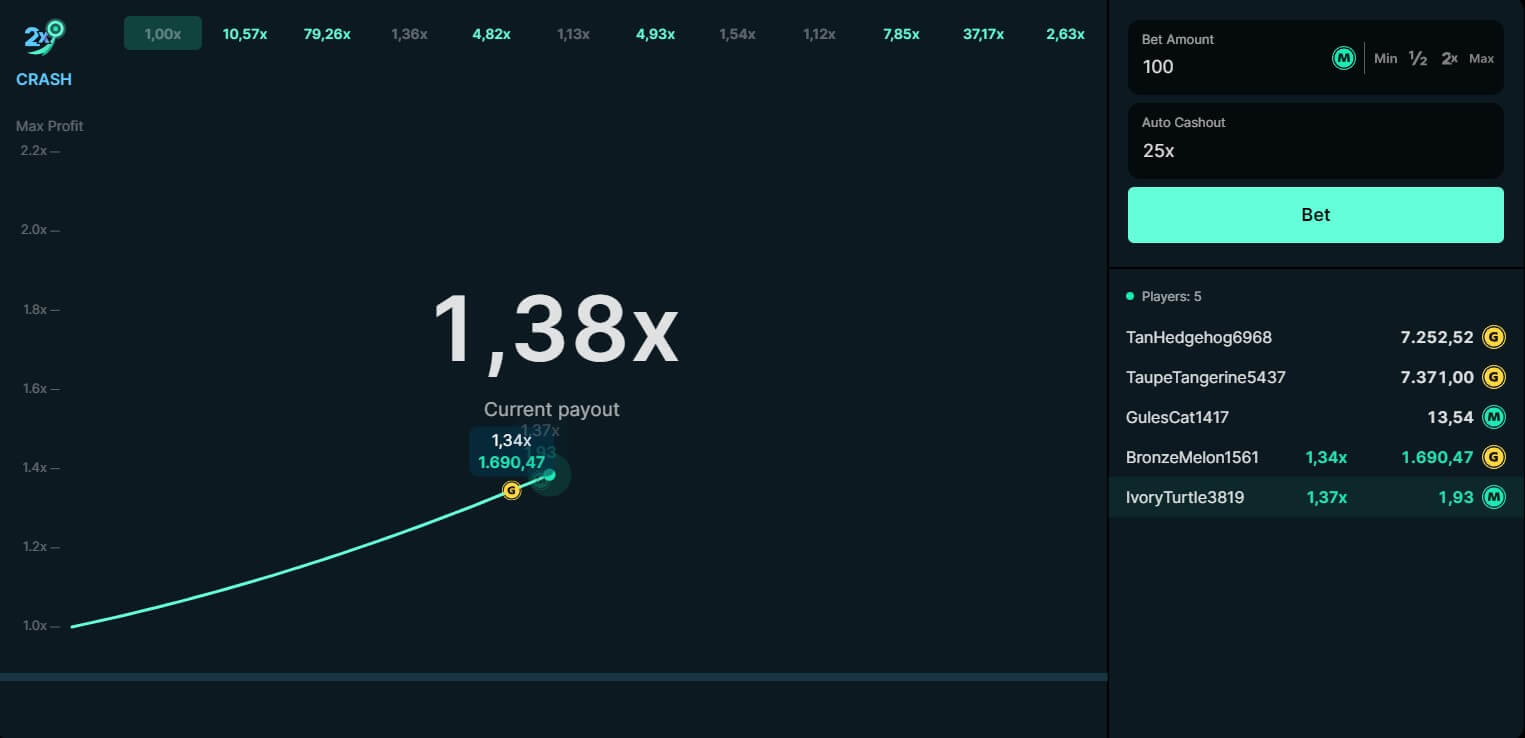 Crash emulates a "market crash". The ascending line begins at 1x and gradually progresses toward the right end of the screen, reaching multiplier milestones. In this game, you wager a set amount of GCs or MCs, but you're betting on these multipliers.
For instance, if you tap "4.33x", the line must reach this level for you to win. If it does, your wager is multiplied by 4.33x, so if your bet was 100 GCs, you'll earn 433 GCs.
Crash is a live game. Allegedly, real players are placing their bets in real-time, and what makes this contest interesting is that when a player bets on a multiplier, it becomes grayed out and is unavailable to other players. Feel free to skip a few rounds and watch what others are doing before wagering your coins.
When Moon Bro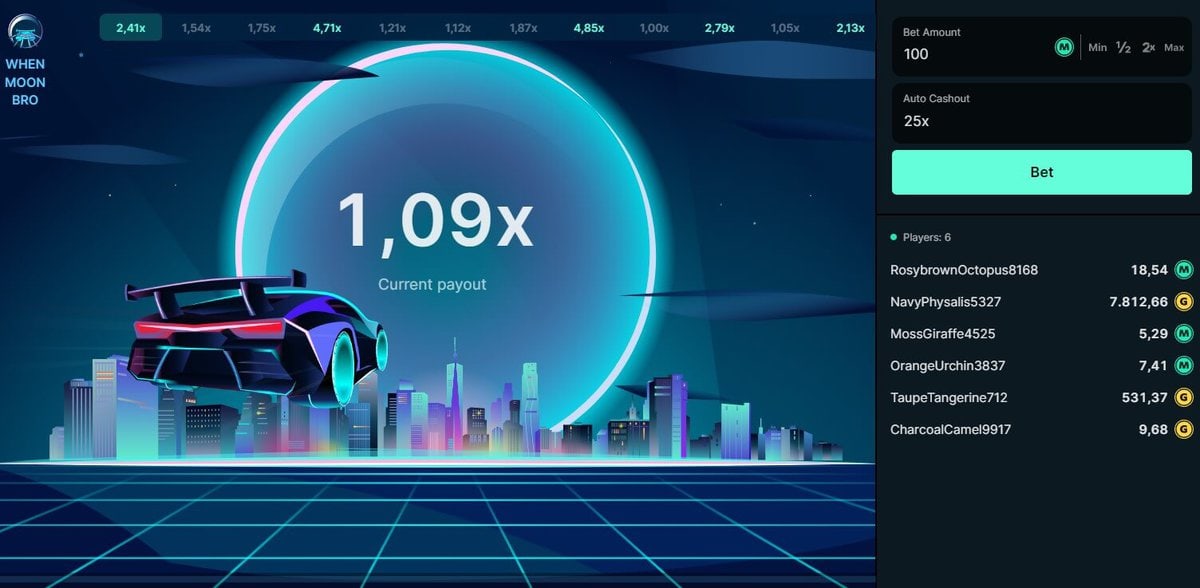 Moonspin used the same system for Crash and When Moon Bro. These games are identical in everything except for graphics – a flying car is racing to the moon, hitting multiplier milestones that players bet on. If you found Crash boring, you'll probably dislike this one as well.
The only difference between them gameplay-wise is that different players are joining the fray. A good strategy you can deploy is to switch between Crash and When Moon Bro lobbies – when the one is full and you don't want to rush your bets, simply enter the other one.
Chart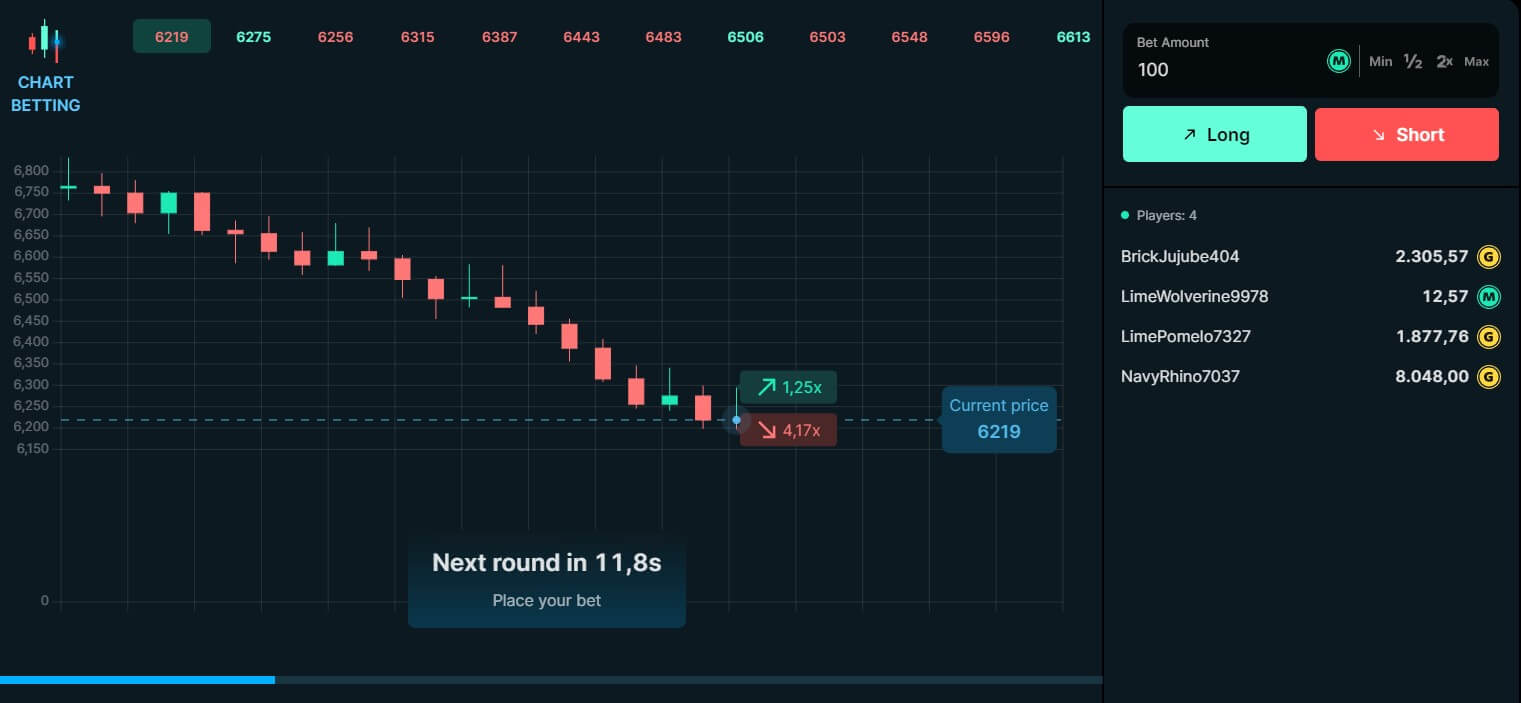 Same concept as Crash and When Moon Bro, but with different numbers. Instead of a line (or a car) gliding across the imaginary board, we now have candlesticks depicting the imaginary "price" of an asset going up or down.
One notable difference between the previous two games and Chart is that the latter continues where it left off when the round ends. Additionally, you can bet on "short" or "long" jumps rather than only multipliers.
Dice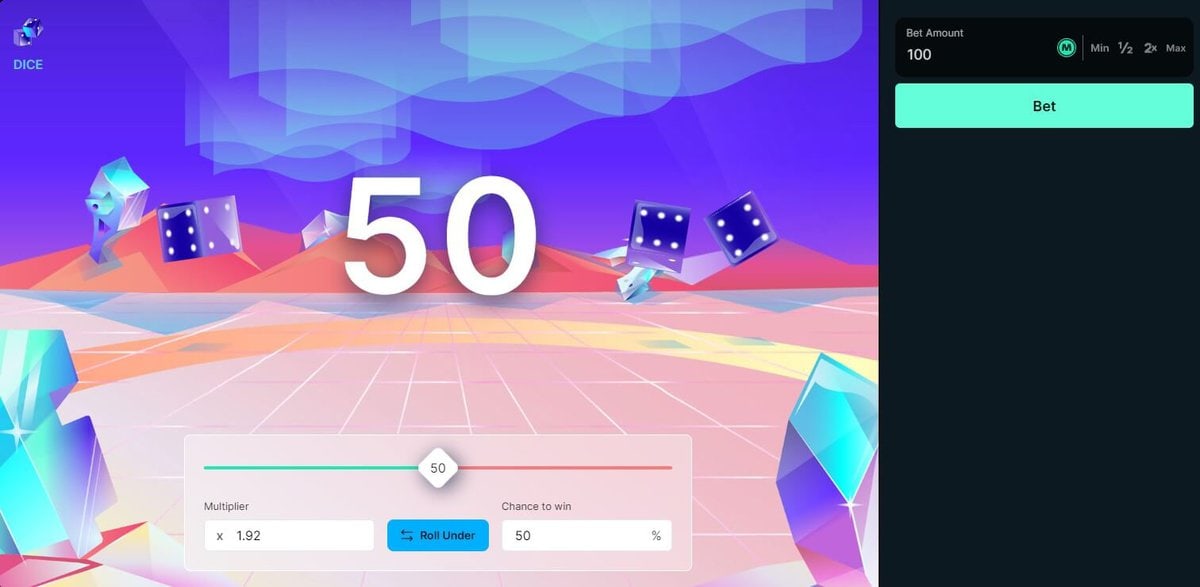 Unlike your average dice games you'd find on more traditionally-oriented sweepstakes casinos, Dice on Moonspin has a spin to it – you get to see the estimated win probability before the dice start rolling.
Even though this mechanic is interesting, it's still a "bet under" type of game. Since this is a single-player game, no one will contest your chosen multiplier and you're free to pick whichever number you want. Let me give you a small hint – you're always betting under the chosen number. The higher it is, the lesser the payout but the higher the win chance will be.
Hi-Lo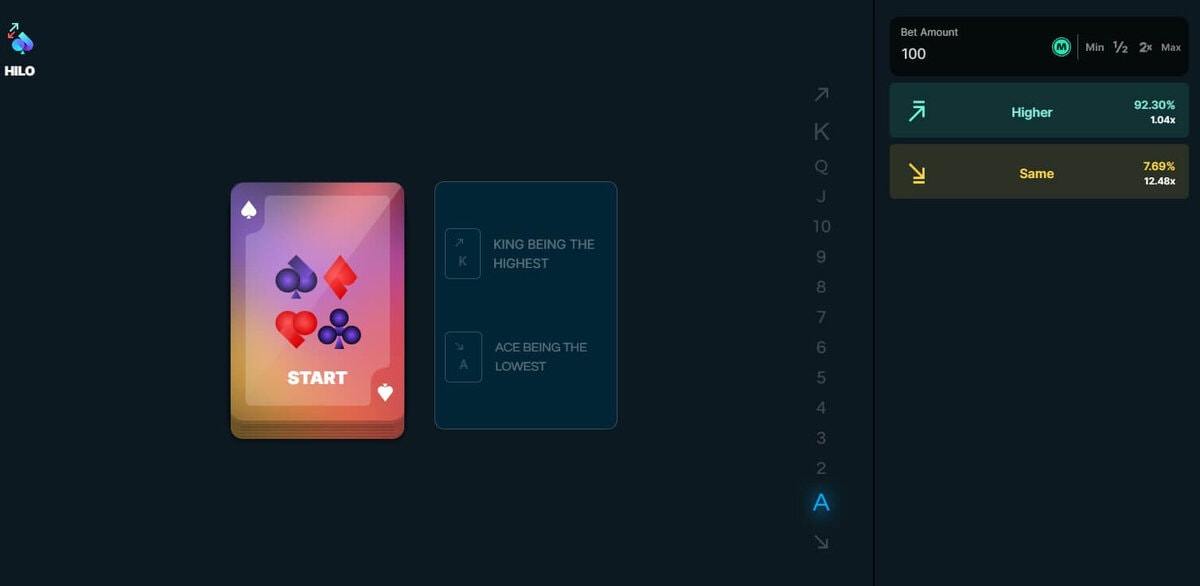 The "High-Low" game is arguably one of the most unimpressive titles in Moonspin's catalog. Many slot games have this functionality as a feature (e.g. "Gamble" in A Night With Cleo by Rival Gaming) that enables you to double, triple, or even quadruple your winnings. We recommend skipping this one since it offers the least flexibility and robs you of the multiplayer experience.
Limbo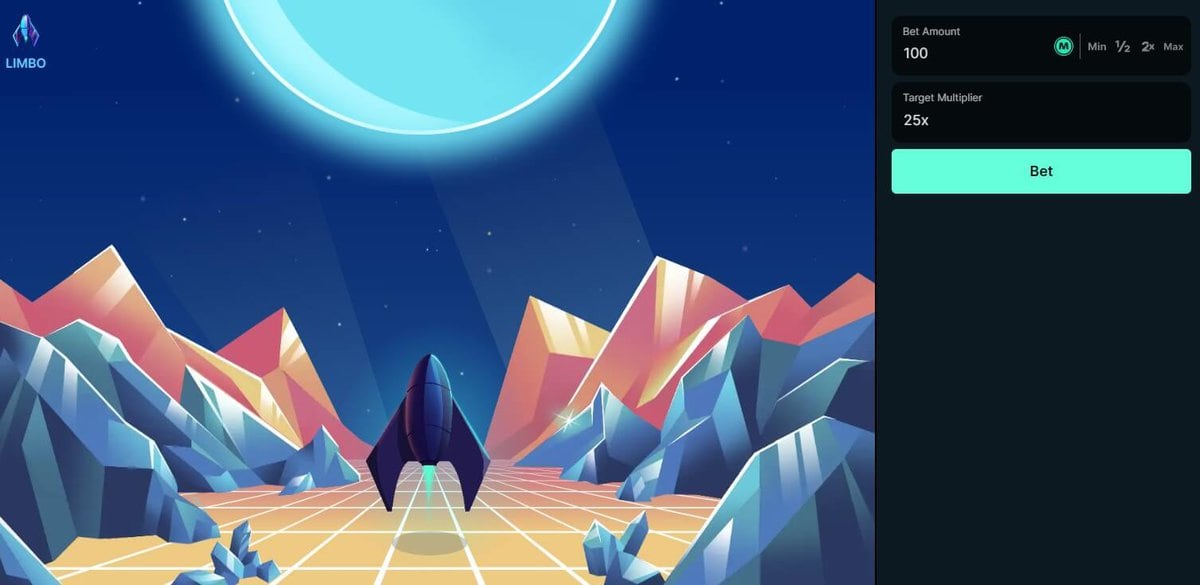 If "When Moon Bro" was a single-player game, it would be called Limbo. You watch a ship fly off to the moon and bet on how high it will go. Its unique function allows you to type the desired target multiplier rather than picking from the pre-selected ones. Once again, nothing fancy, but it's still more flexible than Hi-Lo.
Wheel of Fortune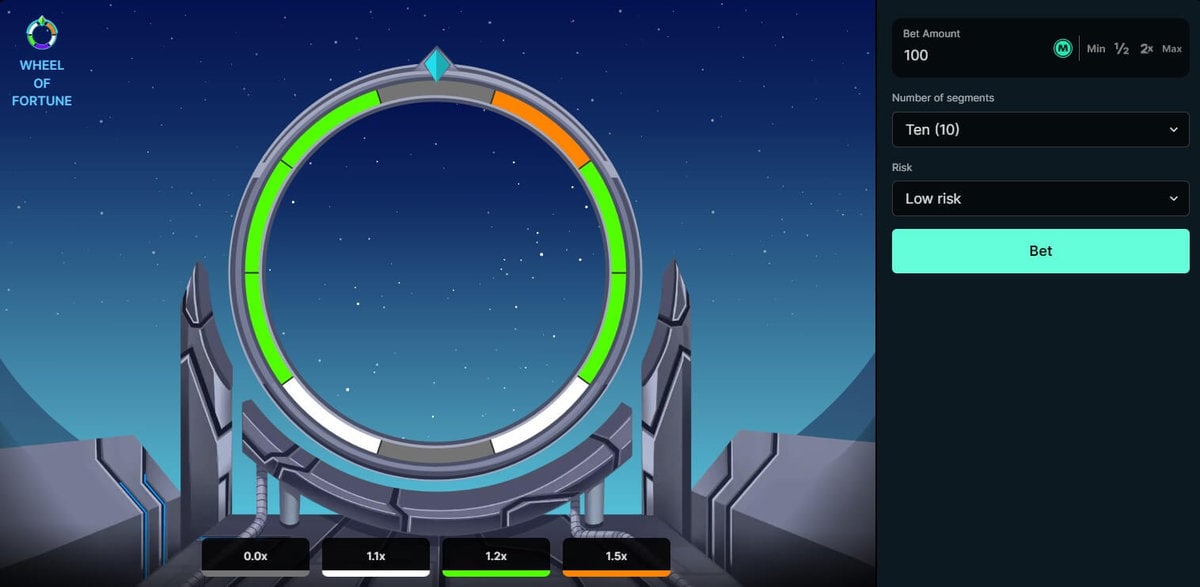 A "Spin The Wheel" game with a twist – you get to decide how many segments the wheel has and how "risky" the gameplay is.
The "number of segments" box allows you to select 10, 20, 30, 40, or 50 segments on the wheel while the "risk" box determines the fields' colors and multipliers. At lower risk settings, nearly the entire field is "green", meaning that you're almost guaranteed to win at least 1,2x of your money back. We actually liked Wheel of Fortune because of its customizable risk settings.
Account Registration
The only way to play games and claim bonuses at Moonspin.us is to have a registered and verified account. To do so, just follow these simple steps:
Go to the Moonspin.us website
Tap "Sign Up" to create a new account
Enter your email and choose a password OR sign up via WalletConnect/Meta Mask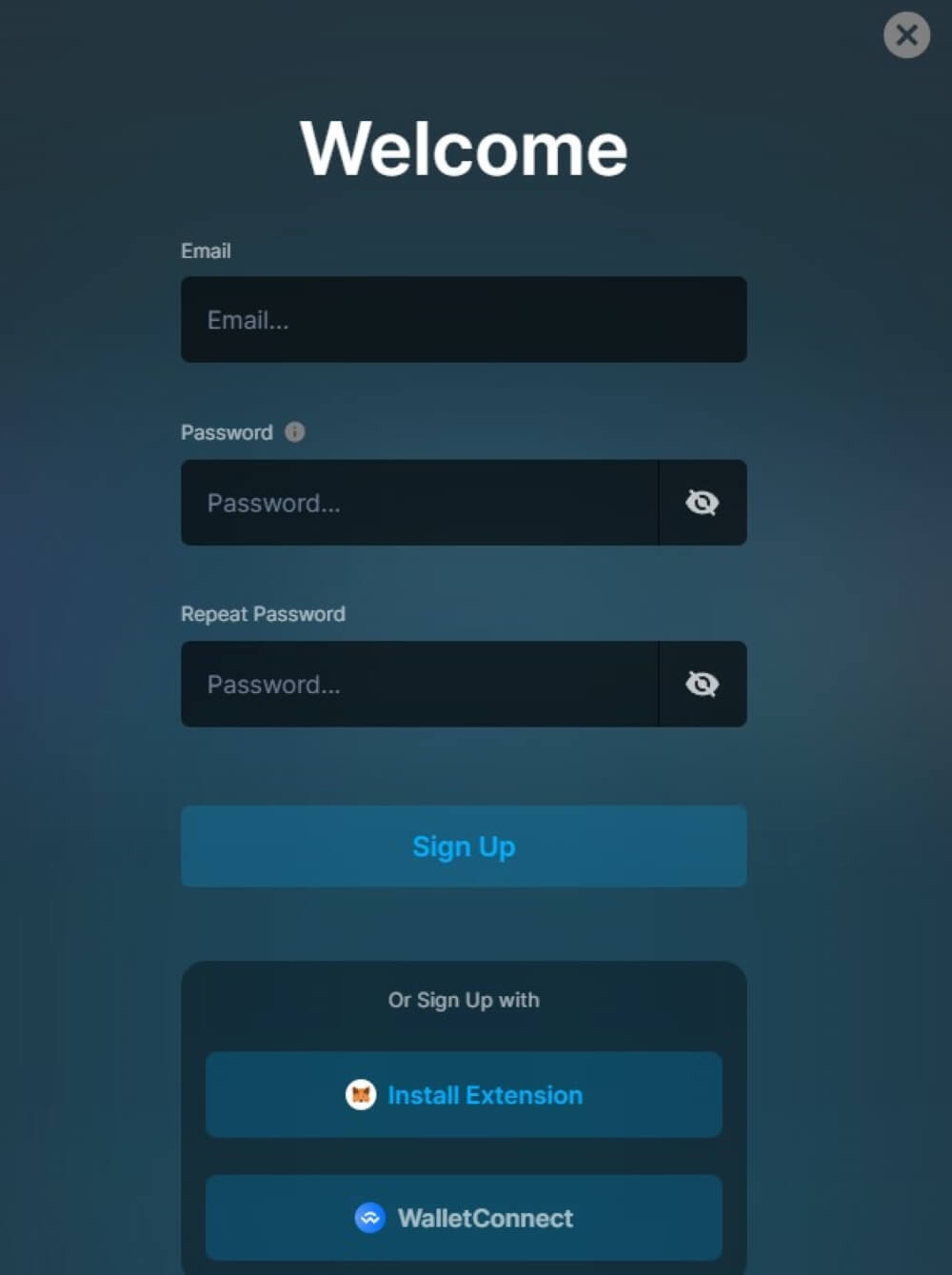 After creating your account, you'll also need to verify your email. Moonspin may require you to provide proof of information authenticity (e.g. photos of your ID or utility bills).
Moonspin Facebook Games & Contests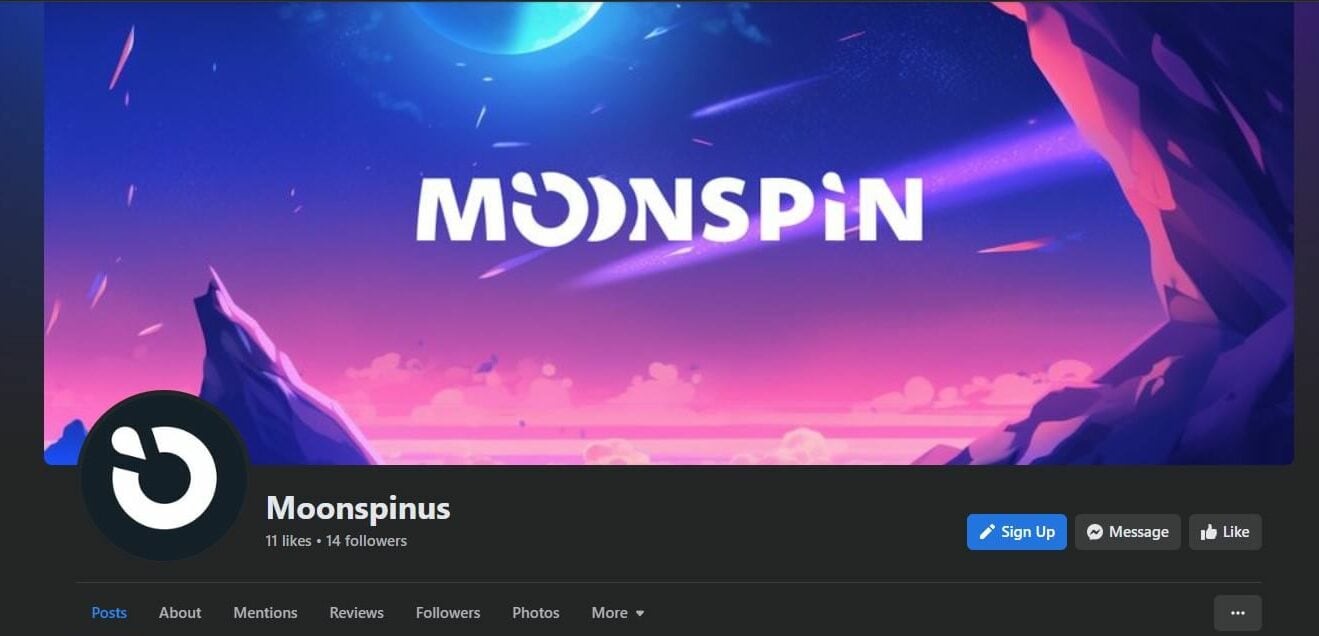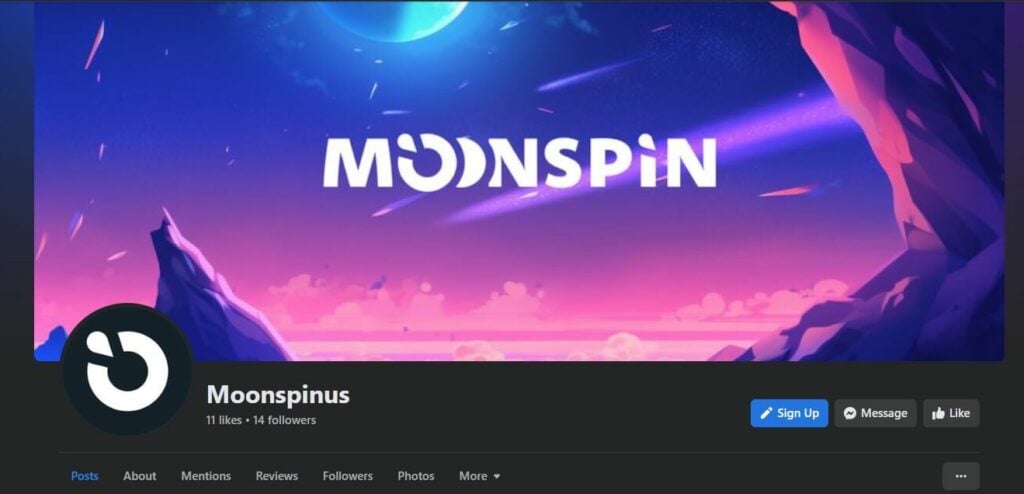 Moonspin is incredibly active on social media, especially on Facebook. I admire their efforts, especially given that they currently have only 14 followers and merely 11 likes.
Even though you can't play Moonspin games from its Facebook page, I still recommend joining this community. They often share news about upcoming contests and promotions via social media pages, sometimes even weeks before they officially launch them on the website.
Moonspin Casino Purchases and Redemptions
Moonspin.us is a vocal advocate of the "no purchases are necessary to play" concept. You'll get a hefty sum of free gold coins and one free Moon Coin upon signup, plus you can grab more free goodies through daily login, mail-in, and other promos. Should you burn through your free cash, you can always purchase more gold coins from the website directly.
Redeeming Sweeps Coins for Prizes at Moonspin Casino
After carefully analyzing every financial section of Moonspin's T&C, we've discovered that there is just one rule for redeeming sweeps on its website – the 3x rollover requirement. That means that, for example, if you accumulated 10 Moon Coins, you'll need to have at least 30 MCs in your account before you can claim them.
The redemption rate is identical to rates at the most popular sweepstakes sites like WOW Vegas, Stake.us, McLuck, or Pulsz.com – 1 moon coin is equal to $1. Moonspin also stated that you are free to choose between gift cards, cryptocurrency, or merchandise.
Support Options
We've spent several hours testing Moonspin games and learning more about their bonuses. During this time, we sent an email to support@moonspin.us before discovering that a Live Chat feature was hiding in plain sight.
The live chat is only available to registered users. If you try to use it before you've made an account, the chatbot will ask you to provide your full name and email (or connect via Google or Facebook), select the desired topic, and type in the desired message.
We weren't too surprised by the lack of a dedicated help center since Moonspin is still very new. Luckily, their Blog section came through with all the info we needed.
Sites Like Moonspin.us
With less than eighty games and no conventional table games and limited support options, Moonspin.us currently has little to offer besides its generous no-deposit bonus. If you're looking for reputable sweepstakes online sites that are similar to it, we recommend Stake.us, Pulsz.com, and High 5 Casino.
Stake.us has a comprehensive slot library with well over 400 titles, some of which are exclusive to this sweepstakes casino. They offer 10,000 gold coins and 1 Stake Cash upon signup, but you'll also get to claim 10 SC via the mail-in bonus and plenty more through its social media contests.
Pulsz.com is an excellent alternative to Moonspin.us because it offers 2.3 SC for free as its no-deposit bonus, as well as daily sweeps coins promotions that will net you 1 additional SC each day. Its slot library of 350+ games dwarfs Moonspin's offering.
High 5 Casino is probably the best out of the three, offering 5 SC, 250 GC, and 600 Diamonds upon signup. It also offers the largest slot library complete with 800+ games, although its mail-in bonus is slightly lower (3 SC).
Moonspin Casino Overview
Moonspin just came out, so it's still too early to conclude where the future will take it. It may offer few games, but they're at least unique. Its no-deposit bonus is comparable to more reputable sweepstakes casinos, and the same can be said about its other promotions.
This sweepstakes online casino is yet to build a reputation. Its social media following numbers a few dozen followers, although we've seen plenty of unique players while testing out its games.
While waiting for Moonspin to sprout its wings, we warmly encourage our players to claim bonuses and test their luck at more established venues like Stake.us, Pulsz.com, and High 5 Casino.
FAQs
Is Moonspin Legal in the United States?

Moonspin.us is legal for users 21+ in all states except Washington, Nevada, Idaho, and Kentucky.

Can You Win Real Cash at Moonspin?

This online casino only pays out in crypto, so technically it is.

Which Online Casino Games Can You Play at Moonspin?

Moonspin offers only 70+ slots from GameArt and 7 provably-fair games, including Crash, When Moon Bro, Chart, Dice, Hi-Lo, Limbo, and Wheel of Fortune.