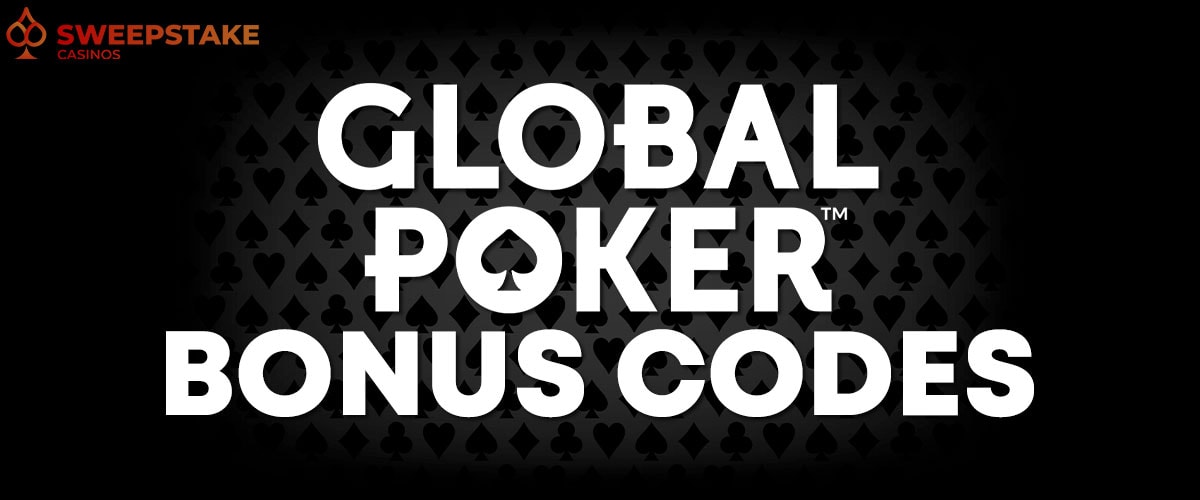 Global Poker is the #1 social poker gaming site in the US. Founded by VGW (the same company that developed Chumba Casino), Global Poker allows users across the US to play Texas Hold 'em for real money prizes — and with their no-deposit welcome bonus, you can get started for free.
The Global Poker no-deposit bonus is 5,000 Gold Coins. This is decent as it lets you try out their free play options — however, it's not great as it doesn't offer any Sweeps Coins play. This pales in comparison to the best sweepstakes casinos like WOW Vegas and Fortune Coins.
But don't worry, there are other ways you can get free Sweeps Coins at Global Poker, and in this review, we'll be covering everything you need about these bonuses, including how to get started with your very own Global Poker bonus.
Global Poker Promo Codes & Bonuses in a Nutshell
🎰Global Poker Promotion for New & Existing Players
🎁No Deposit Welcome Bonus
5,000 Gold Coins
💵First Purchase Bonus
200,000 Gold Coins + 40 Sweeps Coins For $20
🇺🇸 Accessibility
All US States Excluding Washington
📅Daily Login-In Bonus
Up To 2,500 Gold Coins + 1 Sweeps Coins
🤑Other Bonuses
Mail-In Bonus, Social Media Promotions, Reload Bonuses, Poker Missions
Before verifying your account, you're only able to access one Global Poker bonus, and that's the 5,000 Gold Coins no deposit bonus. All other bonuses require you to go through a lengthy verification process.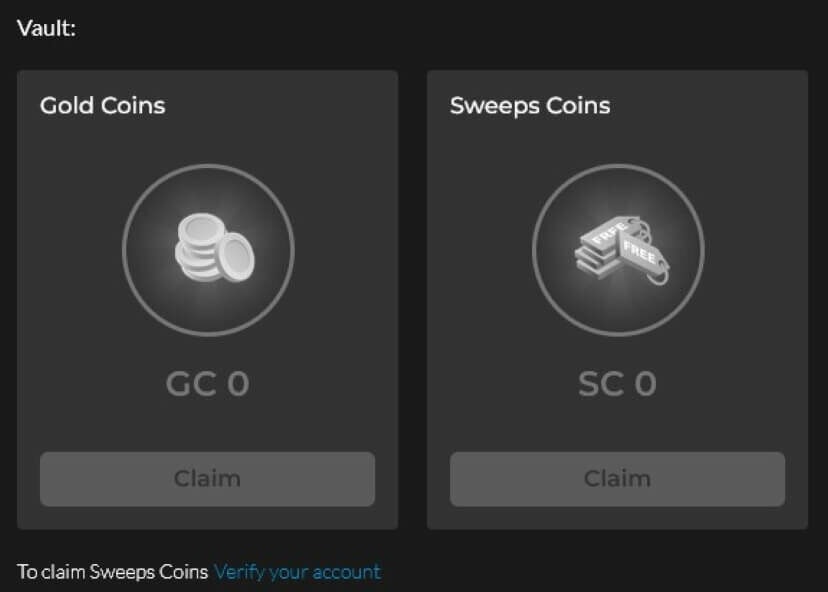 While the verification process is mandatory across all legitimate sweepstakes casinos, at Global Poker, it's particularly limiting as you won't be able to access any real money play until you've completed it. As such, if you're looking to dive right in on the action with real money casino games, Global Poker might not be for you.
Global Poker No Deposit Bonus Code
The Global Poker no-deposit welcome bonus is very unusual compared to other no-deposit bonuses offered by different sweepstakes casinos, as Global Poker is one of the few sites that does not provide a Sweeps Coins no deposit welcome bonus.
Instead, you'll only be awarded 5,000 Gold Coins for signing up to Global Poker. On the upside though, there is no Global Poker bonus code. So to claim this bonus, you just need to complete registration. Once you do, 5,000 Gold Coins will be instantly credited to your account.
This might sound pretty easy, but as we'll explain in the next section — signing up to Global Poker isn't as straightforward as you might think.
How it Works
Signing up at sweepstakes casinos is usually very easy. At Global Poker though, there are a couple of extra steps that can make it a little complicated — so below taking you step by step through the sign-up process and how to claim your 5,000 Gold Coins no deposit bonus.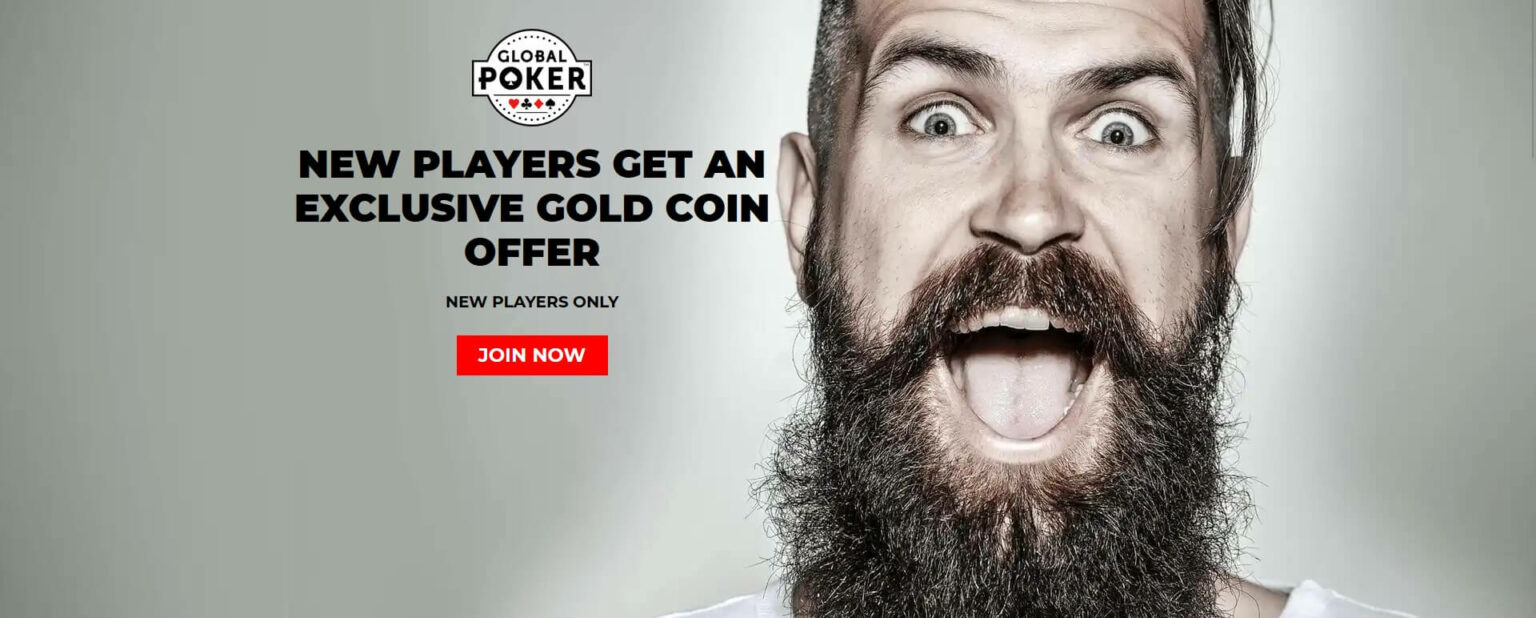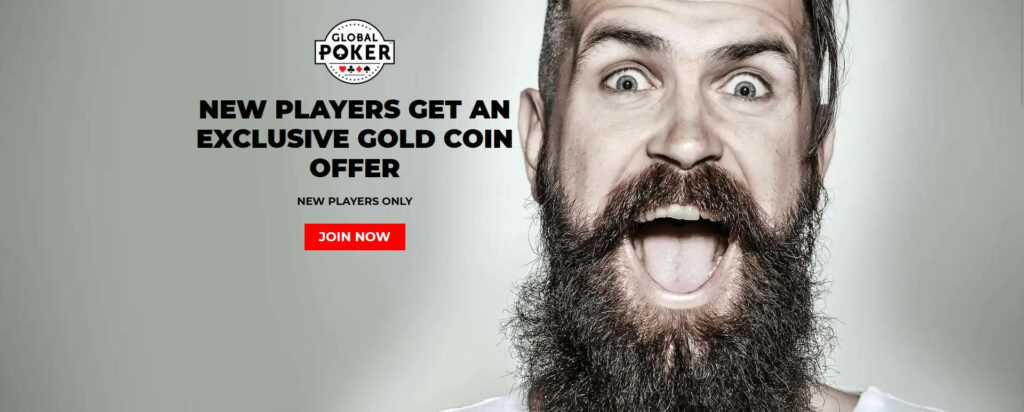 ✅Navigate to the Global Poker homepage and select "Register".
✅Enter in your desired password as well as your email, then click "Next". A registration link will now be sent to your email. Click it to move on to the next step.
✅From here, you'll need to enter in your name, date of birth, as well as your address. Once you've done that and have read through the terms & conditions, you can move on to the next step.
✅Next up you'll need to verify your mobile. Enter your number, wait for the text, and then enter the relevant code.
✅Once you've completed the above steps, the first part of registration is complete, and you'll be ready to sign in. Once you do, your account will be immediately credited with 5,000 Gold Coins. Remember, to get free Sweeps Coins though, you'll need to go to the verification page of your account and complete the process there.
All in all, the initial account sign-up should take about 5-10 mins. Though for full verification, prepare to wait at least 24 hours for your documents to be manually verified.
Wagering Requirements & Bonus Rules
Since the no-deposit bonus at Global Poker is only for Gold Coins, wagering requirements aren't particularly relevant. Gold Coins can not be redeemed for real cash prizes or transferred for Sweeps Coins. Instead, Gold Coins are purely for fun play of Global Poker games.
There are some Sweeps Coins bonuses though, and for those bonuses, you'll usually be looking at the standard x1 playthrough requirements. Of course, this can vary from bonus to bonus and from player to player — that's why before accepting any sort of Global Poker free Sweeps Coins bonus, we always recommend you check the terms & conditions.
Promo Codes & Bonuses for Global Poker Casino Members
As soon as existing Global Poker members verify their accounts, a daily assortment of free sweeps coins will start pouring in. Check below how you can get 2x free SCs on your first purchase and the daily Global Poker promo.
Global Poker Daily Login Bonus
The Global Poker daily login bonus is the main way users can get free Sweeps Coins. That's because once you've verified your account, you're eligible for daily free Sweeps Coins and Gold Coins just for logging in at least once per day.


These rewards start off modest at only 0.25 Sweeps Coins on day one but can grow to 1 Sweeps Coins once you've logged in for seven consecutive days.
Global Poker Deposit Bonuses
At Global Poker, there are no quick ways to get lots of free Sweeps Coins. However, while their no-deposit bonuses can be a little underwhelming, they do at least offer some pretty good deposit bonuses.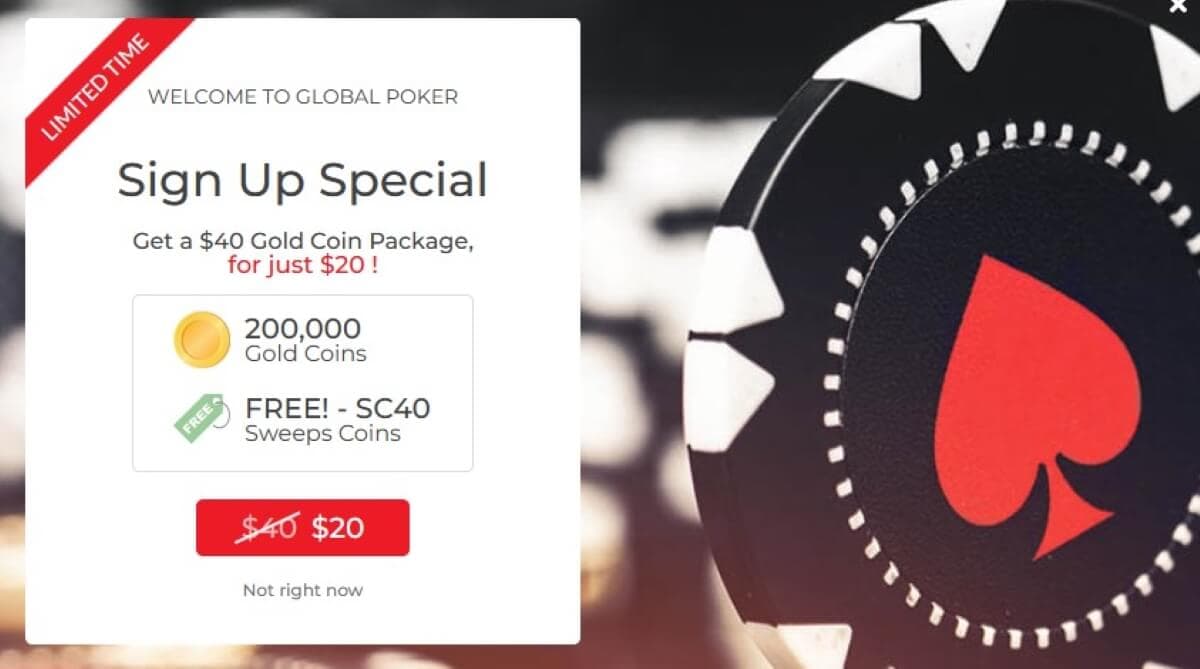 The best of these is undoubtedly their first purchase bonus — giving new users 40 Sweeps Coins + 200,000 Gold Coins for only $20. On top of this, they also offer regular reload bonuses for their existing customers as well. Just make sure to keep an eye on your email, as that's where these exclusive bonuses will usually be sent.
Global Poker Unique Promos for Returning Users
Following the sweepstakes model set by sweepstakes casinos, Global Poker has a lot of other bonuses for existing users. While the above are the most reliable and popular ways to get Sweeps Coins, users can also participate in any of the following offers.
💰Mail-In Bonus — The mail-in bonus is an underappreciated bonus offered by most sweepstakes promotions. Just send in a postcard to VGW headquarters following specific instructions to receive 5 free Sweeps Coins.
💰Poker Challenges — Head into the Poker Challenges section of your account menu to get access to fun poker challenges that award free Sweeps Coins and tickets to real money poker tournaments.
💰Social Media Giveaways — Follow the Global Poker Facebook page to participate in regular quizzes and contests to win free Sweeps Coins and Gold Coin prizes like access to one of their Gold Coin ring games.
About Global Poker Bonus
As the nation's #1 social poker site, Global Poker has combined poker with the sweepstakes casino model. This means that rather than being restricted to only a small handful of states where real money online poker is legal, they're able to offer the services to users across almost the entire US. With that being said, if you've ever played real money online poker before, you'll immediately notice some differences at Global Poker.
The biggest difference is that there's a dual-currency system. Gold Coins are their free-to-play currency — and with them, you can play different poker games without having to risk any real money. Their second currency of Sweeps Coins is their premium currency. With Sweeps Coins, you're essentially playing with real money, as once you've gathered enough Sweeps Coins, you'll be able to exchange them for a real cash prize.
While poker is the main drawing point of Global Poker, you can also play casino style games in their casino section. These games include slot classics like Wolf Gold — as well as some VGW hallmarks like the Big GoREELa.
Can I Win Real Money from Global Poker Casino Bonuses?
Global Poker casino bonuses are in truth, a little underwhelming. While most sweepstakes casinos will offer new customers a no-deposit bonus including Sweeps Coins that they can use to win real money, Global Poker's welcome bonus is for Gold Coins only. This means it's not possible to win real money with their welcome bonus.
However, Global Poker does offer other types of bonuses like their daily login bonus, and with this bonus — users get free Sweeps Coins just for logging in daily. With these Sweeps Coins, you can then play their Sweeps Coins poker games for the chance to win even more Sweeps Coins. Once you have enough, you can then redeem Sweeps Coins for real cash prizes.
Are There Any Coupon Codes for Global Poker?
While Global Poker does feature a bonus code section, in writing this guide, we were unable to find any active Global Poker bonus codes. There have been some users who've reported that unique coupon codes are sometimes sent directly through email and text — although I personally have yet to receive any of these codes.
The good news is there are still bonuses at Global Poker. But rather than needing to enter in a Global Poker promo code, you just need to click on the relevant links or button.
Do Free Sweeps Expire on Global Poker?
While free Sweeps Coins do expire on Global Poker, it's not something you'll probably need to worry about. This is because there is no set date when your coins expire. Instead, the only way your Sweeps Coins can expire is if it's been 90 days since you last logged in.
This rule is stated in Global Poker's Sweeps Rules page, and per section 3.10, this rule not only applies to free Sweeps Coins, but also to Sweeps Coins that you've received as part of a package when you purchase Gold Coins. As such, it's a good idea to log into your Global Poker account frequently to ensure that you don't accidentally trigger the 90-day rule.
Tips & Tricks to Get More Free Sweeps at Global Poker Site
Getting free Sweeps Coins at Global Poker is a little more complicated than it is at other sweepstakes casinos. However, our team has still come up with some tricks that you can use.
✅Verify Your Account — All Global Poker bonuses besides their welcome bonus are locked behind a verification screen. As such, it's imperative that you get your account verified ASAP to gain access to the free Sweeps Coins Global Poker promo bonuses.
✅Log In Regularly — The best free Sweeps Coins Global Poker bonus is their daily login bonus. With this bonus, all you need to do is log in once a day to get free Seeps Coins. Given that this bonus is tied to streaks, we recommend that even if you don't feel like playing poker that day, you still log in to collect your prize and continue your streak.
✅Master One Type of Poker — If you want to win Sweeps Coins playing poker, it's best to stick to one format in the beginning. At Global Poker, they divide their games into four categories: Ring Games, Sit'n'Gos, Tournaments, and Jackpot Sit'n'Gos. Optimal strategy for each of these game types tends to vary. So we recommend you try them all out with Gold Coins first before finding which one suits you best and then switching to Sweeps Coins.
✅Practice Proper Bankroll Management — When playing real money poker, it's essential that you practice proper management of your finances. If you're playing tournaments, never risk more than 5% of your bankroll. If you're playing ring games — make sure that you always have at least ten buy-ins.
FAQs
Does Global Poker have poker freeroll tournaments?

Yes. Global Poker has many freeroll tournaments for both Gold Coins and Sweeps Coins play. The best way to get tickets for these tournaments is by following them on their Facebook page or completing one of their poker challenges.

Yes. Founded by VGW — Global Poker is a 100% legal way to play real money online poker across the US.

Can you win free spins at Global Poker?

While Global Poker does have a casino section, it is not currently possible to win free spins at any of their slots. The good news though, is that users can win free tickets to Jackpot Sit'n'Gos through regular Global Poker promotions.

Does the new player Global Poker account bonus give free Sweeps Coins?

No. The Global Poker welcome bonus awards new users 5,000 Gold Coins only. To get access to Sweeps Coins bonuses, users first need to complete the verification process.