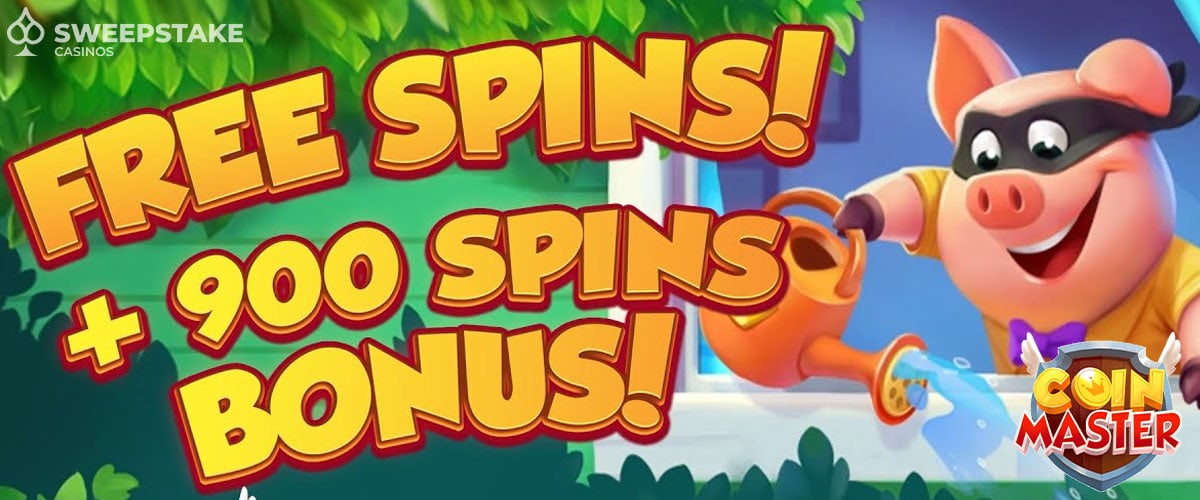 Coin Master is a remarkably trendy app where players use free spins to gain coins to build villages, Hammers to raid other players' villages, and Shields to defend their own.
The main reason why this game is so addictive is its slot machine feature. It uses free spins exclusively (unlike most casino-like apps where coins are staked), and each spin has a chance to award extra free spins, some bonus coins, weapons, or shields.
Free spins are the bread and butter for Coin Master players, so if you're looking for ways to gain as many as you can, we're here to help you out.
Disclaimer: Coin Master is legal and free to download but doesn't offer any real money opportunities. Why not get free spins for the following sweepstakes casinos and stand a chance to make some profit instead?
All Coin Master Free Spins & Promo Offers
Coin Master players can earn free spins and various free rewards through tons of promotions and activities, most of which don't involve real money. Here's a brief rundown of the most prominent Coin Master free spins offers.
| 🎁Offer | 💰Amount | How to Get❓ |
| --- | --- | --- |
| Sign Up Bonus | 50 FS and 1,000,000 coins | Log in with your Facebook account |
| Hourly Refill | 5 FS per hour (gain more the higher the player's level is) | Free spins are added automatically |
| Invite friends | 30 FS per friend | Invite friends, and receive FS when they complete the tutorial |
| First Timer Pack | 90 FS and 1,500,000 coins | Purchase the First Timer Pack for $1.99 |
| Watch Video Ads | 5 FS per video ad | Tap a video icon |
| Social media events | Earn free spins and coins | Follow Coin Master on Facebook, Twitter, and Instagram |
What is Coin Master?
Coin Master is a mobile app with casino elements based on gaining coins, which are used to create virtual villages and progress to new levels. To play the game, you only need to download Coin Master and link your Facebook account, which will instantly give you 50 FS and 1,000,000 coins.
Is the App Legit?
The Coin Master app is available for free download on both Google Play and Apple App stores. It has had more than 100,000 downloads so far, and it boasts an impeccable rating of 4.7/5.0 based on close to 10,000 reviews.
Legal States
Even though Coin Master is banned in certain European countries, it's available in all U.S. states. It's free to play, so there is no need for licenses or permits to accept users from everywhere.
Is Real Money Required/Paid Out?
Coin Master is a purely social game that does not pay out real money. Even though in-app purchases exist, players never need to make one since it is possible to earn virtually unlimited spins with existing free offers and Coin Master links.
Gameplay
The Coin Master Slot Machine is its main feature. The only way to obtain Hammers to raid other villages or Shields to defend the player's base is to use free spins and draw these symbols in the slot machine. It gives small amounts of coins on "misses" and larger amounts if three Coin or Pig symbols line up.
Coins are used to initially build and later improve the player's base (village) with fishing boats, houses, monuments, farms, and various decorations. Raiding instances provide significant amounts of coins and small amounts if the raided village has at least one shield.
In a nutshell, everything in the Coin Master game revolves around free spins. The quickest way to get more coins to build villages faster (and reach next levels) is to raid with hammers and protect the base with shields or steal from the Coin Master's base.
How to Get Free Spins for Coin Master
Just download the app and authenticate with your Facebook profile to earn the sign-up bonus worth 50 free spins and 1,000,000 coins. Swipe down on your device to get to the slot machine, and use these spins to get even more coins.
After completing the tutorial and building the first few items in your base, you'll want to get as many extra Coin Master free spins as possible, so let's break down all the ways you can do this.
Hourly Free Spin Refill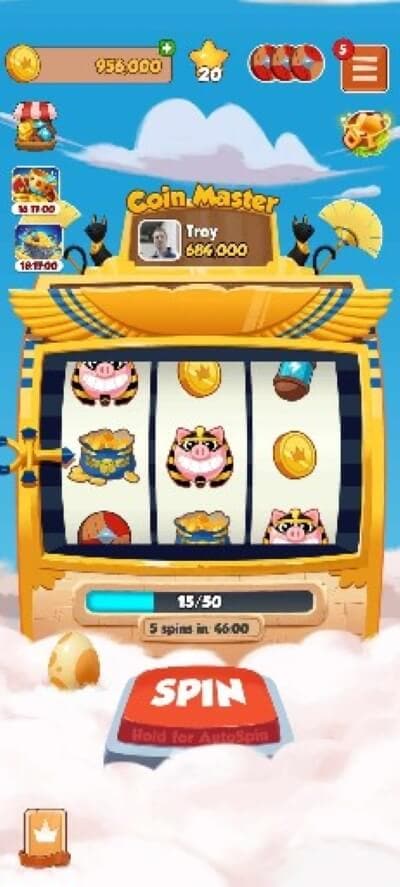 All Coin Master game players receive free spins every hour. The precise amount of bonus free spins is based on which level the player is on. Five Coin Master free spins are awarded every hour automatically, even if the player is not logged into the game.
Keep in mind that you can only store up to 50 free spins at all times, so keep using them as long as you have some left. If you open free coins or free spins gifts, or if you buy extra free spins, this limit may be exceeded.
Coin Master Slot Machine
Spinning the slot machine can give you extra free spins. If three blue symbols with a cartoonish thunder graphic line up, you will instantly receive additional free spins.
Complete a Level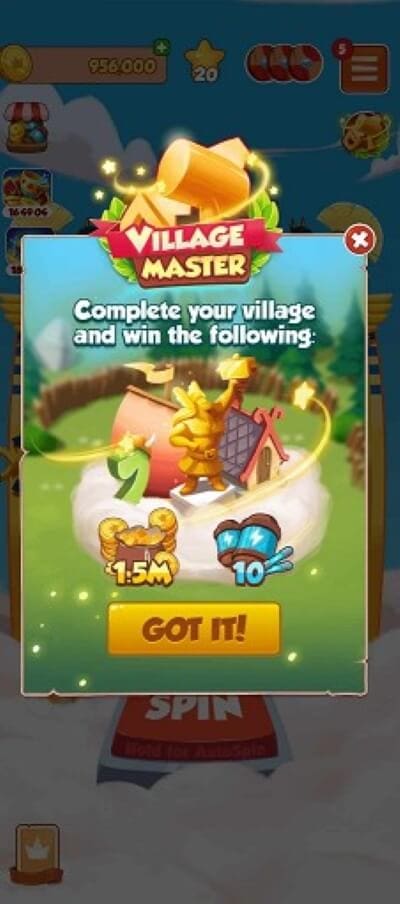 The village is the map where the player's base is currently located. Building and performing all improvements will complete that level and transport the player to the next area where the player will need to build from scratch. Fortunately, players are generously rewarded when they do so with heaps of free spins and coins. For example, finishing the Level 2 will give you 10 free spins and 1,500,000 coins.
There are currently 400 levels in this game, each a bit more difficult to complete, but the rewards for moving on to the next village are also greater every time the player achieves such a feat.
Invite Friends to Join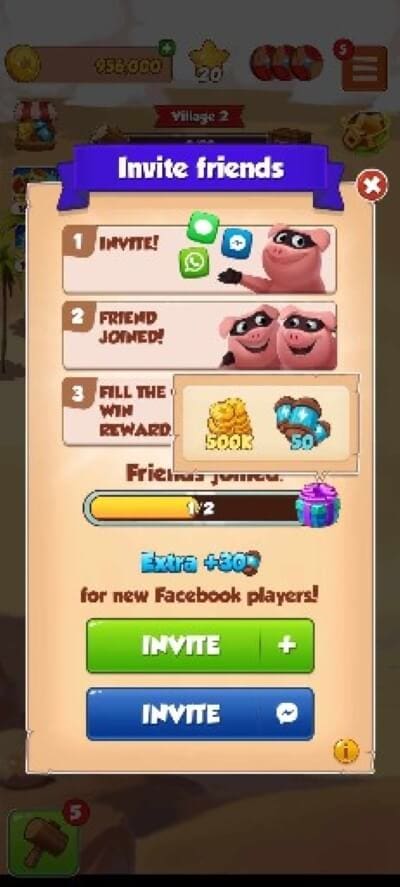 One of the best ways to gain a steady supply of Coin Master free spins is to invite as many friends to join as possible. For each new friend you invite, you will instantly receive 30 free spins, but that's just the tip of the iceberg. Your friends can also send you gifts that may contain free spins, coins, or cards.
The only two requirements for this referral "bonus" include:
The invited person must be a new player and not have a previous Coin Master account
The new player must pass the tutorial stage
Watch Video Ads
Should you run out, you can always watch 30-second video ads to gain more free spins. The only catch is that this option isn't available until your free spins count drops below 10 FS.
First Timer Pack Purchase
If you find video ads boring and don't want to wait an entire hour before your free spins are refilled, you can always purchase more at Coin Master's in-game store.
New Coin Master players are typically offered a value first purchase deal that gives 1.2 million coins and 90 free spins for $1.99.
Follow Coin Master on Facebook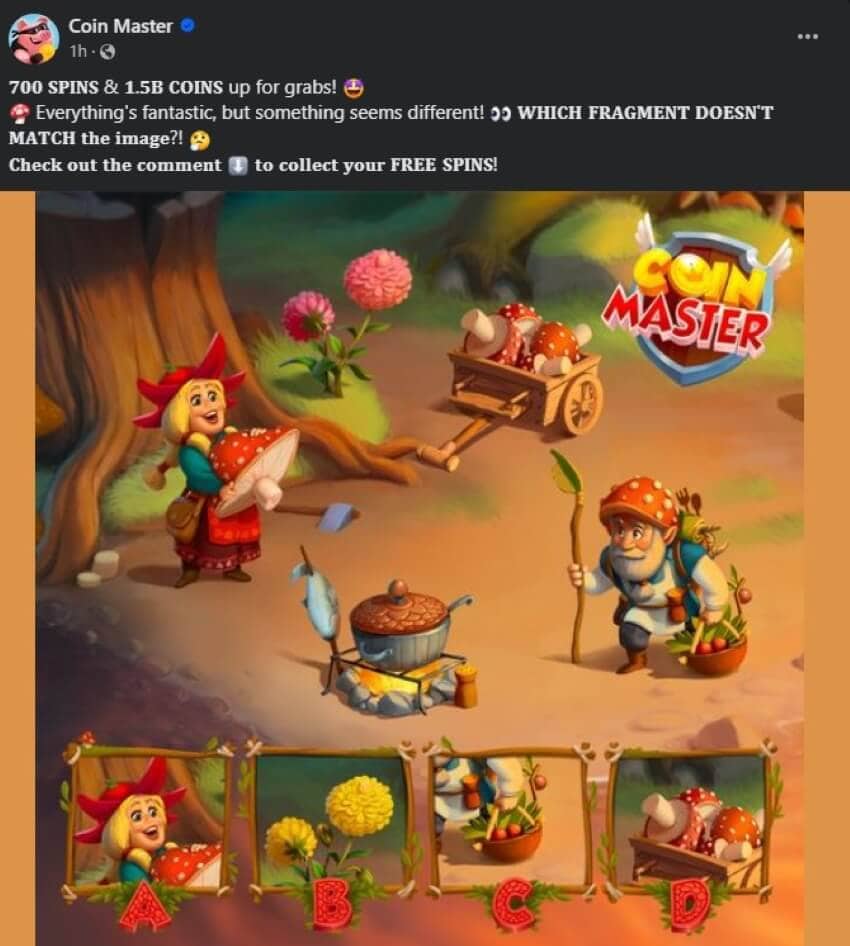 Coin Master regularly holds small contests and giveaways on its official Facebook page and other social media channels. By simply following these pages, players have an opportunity to participate in these events and grab plenty of free coins and free spins.
For example, one of the latest Coin Master events was a relatively simple challenge of picking the image that didn't match the provided the picture – one blatantly "wrong" answer was provided, and players simply had to type it in the comments for a chance of winning a share of 700 free spins and 1,500,000,000 coins.
Do I need a Link to Get Coin Master Free Spins?
No, you do not need any Coin Master free spins links since all of the aforementioned offers (excluding the first purchase deal) can be claimed for free through gameplay.
However, Coin Master links can give players significantly better boosts compared to the, for example, hourly refills, video ads, and one-off promos like the first-purchase deal and sign-up bonus.
The fastest way to find active daily links is to follow Coin Master's social media channels. Besides challenges and contests, Coin Master may also sometimes reveal links to hoards of free coins and free spins to its page's followers.
Fan-made groups offer another great way to grab additional free spins. Players are often required to pass a few simple questions (usually related to the game) to enter, and any link that is uploaded can be used by all members.
Is there a Promo Code for Coin Master Free Spins?
Many websites claim they offer Coin Master promo codes, although we're uncertain how these can even work since there are no boxes where the player can input a promo code in the in-game shop.
Is Coin Master Free to Play?
Yes, Coin Master is completely free to play. As we mentioned, this app does contain a shop and real money can be used to purchase extra free coins and free spins, but this is not necessary at all since both currencies can be refilled in numerous ways.
In-app purchases are primarily meant to help players who want to move to next levels much faster achieve their goals, but any player can reach the last level and access all Coin Master features without spending a dime.
Do Coin Master Free Spins Pay Real Money?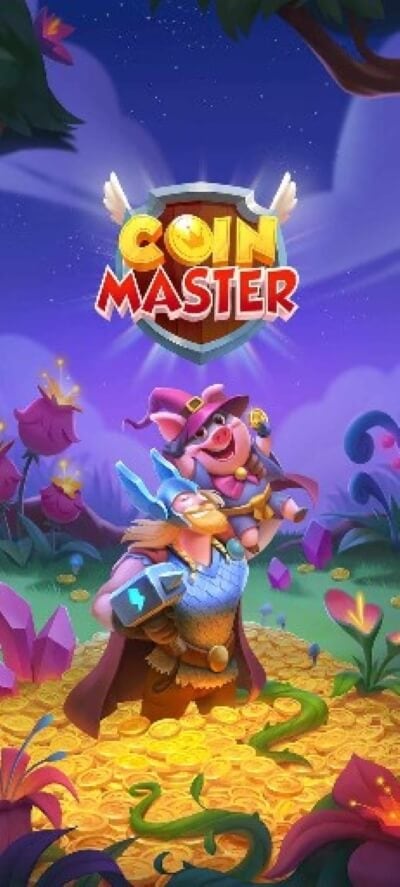 No, free spins Coin Master features are designed to grant access to other features, such as hammers, shields, and Coin Master raids. The aforementioned features can be exclusively used by drawing their symbols in the slot machine through free spins (cannot be bought or gifted), and they are considered primary gameplay elements of Coin Master.
Just like gold coins in typical social casinos, coins in Coin Master hold no monetary value.
Are Coin Master Free Spins Worth It?
From a gameplay perspective, absolutely. More than half of the game's main features can only be obtained through free spins, not to mention that spinning the slot machine is the main way of acquiring coins.
Are Coin Master free spins worth buying, though? Not unless you're in a hurry and want to skip past arguably the most exciting Coin Master levels. Free spins can be earned, and they automatically refill after a while. It's both simple and viable to invite friends to join Coin Master so they can keep sending you free spins.
Summary
Coin Master is a remarkably popular app because it's among the scant few that succeeded in creating addictive gameplay without locking any major features behind a paywall. It doesn't pay real money, but no money is needed to play and enjoy it indefinitely.
We should also highlight that Coin Master is not a casino. It's a "single" game with simple yet highly engaging casino-like elements, cartoonish graphics, and tons of content. For actual free casino gameplay in your state, check out these free sweepstakes no deposit bonus casinos: