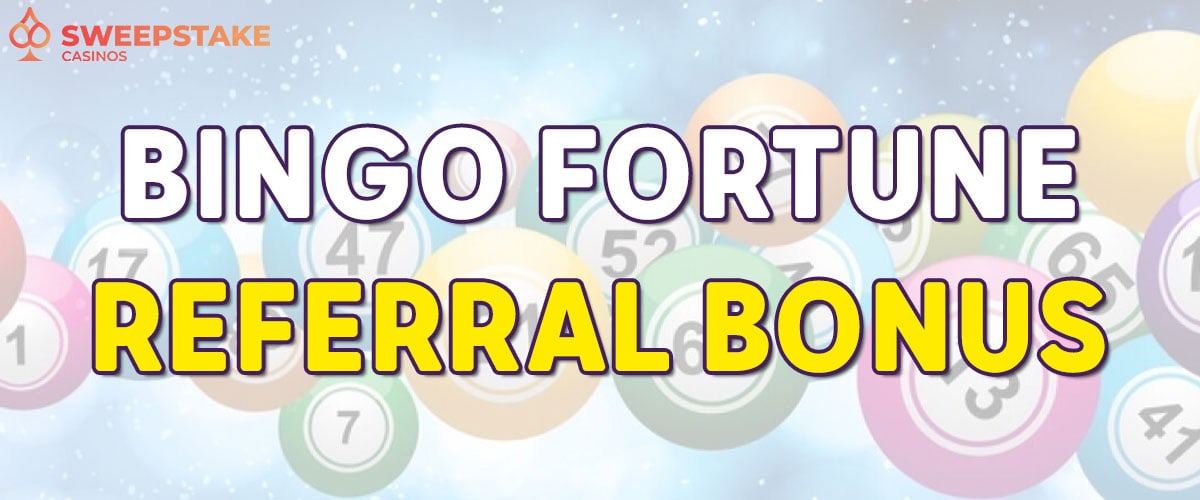 Bingo Fortune is a sweeps casino that launched its services in January 2023 and allows US residents to play free bingo games. The most exciting bonus on this social bingo site is its friend code, which replaces the Bingo Fortune Referral bonus code.
The Bingo Fortune friend code allows players to get a $5 free bonus cash when they deposit using a code or when another player uses their code.
Other bonuses on the casino app include a daily login bonus, no-deposit bonus, deposit bonus, and more. These bonuses reward players with free crowns (free gold coins on other sweeps) or free bonus cash, which can be used to win withdrawable cash from the casino.
This guide provides all the information you need to make the most of the Bingo Fortune friend code, including how to share the code, maximize your bonuses, and alternatives to Bingo Fortune.
There are several excellent alternatives to the Bingo Fortune app, and these will be handy when you get bored with the bingo game. Some of the best options include Stake.us, WOW Vegas, and Fortune Coins casino, where you can get excellent referral bonuses. For variety of bingo games, check out Pulsz Bingo & Bingoport:
Continue for a guide on the Bingo Fortune promo codes.
Bingo Fortune Coupon Codes & Offers Overview (Updated October 2023)
🎱Bingo Fortune Bonuses
🎁Bingo Fortune no-deposit bonus
Get up to 190 free coins through tutorial matches
✍️Bingo Fortune Welcome Offer
N/A
💰Bingo Fortune Daily Login Bonus
Up to 530 free coins
💵Bingo Fortune Deposit Bonus
Varies depending on purchase (e.g. get $4 for a $5 deposit, $12 for a $15 deposit, and more)
📜Bingo Fortune Friend Code
Get a $5 free bonus cash when you make a deposit using a Friend Code or if another player uses your code
🤑Other Bonus Offers
Bountiful Bargain, Fortune Super Saver, Weekly raffle
Bingo Fortune App Review
Bingo Fortune is a social casino app that allows players to enjoy free games or compete in tournaments for cash prizes. You can enter a contest by spending your free crown or using your sweeps cash to access the premium mode on the app.
A unique feature of Bingo Fortune is the opportunity to play against other players in PvP Bingo game modes. However, you should also note that Bingo Fortune offers only a Bingo game to its players.
The app is also an iOS exclusive, with free gaming services available in all US states and Washington DC. However, the Bingo Fortune cash contests aren't open in the following states:
Delaware
Indiana
Louisiana
Maine
Michigan
Montana
South Carolina
South Dakota
Tennessee
There are no online slots, or other games, which makes this social gaming app a top option for only players that enjoy bingo games.
🎱Bingo Fortune
🏛️Operating Company
Tripledot Fortune
🎲Games
Bingo Game with various PvP game modes.
💵Currency
Crown Coins and Sweeps Cash
📱Accessibility
iOS app
💳Payment option
Bank cards (Visa and Mastercard), PayPal, and Apple Pay
🤝Sister Site
Solitaire Fortune
Bingo Fortune Referral Bonus Code
A referral bonus is a standard social casino bonus that rewards you for convincing your friends to join using your registration code. In most cases, the casino will have a condition that states that said friend needs to deposit for you to get your reward.
To avoid confusion, Bingo Fortune eliminates the referral bonus and replaces it with a Friend code, and using a Bingo Fortune friend code rewards you and your friend with $5 free bonus cash on your next deposit.
The Bingo Fortune Friend code has a few unique features, including:
You don't need your friends to sign up using your friend code, unlike with a referral bonus code.
Anyone can use your bonus code if you convince them – there is no restriction to friends you refer to the casino.
Friends must use your code when depositing at the casino for you to get a reward.
From everything we've gathered, the Bingo Fortune Friend code is a fun replacement for the referral bonus codes, providing several opportunities to claim free cash.
The first step is to set up an account to share your Bingo Fortune friend code. With a Bingo Fortune account, you can log in to the app and take these steps to find your friend code:
Click on the three dots at the top-right corner of the screen.
Tap the "Share Code" option on the menu.
A pop-up with your code, a copy button, and a share button will appear.
Now, you can share this code anyhow you desire.
There are several ways to share your code; the easiest option is to use the "Share" button on the app. This option allows you to share your code with friends, family, and anyone on your contact list through Mail, WhatsApp, Telegram, Quora, iMessages, and more. You can also use this feature to share the code on your social media pages.
However, to improve your chances of getting people to use your code, you can search for Bingo Fortune communities on Facebook, Instagram, Twitter, or Telegram and then share your code.
It's a good idea to grow your reputation by interacting with other community members to get more players to use your code, and with the bonuses piling up, you also need to learn how to win on Bingo Fortune.
Unlike slots and other casino games, there is no trick to winning on Bingo Fortune, except through practice. A good idea is to try out games using your crowns before playing with your bonus funds. You can better understand Power Bingo, Treasure Trove, Duel, Coin-tastic, and other game modes through the free crowns on the bingo app.
Other Bingo Fortune Bonus Codes & Promos
Several Bingo Fortune promos are available, but the casino doesn't offer any promo code for players to use. Nonetheless, you still have a chance to claim several excellent bonuses, including:
Using the Friend Code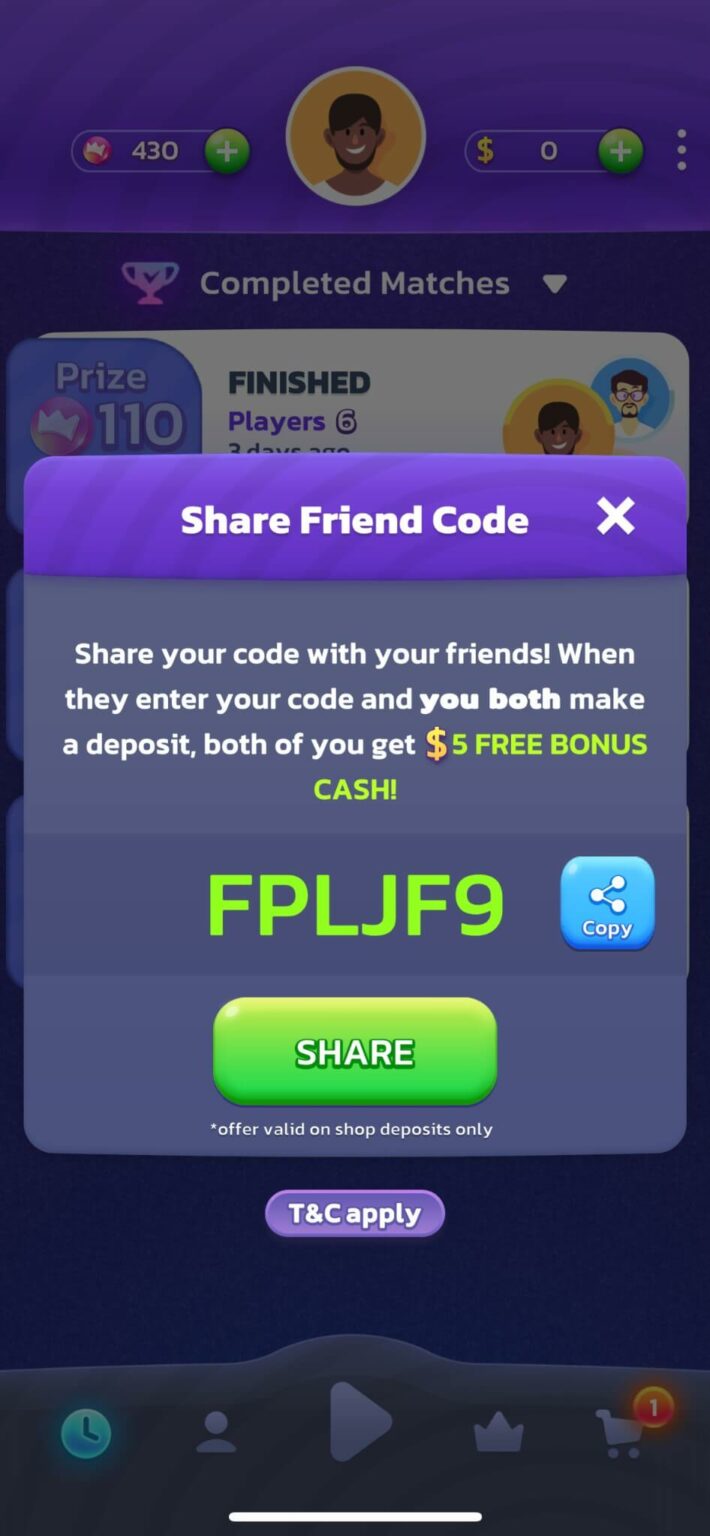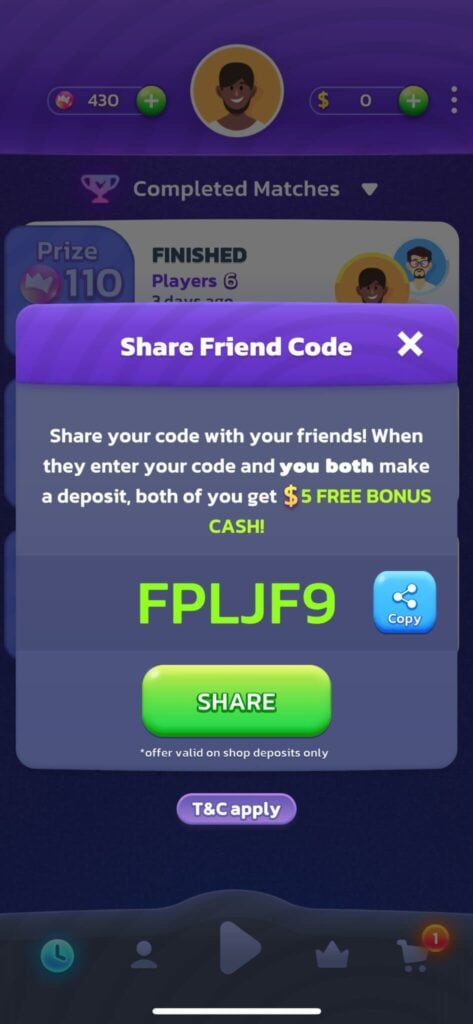 This is what makes the Bingo Fortune Friend code special. As a player on the app, you can also use the Friend code of other users when you choose to make a real money deposit, earning you a $5 free bonus cash on your next shop deposit.
Daily Bonuses (Extra Rewards)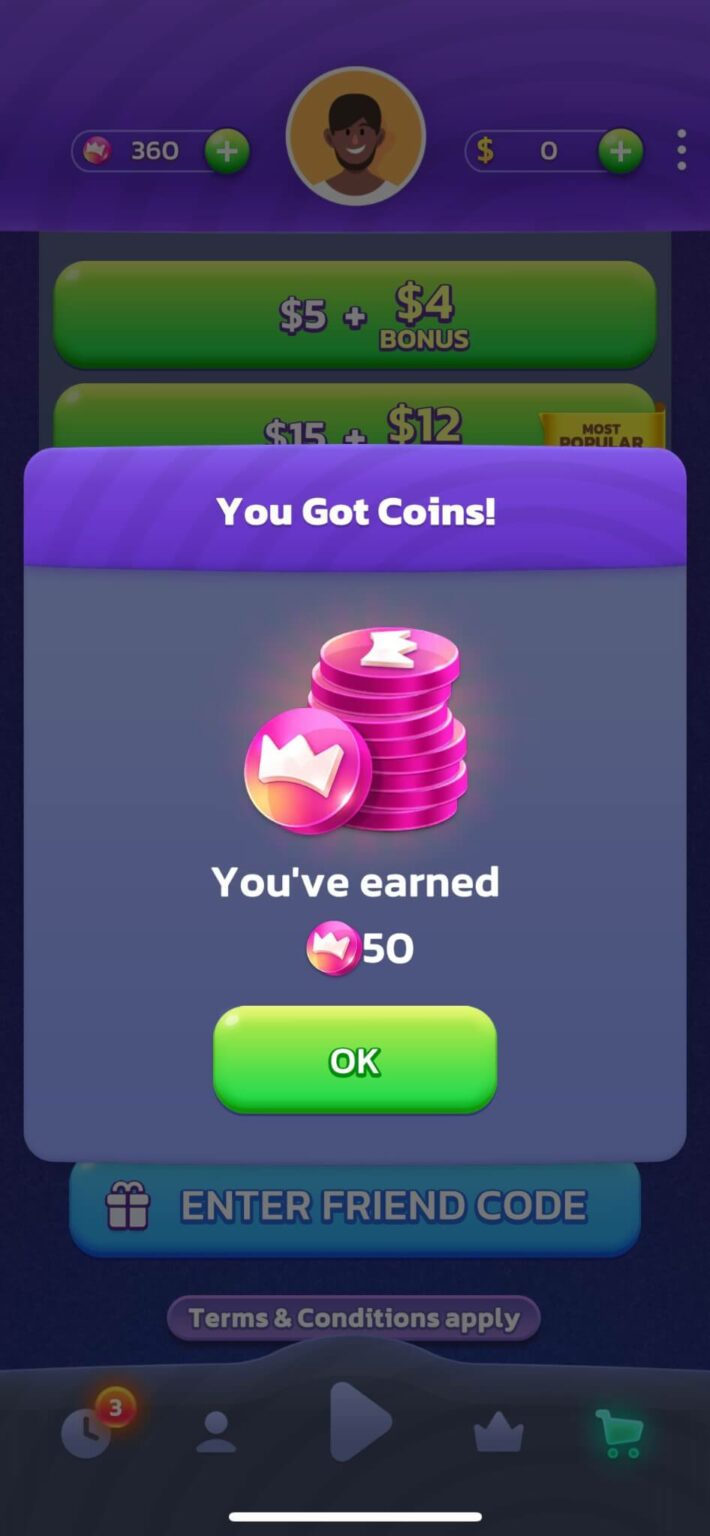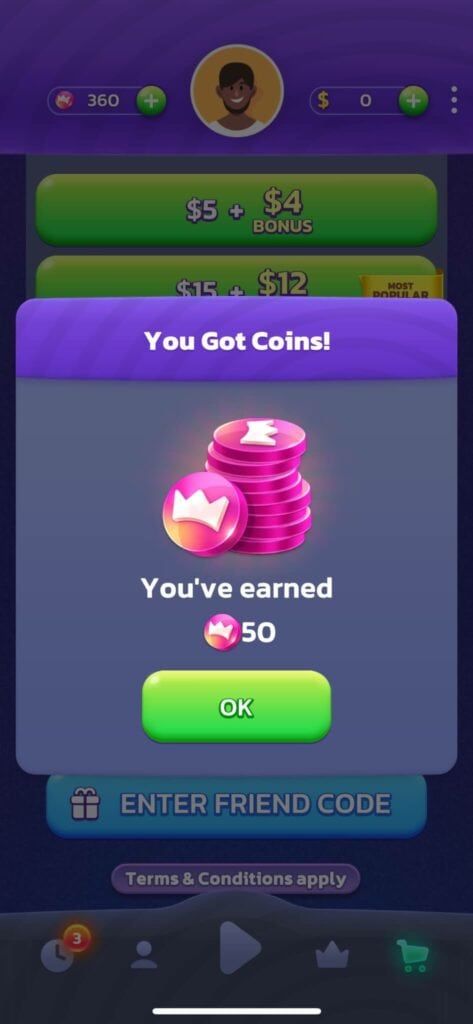 The Extra Rewards cover the two daily login bonuses from the bingo app. The first is a Daily Bonus that rewards you with up to 50 free crown coins every 24 hours. However, another offer rewards you with ten free crown coins every 30 minutes for 480 free coins daily.
So, if you keep coming online every time your bonus is available on Bingo Fortune, you can claim up to 530 free crown coins daily.
Daily Login Bonus Streak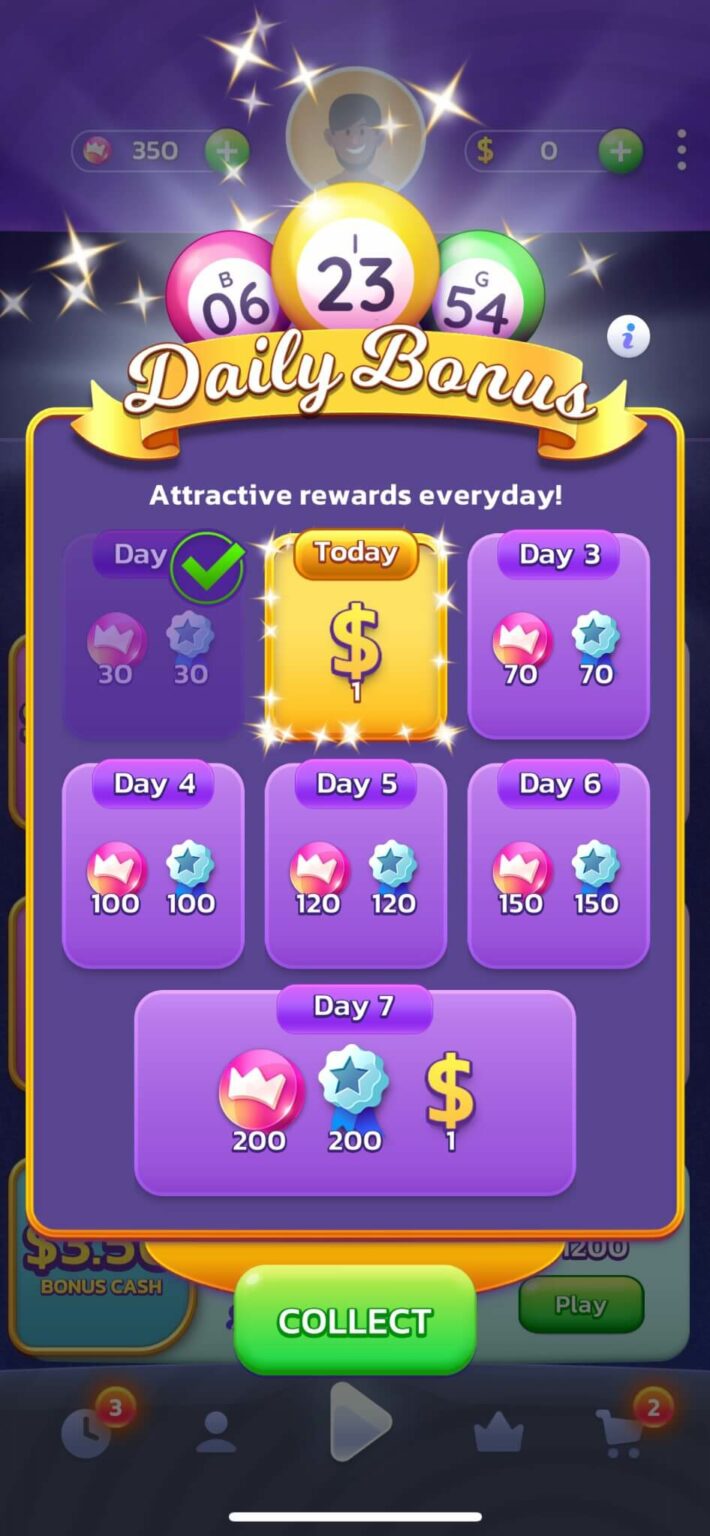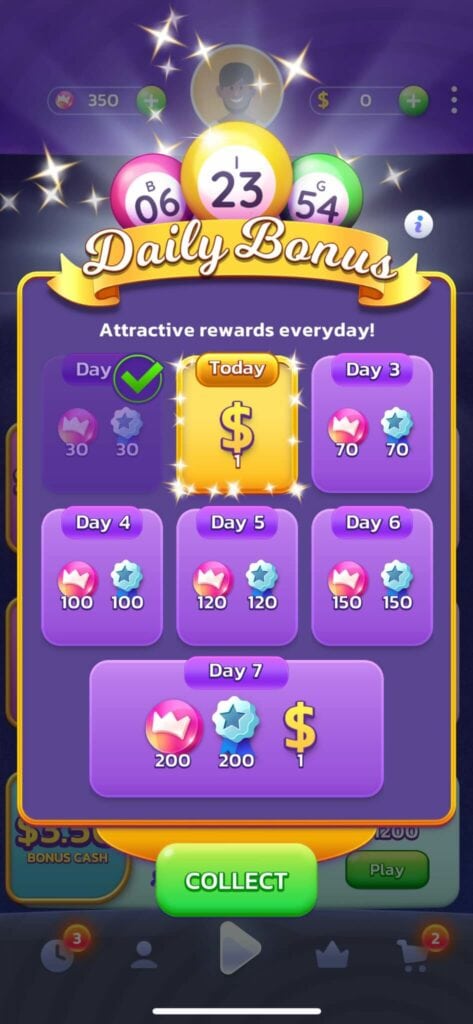 This bonus has unique rewards for each day you login over a seven-day period. The bonuses start from 30 free coins and 30 stars, up to 200 free coins, 200 stars, and $1 bonus cash. The stars are used to rank players on a leaderboard on the app, and we assume there will be a prize for being top of the rankings.
Weekly Raffle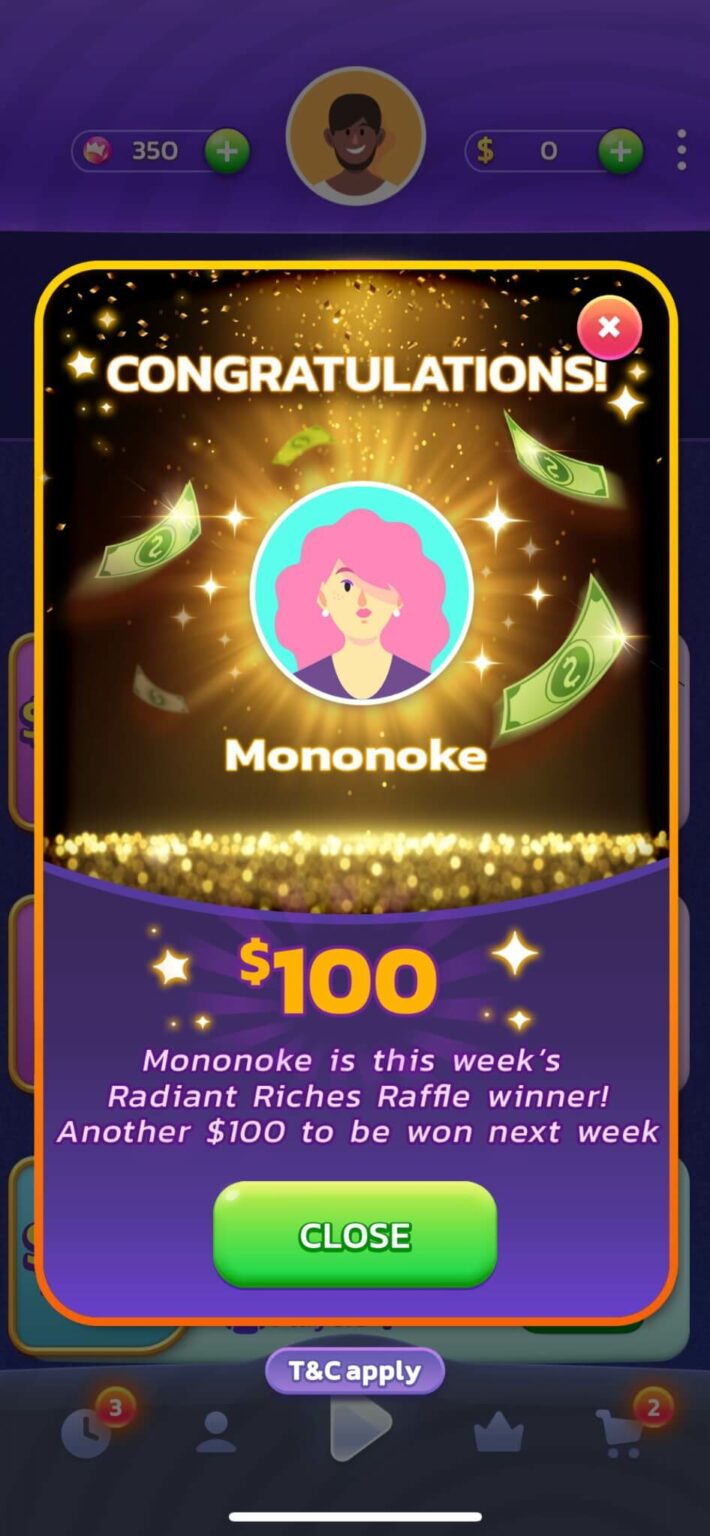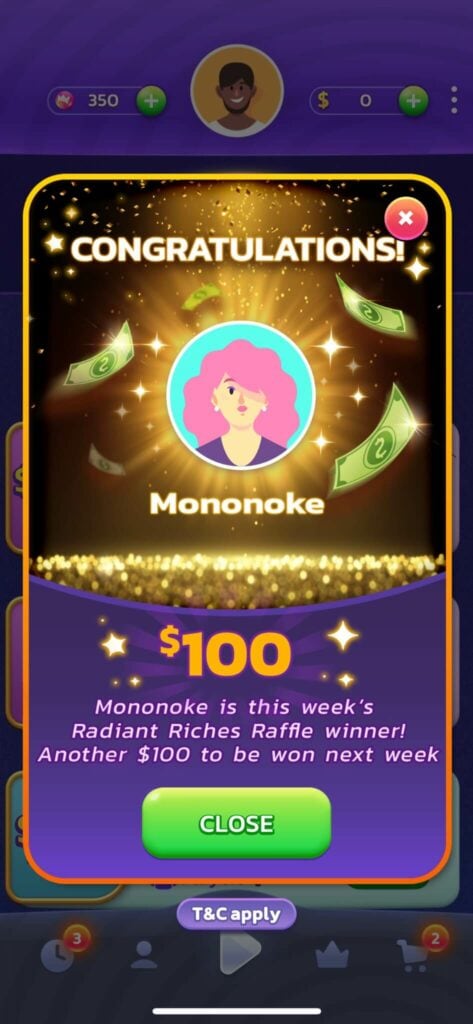 Bingo Fortune has weekly raffle draws that reward players with up to $100 in free bonus cash on the app.
Deposit Bonus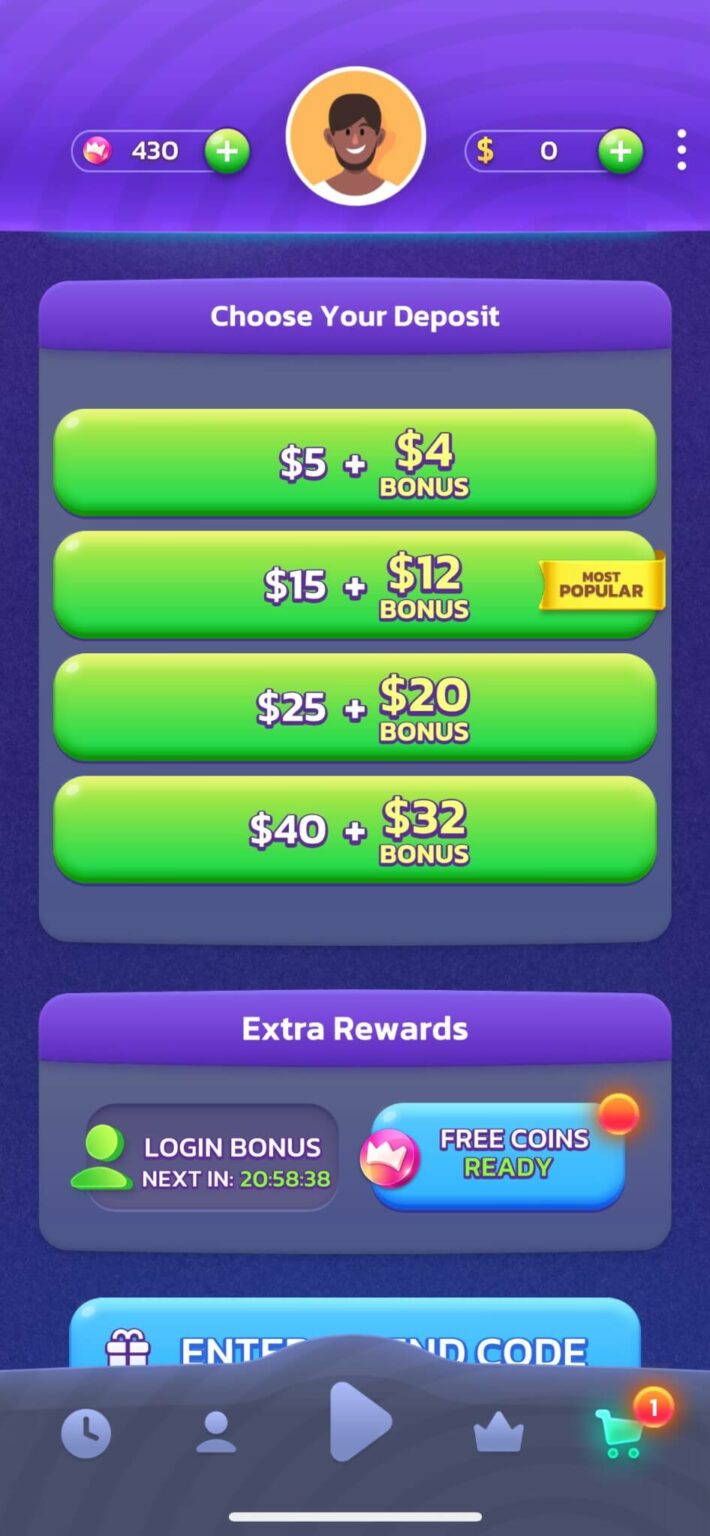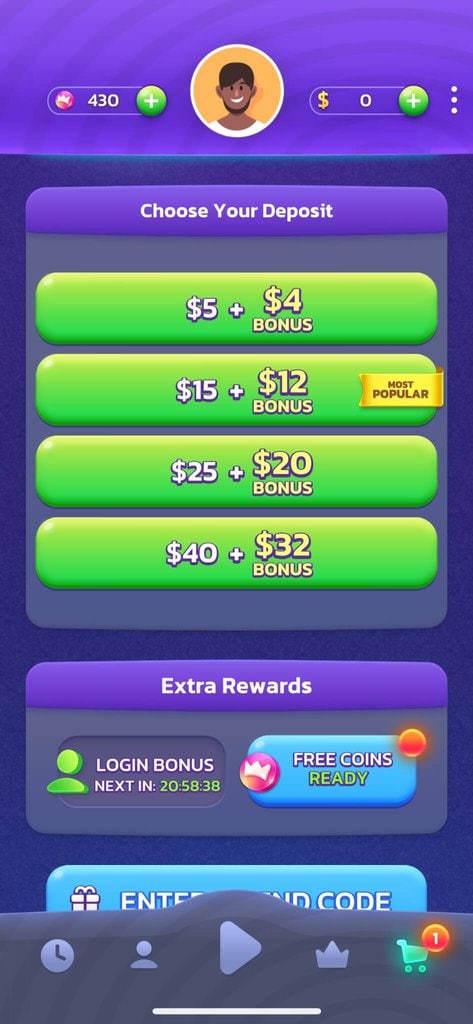 The Deposit Bonus is open to anyone who adds funds to their Bingo Fortune account, and you don't need a deposit promo code. If you choose to make a $5 deposit, you get a $4 bonus from the app, and other options include a $12 bonus for $15, a $20 bonus for $25, and a $32 bonus for $40.
Bountiful Bargain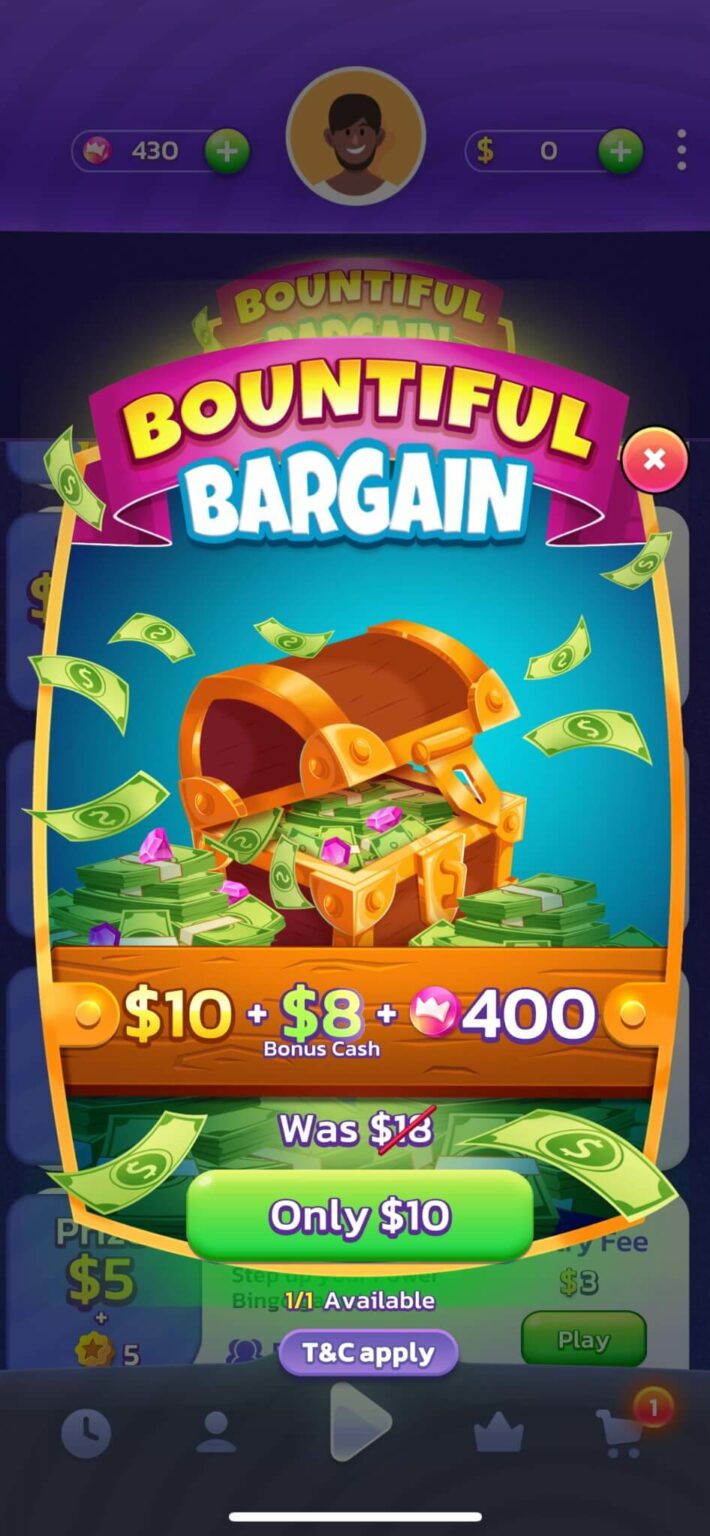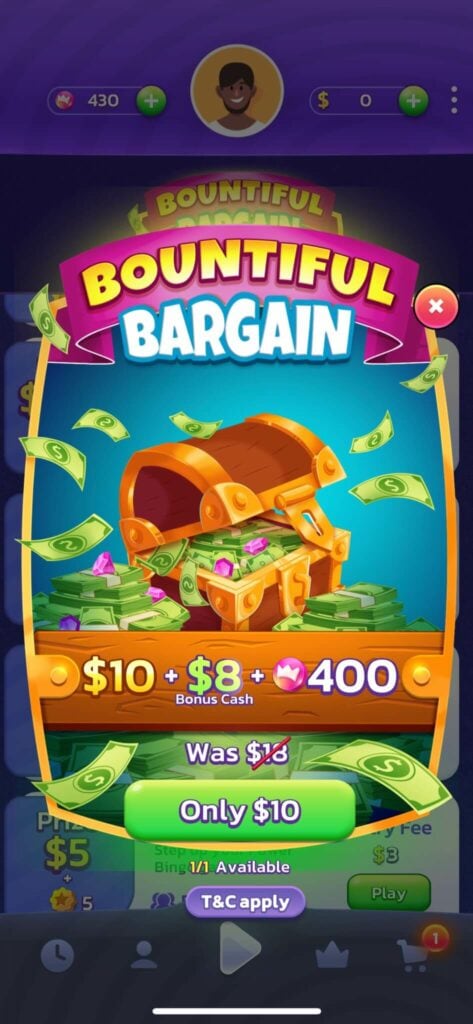 This offer rewards players with a discount purchase on Bingo Fortune. A standard Bountiful Bargain purchase usually requires a $10 deposit, for which the casino will reward you with $10 cash, $8 Bonus cash, and 400 coins to use on the app.
Fortune Super Saver
This unique offer on Bingo Fortune rewards players with 20 free crown coins for every $ they spend in the casino store.
Tips to Maximize the Bingo Fortune Friend Code
The Bingo Fortune Friend code is a straightforward bonus offer, but there are specific tips to know if you want to get the best out of this bonus, such as:
Always use a friend code when making a deposit: In addition to getting free bonus cash by getting other players to use your code, you can also use friend codes from other players to get the $5 free bonus cash on your account.
Try changing codes: Although Bingo Fortune doesn't state any restriction to the number of deposits you can make using a code, it's a good idea to have codes from several players. We recommend this approach to improve your community reputation and encourage other players to use your code – even if it's to reciprocate your action.
Play with free coins first: Although there is just one game on the Bingo Fortune app, several unique game modes exist. So, getting better at the various modes using your free coins is a great idea.
Play games with high prizes and low entry fees: Bingo Fortune lists the entry fee and prizes for each PvP game available. In this case, our best tip is to go for the games with a low entry fee but a high prize pot. An example would be a $2 entry fee for a $5 prize pot instead of a $3 entry for a $5 prize.
Can I Win Real Money at the Bingo Fortune iOS App?
Bingo Fortune is a skill gaming app that allows players to win cash prizes on its app. You can win real money prizes by playing with the free bonus cash you get from the Friends Code or through deposits you make on the app.
Although the FAQ section states that you can instantly withdraw winnings, all deposits must be used to enter paid contests first. Thus, you get to cash out the prizes if you end up winning on Bingo Fortune.
Similar Referral Bonuses to Win Real Money Playing Bingo!
The Bingo Fortune friends code, and other bonuses are great to claim, but since the skill gaming app only offers one Bingo game, it's easy to get bored. For a more exciting casino experience, there are several other sweepstakes online casinos you can visit – and they all have unique referral bonuses you can claim and 300+ games including bingo.
Some of the sweeps casinos we recommend include the following:
Fortune Coins: Rewards you with 50% of the first deposit of anyone you refer.
Pulsz Casino: Earn 4,000 Gold coins and 20 sweepstakes coins when your referral buys gold coin packages of $15 or more.
McLuck Casino: Get a 20SC bonus for each referral (limited to 10 referrals).
And want to know the best thing? Any friend who used your Bingo Fortune friend code can also be referred to those sweepstakes casinos for similar rewards in almost all states. Get sharing!