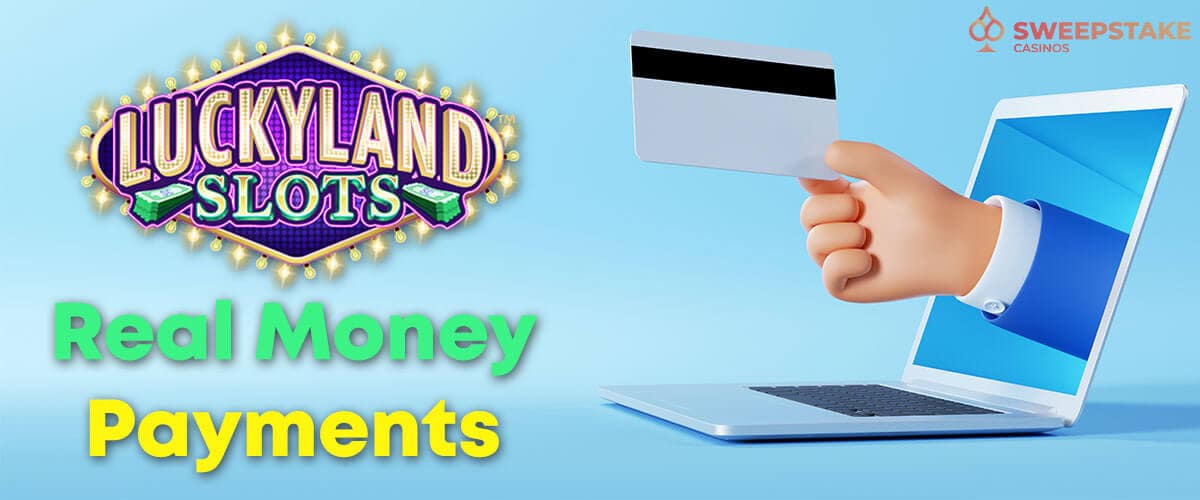 For residents outside of the states that allow traditional online casinos, LuckyLand Slots is one of the premier destinations to play real money casino games for the chance to win cash prizes. It might sound too good to be true. But as a sweepstakes casino, LuckyLand Slots is able to navigate around the laws that otherwise severely restrict online gambling.
The way they do this can look complicated on the surface. But don't worry, it's actually very simple. And in this guide, we'll be showing you how to make real money purchases at LuckyLand Slots, as well as how to redeem cash prizes with your winnings.
Continue below for our guide, although, as a heads up, we recommend the following sweepstakes casinos paying real money in various ways and not just via lengthy Bank Transfers:
LuckyLand Slots Real Money Payments Overview
At LuckyLand Slots, there are two currencies. The first is the gold coins — which while monetarily worthless, are tied directly to the second premium currency of sweeps coins which can be redeemed for cash prizes. This is where things can get a bit confusing. Because as a sweepstakes casino, you can't buy sweeps coins directly; instead, you must purchase gold coin packages including bonus free sweeps coins. Such purchases are not necessary according to sweeps rules; LuckyLand Slots cheats like the daily LuckyLand free coin bonus ensure that.
It might sound a little overly convoluted. And in truth, it kind of is. But this is a necessary step that allows LuckyLand Slots the ability to offer their services nationwide.
Gold Coin Packages
One of the biggest differences with playing at a social casino is how you deposit funds into your account. With LuckyLand Slots, you don't deposit funds directly, and instead, you must purchase gold coin packages that include a free sweeps coins bonus. These packages have fixed values and you can buy them via:
Bank Transfers
Instant ACH
Skrill
Paysafe
Credit Cards (American Express, Visa, MasterCard, Discover)
Below, you'll find all of the gold coin packages LuckyLand Slots offers for real money.
| 💰Gold Coins Package | 💵Cost | 🟡Gold Coins | 💲Sweeps Coins |
| --- | --- | --- | --- |
| Package 1 | $0.99 | 2,000 | - |
| Package 2 | $1.98 | 4,000 | 2 |
| Package 3 | $5.49 | 17,000 | 5 |
| Package 4 | $9.99 | 37,000 | 10 |
| Package 5 | $19.99 | 80,000 | 21 |
| Package 6 | $49.99 | 230,000 | 52 |
| Package 7 | $99.99 | 576,000 | 104 |
You'll also get occasional promos that allow you to receive free sweeps coins for even cheaper. The best is their 1st purchase exclusive offer of 50,000 gold coins and 10 free sweeps coins for only $4.99, which you can get by following our links — no LuckyLand Slots bonus code required.

How to Add Real Money on LuckyLand Slots Casino
Adding money at LuckyLand Slots is easy. Just follow the below steps to fund your account and start playing:
Using our unique links, navigate to the LuckyLand Slots homepage and click the "Create New Account" button.
Next up, you'll need to supply your email address, date of birth, and choose your password — once you've entered this information and have read through the terms & conditions, click "Create Account".
That's registration done. LuckyLand Slots does not require you to confirm your email or mobile number at this point, so once you register — you're in, and you'll immediately receive a welcome bonus of 10 free sweeps coins + 7,777 free gold coins. You can play games with these funds. Though chances are, you'll want to purchase additional gold coins to have even more fun. To do this, click the "Buy" button in the top left corner of your screen.
The first purchase bonus offer is their best gold coins package for new players, so when making your first gold coin purchases, we always recommend picking this one.
Before making a real money purchase at LuckyLand Slots, you'll need to provide some preliminary information to prove your identity. This info includes your address and real name. Once you've entered this information, you'll be able to reach their payment portal.
Choose your preferred payment method, enter in the required info, and click through the prompts.
Once you've completed your purchase, your funds will be instantly available in your account. Now just choose one of their slots or other instant win games to start playing for real money cash prizes.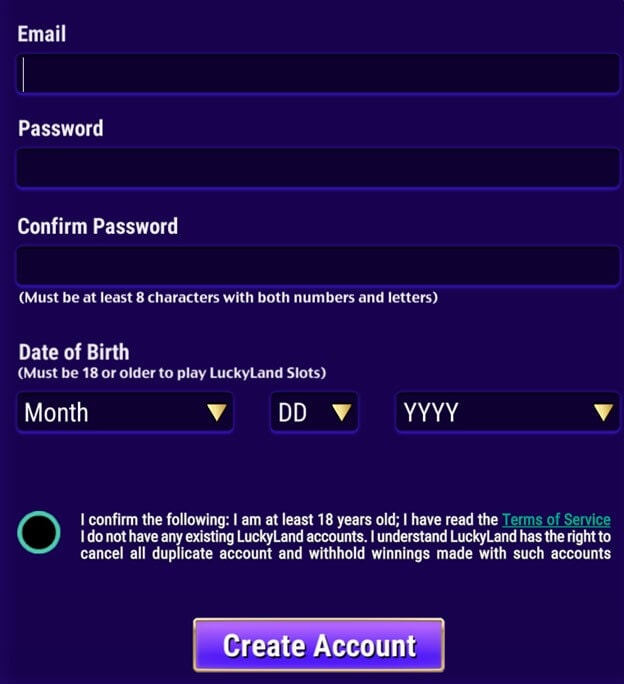 LuckyLand Slots Casino Real Money Payouts
Depositing with LuckyLand Slots is easy. But that's common amongst casinos. What really separates the good social casinos from the great are in how withdrawals are handled, and in this section, we'll be exploring how LuckyLand handles redemptions.
Requirements to Win Real Money at LuckyLand Slots Casino
Like all USA sweepstakes casinos, before you can withdraw any of your real money, you'll need to confirm your identity — and to do this, you'll need to provide photo ID that clearly states your full name and date of birth. On top of this, you'll also need to confirm your mobile number and provide proof of your address by way of a bank invoice issued in the last six months. Once you've done that, you're eligible to withdraw.
The actual requirement for turning sweeps coins into withdrawable cash is pretty easy to achieve. You must play through all of your sweeps coins at least once, and you must have at least 50 sweeps coins to make a withdrawal. Once you've met these requirements, click the "redeem" button, and follow the prompts.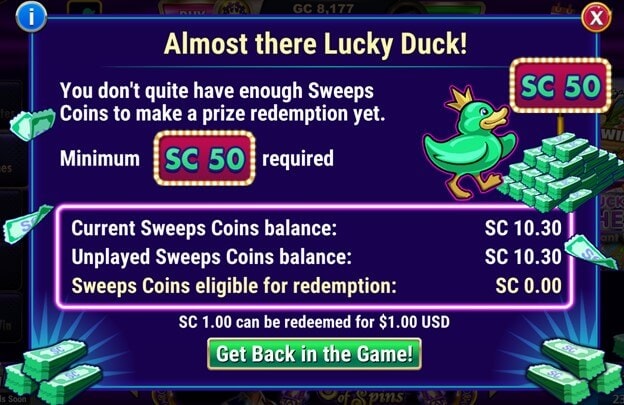 Overall, I think the requirements to withdraw at LuckyLand Slots are fair. The KYC process is normal, and a $50 minimum withdrawal requirement while not spectacular — is about average among sweepstakes casinos.
Real Cash Payouts Processing and Speed
When it comes to paying out cash prizes — LuckyLand Slots again does about average. 48 hours is about the average time it takes from submitting the withdrawal request, to having the funds appear in your bank account. Although there are some users who have reported having to wait much longer — up to two weeks before they received their funds.
Personally, I found that when I withdrew, 48 hours was about right. Though my first withdrawal did take a little longer, at about five business days due to the KYC requirements that LuckyLand Slots employs. Speaking to other team members, this seems to be the average.
In this area, I'd say again LuckyLand Slots is on par.
LuckyLand Slots Casino Banking Support
Unfortunately, while LuckyLand Slots does well in a lot of areas — banking support is one area in which they fall quite a bit short. You've only got one option for withdrawal — and that's bank transfer. This wouldn't be too bad, as most banks do allow withdrawals from LuckyLand — but if you're with American Express, Bluebird, or Revolut — you will not be able to withdraw your funds.
Further, if you're looking for help in this process, you're out of luck. Like most of the LuckyLand sister sites operated by VGW (Virtual Gaming Worlds) — LuckyLand Slots' customer support is poor. There's no 24/7 chat. And while their FAQ section is decent — it doesn't compare to having a live agent you contact. Instead, if you need additional help, you've got one option — and that's to submit a ticket.
When it comes to banking support — LuckyLand Slots isn't very good. And while they may be good in other aspects — for me, this is a deal breaker, and I would much rather play at a sweepstakes casino like WOW Vegas, Pulsz, or Fortune Coins.
LuckyLand Slots Payments Vs. Other Sweepstake Casino Payouts
LuckyLand Slots is a decent sweepstakes casino when it comes to payouts, and if there were no other options — they'd be fine to use; however, we've got a lot of options to choose from, and there are many sweepstakes casinos that handle payments better than LuckyLand Slots.
WOW Vegas — When it comes to payouts — there are a lot of similarities between WOW Vegas and LuckyLand Slots. There are similar withdrawal times and similar requirements. However one area WOW Vegas really stands out in is with its Skrill withdrawals. Anyone can sign up for Skrill, and that means anyone can withdraw their funds from WOW Vegas slots winnings without any hassle.
Fortune Coins — When it comes to banking support — Fortune Coins is the standard bearer. Fortune Coins withdrawals are available via electronic bank transfer, wire transfer, Skrill, and couriered check — so no matter how you want your funds, Fortune Coins will be able to deliver. Processing times are also much faster.
Stake.us — One of the newest free sweeps casinos on the block — Stake.us is very much the sweepstakes casino of the future. How are they doing this? Crypto. For so long, the only casinos that accepted crypto were shady offshore sites, but with Stake.us, this has changed, and if you're looking for a way to deposit and withdraw funds using cryptocurrencies — you now can at all Stake.us legal states. And of course, crypto withdrawals = lightning-fast withdrawals.
FAQs
Does LuckyLand Casino pay real money?

Yes. LuckyLand Slots does pay out real money when you win using their premium currency of sweeps coins. You can't buy sweeps coins directly and instead must purchase gold coins to receive "free" sweeps coins. From there, you can use sweeps coins to play casino games for the chance to win real cash prizes.

How does LuckyLand Slots pay out?

As of writing, LuckyLand Slots only has one method to pay out. Electronic bank transfer. This process takes about 48 hours on average — however, some users have reported it as taking as long as two weeks.