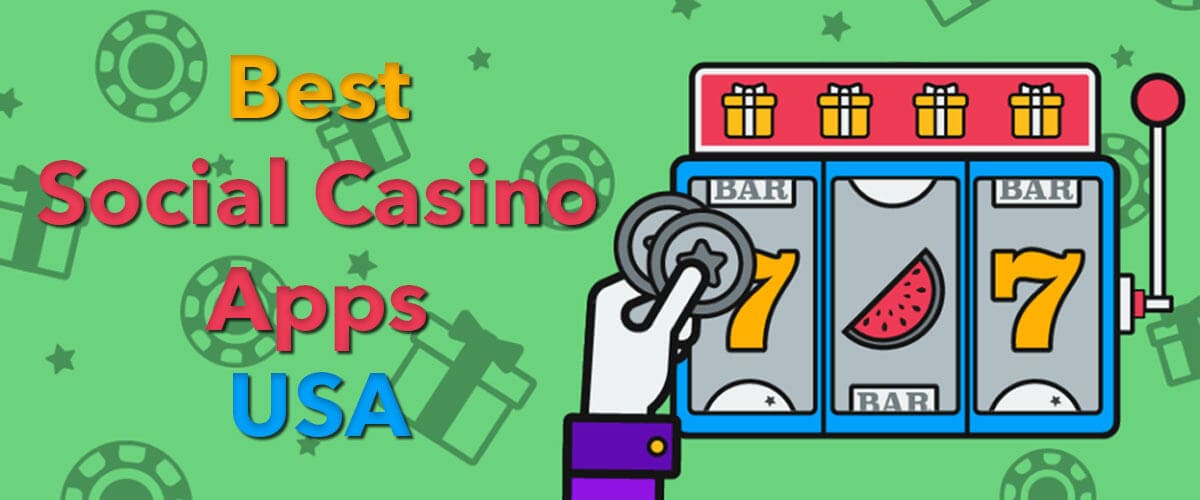 Finding the best US social casino apps is the easiest way to play free casino games. New players are also awarded sweeps and virtual coins to enjoy extended playtime. Downloading a social casino app for Android and iOS devices is simple, and you can do so from anywhere in the United States. 
Playing at social casino apps is a fantastic way to play free casino games while potentially winning real money at the same time. Platforms like Chumba Casino and High 5 Casino host an exciting range of free games, with particular emphasis on the wonderful world of online slots. But this isn't all, as the best sweepstakes apps also include so much more.
Social casino sites are entertaining, although many players now prefer the top social casino apps over their desktop equivalents. These platforms offer much more versatility and accessibility, making it straightforward to play social slots and other games on the move. Social casino apps also make it far easier to take advantage of daily login bonuses like BetRivers.Net's generous $20 of Virtual Credits every four hours.
Social casinos are the greatest way to play casino games legally across the US. Countless players cannot access traditional real money gambling sites, but the best sweepstakes apps allow them to freely engage in social gaming. What's more, you could also win cash prizes after redeeming your sweeps coins.
As you can see, playing at the best social casino apps is a win-win situation. Not only do players get to enjoy free games, but there are real money prizes on offer too. Nevertheless, you must play at the top social casino apps, as not all of them are equal. Fortunately, you're in good hands here. Keep reading for a definitive list of the best social casino apps in the US. We are certified experts on the subject, so you can rest assured we'll cover only the best social casinos!
5 Best US Social Casino Apps
Nowadays, there are numerous online social casinos, representing an ideal way to enjoy casino games without needing any real money involved. Unlike regular mobile casinos, where pretty much every operator has a dedicated app, many social gaming sites don't yet support app-based mobile social casino gaming.
Most leading social casino sites will have their own apps, like Big Fish Social Casino does, so it's nothing to worry about for those who prefer playing games on their mobiles. In fact, if a social casino doesn't have an app in this day and age, it is often a sign to look elsewhere. Social casino gaming is increasingly geared around sweepstakes apps, which are the best way of playing social casino slots and other casino games.
Want to make sure you're playing at the very best social casino apps in the US? Look no further. We've got iPhone and Android users covered.
Pulsz Casino App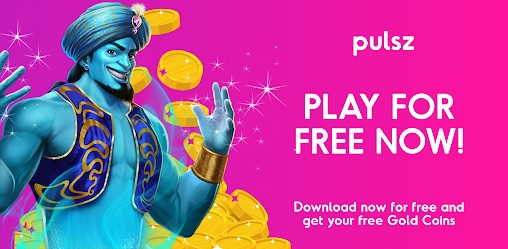 As far as social casino sites go, Pulsz Casino undeniably has the most variety, with over 200 classic casino games on offer, all for free. Fortunately, Android users can also enjoy a fantastic Casino app, which is one of the best social casino apps currently on offer. With the Pulsz promo code 5,000 free Gold Coins are available on registration with a further 200% extra after your first purchase, there are considerable incentives to download the Pulsz Casino app right from the beginning.
There are several reasons why this is one of the best sweepstakes apps, but arguably the main one is the catalog of slot titles. While other platforms like High 5 Casino offer exclusive games, the Pulsz Casino is uniquely positioned to provide famous titles you can typically only find at real money online casinos. For example, you'd do well to find games like Hot Triple Sevens at other sweepstakes sites.
Unlike many other social casinos, the Pulsz Casino app also offers an enticing range of social gambling options covering the most popular table games and more. Roulette, blackjack, poker, and baccarat are all available, putting Pulsz social casino on the same level as some genuine casino sites.
Download and install – Pulsz Casino App (Google Play Store)
High 5 Casino App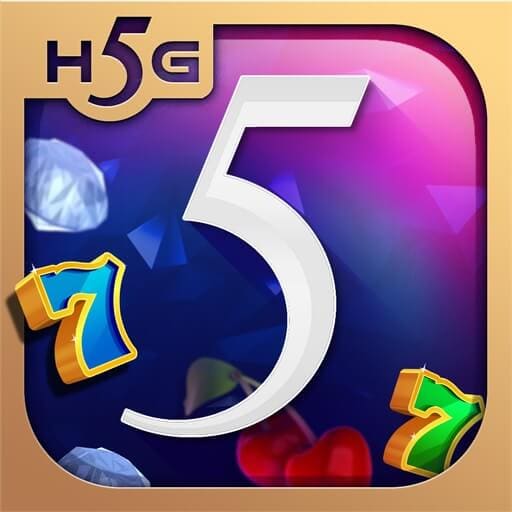 Coming from the critically acclaimed online slots developer High 5 Gaming, the High 5 Casino is arguably the best social casino app in terms of sheer design quality. Everything about this social casino app oozes class, from the minimal waiting times to HD graphics and mobile-optimized functionality. It's the little things that count here, such as being able to turn your screen and play slots in landscape mode.
Aside from the High 5 Casino app's technical prowess, players may also enjoy a wide variety of exceptional social slots. All social games are designed by High 5 Gaming, so users may enjoy expertly crafted social slots games for Android and iOS straight from source. For example, The Amulet and The Charm: Power Bet is a powerful and innovative online slot many people will remember from regular real money sites.
The good news doesn't end there either, because the High 5 Casino app is also extremely generous. There are numerous ways to earn free coins, with daily rewards for logging in and huge referral bonuses for bringing new players along for the ride. To top things off, High 5 Casino offers new players 10,000,000 free coins as a welcome bonus.
Download and install – High 5 Casino App (App Store & Google Play Store)
Chumba Casino App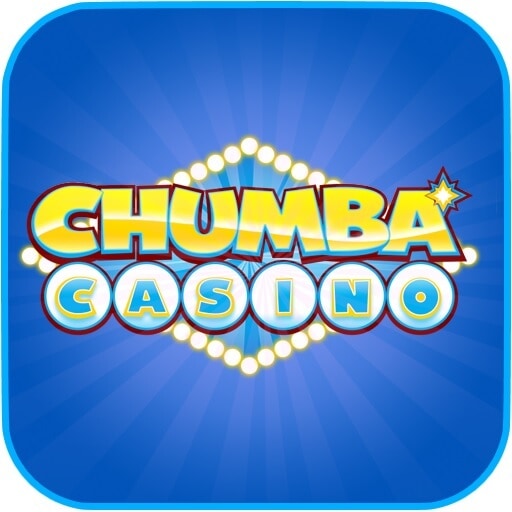 Chumba Casino is currently the most well-known sweepstake casino site, responsible for bringing countless players into the world of social casino gaming. The platform has a vast repertoire of social casino games, all available for free play. First-time customers get a 2,000,000 Gold Coins, and 2 Sweeps Coins no deposit registration bonus, complemented by a further 3,000,000 Gold Coins and 30 Sweeps Coins after your first deposit. Right from the offset, it's clear how generous Chumba Casino is.
While the sweepstakes casino has a slightly less powerful contribution than other social casino apps, there was still no way we couldn't include it. Chumba Lite offers far more than its name suggests, with an expansive range of the best social casino games available. For example, players can enjoy the excitement of progressive jackpot slots like Dancing Gold and Stallion Grand.
Available on iOS and Android, Chumba Lite is a fantastic way to experience everything Chumba Casino offers on a more compact and easily accessible mobile app. It gives players the chance to win real money through sweepstakes games, while also hosting free mobile casino games.
Download and install – Chumba Casino App (App Store & Google Play Store)
Gambino Slots App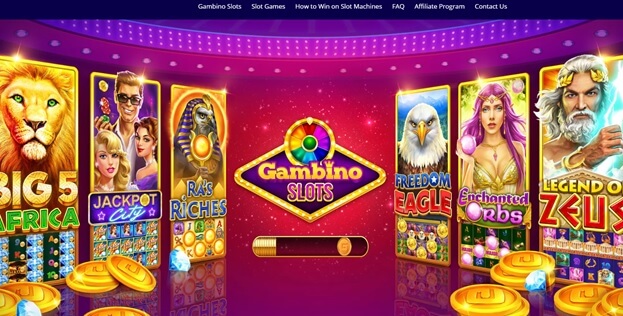 As its name suggests, the Gambino Slots app focuses on slot titles, with a healthy blend of classic slots, progressive jackpots, and bonus games on offer. Unfortunately, there aren't any casino table games on the Gambino Slots app, but this hardly matters with such an impressive array of social slots. Players have a vast variety to choose from, and the social slot games are made even more fun with a mission-style mechanic at work for unlocking new slots to play.
There is no doubt that Gambino Slots is one of the best social casino apps around, especially considering its seamless integration with both iOS and Android operating systems. Available on the Google Play and Apple Store, the Gambino Slots app is straightforward to download and install, so you'll be playing social casino slots in no time at all.
Gambino Slots is also one of the most generous social casinos available, with a gargantuan 100,000 Gold Coins and 200 free spins available. It means you can play free games to your heart's content, and you can cash in at the same time with real money jackpots with redeemable sweeps coins prizes.
Download and install – Gambino Slots App (Google Play Store & Play Store)
B Spot Casino App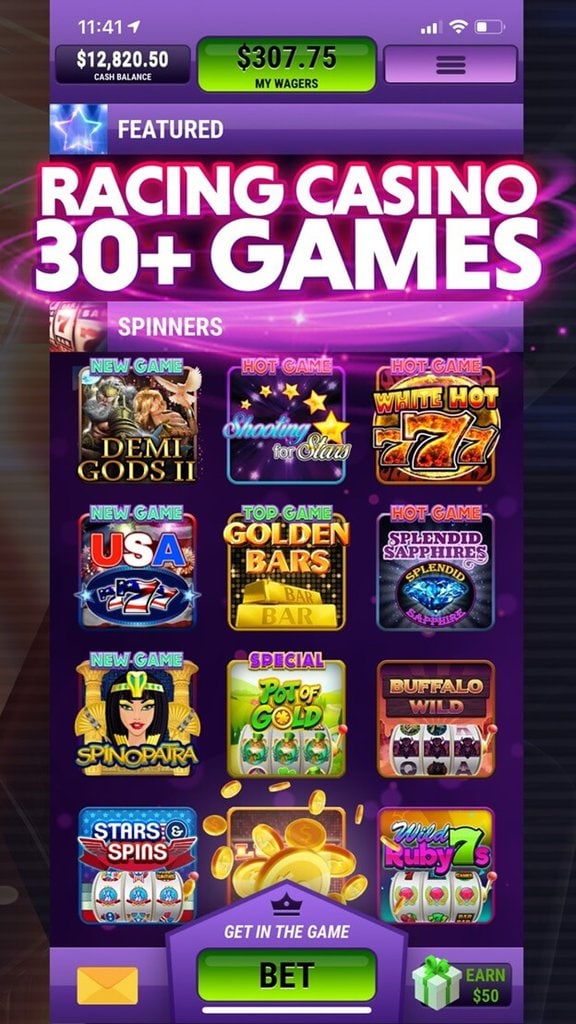 B Spot won the 2015 "Top Startup Award" at TiE50, so it's clear that this is a social casino platform worth paying attention to. B Spot Casino is by far the most innovative sweepstakes casino app, blending social gambling with horse race betting in an entirely unique way. While the emphasis is on playing casino games for free, your winnings are decided by horse race bets placed at random on your behalf.
It is a remarkably clever use of the federal Interstate Horseracing Act that social casino enthusiasts have widely celebrated over the last few years. The B Spot social casino app is one of the best free casino apps regarding game selection, with various options including slots, casino table games, bingo, and more.
One downside to B Spot Casino is the current lack of a dedicated Android app, although the platform makes up for it with a scintillatingly good iOS app. Moreover, the $10 first deposit bonus is unique in that it's given as real money, legally possible due to the experimental blend between horse racing and social casino games.
Download and install – B Spot App (App Store & iTunes)
We are experts in social gaming sites, and a massive part of this revolves around rating the various social casino apps on offer. Our readers gain a comprehensive understanding of the best sweepstakes apps because we do diligent research into each and every one. Just like traditional online gambling, social games are increasingly moving onto the mobile sphere, so it's crucial to be in the know.
To play social slots on your mobile, you need to find the best social casino app. Doing so centers on several key objectives, and we take all these into account when reviewing the best sweepstakes apps. So you have an idea of how we rate social casino apps, here is a rundown of the main features we tend to look at:
Software: A vital component of the best social casino apps that mainly lurks behind the scenes, software quality is paramount these days. Nobody wants to play on a social casino app with long waiting times and glitchy software. It just makes the overall experience way poorer.
iPhone and Android Mobile Games: Why would you use a social casino app without your favorite games? Social games come in various shapes and sizes, so finding platforms with a nice and varied selection is crucial. Online games like social slots are the most important, but the very best social casino apps will also include table games and other casino games for mobile devices.
App Availability: What good is a social casino app if it isn't available on your chosen mobile platform? This is another crucial thing to consider when rating the best sweepstakes apps. Leading apps like Live! Social Casino, B Spot, or Pulsz Casino are available on Android and iOS, which is a huge plus.
Interface & User Experience: The general interface is also fundamental when reviewing social casino apps, as they can be challenging to use without an intuitive layout. It can't be a mission to work out how to play social casino games on the best apps. Otherwise, players will just lose patience. As such, interface and user experience are critical to deciding what the best social casino apps are.
Safety: Last but not least, it's absolutely critical that social gaming apps are safe and impossible to hack. While you aren't giving away as much personal information as when playing real money casino games, there is still a lot to lose on social gaming platforms. They need to be fully covered by things like secure SSL protocols and be a trustworthy company in general.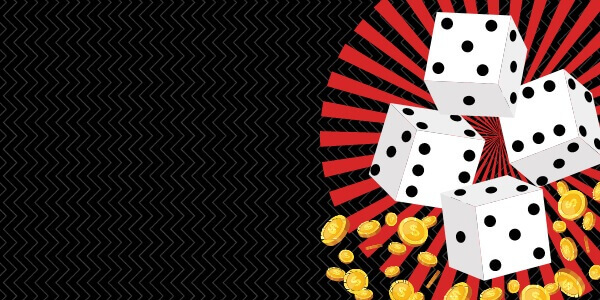 A Guide to Sweepstakes and Social Casino Apps
Not everybody is well-acquainted with social gambling, so numerous things could do with further clarification. Social casino apps are the No. 1 way to engage in social gaming, especially platforms like Pulsz Casino and High 5 Casino. Keep reading for a helpful guide to mobile sweepstakes and social casino apps.
It can seem unbelievable to US players unable to play games at real money casinos due to state restrictions, but social casino apps like Casino Mania are entirely legal across all states other than Washington. These platforms use sweepstakes laws to circumnavigate strict American gambling laws and provide a legal way to play social games and more.
While most sweepstakes apps are legal across the US (minus Washington), it's always good to check on specific cases. For example, B Spot Casino has a slightly more limited selection of legal states due to the absence of direct licenses for horse racing in some places.
As you can see from our roundup of the five best social casino apps, numerous mobile casino games are available on these platforms. The selection revolves around online slots similar to regular online casinos, but these games aren't the only choices on offer. Most social casino apps also have a few table games to enjoy, with roulette, blackjack, and poker being the most popular among iPhone and Android players.
Social casino games can also come in more unique forms, with strategy and skill-based games getting more popular. Unlike regular casino games, social gambling is geared towards community and playing with friends, so it can be an altogether more enriching experience. Here is a full rundown of games available on social casino apps:
Mobile slots
Mobile Roulette
Mobile Poker
Mobile Bingo
Mobile Slingo
Mobile Strategy games
Mobile Scratchies
Mobile Keno
Mobile Baccarat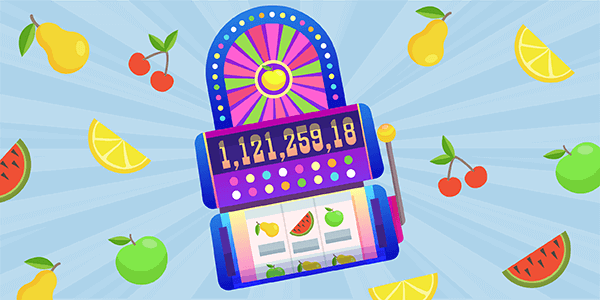 Free and Premium Modes
The best social casino apps like Pulsz Casino and Chumba Casino let players easily toggle between Free and Premium modes, but what exactly do these mean?
As you can probably tell, playing in free mode doesn't require any real money purchases, resulting in a completely free online casino experience. In most cases, players use Gold Coins to play for free, which can be obtained through various methods. For example, at High 5 Casino, you receive 15 credits just for logging in. Free mode is great fun, but bear in mind you cannot win real money prizes.
On the other hand, premium mode is a more exciting way to play, but it will cost you. Players using premium mode will generally need to buy sweeps coins, although some are available via sign-up offers. For example, Pulsz Casino offers a 200% match on your first purchase. Real money prizes are available when playing in premium mode. However, they come in the form of sweep coins that must be redeemed for real money.
Real Money vs. Social Gaming
Real money gaming is more attractive than free social gaming at first glance, but you may find your mind changed after delving deeper. For all the allure of real money prizes, it can be refreshing to enjoy social gaming without the worry of losing cash. Furthermore, social gaming is far less isolating than traditional casino gambling, where the majority of time is spent alone.
Also, with the best social casino apps like Chumba Casino or Pulsz Casino, you can easily toggle between real money and social gaming. Others, like Coin Dozer also provide a dual-currency model but th payout process is considerably more complicaed. These platforms have free and premium modes, so players can get the best of both worlds. Generally, real money game apps revolve around sweeps coins, whereas free play utilizes free coins, usually known as Gold Coins.
Coin Purchases and Redemptions
It is entirely possible to play social casino games without spending a single dollar, but most players will need to purchase more coins at some stage. One important difference between social casinos and online casinos is that players cannot deposit real cash directly and gamble with it. Instead, players at social online casinos must purchase virtual currency coins that are used to play games.
While these coins hold no intrinsic value in real-life, the prizes you can win from games can be redeemed as real money on most platforms. There is generally a minimum amount before you can make a real money coin redemption, but apart from this, there are minimal other terms and conditions. Head to the "My Account" section of the social casino app you're playing on and select the relevant option to make a coin redemption.
Social Casino Apps Types and Availability
Not all social casino apps are available across all platforms these days, although the best ones will cater to iOS and Android devices. In most cases, sweepstakes apps look and feel identical to their desktop site versions, so it doesn't take long for players to make the switch. Keep reading for a brief look at Android, iOS, and Windows social casino apps and how to download them.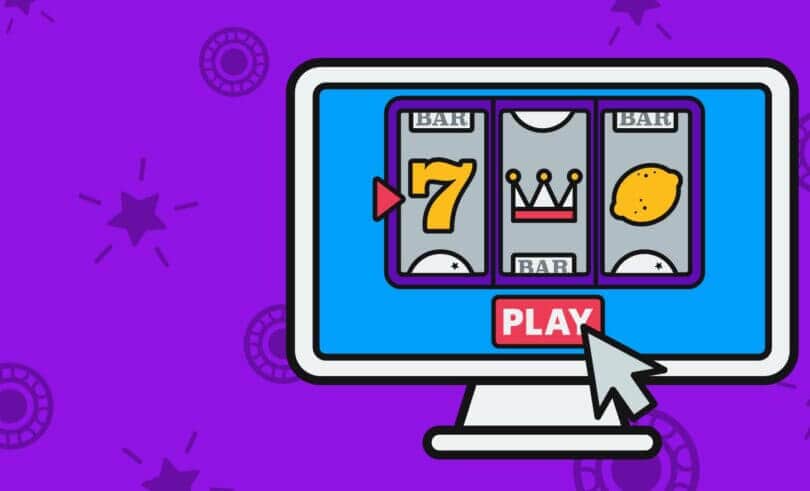 Most of the best sweepstakes apps are available on Android devices these days, with the notable exception of B Spot Casino. Don't worry, though, as social casinos without a dedicated Android app are still easily accessible through the mobile web browser.
Here is a quick run-through of how to download and use Android social casino apps:
Head to the Google Play store and search for your chosen social casino app. Sometimes you won't be able to find it here. In these cases, go to the social casino website and download the .apk file straight from the sweepstakes site itself.
Download the application and install it on your phone.
Make sure you are registered and sign in to start playing.
The choice between iOS and Android social casino apps generally comes down to personal preference and the type of device. Although Android devices are rapidly gaining popularity, most people will agree that iPhones still just about rule the roost. As a result, the best social casino apps must be available on iOS. Fortunately, most of them are, other than Pulsz Casino.
Look below for a brief step-by-step guide on downloading iPhone social casino apps:
Go to the Apple Store and search for your preferred sweepstakes app.
Download and install the application.
Register and sign in to start playing social casino games.
iPhone and Android Social Casinos Apps: A roundup
| 🎰Social Casino | 📱iOS App | 📱Android App |
| --- | --- | --- |
| High 5 Casino | ✅Yes | ✅Yes |
| Pulsz Casino | ❌No | ✅Yes |
| Chumba Casino | ✅Yes | ✅Yes |
| B Spot Casino | ✅Yes | ❌No |
| Gambino Slots | ✅Yes | ✅Yes |
| LuckyLand Slots | ❌No | ✅Yes |
Social casino apps for Windows
Although iOS and Android social casino apps are the big hitters, Windows users can also download dedicated apps for their PCs. The selection isn't filled with as much quality, but there are still great options. For example, the Gambino Slots offshoot Gambino Games certainly isn't one to miss. Ocean Social Casino and Quick Hit Slots are also platforms with a great Android app.
Social Casino Apps vs. Online Sweepstakes Sites
Online sweepstakes sites are straightforward to use, so many people wonder what the point of social casino apps is. Although you can be happy enough playing at social online casinos on your computer, there are numerous reasons why social casino apps come out on top. Here are a few reasons why social casino apps are better to use and more enjoyable than regular sweepstakes sites:
Social casino app-focussed bonuses.
Sweepstake apps allow you to play free games on the move.
Many modern slots are now optimized for mobile play first.
Social casino apps make it easier for players to take regular advantage of daily login bonuses.
It's more straightforward to link your social media profiles to social casino apps.
As you can see, social casino apps are undeniably the way forward. Ensure you are playing at the best sweepstake apps to get the complete experience.
FAQ's
Yes. Social gambling is 100% legal in all US states other than Washington.

Ultimately, the best social casino apps are down to personal preference. Some are undeniably better than others, though. We recommend the likes of High 5 Casino, Gambino Slots, and Chumba Casino the most.

Various popular free casino games are available on sweepstake apps, but the most popular are slots. Aside from this, players can enjoy things like roulette, blackjack, bingo, and more.