Grand Sweepstakes Casino is a land-based sweepstakes casino located at 911 Fayetteville St, Durham, NC, USA, and is open 7 days a week 9 am to 5 am. They are planning to launch on October, 2023.
Pros
Legal land-based casino in North Carolina
Win real money
Live music
Complimentary food & drinks
Play casino games including slots & fish games
Book the venue for private play
Cons
Must be 21 years or older to play
Not available 24 hours
Currently only land-based gaming
Lack of table and live casino games
Lack of bonuses
If you aren't based near Durham or prefer playing online, we recommend signing up to sweepstake casinos like WOW Vegas, Pulsz, or Fortune Coins. These sites feature 100 + games, including slots, fish games, keno games, progressive jackpots, bingo games, and more, and you can win real cash prizes in 47 + US states!
Grand Sweeps Casino features live music and even complimentary food and drinks, giving you the Las Vegas experience in Durham! How it works is you purchase game credits either online or at the casino, and then you use these credits to play different games. You can then redeem your credits for cash!
Grand Sweepstakes also has plans to launch an online sweepstakes site. You will be able to play casino games like slots and blackjack from your phone or desktop and win real cash prizes. There is not much information about their online sweeps casino, but expect it to be similar to established sites like Chumba Casino.
What Is Grand Sweepstakes Casino?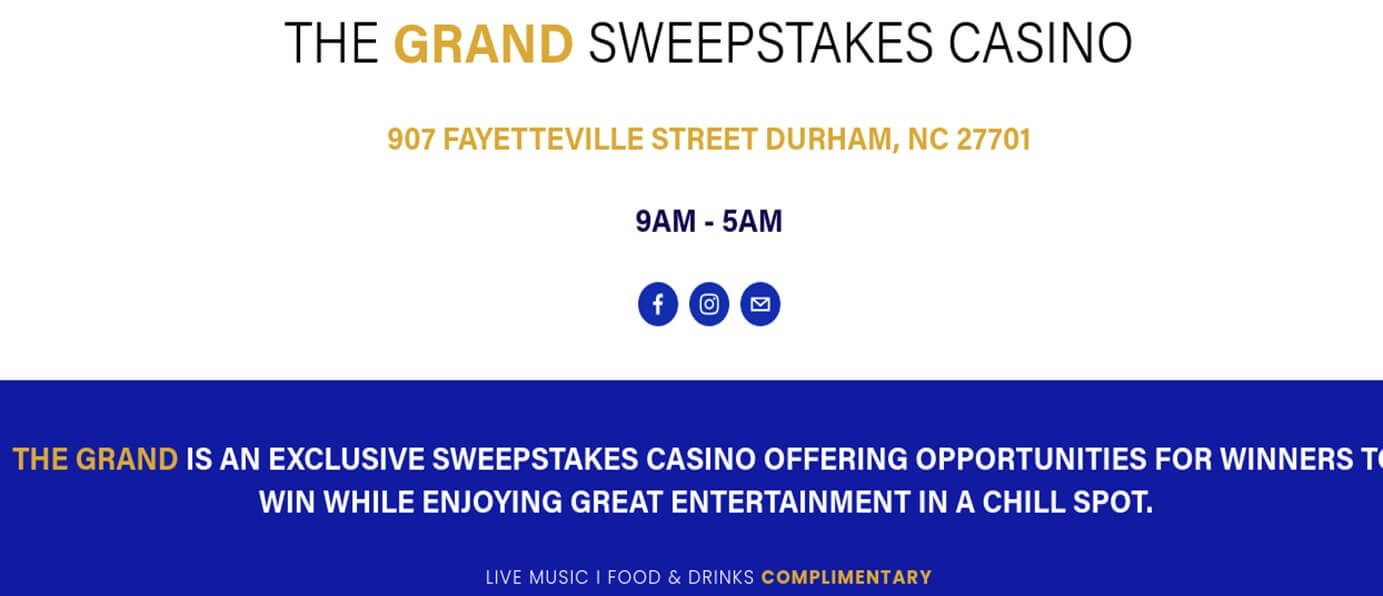 Grand Sweepstakes is a land-based sweepstakes casino located in Durham, NC, where you can play casino-style games and win cash prizes legally. They have all kinds of games, including slot machines, blackjack, fish, and video poker games. Grand Sweepstakes uses the sweepstakes model because casino and online gambling is currently prohibited in North Carolina.
Grand Sweepstakes Casino is in the process of launching an online sweeps casino. This site will be available to players across the US, and you will be able to use game credits to play a range of casino-style games and then redeem these credits for cash prizes.
How to Play at Grand Sweepstakes Casino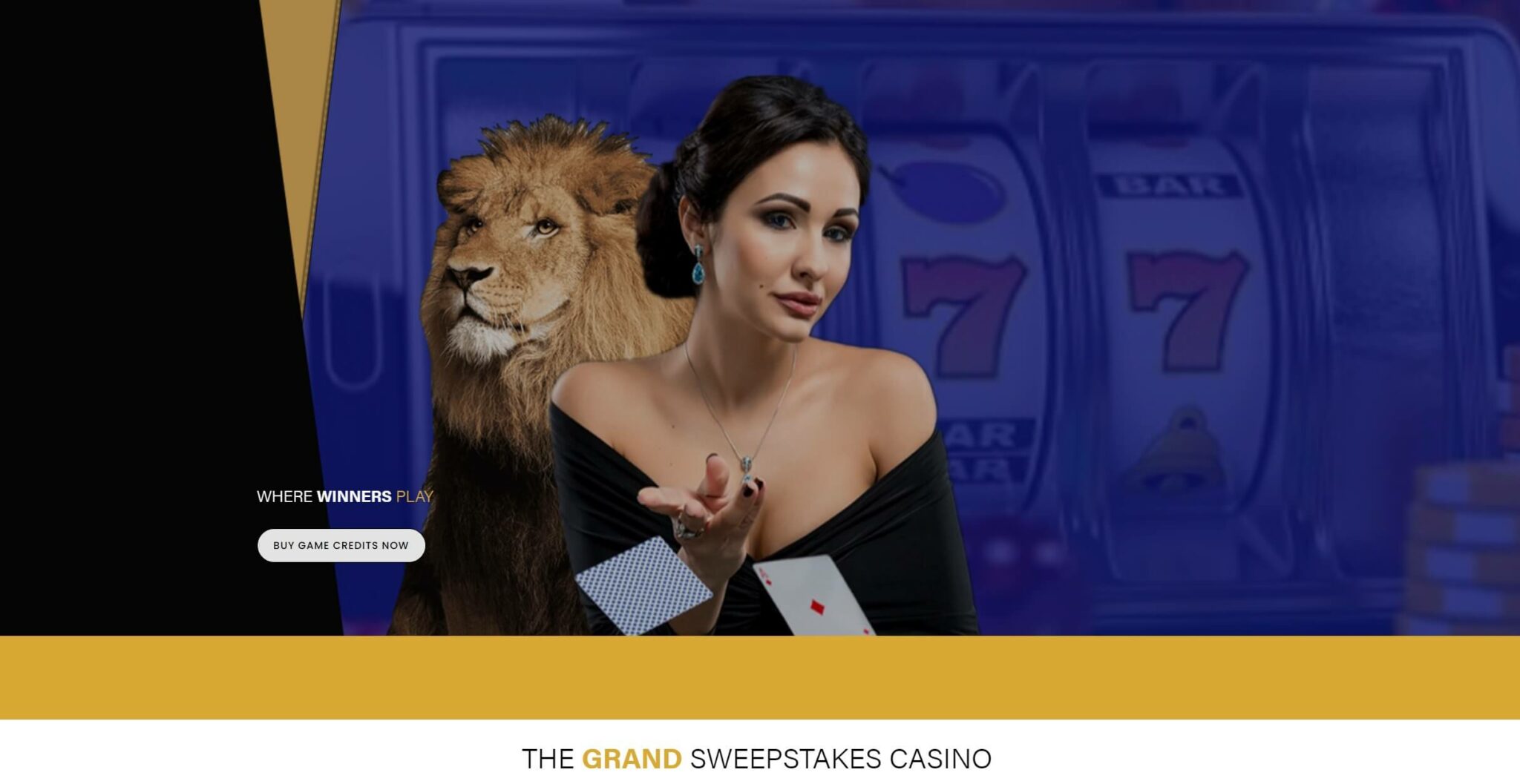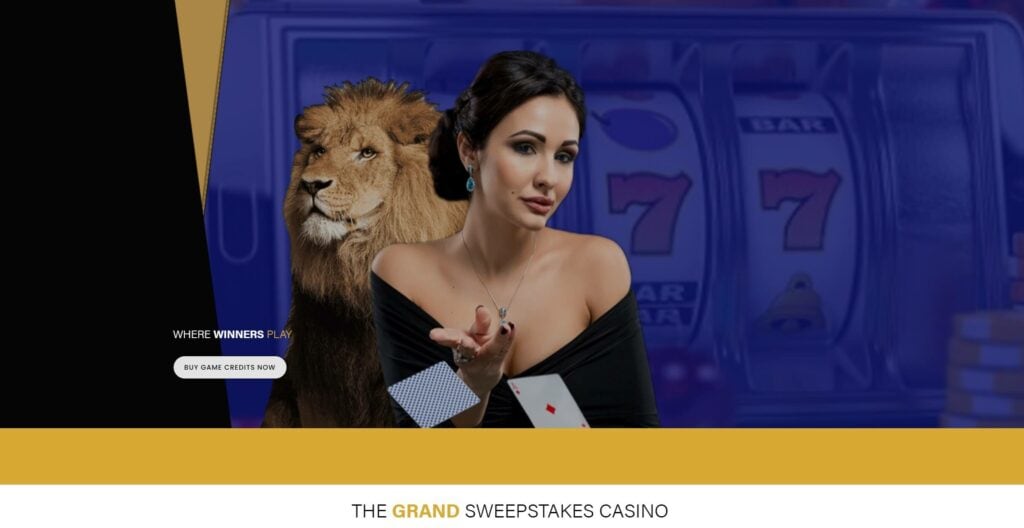 To play at Grand Sweepstakes Casino, you need to head to 911 Fayetteville St, Durham, NC, USA.  Once inside the venue, you purchase game credits just like you would at an arcade. You then use these game credits to play any of the different casino-style games on offer, including slots and fish games. Then after you are done playing, you go to the cashier and exchange your game credits for cash.
The online site will work the same way. You will purchase game credits, also known as gold coins, and then receive sweeps coins for free. You can use these sweeps coins to play casino-style coins and then redeem them for cash, usually at a 1 to 1 exchange rate. Sweepstakes sites like Grand Sweepstakes have to use these virtual currencies to stay legal and avoid being considered an online casino.
Who Can Play at Grand Sweepstakes?
Anyone who is 21 years or older can play at Grand Sweepstakes Casino in Durham, NC. It doesn't matter what state or country you are from, just make sure you bring a valid form of ID because security will likely ask for proof of age.
If you are looking for an exclusive gaming experience, you can book the Grand Sweepstakes Casino for a private event. The venue regularly hosts corporate groups, birthday parties, social events, and private meetings.
It is unclear what states Grand Sweepstakes online site will operate in; however, it will probably be similar to other sweeps online casinos and operate in virtually every US state except Washington and Idaho. You will probably be able to play at Grand Sweepstakes online site if you are 18 years or older.
Grand Sweepstakes Bonus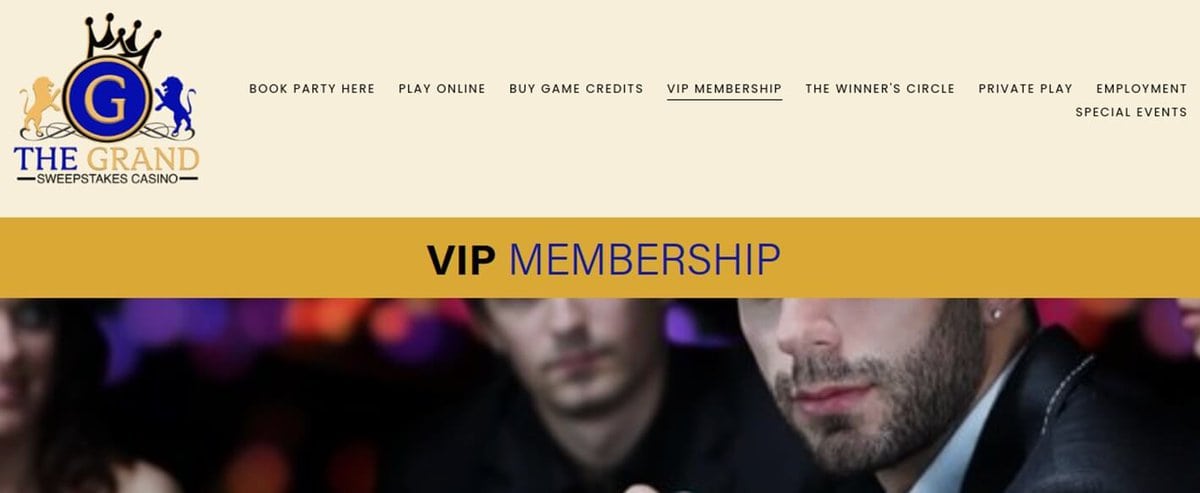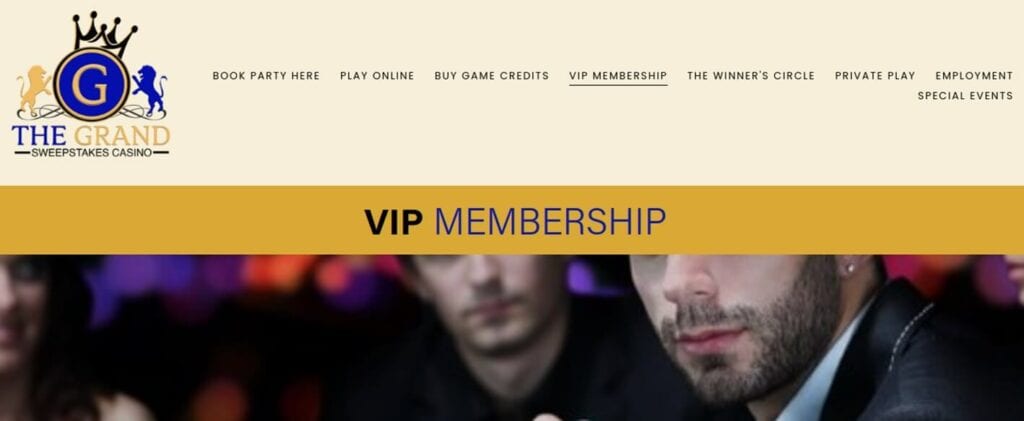 Grand Sweepstakes land-based casino has a generous VIP program that you can sign up for on their website. As part of their VIP program, you can get your food and drinks comped as well as receive complimentary play on popular sweepstake casino games and gift cards from local businesses.
Grand Sweepstakes hasn't revealed what bonuses their online site will have, but you can expect the following:
No Deposit Bonus – When you sign up to Grand Sweepstakes, you will likely receive free sweeps coins. You can use these coins to bet for real and then redeem them for cash or gift cards.
First Purchase Offer or Welcome Bonus – When you make your first purchase of game credits, AKA gold coin package, Grand Sweepstakes will probably top up your balance with some extra sweeps coins. For example, purchase $50 worth of gold coins and receive $100 worth of sweeps coins.
Daily Sign-In – Most casinos that use the sweepstakes model offer a daily sign-in or login promo. All you need to do is log into your account, and you will instantly receive free sweeps coins worth real money!
Mail-In – If Grand Sweepstakes wants to operate as a legal sweeps casino in the US, they will have to offer an alternative method of entry. This is usually in the form of a mail-in promo. Basically, you send a handwritten letter to Grand Sweepstakes requesting free sweeps coins, and as long as you follow their letter formatting rules, they have to give you free sweeps coins!
Social Media Contents + Giveaways – Grand Sweepstakes are active on Facebook and Instagram, so expect them to entice new players with different giveaways and exclusive promo codes, especially when they are first launching their online sweeps casino.
Grand Sweepstakes Casino Games
At Grand Sweepstakes Casino in Durham, North Carolina, you can enjoy these most popular casino games:
Fish Games – Fish games are arcade-style games where you control a cannon and attempt to shoot fish. The more fish you shoot, the more you win, but be careful, as every bullet you use costs you money!
Slots Games – They have a wide range of physical slot machines and even some jackpot games. Simply select your bet size, hit the spin button, and hope you land a winning combination!
Video Poker – In video poker, you are dealt 5 cards and have the option of redrawing cards. The goal is to make the strongest poker hand possible, and you win every time you make a pair of jacks or better. This game has a very low house edge, and a royal flush pays 400x!
Electronic Blackjack – In this version, you play blackjack on a machine similar to video poker. This fast-paced form of blackjack is great if you don't want to wait for other players!
There is no detailed information about the casino games Grand Sweepstakes' online site offers, but we have confirmed you will be able to play:
Fish Games
Online Slot Machines
Blackjack
Online Poker Games
We will have to wait and see what exact online sweepstake games Grand Sweepstakes will provide and which software developer will power them.
Grand Sweepstakes Casino Features
Grand Sweepstakes Casino is still largely a mystery, but here are some of the key features we were able to identify:
Customer Support – They offer customer support via email (support@grandsweepstaks.com), and you can also contact them on Facebook.
Payment Methods – They currently accept credit/debit cards and PayPal. It is unclear if they will expand payment options when they launch their online sweeps casino.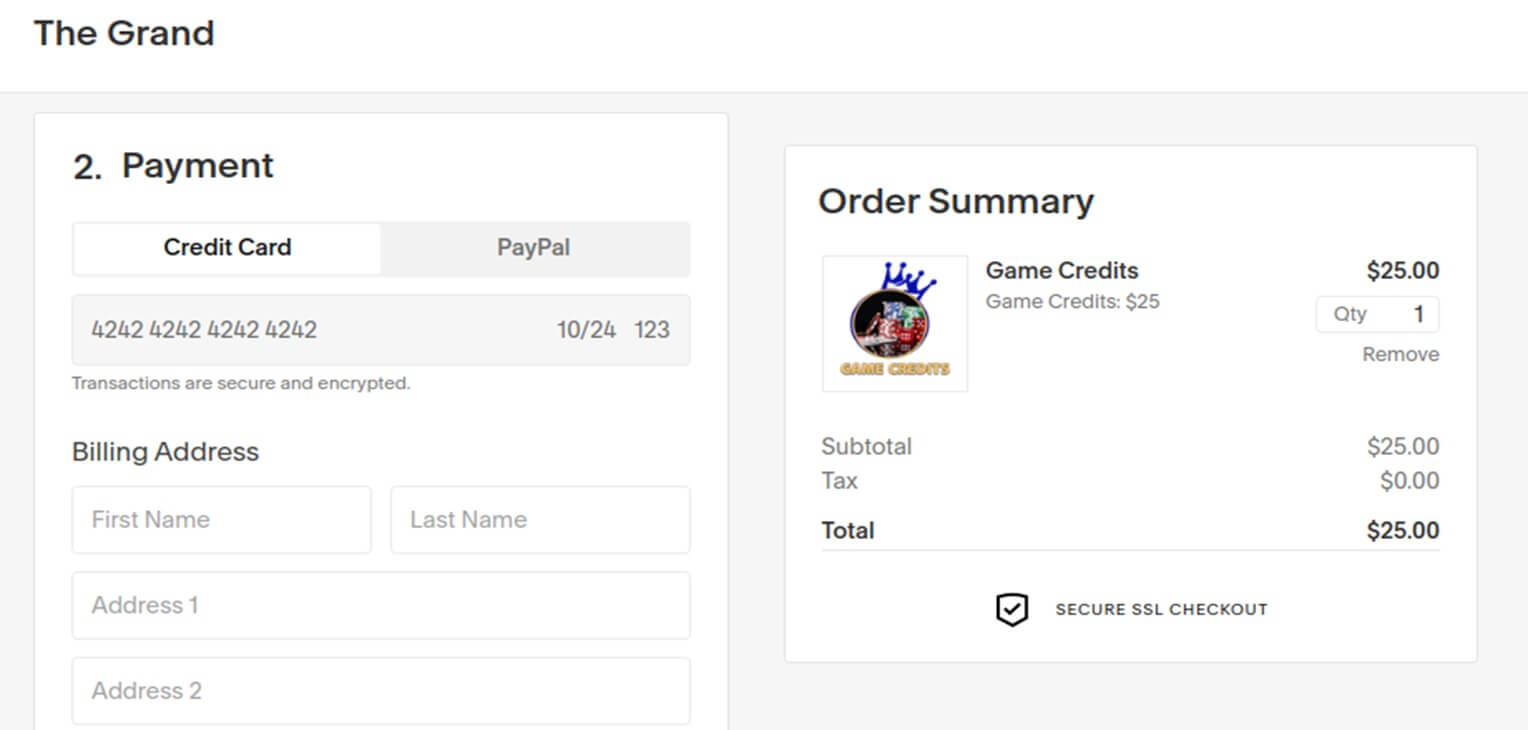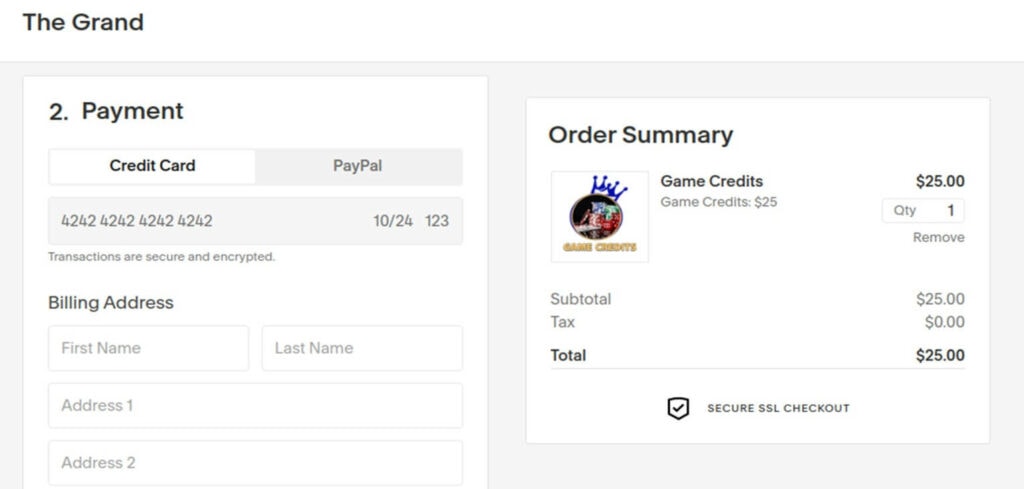 Grand Fan Club – They are promising lots of exclusive promos and bonuses when you sign up to their marketing emails AKA Grand Fan Club.


Winner's Circle – The player who wins the most on a given day will be added to the Winner's Circle; whoever appears on the Winner's Circle the most in a month will win prizes!
Final Verdict: Should You Play at Grand Sweepstakes Casino?
If you are in Durham, NC, then why not swing by Grand Sweepstakes Casino and try your luck on their fish games and slots? Worst case scenario, you will enjoy some live music and score comped drinks.
However, if you are looking for an online gaming experience, Grand Sweepstakes Casino shouldn't be at the top of your list. Their online platform hasn't launched yet, and their website looks very low budget, not to mention there is no information about particular games, software, or bonuses.
To legally play your favorite casino games and win cash prizes in the US, we recommend signing up to social casinos like WOW Vegas, Pulsz, or Fortune Coins. These sites have 100 + free games, including the latest video slots (Spartan King & Book of Fallen) and fish games (Emily's Treasure), juicy no-deposit bonuses (1,000 sweeps coins worth $10 at Fortune Coins), and secure payment methods (Mastercard, Visa, Apple Pay, Skrill & PayPal)!