Nothing resonates more with all humans than making money and lending a helping hand to others, and with Golden Hearts Games Casino, you can do the two simultaneously.
Pros
All games are available for free play
Exciting promotions
Legal in all US states
Bingo, slots, video poker, and scratch games are available for free play
Over 1.5 million charities to support
Cons
No mobile app
Not many available games
$2500 Max Wins on games
Golden Hearts Games is the first charity sweepstakes casino where players can play free promotional games like slots, bingo, video poker, and other games to win real money while supporting over 1 million charities. With the no-deposit promo code, you can get a whopping 500 free coins worth $5, which you can use to win up to $2,500 in real cash.
This Golden Hearts Games review will highlight how the charity sweeps casino works and how you can donate and win real money from these games.
Golden Hearts Games Review
| ✅Pros | ❌Cons |
| --- | --- |
| All games are available for free play | No mobile app |
| Playing supports charity | Not many available games |
| Donations are tax-deductible | $2500 Max Withdrawal |
| Legal in all US states | |
| Bingo, slots, video poker, and scratch games are available for free play | |
| Over 1.5 million charities to support | |
| Exciting promotions | |
It's not often we see a pioneer excel this much at innovation, but Golden Hearts Games pulled it off. Being the world's first charity casino, I am impressed at the amount of thought and thorough planning that went into creating it. All US residents can legally play at the site, and even though there are only a handful of games so far, you'd still be able to have fun playing and win real money straight from your phone. Even though the backbone of Golden Hearts Games is charity, a donation is not compulsory, so you could decide to play entirely for free is you desire.
The only downside I see to playing at Golden Hearts Games casino is there is no native mobile app you can play on, which is a disadvantage for on-the-go players. However, there is a silver lining. The website and games are mobile-optimized, which is still a welcome alternative to not having an app.
How Do Golden Hearts Games Operate?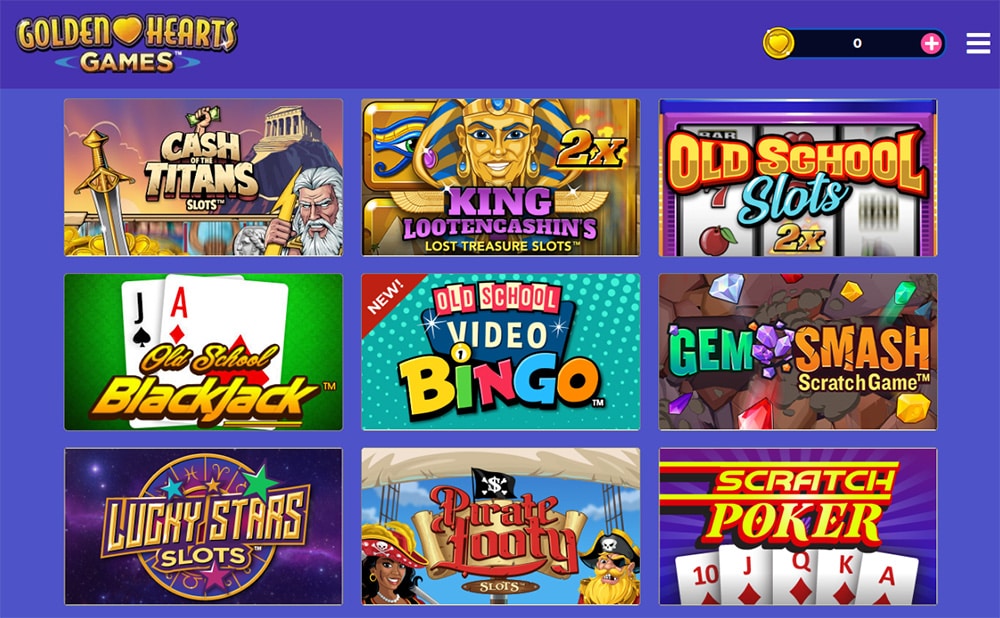 Golden Hearts Games is a sweepstakes casino that doubles as a charity foundation. It does this by giving players free play on bingo, online slots, and other casino games while allowing you to donate to several charities of your choice. So aside from being able to play games for free and win real cash, you can also support a good cause of your choosing.
Unlike at many sweepstakes sites where you have the option to make a purchase, Golden Hearts Games players make donations in which 100% of the money goes to Givinga Foundation, a 501(c)(3) public charity with headquarters in Wellesley, MA. When this happens, Givinga will divide your donation into three; 80% of it would fund game prizes, 10% would go to your selected charity, and the remaining 10% would go to Golden Hearts Games to help sustain and maintain the charity promotional games.
So, if, for example, you donate $50, the fund would be received by Givinga Foundation, after which IRS-compliant charitable donations receipts of $50 will be sent to you, making them tax deductible. When this is done, your $50 donation will be divided into $40, $5, and $5. The $40 would be used to fund game prizes and payouts, $5 would go to player-designated end-recipient charities, and the last $5 would be the operator fees used to maintain the website, pay employees and develop more games.
While donations and playing support charities at Golden Hearts Games, all the games are available for free play, too, so you do not need to donate to win real cash. However, you can donate to a charity or two after making money on the website if you desire.
Playing at Golden Hearts Games Casino
Golden Hearts Games are free to play, and just like other sweepstake sites, you'd need Golden Hearts Games coins to play slots, bingo, and the other available games. The coin is the virtual currency users can use to enter games instead of real money. There are many ways to earn coins to play digital charitable promotional games at Golden Hearts Games, one of which is when you donate a minimum of $10 to one or more charities. After donating, free coins will be credited to your account, which you can use to play games.
Furthermore, players who do not want to make donations can still get free coins through the alternative mode of entry (AMOE). This requires players to send a handwritten mail to the Golden Hearts Games headquarters to claim a certain number of virtual currencies. In addition, several promotions offer free coins, too, like the daily bonus wheel and refer-a-friend.
Mind you, Golden Hearts Games coins can neither be withdrawn nor converted to cash prizes as they are merely used to fund game prizes. However, you can use the cash prizes won from games to donate to your favorite charity or withdraw it to your bank account as real cash.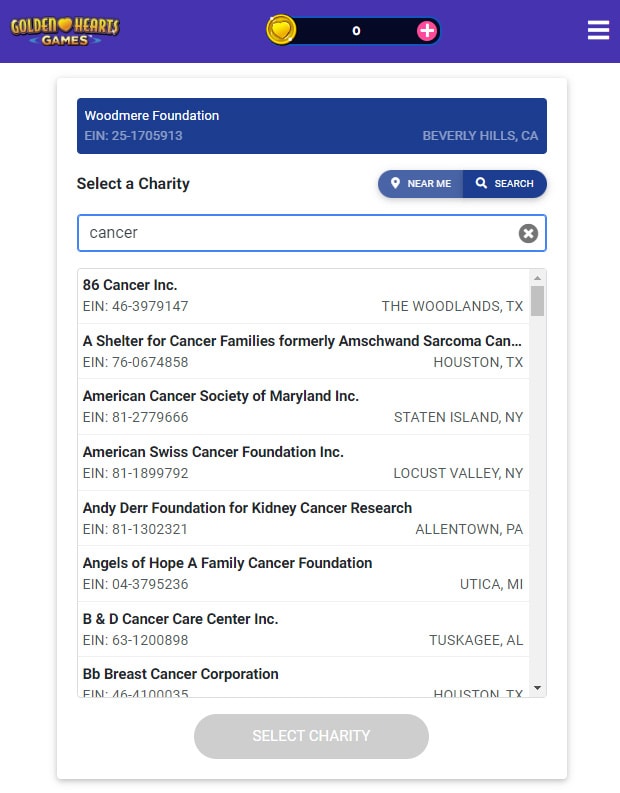 Who Can Play Golden Hearts Games Online?
Golden Hearts Games is available to all US residents. While the general legal age to create a Golden Hearts Games Casino account is 18 years, you must be 19 years or older to play if you are a resident of Nebraska and Alabama. You must be at least 21 years old for Puerto Rico and Mississippi residents. To signup, you can either fill in your details manually through the email option or do this automatically by selecting "Join with Facebook." To signup with mail, you must provide your full name, email address, password, and U.S. zip code.
After filling in these details, you can input your Golden Hearts Games promo code; more on this later. If you don't have one, you can use the link below the promo code field to see current codes you can use.
To start playing at Golden Heart Games, you must verify your identity. You can do this by simply inputting your phone number, after which a 6-digit code will be sent to you. If you cannot access your phone, you can provide additional information, like any government-issued ID, to prove your identity and location.
Golden Hearts Games Bingo and Casino Promo Codes
For new players, you can claim two exciting promotions at Golden Hearts Games Casino; this helps kickstart your gaming journey without necessarily having to donate. Consider using these promo codes to claim free coins when you sign up.
🎁Golden Heart Games Promo Codes
✍️Golden Hearts Games Sign-Up Bonus Code
USGOLD
500 free coins no deposit
🎰Golden Hearts Games Casino Bonus Code
USGOLD
100% match bonus on deposits of $10 +$10 Free ($20 free)
🎱Golden Hearts Games Bingo Bonus Code
USGOLD
100% match bonus on deposits of $10 +$10 Free ($20 free)
❗Requirements
18+
$10 minimum donation
No Deposit Bonus
Want to start playing without making any donations? Then use the Golden Hearts Games promo code USGOLD when creating an account to get free cold coins and access to the best welcome bonus offer that is currently available from this casino.
Welcome Bonus
After creating a new player's account at Golden Hearts Games, players are offered a 100% bonus on their first donation of $10. So, if you donate $10, you'd get an extra $10, making it $20 worth of free play. Cool right? Well, you have yet to hear half of it, as using our promo code USGOLD, you'd be awarded an extra $10 instead of a $20 bankroll; you get $30 to play bingo and any game you choose. Combining this with the free coins after signup, you are looking at a total of $35 for just a $10 donation, effectively what could be considered a 250% bonus!
Promotions for Existing Users
Aside from the new player offers, Golden Hearts Games also have numerous promotions for existing players. This is perfect for customers that do not want to spend money while still being able to win real money.
Mail: this is one of the common ways players can get free coins at Golden Hearts Games. To do this, you'd need to send a handwritten note on a 3×5 card with your full name, phone number, complete mailing address, and your email to:

Golden Hearts Games, Inc
Attn: AMOE Submission
P.O. BOX 20805
Worcester, MA 01602
The mail must be a first-class US map with a handwritten self-stamped return envelope. When received, Golden Hearts Games will send you a unique 12-digit redemption code, which can be used to redeem 5,250 free coins. You can claim free coins through mail once every 24 hours.
Refer-a-Friend: Golden Hearts Games Casino referral program offers players 5,000 free coins for every invited friend who donates at least $10. To do this, log into your account and head to the Refer-a-Friend button. Please copy the link and send it to your friends.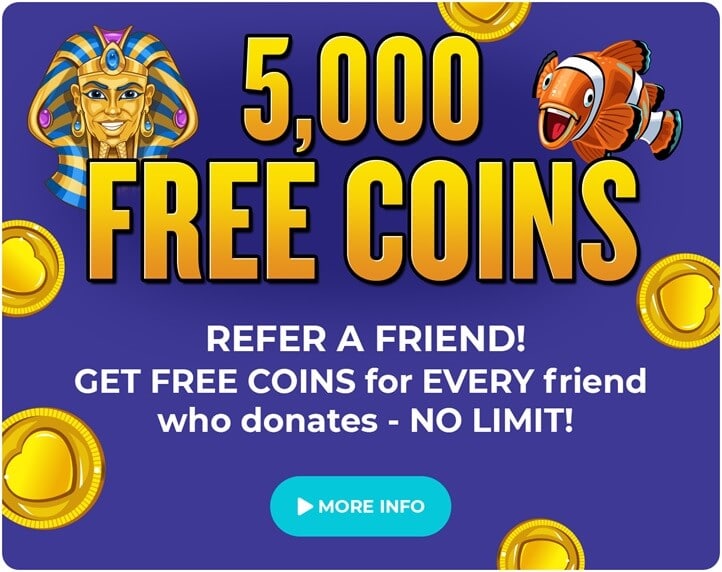 Daily Bonus Wheel: Login every 24 hours to spin the bonus wheel that could give anywhere from 50 to 2,500 free coins. Once you log in, all you have to do is click "Spin Now."
Golden Hearts Games Casino Registration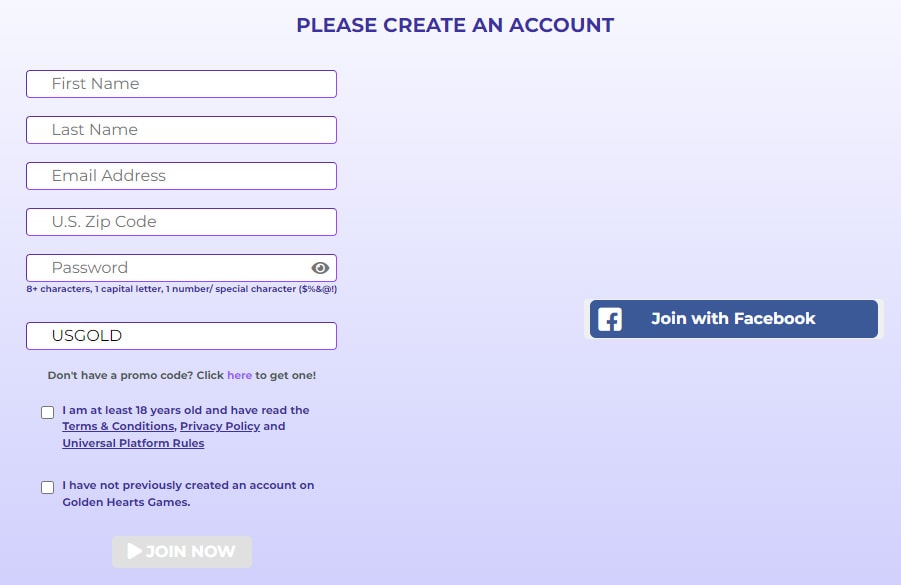 Depending on which method you used to create a player's account at Golden Hearts Games, you can use a Facebook login or your email. So, if you linked your Golden Hearts Games to your Facebook account, you only need to click the "Sign-in with Facebook option." For players signing in with their mail, logging in is easy, too, as your email and password are stored on your device to keep things accessible.
Golden Hearts Games App
Golden Hearts Games is just starting up and doesn't have a mobile app for Android and iOS users. What it has instead is a very usable and intuitive site. Golden Hearts Games website is mobile-optimized, with all its games built with HTML5. This lets players access their accounts and play games using their phone browsers. Playing from your mobile phone also provides the same experience as playing from a Mac, Windows PC, or tablet so that you would get all the benefits.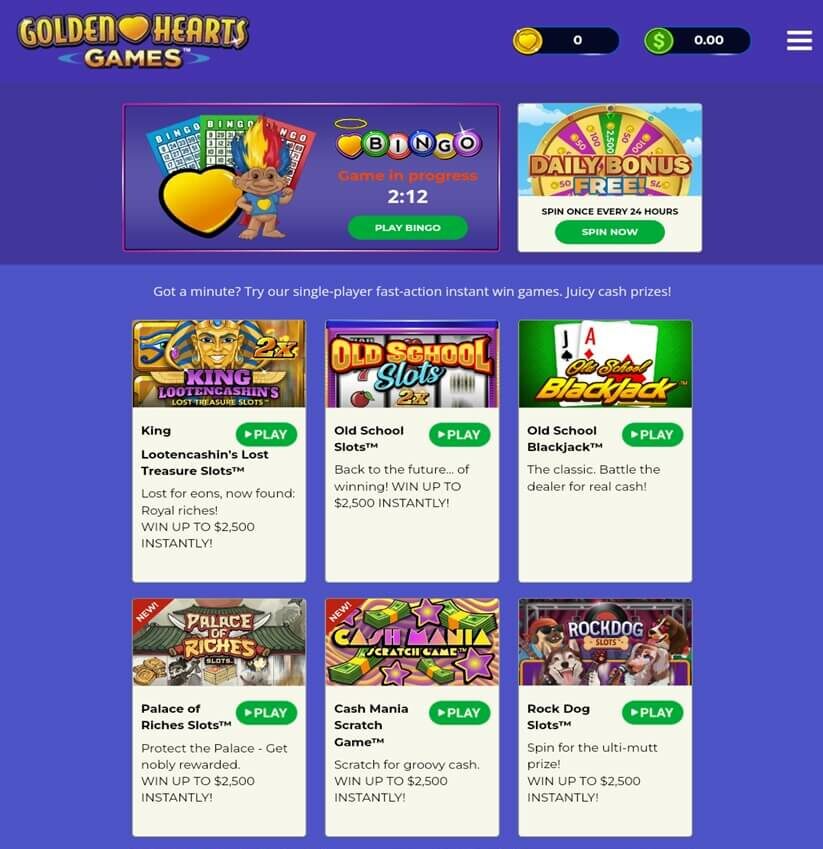 To optimize your gaming experience while supporting your favorite charity, we recommend you refrain from using the BRAVE browser as it has issues loading some games and promotions like the daily bonus wheel. Here are recommended browsers you can use to make the most of your gameplay and prevent any problems when redeeming real cash.
| Brand | Compatible Versions |
| --- | --- |
| Windows PC/Laptop | Windows 10+ |
| Apple | iOS 15.2 or higher |
| Chrome | Version 98+ |
| Safari | Version 15.2 or higher |
| Firefox | 97+ |
| Edge | 97+ |
Golden Hearts Games & Software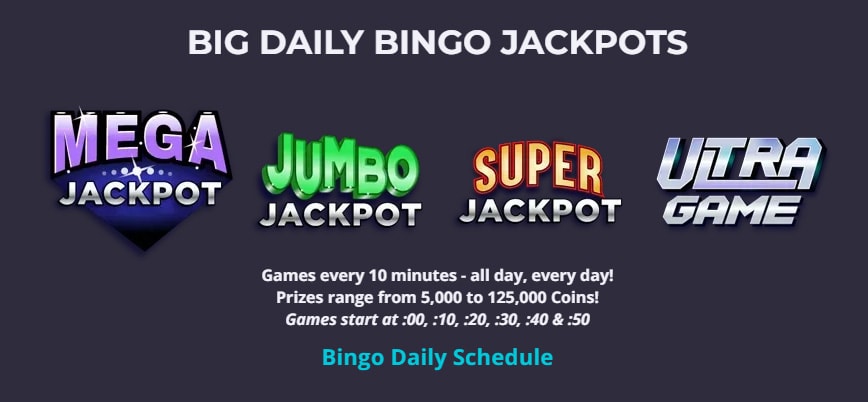 Like many social gaming sites, Golden Hearts Games are proprietary. While this means all the games available at Golden Hearts Games are one of a kind, they are neither audited by independent bodies nor necessarily need to follow the iGaming standard. Regardless, all available games at Golden Hearts Games have one of the most diverse gameplays of any sweepstakes site.
There are only 15 games which are divided into bingo and QuickPlay. The bingo is a 75-ball online bingo card which is available to play every 10 minutes, while the QuickPlay are single-player fast-paced games that are not timed. While the number of games at Golden Hearts Games Casino could be more expansive, it also comes with some exciting perks.
Aside from the online bingo card games, players can win up to $2,500 in actual money playing QuickPlay games like slots, poker, scratch games and so on. Also, all the games are mobile optimized with clear and attractive graphics that make for an all-round exciting experience. Also, money-wise, Golden Heart Games Casino pays out over $50,000 daily to players. Since Golden Hearts Games is just coming up, we look forward to seeing the game catalog expand to feature more slots, video poker and other games like roulette, baccarat, poker, and live dealer games. But for now, let's go in-depth about the available ones.
Golden Hearts Online Bingo
There is only one bingo room at Golden Hearts Games which is more than enough as a new live game starts every 10 minutes, meaning there are about 144 bingo games daily. There are numerous reasons the bingo game ranks high among other free bingo sites, one of which is players can win up to $1,620 in cash prizes daily. Their prize for each game varies depending on the time of the day you are playing, but you can win at least $10 per game. Likewise, there is a daily mega jackpot every 10 pm ET with a pot prize of $250.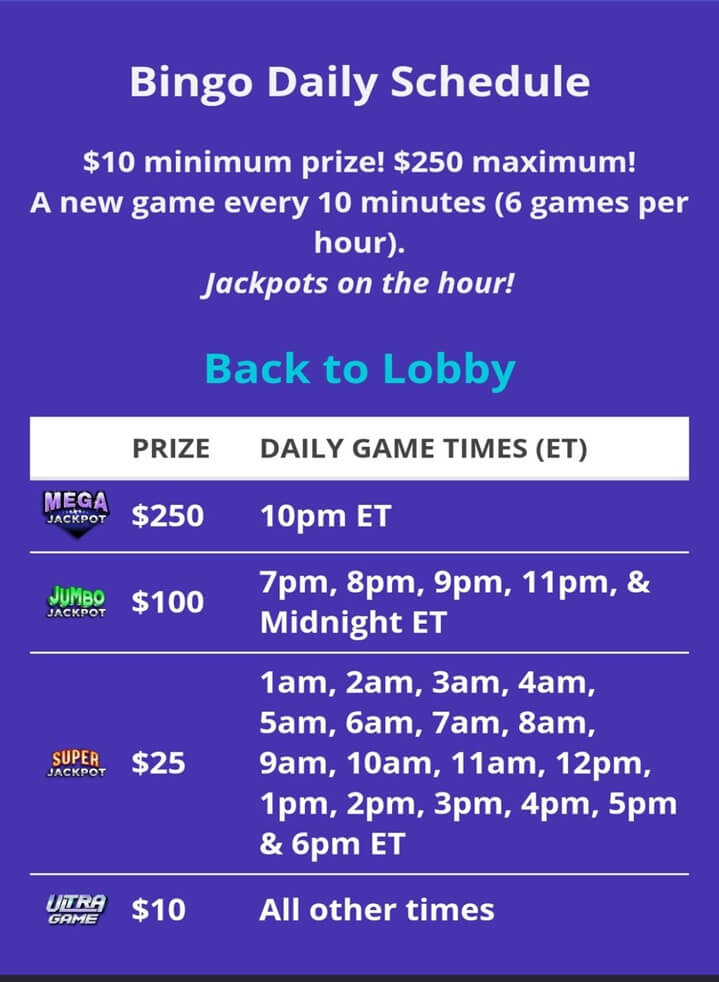 To play Golden Hearts bingo, players would need to buy up to 100 tickets or play with the assigned number of tickets offered by the system. Aside from each game having different cash prizes attached to it, the goal of each game is also different. Some would require that you make specific bingo patterns, and titles like the coverall game require players to daub all 25 spaces on at least one of their bingo cards to win. Since how to win each game differs, playing isn't repetitive.

One of the most outstanding features of Golden Hearts Games bingo is the auto-daub system which automatically checks all previously called numbers off your cards if you can make one correct daub. This feature also comes in handy if you join a game midway, as you can easily catch up with other players. Since we are talking about the outstanding features, it is worth noting that if there are multiple game winners, the cash prizes would be divided equally among winning players.
There is also an individual bingo game option for players who want to avoid competing with others. However, the prize payouts for this bingo type is far lower than in other games.
Golden Hearts Casino: QuickPlay Games
As we've said before, every other game that isn't bingo is considered QuickPlay. These games are called so because, unlike online bingo cards, they are single-player games that you can play anytime, and casino games that fall into this category are online slots, video poker, scratch cards, and blackjack. There are about 13 of these games at Golden Hearts Games.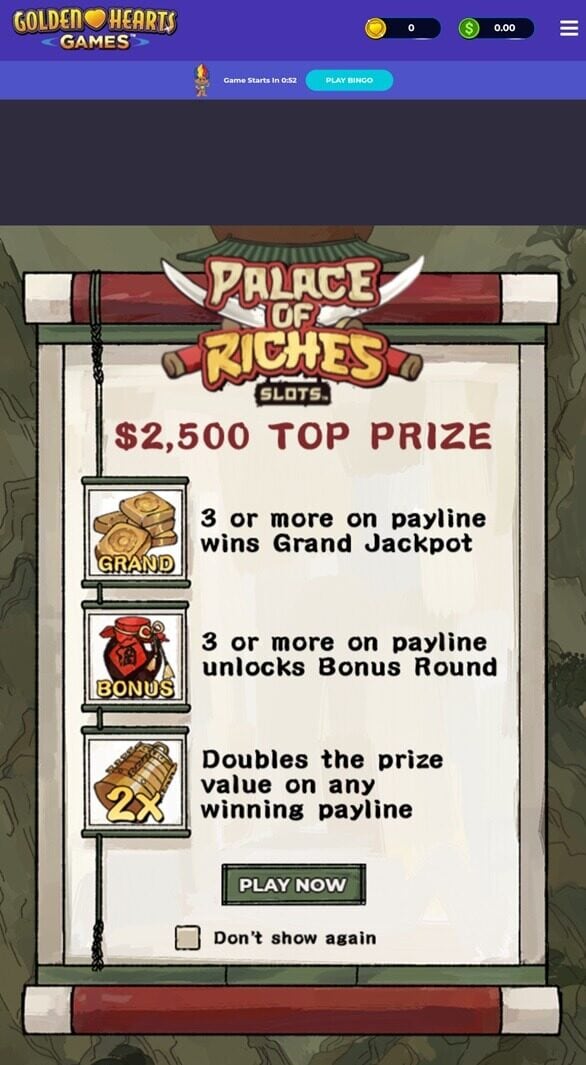 Even though you are not competing to be the top player in these Golden Hearts Games, you could still win huge real cash prizes playing them, offering up to $2,500 in real cash from just one game.
| 🎰Slot Games | 🎲Scratch Card | 2️⃣1️⃣ Blackjack | 🃏Video Poker |
| --- | --- | --- | --- |
| Palace of Riches | Cash Mania | Old School Blackjack | Old School Jacks or Better |
| Rock Dog Slots | Scratch Classic | | Scratch Poker |
| Frantic Fish | | | |
| Pirate Looty | | | |
| King Lootencashin's Lost Treasure | | | |
| Monster Moolah | | | |
| Old School | | | |
| Lucky Stars | | | |
Although all QuickPlay games offer the same prize to players, they have unique gameplay. Take, for example, the online slots that cover different themes which tell thrilling stories as you play. If you are a fan of ancient Egypt, you could play King Lootencashin's Lost Treasure Slots to have an immersive play of that era. In addition, there are slots like the Old School Slots that have a 3×3 reel, just like you would find in any land-based casino.
QuickPlay games are also played with Golden Heart Games coins, just as you would with online bingo. So, you can use the free coins earned with Golden Hearts Games coupon or promo code, daily promotions and even your donation to play slots and other games and win real cash.
Is Golden Hearts Casino Legit?
🎰Golden Hearts Games
🌐Website
www.goldenheartsgames.com
📱Accessibility
Mobile & Website
🧑‍💻Software
In-house built
🏛️Founders
Steve Kane and Jeremy Shea
💳Banking Options
Credit and Debit Cards, PayPal, Paper Check, ACH Transfer, Google Pay, Apple Pay
Questions bordering on Golden Hearts Games' legitimacy aren't something that can be answered in just a few words. Being a relatively new website without a long track record we can look at; we have no choice but to scrutinize the founders' credentials. Steve Kane and Jeremy Shea founded Golden Hearts Games Casino.
Steve Kane is a serial entrepreneur with many thriving businesses like GameLogic, InterLab, and LuckyLabs, to name a few. He was also the co-founder of Internet games pioneer Gamesville before Lycos Network acquired it in 1999 for $232 million. With over two decades of experience and producing innovative ideas in games, Steve Kane has written his name in gold in the US gaming industry.
Jeremy Shea also has over two decades of experience and has worn many hats in the iGaming industry. His notable achievements include being the VP of GSN, a social casino owned by Sony Pictures Entertainment, and Director and Advisor at Fitivity and Overtone Studios.
With over 40 years of experience put into Golden Hearts Games, it's pretty glaring that the charity sweepstakes site is legit. But the CEO's credentials are just one thing we checked. Golden Hearts Games has an excellent 4.3-star ratings at Trust Pilot. Looking through the over 300 reviews, we can see several users that were able to win actual money, and their donations reached the end recipient charities.
Currently, Golden Hearts Games Casino has processed over $20 million of donations from 91,000 donors and has been distributed to over 50,000 NPOs. And for the sake of transparency, you can check the Our People page to see the list of employees at Golden Hearts Games which goes a long way in proving the charity social casino is not a fraudulent one.
Are Golden Hearts Games Fair?
While it's not easy to know if in-house-built games are fair as they are not certified by independent bodies, several indications prove Golden Hearts Games' fairness. They ensure players have a similar gaming experience to traditional online casinos or sister sweepstakes sites. This is why all Golden Hearts Casino Games use a True Random Number Generator (RNG), which ensures game results – slots, bingo, blackjack, scratch cards, video poker – do not follow a pattern. This makes it impossible for players to rig or find a loophole that would give them an advantage over other players. So, regardless of how often you play, all players have equal chances of winning a payout or cash prizes.
Golden Hearts Games Banking Methods
There are over 1.5 million IRS-approved charities in the US, which you can donate to through Golden Hearts Games Casino. These donations also earn you free coins that you can use to enter games to win cash prizes. To donate, Golden Hearts Games has a list of banking options you can choose from. The available methods are dynamic and easy to use, which makes up for the lack of variety. To donate to charities, here are the banking methods you can use.
American Express
Discover
Visa
MasterCard
Google Pay
Apple Pay
For players who decide to use Google or Apple Pay, you need to access your account from Google Chrome and Safari browser. The minimum required donation through any of the above methods is $10, and the amount you donate will determine the number of free coins you get.
While you may argue that $10 is on the high side, a portion is going to your local charity or the charities you've hand-picked, which is also tax-deductible. You'd have to verify your identity when you make your first donation, after which your banking details will be stored for easy access.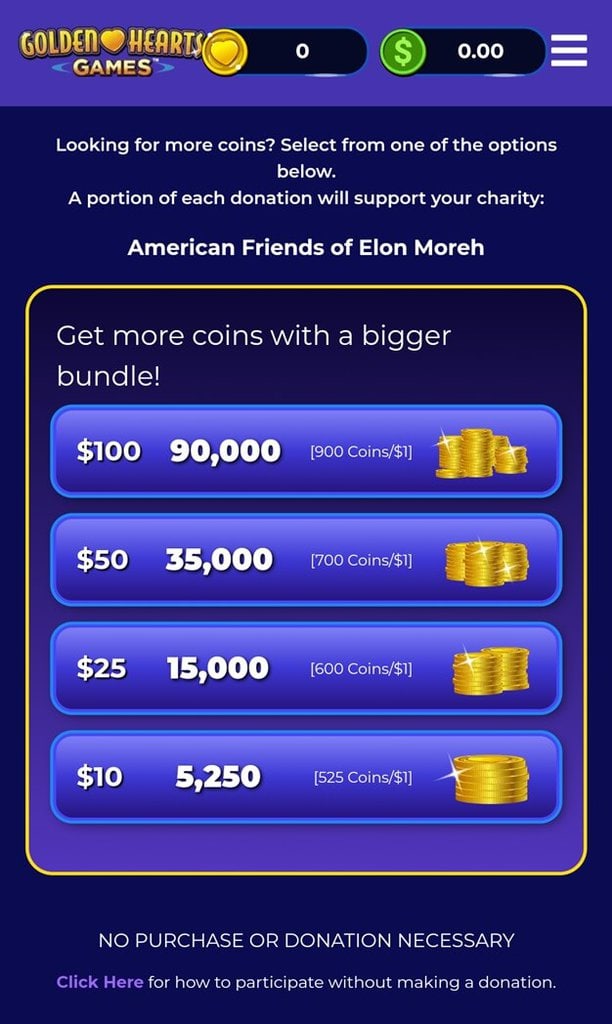 Cash Redemptions
Withdrawing your winnings has a friendlier minimum requirement, as you can cash out at least $5. Although you can perform this action using PayPal, ACH transfer or paper Check by US mail, there are certain limitations which you must consider. Take, for example, using the Check option; you must have made at least $50 in prizes when playing games. Also, while cashing out is generally free, it only applies to some amounts you want to withdraw. Below is a table depicting this.
| 💳Withdrawal Method | 💵Minimum Withdrawal | 💲Transaction Fee | ⏱️Processing Time |
| --- | --- | --- | --- |
| ACH Transfer | $5-$24.99 | $0.50 | 5 Business Days |
| PayPal | $5-$24.99 | $0.50 | 2 Business Days |
| Check by US Mail | $50-$99.99 | $1.75 | 10 Business Days |
If you are a low roller and don't want to pay any fee, you can convert your winnings into gift cards. Thanks to the partnership with Prizeout, players can convert their win to any gift card of their choice, which would be sent to their mail within 24-48 hours. In addition to withdrawing cash prizes, you can donate your winnings to get more virtual coins to play more games.
Support & Contacts
Given Golden Hearts Games' mode of operation, it's no surprise that players might need help getting accustomed to it, and this is where the customer support channels come in. The first notable thing in this aspect at Golden Hearts Games is the FAQ section which goes a long way in answering over 50 common questions. These questions border around how to play games, account creation, charity selection and donation, cash redemption, available games, promotions and troubleshooting.
To make finding answers to their query easy for players, Golden Hearts Games also has a chatbot where you can input your questions and it suggests articles that answer them. You can access the chatbot by clicking the question mark button at the bottom left corner of the FAQ section.
If you are still looking for a proper solution after looking through it, you can reach customer support via their email address. The Golden Hearts Games support team has a response time of 12-24 hours, but this could be longer if there is a large influx of queries, for which we recommend you call their toll-free number 1-617-286-4588.
As with many sweepstakes sites, players can reach out to Golden Hearts Games through their social media pages, which often have a faster response rate. Golden Hearts is active on Facebook, Twitter and Instagram, with over 25,000 followers across these platforms. These social media pages are also an excellent means of socializing with other Golden Hearts Games players and keeping in touch regarding promotions.
Summary
There isn't much to say than; whatever Golden Hearts Games Casino is doing, it should keep it up. While there are many online casinos and sweepstakes sites in the US, none but Golden Hearts Games brings charity closer to donors in an entertaining way.
Also, as a sweepstakes casino, Golden Hearts Games excels with the exciting games and lucrative rewards attached to them. With little upgrades like getting a mobile app and adding more gaming options, Golden Hearts Games is on its way to becoming one of the best charity casinos in the industry and the whole of the US. While Golden Hearts Games has no sister sites, there are viable alternatives you can check out too.
FAQs
Is there a Golden Hearts Games Casino no deposit bonus code?

How to redeem a bonus for Golden Hearts Bingo?

While you wouldn't find a specific promotion to play bingo games, you can use the daily bonus wheel, free coins from Golden Hearts Games coupon and other promotions to enter and win real cash from the bingo game of your choice.

Can I use the same platform for Golden Hearts Bingo and Casino games?

Yes! You do not need to memorize multiple login details to play bingo and other casino games available at Golden Hearts. After signing up for an account, all games will be available to play every time you log in.

Are Golden Hearts Games free to play?

Yes. While you make donations to get coins to enter games, there are other AMOE that offer free coins that you can use to play all available games for free.

How can I play and win real money at Golden Hearts Games?

Golden Hearts Games is not an actual casino, so you cannot play the games there with real money. Instead, when you make donations, you'd be offered complimentary coins, which you can use to play any game of your choice. While playing these games, you can win cash prizes to donate or withdraw to your account.

Are Golden Hearts Games legal in the USA?

Yes, Golden Hearts Games is legal in all US states. To create a player's account, you must be 18 years or older.

Who owns Golden Hearts Games Casino?

Golden Hearts Games is owned by Steve Kane and Jeremy Shea, two very experienced professionals in the gaming industry.