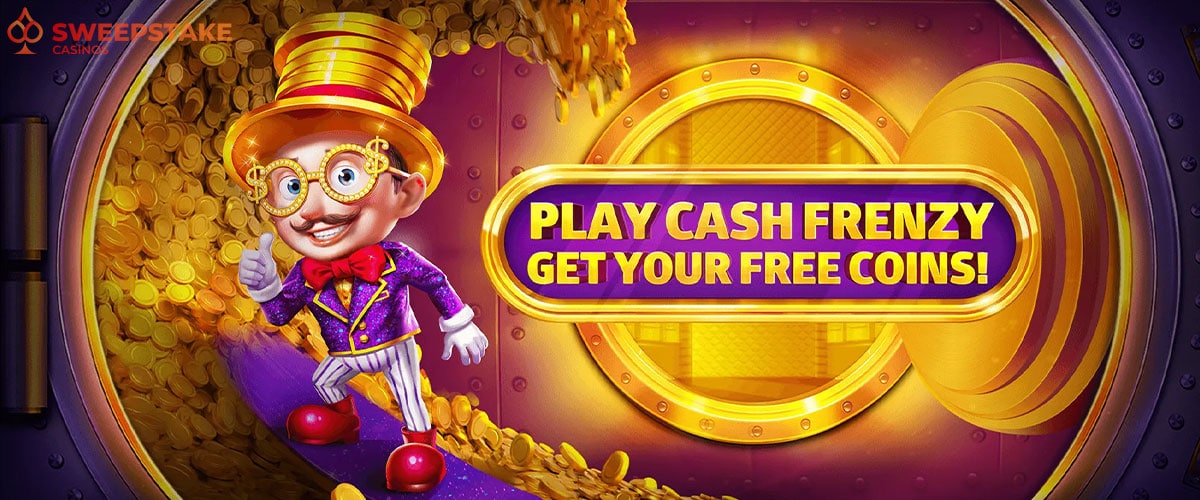 Right now, new players on Cash Frenzy Slots will get 3 million coins plus 300 emeralds to explore the games on the app. The good news is that you do not need to enter a bonus code to unlock this offer, as the operator automatically credits your account once you launch the app on your device. Besides the welcome offer, users can also claim a daily login bonus, first purchase discount, referral reward, and other special promotions.
While Cash Frenzy's sign-up bonus may seem enticing, the app does not pay out cash winnings, which can be discouraging for players seeking the excitement of real money gaming. With just about a hundred slot games on offer, the absence of diversity in its lobby can quickly result in a sense of monotony and boredom. If you'd like to access a wider selection of fantastic casino games and stand a real chance to win cash prizes, sweepstakes casinos like Stake.us, Pulsz, WOW Vegas, and Fortune Coins are excellent alternatives.
Notwithstanding, this review explores the available Cash Frenzy bonuses and shares how to claim them. I will also reveal some expert tips and tricks to help you acquire free coins and make the most of your gameplay on the app. Let's dive right in.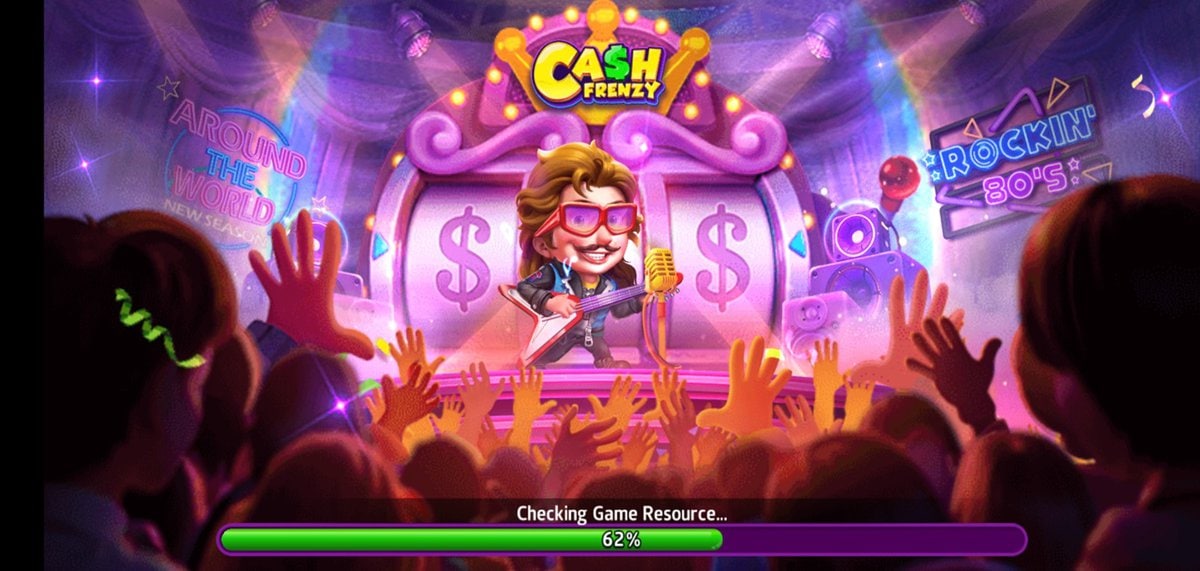 All Cash Frenzy Slots Free Coins Offers
The table below gives an overview of the available Cash Frenzy Slots free coin offers:
| 🎁Promotion | How to claim❓ |
| --- | --- |
| Daily Login Bonus | Log into your account daily to claim this offer |
| First Purchase Bonus | Get the $50 package for $2! |
| Free Coins Mini Games | Obtain free coins by playing bonus games like Blue Scratch, Red Scratch, Slot of Cash, and Pachincoin |
| Referral Reward | Receive free coins when an invited friend reaches specific milestones |
None of the free coin bonuses on Cash Frenzy require players to enter a code, so there is no need to go chasing links or promo codes online. Follow our guide to learn everything you need to know about obtaining coins on the gaming app without spending a penny.
How Cash Frenzy Slots Works
Like other social casino apps, Cash Frenzy Slots does not use regular fiat currencies. Instead, the platform uses unique virtual currencies like coins, emeralds, and frenzy cash. Note that all these currencies are only for recreational play and cannot be exchanged for cash prizes.
Coins: Cash Frenzy coins are the primary currency for playing slot games. Fortunately, you do not need to spend money to acquire them, as the app provides multiple opportunities to receive them for free via sign-up bonuses, daily login promotions, scratch tickets, mission completion rewards, etc. However, if you expend the Cash Frenzy casino free coins, the platform allows you to buy more in the in-app store.
Emeralds: Consider emeralds a premium currency that expedites your progress on special features like challenges and missions. With emeralds, you can skip daily missions and other challenges and still reap the rewards. Emeralds are given away for free when you register, level up, buy coins, or invite friends to the Cash Frenzy app. They are also available for purchase in the Cash Frenzy store.
Frenzy Cash: Frenzy cash can be obtained through special events and eligible promotions. You can use it to purchase coins, emeralds, or game boosters from the in-app store.
Note that diamonds are not actually a currency on Cash Frenzy but rather a part of its Stamp Collection feature. With this feature, players can collect unique time-limited stamps to complete album sets in exchange for various prizes like coins, emeralds, boosters, etc.
The stamps come in 3 levels – Ordinary, Diamond, and Frenzy, in order of increasing rarity. The rarer the stamp, the bigger the reward you will receive when you complete the album. You can obtain these stamps by making purchases, placing high bets in any slot game, leveling up, completing game activities, or receiving them as a gift from your friends on social media platforms.
Does Cash Frenzy Pay Real Money?
Cash Frenzy is a social gaming app, and therefore, does not pay real money. It is solely for entertainment purposes, so you cannot cash out any accumulated earnings or bonus prizes since none of its virtual currencies have monetary value.
If playing slots for real money is your vibe, sweepstakes casinos like WOW Vegas, Stake.us, and Pulsz are your best bet. Not only do these platforms offer a wide selection of fantastic slot games, but also provide speedy cash payouts for your winnings. Don't forget to sign up using our links to get the juiciest welcome bonus and enjoy other incentives.
How Do You Win Free Money on Cash Frenzy Slots?
As I said before, you cannot win real money on Cash Frenzy. But if you are looking to score some free coins to enhance your gameplay, there are a few steps you can take to that effect.
It goes without saying that the first thing you must do to get these free coins is to download the app on your device. Luckily, Cash Frenzy is compatible with all Windows, Android, and iOS devices, including PCs and mobile gadgets. Head to the Google Play Store or App Store to get the app, sign up using just your email address, and you're good to go!
As a player on Cash Frenzy, here are some bonuses you can claim to receive free coins:
Daily Login Bonus
Cash Frenzy awards players various exciting gifts for simply logging into their accounts daily. You can only receive this daily login bonus once every 24 hours, and the available rewards range from free coins to emeralds, store coupons, multipliers, boosters, and many more. The best part is that the more days you log in continuously, the better the gifts you unlock.
For example, while the Day 1 bonus is only worth 144,000 free coins, by Day 6, you will be raking in a whopping 1.44 million free coins. Keep in mind that consistency is key here, as missing a day resets the reward system and takes you back to the Day 1 bonus.
First Purchase Bonus
Cash Frenzy gives you an impressive discount on your first coin purchase. Currently, you can get 51.3 million coins for only $1.99 instead of the usual $49.99. The cherry on top is that this offer comes with extra benefits, including 18 VIP points, a Speedy booster that reduces the refresh time on the Red Scratch ticket to 1 hour, and a green charm for access to the Lucky Wheel.
Free Coins Mini Games
In the app's rewards center, there are 4 mini-games you can play multiple times a day to receive Cash Frenzy free coins. They include the Blue Scratch, Red Scratch, Slot of Cash, and Pachincoin. The Blue Scratch game is playable every 15 minutes, while Red Scratch is only available every 3 hours. The Slot of Cash game becomes accessible after you've played Red Scratch 5 times, and Pachincoin is unlocked when you play Slot of Cash 3 times.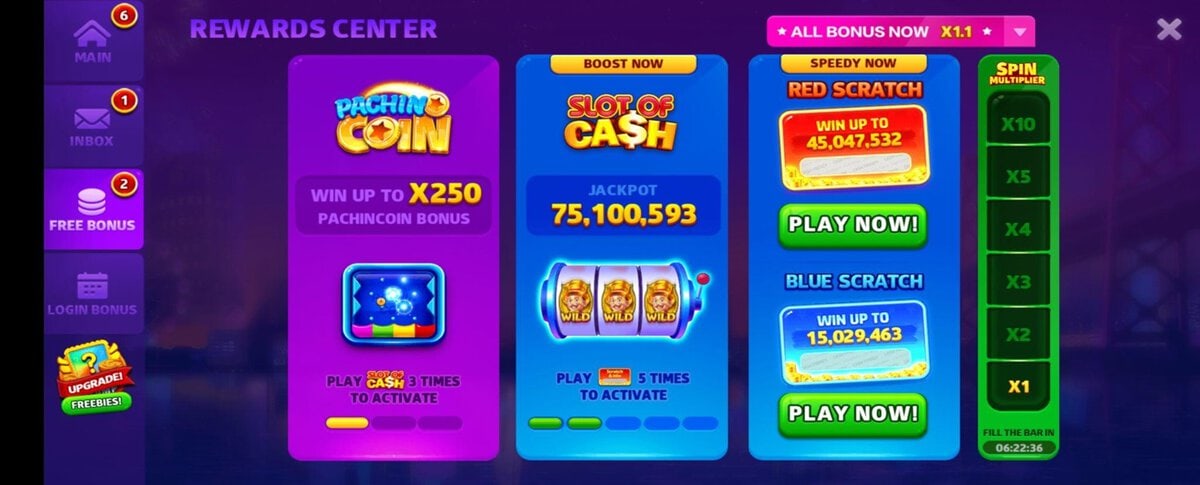 Referral Reward
Cash Frenzy takes the concept of "the more, the merrier" to a whole new level by rewarding you with free coins when you invite a friend, and they reach certain milestones on the app. For example, the first time your friend logs into their account, you will receive 2.88 million coins, and when they reach level 20, your account will be topped with 7.2 million coins.
Cash Frenzy Free Coins Cheats & Tricks
While there aren't any real "cheats" or "tricks" to get free coins at Cash Frenzy casino, I can think of a few legitimate ways to help you get those coins without spending a dime.
Join the Cash Frenzy social media community: Being a social casino, it's unsurprising that Cash Frenzy has a vibrant community on online networking platforms like Facebook, Twitter, Instagram, and YouTube. Follow the app's official account on these platforms and participate in contests, mini quizzes, and giveaways for a chance to score free coins.
Log into your account daily: The Cash Frenzy daily bonus is available every 24 hours and grants you increasingly exciting rewards as you log in every day. The only caveat is that you must not miss a day, or the reward system resets to the first bonus. Even if you are not in the mood to play Cash Frenzy slots, you can simply open the app, collect the freebies, and log out immediately after to avoid losing your streak.
Complete daily missions: Three new missions appear daily under the Missions tab. Complete them, and you will receive free coins. There are also Honor Missions and Frenzy Missions that award bigger prizes, though they are more difficult to complete than the regular daily missions.
Refer your friends: If your friends enjoy social gaming as much as you do, invite them to join Cash Frenzy and enjoy exciting rewards, including free coins. When your friend logs into their account for the first time, your account will be credited with 2.88 million coins. An additional 4.32 million will be yours when they connect their Cash Frenzy account to their Facebook profile. And if they reach level 100, brace yourself for a staggering 28.8 million coins coming your way.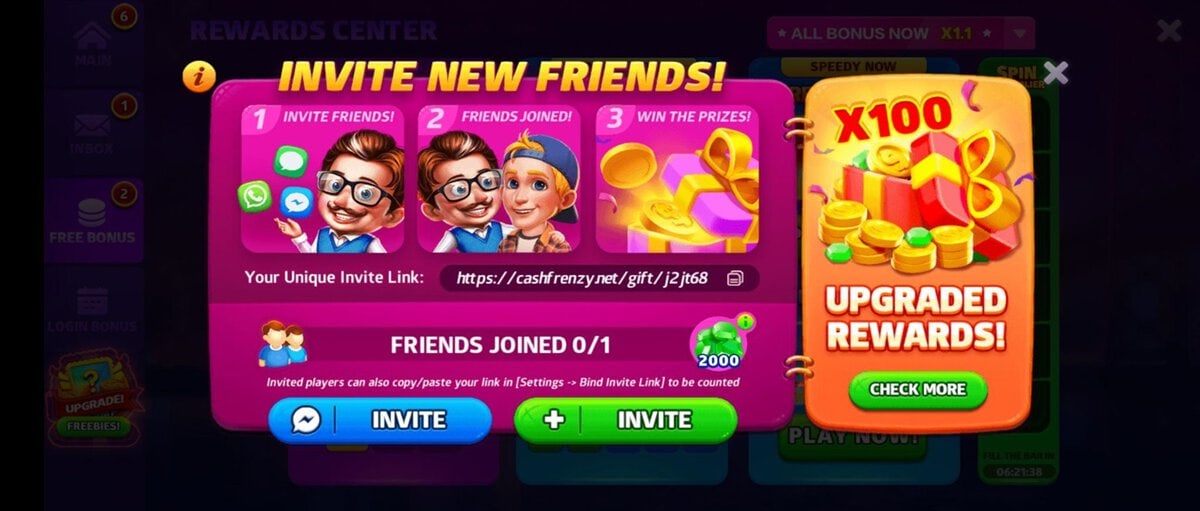 About Cash Frenzy Slots
Developed by SpinX Games Limited, Cash Frenzy is a social casino app that grants you access to about 100 free slot games. It is a play-for-fun gaming platform, so the opportunity to win real money is non-existent. However, if you are just looking for an exciting way to pass time without the expectations of cash rewards, then Cash Frenzy could be a great fit.
The table below gives a quick look into Cash Frenzy and its features:
🎰Cash Frenzy
🧑‍💻Developer
SpinX Games Limited
🍒Game Type
Online slots
🟡Currencies
Coins, Emeralds, and Frenzy Cash
📱Compatible Devices
Windows PC, iOS and Android mobile devices
FAQs
How to redeem free emeralds on Cash Frenzy?

Emeralds on Cash Frenzy are non-redeemable since they have no real value outside the app. While they can help accelerate your progress in challenges and missions, it is impossible to redeem them for cash rewards.

How do you win free money on Cash Frenzy?

You cannot win free money on Cash Frenzy as the app is only for entertainment purposes. The coins you win from playing Cash Frenzy slots can only be used to extend your gameplay and increase your level.

Does Cash Frenzy pay out?

No. Cash Frenzy is not a real money gaming app, so do not expect the operator to pay out winnings. If you are in the mood to play slots on platforms that actually offer cash rewards, check out sweepstakes sites like WOW Vegas, Fortune Coins, Stake.us, or Pulsz Casino.

How do you get diamonds on Cash Frenzy?

Cash Frenzy has a Stamp Collection feature that allows you to collect diamond stamps to complete albums and win freebies. You can get these diamonds by placing higher bets, making an in-app purchase, completing a game activity, or leveling up. Some low-rarity diamonds can be gifted to you by your social media friends or Cash Clubmates.

What are emeralds for in Cash Frenzy?

Emeralds are a premium currency on Cash Frenzy that automatically complete daily missions or blazing challenges and grant you your reward. You can also use emeralds to unlock the Big Money Frenzy mode, which doubles your coin winnings.