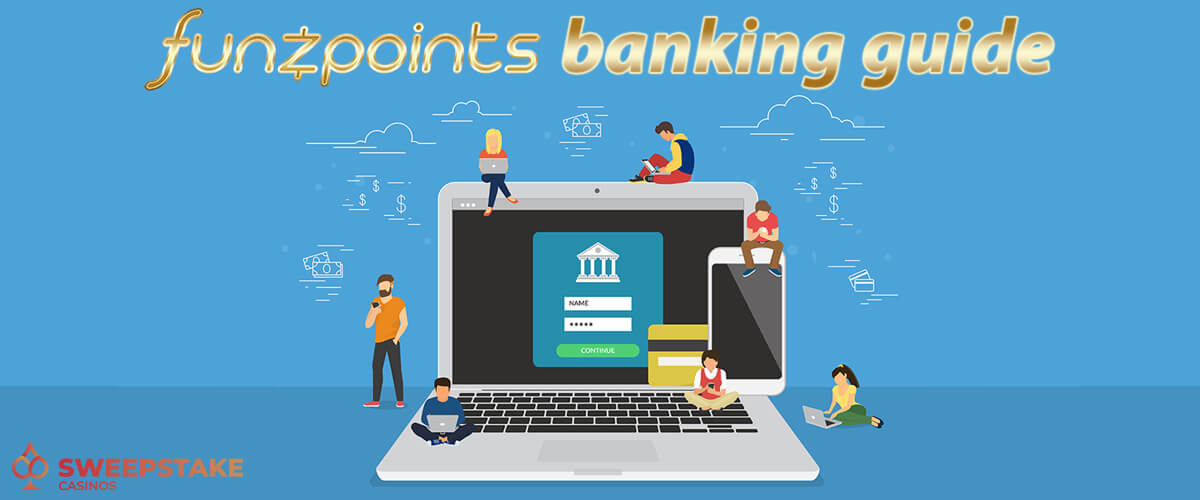 Like other online casinos, Funzpoints social casino allows you to play video slots and keno games for free or to win cash prizes. But the banking section is one of the sections where a sweepstake casino differs from a traditional real-money online casino.
Social casinos do not allow deposits and withdrawals. At Funzpoints, you purchase standard funzpoints packages that include free premium funzpoints. You can then play with standard funzpoints for fun or with premium funzpoints to redeem cash prizes from the winnings.
Below is our Funzpoints Casino review providing insights into the purchase and redemption process, including the payout times and the account verification process. We also briefly highlight the welcome bonus and tips to manage your funzpoints.
Point of Notice: Although Funzpoints is an overall good online casino, it necessitates purchases if you want to access all games. That's not the case with the following free no deposit sweepstakes casinos:
Funzpoints Deposit and Withdrawal Payment Methods
| 💳Method | Deposit❓ | Withdrawal❓ |
| --- | --- | --- |
| Visa/MasterCard | ✅Yes | ❌No |
| American Express | ✅Yes | ❌No |
| Online Banking | ✅Yes | ✅Yes |
| Bank Transfer | ❌No | ✅Yes |
| ACH/E-check | ❌No | ✅Yes |
Standard Funzpoints Purchase Packages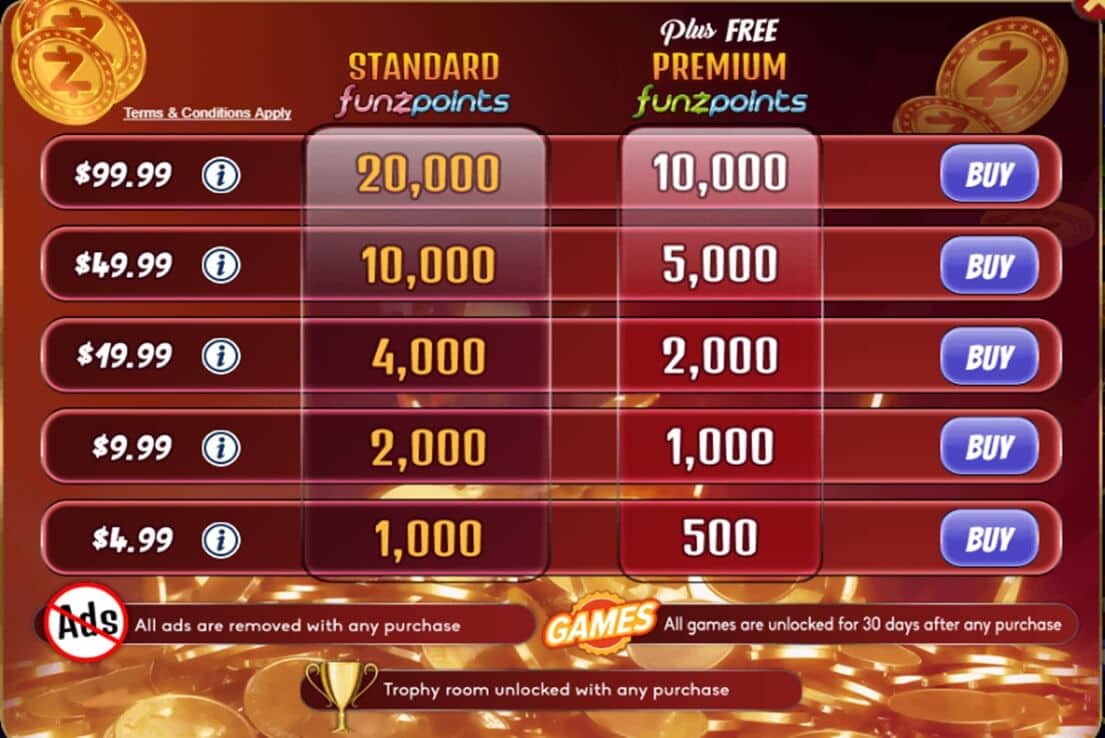 Funzpoints Casino uses funzpoints as its virtual currency for customers to play online casino games in the lobby. The standard funzpoints allow you to play for fun (standard mode), with the premium funzpoints allowing you to play for cash prizes (premium mode).
It gets better with the sweepstakes casino offering a sweepstakes bonus of 1,000 standard funzpoints + 250 free premium funzpoints after successfully signing up and completing your profile. The casino offers more free points through its ongoing promos. But should you deplete them, you can purchase others.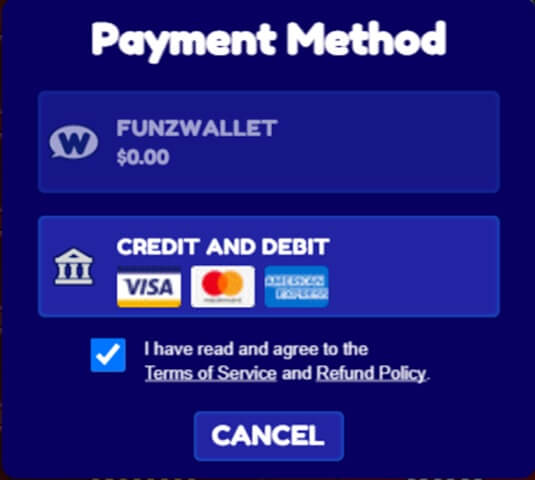 Like other sites, you can only purchase gold coins, in our case, standard funzpoints, with premium funzpoints added as part of the package.
Here are the packages at Funzpoints Casino:
| 💵Price | 🟡Standard Funzpoints | 💲Premium Funzpoints |
| --- | --- | --- |
| $4.99 | 1,000 | 500 |
| $9.99 | 2,000 | 1,000 |
| $19.99 | 4,000 | 2,000 |
| $49.99 | 10,000 | 5,000 |
| $99.99 | 20,000 | 10,000 |
The highest package purchase of $99.99 will unlock all booster games at Funzpoints Casino, with your first purchase unlocking the Trophy Room and removing all ads on the website.
Note: Remember than 1,000 premium funzpoints are equal to $1.
How to Add Real Money to Funzpoints Casino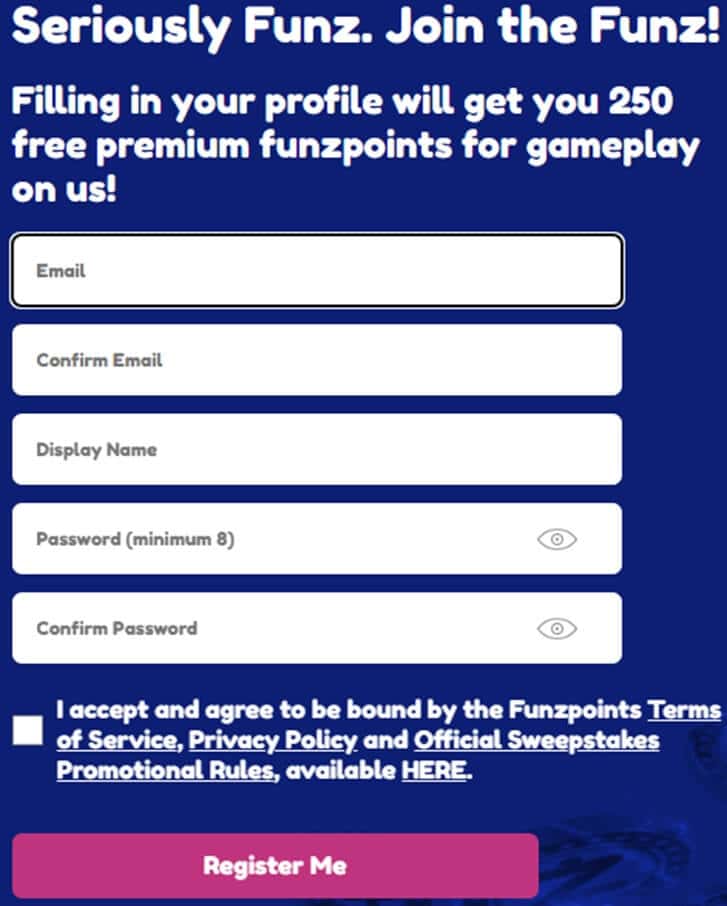 As mentioned, you do not deposit money at a sweepstakes casino like Funzpoints. Instead, you purchase funzpoints. But while it may seem complicated or a bit strange at first, you realize that the process is quite similar to that of traditional online casinos. Here is how to go about it:
Click on the links on our page to access the Funzpoints site.
Go to the 'Register Here' button at the top-left to set up your new Funzpoints account.
Enter your accurate email address, display name, and password.
Brush through the terms of service and check the box to ascertain that you agree to them.
Complete the registration process by clicking 'Register Me.'
Funzpoints Casino will send you a verification email through the email address you entered.
Once verified, log into your account and complete your profile with accurate details, including name, date of birth, state, city, and ZIP Code.
Go to the 'BUY' option on your account.
Review your preferred package, where besides the standard funzpoints, you receive free premium funzpoints.
Click the 'Buy' option under your preferred package, choose your preferred payment method, and complete the transaction.
Once done, you will have your funzpoints loaded into your account to play standard or premium mode games
Steps to Redeem Premium Funzpoints at Funzpoints Casino

You can only withdraw winnings from playing with premium funzpoints, with the conversion rate of each funzpoint at $0.01. The sweepstakes casino sets the minimum redemption limit at 2,000 premium funzpoints, equivalent to $20, and the maximum limit at 200,000 premium funzpoints, equivalent to $2,000. But you must have a completed profile to purchase and complete any redemption. It helps verify your age and ensure you are in a Funzpoints Casino legit state.
Below is how to redeem winnings at Funzpoints Casino:
Log into your Funzpoints Casino account.
Click on the 'Redeem' option on the drop-down menu at the top-right side of the homepage or on a widget at the bottom-right side of the page.
The screen will show you the number of premium funzpoints you have and allow you to transfer them to your funzwallet if they exceed the minimum limit of 2,000 points.
Once in your funzwallet, you can choose the pre-set denominations or enter a custom amount you wish to redeem, factoring in the minimum redemption limit.
Transfer them to your bank account or convert them to premium funzpoints for later use.
Complete the redemption process.
There is no limit to the number of cash prizes you can redeem daily, but one request per day suffices.
Payout Processing Times
Once you successfully request a redemption, Funzpoints Casino will process your cash prizes within 24 hours, except on weekends or holidays. However, bank transfers might take 1-3 business days to have your funds credited into your account. Online banking is more efficient with near-instant processing of the funds to your bank account.
Verification Process
Funzpoints Casino requires each player to have a verified account before making the first purchase and redemption.
Despite operating differently from traditional online casinos in the confines of the law, you must complete the Know Your Customer (KYC) checks to prove your age and identity. But unlike other social casinos that would typically require you to send documentation, such as a Government-issued ID, passport, driver's license, bank statement, or a recent utility bill, Funzpoints Casino completes the verification process through the information you provide while completing your profile.
Thus, the information you provide on your profile must match that on your Government-issued ID or driver's license. The information required is as follows:
Full Name
Date of Birth
Street
City
State
ZIP Code
First Purchase Bonus Offers
As a sweepstakes casino, Funzpoints Casino offers a no deposit bonus offer after successfully signing up and completing your profile. The free funzpoints cheat will add 1,000 funzpoints to use while playing in the standard mode and 250 funzpoints, an equivalent of $2.50, to use while playing in the premium mode.
Besides the no deposit offer, you can win premium funzpoints on the first purchase as follows:
$5 purchase: 500 points ($5)
$10 purchase: 1,000 points ($10)
$20+ purchase: 2,000 points ($20)
All the bonuses will not require any exclusive Funzpoints bonus code. Purchases aren't necessary to play, since offers like the Funzpoints mystery bonus and the free funzpoints when you login can keep your account afloat.
Tips on Managing your Funzpoints Balance
While you can easily purchase funzpoints, you should know how to manage them to extend your gaming sessions and win real money prizes. Here are some tips to employ:
Participate in promos: Funzpoints Casino offers several promotions, including the Funzpoints prize wheel, mail-in bonuses, and social media contests on the Funzpoints Facebook page. Participate in the promotions to grab more premium funzpoints and tickets for the daily jackpot draws.
Set gaming limits: The casino offers an option to set your spending limits, which can help you play responsibly by not overspending.
Play games with standard funzpoints first: Try games in the fun mode to understand them before using your premium funzpoints to win cash prizes.
Check on discounts: Besides the deposit bonus offer on the first purchase, keep an eye on any discount that would get you more points for less value.
Join alternative sweepstakes casinos: Joining several platforms will let you claim more gold coins and sweep coins to keep playing slot games, table games, live dealer games, and more casino games provided under the platforms. Some comparable sweepstakes casino sites include Chumba Casino, WOW Vegas, Stake.us, and LuckyLand Slots.
Funzpoints Customer Service and Contacts
Funzpoints social casino offers modern and effective customer service available 24/7. Players can get assistance through several options. For example, a comprehensive FAQ page dealing with frequently asked questions and offering practical solutions. Those looking for informational pages can also hop into the terms of service, privacy policy, and official sweepstakes promotional rules pages.
It does not stop there. Funzpoints offers a Facebook page that you can use to get assistance on any issue. Others include email support (support@wooplagaming.com) and a live chat option exclusive to registered players. The live chat widget is accessible from the 'Get in Touch' option on the menu, where you can select your issue. They include:
Account review request
Purchase concerns
Request to change bank information
Account validation/verification for redemption
Affiliate/referrals
Technical/gameplay issue
Redemptions concerns
You will then provide your name, email address, and a description of your issue, with a customer support agent getting back to you quickly.
Benefits and Drawbacks of Funzpoints Payments
| ✅Benefits | ❌Drawbacks |
| --- | --- |
| Free 250 premium funzpoints offered | Limited payment options |
| Favorable minimum purchase at $4.99 | Few games unlocked per purchase |
| Cash prizes delivered within 24 hours | The 2,000 premium points minimum redemption limit is high |
| No limit to the number of redemptions in a day | |
| Popular credit/debit cards accepted | |
| Easy account verification | |
Even while there are positives to the Funzpoints Casino banking section, like the fast payout speeds and easy verification process, a lot is left to be desired.
For example, Funzpoints unlocks all the games for 30 days after any first package purchase. However, after 30 days elapse, you need to purchase the highest package at $99.99 to unlock all booster games.
In addition, the casino offers limited payment methods, with options like Skrill, PayPal, and gift cards missing.
Finally, the redemption rate is high compared to other social casinos like Chumba Casino, which have a minimum rate of 100 sweeps coins. At Funzpoints social casino, you need a minimum of 2,000 premium funzpoints to redeem winnings for cash prizes.
FAQs
How does Funzpoints Casino payout?

Funzpoints pays out only if your account has at least 2,000 premium points, which is the minimum redemption limit. You can then redeem your funzpoints winnings for real cash prizes.

What is the Funzpoints Casino verification process?

Unlike other sites, Funzpoints sweepstakes casino will not require you to send documentation to prove your age, identity, address, and banking methods. Instead, you will enter your accurate details to match those in your government-issued ID, passport, or driver's license.

What is the Funzpoints Casino withdrawal time?

Funzpoints Casino will process your cash prizes within 24 hours, but it might take the banks up to three working days to have your funds credited to your account.

How do you get funzpoints for free?

You can get free funzpoints through several ways at the casino. You can spin the Funzpoints wheel every three hours to get standard points and tickets for the daily jackpot draws. You can claim others through Facebook contests or mail-in bonuses.

How do I put money at Funzpoints?

Funzpoints Casino supports several convenient banking options that you can use to purchase packages for as low as $4.99. They are Visa/MasterCard, American Express, and online banking.