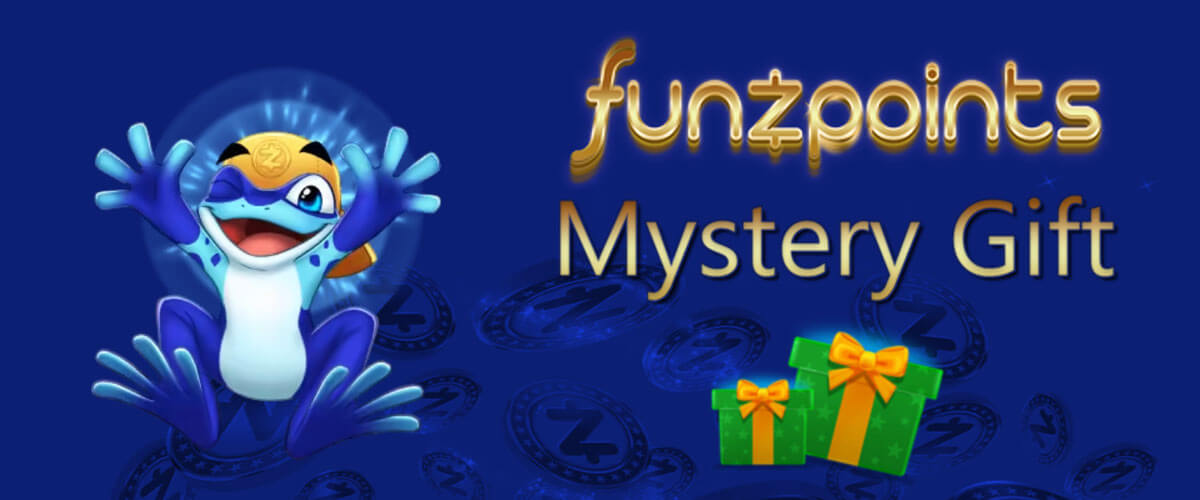 Funzpoints is a sweepstakes casino that operates following the regulations of the US sweepstakes law. This makes it legal to play casino games on this site in all US states aside from Washington, as it does not require any deposit. Like other sweepstakes sites, it allows you to play games for free via the standard mode or real money prizes using the premium mode.
New players who register on Funzpoints casino get a juicy welcome bonus of 250 funzpoints. This is equivalent to $2.50 and can be used to play any of the 65+ games for free. Games on the platform consist primarily of slots, but you'll find keno games for some diversity.
In addition to the welcome offer, Funzpoints online casino provides a range of bonuses to players, including daily jackpots, funzone, holiday bonuses, social media competitions, and the Mystery Gift offer – which we will focus on in this guide.
Read our extensive Funzpoints casino review to learn about the Funzpoints Mystery Gift bonus, how it works, and how you can leverage it for more wins.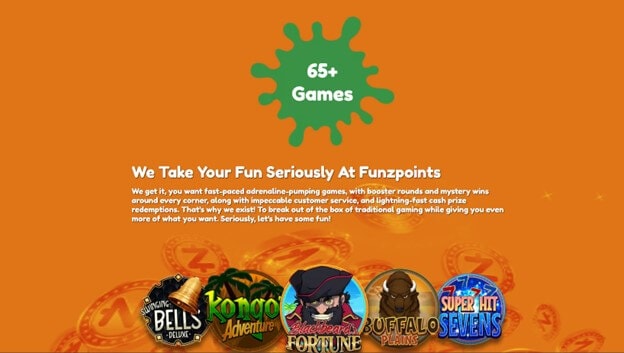 One thing we do not really like about the bonuses at Funzpoints is their randomness; other sweepstake casinos reward users with a fixed SC amount daily:
Free and Premium Funzpoints
Funzpoints online casino is like most sweepstakes sites since it allows you to play using two modes. These are the standard and premium modes. Let's take a look at how each of these works below.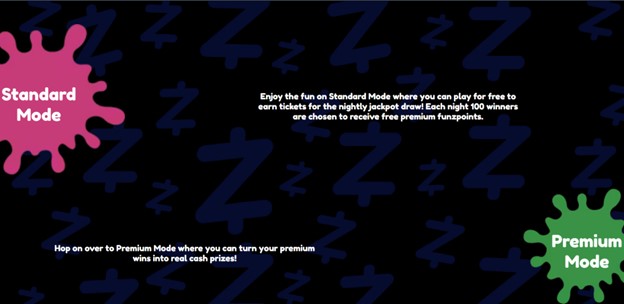 Standard funzpoints
These allow you to wager on Funzpoints casino without any deposit on the standard mode. With these funzpoints, you can wager for as long as you want, and the platform offers you 1,000 standard funzpoints for free after registration. You can use these points to wager on any of the titles available on the site.
Moreover, Funzpoints online casino allows you to increase your Funzpoints balance by letting you spin the Funzpoint wheels every three hours. You can also purchase more standard funzpoints once you exhaust the ones given to you for free.
Playing on this mode comes with ads, and you are restricted from accessing the full games and features of the site. Fortunately, you can sort this out by making a purchase. However, one downside is that you'll be unable to win cash prizes with this option as it only allows you to play for fun.
Premium funzpoints
Playing with premium funzpoints gives you full access to all the games and features. These coins can't be purchased as you only get them for free via bonuses or when you purchase a standard funzpoints package. When you register, you get 250 premium coins which have a value of $2.50. You can also send a mail to the funzpoints team for a chance to receive up to 500 free funzpoints.
However, unlike the standard funzpoints, you can win real cash prizes with these coins. Note that you'll first have to use these coins to play games once before they are available for withdrawal.
What is the Funzpoints Mystery Gift Bonus?
The Funzpoints mystery gift bonus is an offer targeted at players who are loyal to the site. You can categorize it as a VIP program, where you amass loyalty funzpoints which the platform adds to your account randomly. This can significantly boost your experience by offering you lots of free points to keep enjoying free play. You can check out your notifications to find out if you have received any mystery gifts.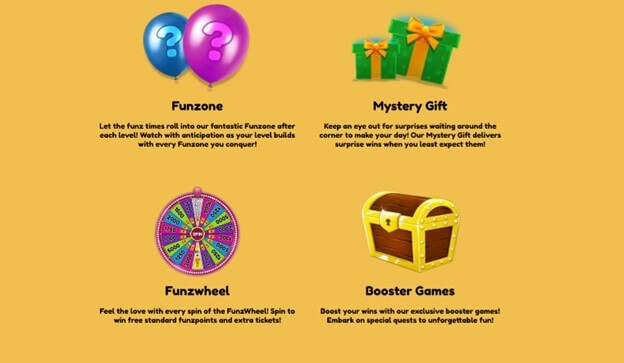 How to win the Mystery Gift on Funzpoints
The mystery bonus is straightforward to win as long as you keep playing on the site. Just keep an eye out for your notifications, as the mystery prizes can come up anytime. In addition, Funzpoints offers players daily jackpot draws that allow players to win up to $1,000 in jackpot prizes. We will cover this in more detail later in this guide.
Are there similar daily bonuses to the Funzpoints Mystery Gift?
All the sweepstakes online casinos on our recommended list offer numerous daily bonuses like the Funzpoints mystery gift. If you are looking for alternatives, here are a few of the best options:
These are a few of the best sweepstake sites with great daily bonuses. You can head to our list of recommended sites and click on the sign-up button to begin playing on any of them without a deposit.
Other Funzpoints Bonuses and Promo Codes
Funzpoints offers a variety of promo code offers and bonuses, to make your experience on the platform worthwhile. These are not restricted to the Mystery Gift bonus, and  include:
Daily Jackpots
To enter the draw, you'll need to earn tickets, and the more tickets you can win, the higher your possibility of winning a prize. The daily jackpot allows you to compete for a prize pool of $1,000, and if you are playing games in the premium mode, the prize money is shared among 100 players and broken down as follows:
$20 for 10 players
$15 for 20 players
$10 for 30 players
$5 for 40 players
You can earn tickets by collecting up to 500 standard points, which is possible by turning the Funzwheel as frequently as possible. If you prefer, you can look at the operator's Facebook page as it offers free points repeatedly. You can also purchase tickets if you have some cash to spend – as this is the easiest option.
If you are lucky and your name appears on the daily draw, the Funzpoints team will reach out to you in an hour. You'll also get an email and notification, so make sure you watch out and don't miss them.
Special Promotions
Before every major holiday in the US, Funzpoints casino will advertise unique offers on its Facebook and promotions page. Some of the offers that this casino has advertised to players over the years include:
Valentine's Day offer
Father's Day offer
Mother's Day offer
Easter and Christmas offers
There is also a Sunday Funzday offer on this site. Here, you get a $5 premium funzpoints bonus anytime you make a purchase on the site. The online casino first advertises this on its Facebook page, along with other competitions.
Booster Games
These show up randomly as you play Funzpoints casino games and allow you to earn extra points. You'll find boosters in standard mode, but they are limited. To get the full experience of booster games, you'll need to play in the premium mode.
Funzone
Each time you complete a game level, Funzpoints redirects you to the Funzone area of the site, where you can play to earn more standard or premium points.
Mail-in Request
You can earn up to 500 premium and 1,000 standard funzpoints when you send a mail to Funzpoints. Simply send a mail with the title "FUNZPOINTS SWEEPSTAKES," and your account will be credited with the bonus within days.
Funzwheel
This is a free wheel you can spin for a chance to win amazing prizes like free spins and premium funzpoints. New players will have the opportunity to spin this wheel every 3 hours for a chance to claim up to 10,000 funzpoints.
Social Media Promotions
This social casino loves interaction with players and has numerous social handles, including on Facebook. Here, it regularly advertises exclusive social media competitions that can reward you with free points and prizes. Simply follow the operator on social media and watch out for any new promotional offers.
Benefits of Free Funzpoints Gifts and Rewards
Funzpoints gifts and rewards, like other bonuses, come with numerous benefits. Here are a few of the major ones to note if you are still unsure of whether they are suitable for you:
You play for free: This is probably one of the benefits of Funzpoints gifts and rewards. Most rewards come in the form of free coins, which means you can play sweepstakes casino games for long hours without purchasing a coin package – thus saving cash.
Try out new games: Using the rewards you get from Funzpoints, you can try out new online slots for free without any risks. When you have developed the right strategy, you can then play the game in premium mode – with a higher chance of winning.
Find out how games work: You'll find primarily slots on Funzpoints casino, but each comes with different rules. Using the free gold coins you get as a reward from Funzpoints is a great way to learn and understand how a game works without risking your money.
Lastly, some mystery bonus gifts and rewards can translate to real money prizes. This is something that you don't get on some sweepstake online casinos. Note that you may need to fulfill a wagering requirement before withdrawing.
As you can see from this page, the Funzpoints mystery gift is just one bonus to use on the social casino. And every bonus is a new opportunity to win real cash prizes. Use our tips and cheat codes for Funzpoints, and you are sure to pile up those premium funzpoints.
FAQs
Can I win real money at Funzpoints?

You can't directly win real money playing on Funzpoints casino since it is a sweepstakes casino. It operates differently from real money online casinos but you can redeem your premium funzpoints for real money prizes.

Does Funzpoints give a daily bonus?

You can enjoy a daily jackpot bonus on Funzpoints which allows you to share a prize pool of up to $1,000. There is also the funzwheel, which you can spin every three hours to win free funzpoints. Lastly, the mystery gift bonus can appear anytime during the day and reward you with free funzpoints and other rewards.

Does Funzpoints have promo codes?

You don't need a promo code to claim any offers on Funzpoints. In most cases, all you need to do is register and opt into the offer.

There are many ways to get free premium funzpoints. The first is registering on the platform and getting it as a welcome bonus. You can also purchase a standard funzpoints package which offers you premium funzcoins for free. Lastly, you can participate in social media competitions or send a mail to funzpoints for a chance to get up to 500 free premium funzpoints.

What prizes does the Funzpoints mystery gift include?

The funzpoints mystery gift bonus typically consists of free standard and premium funzpoints. You can also get tickets that will allow you to participate in the daily jackpot draw.