B Spot is a horse racing site that uses the sweepstakes model and has existed since 2012. It is run by Game Play Network Inc, a race betting operator that is appropriately licensed and authorized to conduct internet wagering on horse wagering. Even though this site is more recent than many other sweepstakes platforms, it won the "Top Startup Award" in 2015 awarded by Tier50. This body recognizes leading startups around the world and is evidence that the operators of this platform are doing something right.
Unlike your typical sweepstakes casino, B Spot takes a unique approach to online betting. It merges horse racing wagers with your standard online casino gambling, giving players a taste of both worlds. Nonetheless, it is still a legal option for players in states where online gambling has not been fully legalized. B Spot Casino is legal in over 20 US states, including Alabama, Florida, Colorado, New York, West Virginia, and many more. Getting started is easy as you can download the mobile app directly from the website or on your Android or IOS store.
For many people, the unique combination offered by this horse racing site seems too good to be true, causing them to wonder, "Is B Spot Legit? If you are one of those wondering the same thing, then you are on the right page. This guide will take a detailed look into this casino, including how it works, how to get started, the games on offer, and other vital aspects. We will be evaluating each of these aspects in detail to determine if the platform is legit, and passing our judgment based on each aspect.
By the end of this B Spot casino review, you'll have a clear answer regarding the legality and safety of this online site.
If you are looking for platforms like B Spot, available in more US states and also offering slots and table games, you can instead join the following sweepstakes casinos:
How Does B Spot Casino Work?
A great way to determine a legit casino is to take a detailed look at how it runs its operations. Shady casinos tend to be indirect with how they run since the ultimate goal is to get the upper hand while you run at a loss.
We already pointed out that B Spot online casino takes a unique gameplay approach. This is unlike platforms like Pulsz or Fortune Coins, where you need to purchase a virtual coin package to get started. Instead, B Spot merges horse racing with typical casino games like online slots.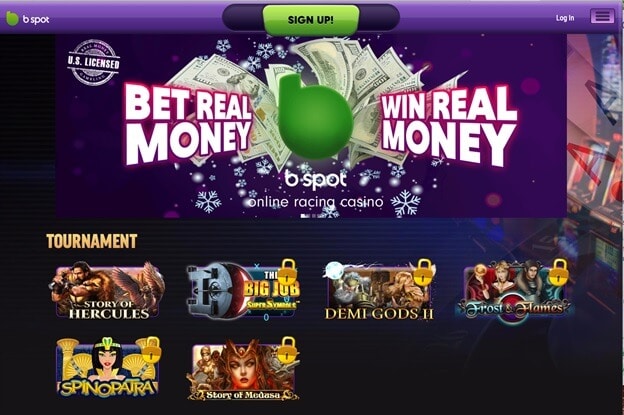 Here, winning a game depends on whether you win a live horse race. So, how does this work? First, you'll need to place a wager by purchasing packs of $10, $20, $40, and $100. Once you have purchased your amount, it will be split and spread into a range of live horse race bets on tracks around the globe. The horse races are usually selected by B Spot alongside the amount you can win, but you can change the order of the games if you prefer by hitting the reshuffle button for a new set of games.
At this point, the platform places you on a pari-mutuel pool alongside other players wagering on the same race. This means that instead of wagering against the house, you are wagering against other players. The pool provides you with the earnings you get if you win. Once the race ends, you are offered your winnings in wagers, usually the same value as you bet. For instance, if you purchased a $40 wager pack, you'll get $40 stakes to play casino games once the race ends.
You can break down the $40 anyhow you want when playing casino games and don't have to use it all at once. Because B Spot is a pari-mutuel operator, it earns a fee for every bet placed, but it does not get any additional payments if players lose or win a bet.
From its approach to gameplay, we can easily conclude that it is legit, but that is not enough. Let's check out how the registration process looks like.
Getting Started on B Spot: How to register
Before you start playing on B Spot or any other legal online casinos, you'll first need to register. However, you need to be in one of the following states to register at this casino:
Alabama
Delaware
Montana
Oregon
Nebraska
Colorado
Rhode Island
North Dakota
Tennessee
New Hampshire
New Mexico
Kansas
Wisconsin
South Dakota
Oklahoma
New York
Ohio
Vermont
West Virginia
Wyoming
You must be in one of these states because direct licenses for horse racing are only available in these states. Also, you need to be 21 years of age or above to gamble on B Spot or any other platform as required by the law. Once these have been confirmed, follow these steps to register:
Step 1: Head to the B Spot casino website at www.bspot.com and hit the sign-up button.
Step 2: You will be redirected to a page to input your email, phone number, and preferred password. Input the B Spot promo code BONUS10 in the promo code field to get your $10 welcome bonus, and click on the sign-up button
Step 3: B Spot will allow you to activate your account via your phone number or email. Choose any of the options, and your account will be created.
Step 4: If you want to make cash purchases, you must confirm your age and state. Also, you will be required to input your SSN and address before you can make payments.
Step 5: Presuming you would instead use the app, you can download it on the Apple Play store and follow the same process to register. Note that it uses geolocation technology to determine your location. Only those in the legal states will be able to proceed.
B Spot follows a registration process that is in line with most legal online casinos today. Before you make a deposit, you'll be required to verify your identity which is a sign that this platform is not after ways to rob you of your funds. But this is still not enough. Let's look at how the mobile app works.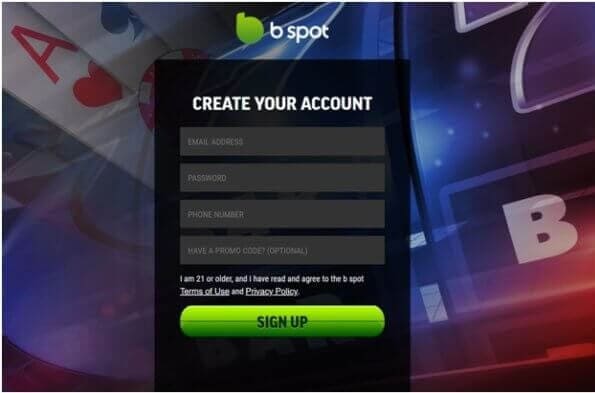 B Spot iOS Mobile App Overview
If you enjoy playing games on your mobile device, B Spot real money casino offers a dedicated mobile app that is easy to use. This app is available for download only on IOS devices and is available on the Apple Store. It currently has a rating of 4.4 stars from over 5,000 users, which is not surprising considering the benefits you get.
Navigating through the B Spot iOS app is seamless, with your balance visible directly at the top. You'll also find the amount of cash you are presently betting on. Beside this, you'll find a drop-down menu where you can make deposits, cash out, view your account history, and many more.
Underneath this, you'll find the B Spot online casino games, where your earnings from betting on horse races will be stated. It works flawlessly, and the graphics are also outstanding. However, there is presently no dedicated app for Android devices, but you can still access the casino via your mobile browser. Hopefully, this may change in the future. Regardless of how you choose to play, you don't need to worry, as the experience is bound to be worthwhile.
The fact that it has been able to place its mobile app on the IOS store is another sign that shows the platform is legit. Apple is very strict with its policies and only allows companies that have met certain criteria to upload apps on its platform. This policy is even harsher when it comes to companies that involve gambling. What's more, its 4.4 star rating comes from more than 5,000 users none of which complained about shady practices. With these, it becomes clearer that B Spot is a legal site.
We'll go further into our analysis by checking out the games on offer. After all, the types of games on a platform are ideal for getting insights into its legitimacy.
Games Available on B Spot
The B Spot sweepstakes site offers plenty of games to play – all of which cut across numerous categories. You can choose from your typical slot titles to arcade games and even games that are unique to the site.
To make it easy for you, B Spot has placed games in three categories which include:
Spinners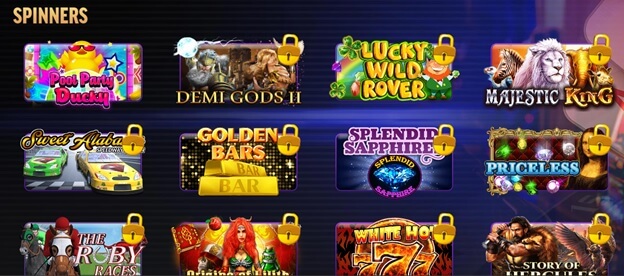 These games follow the concept of the standard slot titles you'll find on real-money online casinos. Like most platforms, this section makes up most of the games on offer. You'll find over 40 options in this section with titles like Demi Gods II, Golden Bars, Lucky Wild Rover, and Story of Hercules.
These games are from known developers in the industry like Spinominal and iSoftbet with most of them having fair RTPs of above 95%. This is not something you would find in a casino that's not legit since the main objective is to make more money off you.
Quickies

These are games that don't require in-depth skills or thought to play. They are similar to scratch tickets since you get instant results. Here, you simply have to click icons on the screen when the prompt comes up, and in an instant, you can tell if you win.
B Spot does not offer many games in this category, but they are highly entertaining and can keep you occupied for a long time. One of the options we recommend you check out is Touchdown Tap. You'll be clicking on various football jerseys, footballs, and scoreboards that show up on the screen. If you fulfill the conditions associated with any icon you click, you win! Other options you will find here include Lost City of Gold, Aces High Poker Spins, and Espada De Oro.
Arcade

This is the last category of games available on B Spot. They are made up of two bingo titles: Pixie Riches Bingo and Primo Bingo. These games follow the same format as the typical bingo games available in online casinos, so it may be worth checking out these options if you are a fan. The last game in this section is named in The Black and is a match-3 game with a fast pace. This is ideal for players that want something unique from all the other offerings.
Safety at B Spot – Is B Spot Legit?
The simple answer to this is, Yes, B Spot is legit. But to break it down, we will first have to look at the company that powers this platform. The Game Play Network, Inc, powers B Spot. It is a licensed platform allowed by law to carry out internet betting in the US on horse races worldwide. This platform is an advance-deposit wagering hub which means it operates as per the regulations of the Federal Interstate Horseracing Act and other state laws that apply.
It has attained a master's license in Oregon, which gives it the capacity to carry out its services in states that support online pari-mutual betting – but don't have licensing requirements. The company also has physical offices in Los Angeles and Oregon, which would have been impossible without a legit platform.
The B Spot app and site also use recent and industry-standard security encryption to ensure you are safe. Your data is always secure, and it does not share them with any unauthorized party. It also holds your funds in a bank insured by the FDIC, which means you still get your money instantly if the platform ceases operations.
A shady platform will be unable to achieve all of these especially in the United states. Most websites that are not legit operate offshore and have no license, neither do they have a physical location in the US. In most cases, the companies behind the platform are unknown or renowned for sharp practices – which is not the same in this case.
Are the Games on B Spot Rigged?
As we mentioned earlier, the company behind this platform is appropriately licensed to operate in the US. And similar to other licensed platforms, the games offered are tested frequently to ensure fairness. Companies that engage in sharp practices cannot survive in the US, especially when it comes to online gambling. US law is stringent regarding this and will ensure it is properly regulated.
This means it makes no sense for the games on B Spot to be rigged since the company has too much to lose, especially regarding licensing. It has also been operating since 2012 without any scandal, which means you are safe here.
How to Make Payments at B Spot
Making payments on B Spot casino is easy once you have properly verified your identity. Once this has been done, you can make deposits using the following methods:
Online banking transfer
Master/Visa Card
Gift Cards
Shady online casinos provide only payment options that are not reliable or don't have checks in place. Mastercard and Visa are two of the most reputable names in the business, and are making payments available on B Spot. These payment providers don't work with companies that have not been confirmed to be legitimate, nor would any reputable bank. Since they are all available on this platform, you can rest easy knowing that it is legit.
Withdrawal Methods
To withdraw funds from B Spot casino, you will need to reach out to the support team by calling or sending an email. You can also contact them via social media using the handles provided on the website. Withdrawal requests take 3-5 days to process, which is not so bad compared to other platforms. When your funds are released, B Spot will send you a notification to ensure you are in the loop.
Deposits and earnings are safeguarded in a custodial account at an FDIC-insured bank, which means your funds are safe. This may be a downside for many players since it is easier to withdraw funds via a more straightforward process. However, B Spot has conditionally made it known to players that they are trying to incorporate more options. Also, what other way to let you know a platform is legit and that your funds are secure even if a problem arises than being insured? We give B Spot a pass mark here too.
Customer Support at B Spot
B Spot has a professional customer team on standby that you can reach 24/7. They can be contacted via numerous outlets, including telephone, live chat, social media, and an extensive FAQs page. The team is highly knowledgeable and always willing to help you out of a jam. Here's a look at the options available to get help.
Fax – : 503-350-0232
Telephone – 844-462-7768
Live Chat and FAQs – Yes
Social Media – Twitter, Instagram, Facebook, and Youtube @bspotgames
B Spot has provided clear ways for you to contact them and get help 24/7. And based on our findings they are very easy to reach. This is not something that would be possible if it was not legit. Most websites that are not legit do not provide means to reach them and even if they do, getting help will be close to impossible. B Spot has provided a range of reliable options ensuring you can rest easy if there is ever a problem.
B Spot Casino App Customer Reports: How do Customers feel about B Spot?
To make sure we provide you with only unbiased information, we have scoured the internet to see what others have to say about the social casino app. As we mentioned, it has over 5,000 player reviews on the App Store, most of which are positive. Here's a look at some of them: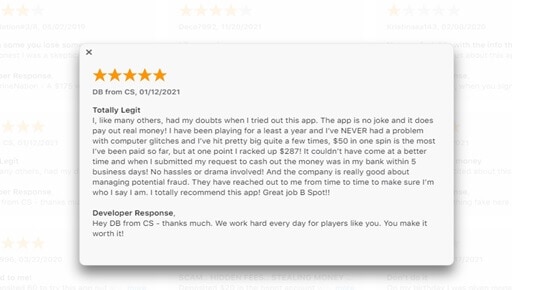 According to this user who initially had doubts, the B Spot app is legit and pays out real cash. They were also delighted with the safety measures put in place by B Spot.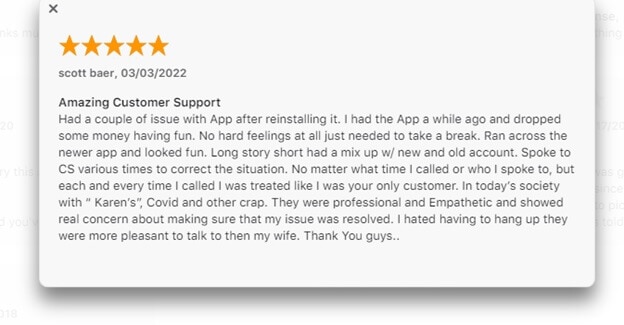 Yet another positive review about the customer support team. Based on the user's experience, he felt the support team was very professional and helpful.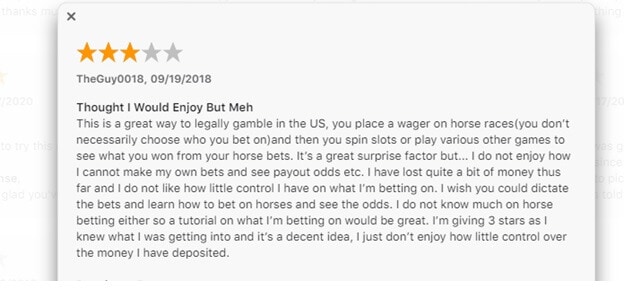 This user complained about seeing the details of their bets and not having any control over them. But this is not particularly correct since B Spot allows you to see this information by clicking on the "See Wager Details" option. You can also click on reshuffle to get a new selection if you don't like what you are given. This gives you some level of control.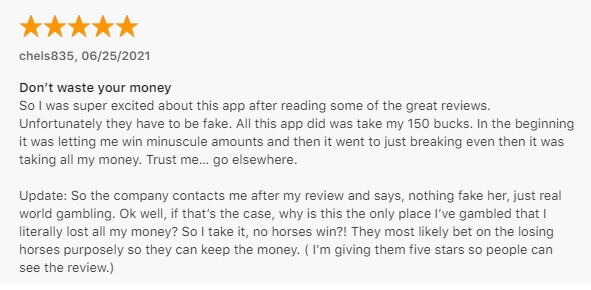 This user was unhappy with his experience and deemed the B Spot app because they lost. However, this is not the case. Gambling is 50/50, and you can't be confident of winning when playing. You lose some and win some.
Based on the experience of actual users above, we have come to a conclusion that B Spot is a safe site. Most of the reviews were positive and there were many instances where users were happy with getting payouts. Some other users were also happy with the customer support team as they were always willing to help.
The only complaints were focused on the absence of a few functionalities which have been addressed. What's more, not having some features that players like is not a sign that a casino is not legit.
Are the B Spot Customer Reviews Reliable?
Most of the B Spot app reviews were from players who downloaded the app via the Apple store, so most of them are reliable. However, like all reviews, you may not want to believe all of them 100%.
This B Sport IOS app has 4.4 stars from over 5,000 users, which means many people believe it is excellent. But there have been some complaints from players who lost funds – which is not abnormal when gambling. But there have also been positive reviews about payouts and the reliability of the support team.
These are legit, unlike betting apps where users report that the games are rigged, and the platform is not safe.
Alternatives Sweepstakes to B Spot Casino
B Spot is a platform that focuses more on Horse Race Betting. Not everyone will like this concept and would sometimes want a platform where they can play casino games and win normally.
This is understandable, and if you are in this category, other reliable B Spot sister sites are available for you to try out. They are all reliable and give priority to your safety while remaining legal in the US. Some of these include:
Pulsz Casino: This is a platform run by Yellow Social Interactive. It operates using the sweepstakes model and offers a variety of online slot games to players. You stand a chance to win real money prizes here, and you can get started by registering on the platform via the site or dedicated app. New players who register are offered 5,000 free gold coins as a welcome bonus to play their favorite games. The best part is that you don't need a deposit bonus code for this offer.
Fortune Coins: Fortune Coins is another popular sweepstakes site that lets you play for free or win real cash. It is operated by Social Gaming LLC and has over 50 games on offer. Enjoy a welcome bonus at Pulsz of 140,000 gold coins and 500 fortune coins once you register on this platform.
BetRivers.net: This is a Play4fun casino powered by Rush Street Interactive. You can't play real money casino games or win any money on this platform, but it allows you to play online casino games like slots, card games, and Slingo for fun. If you sign up using the BetRivers casino promo code "PLAY200," you'll be offered 500 free virtual credits to play your favorite games no deposit.
Other great options include
What We Don't Like About B Spot
B Spot casino performs excellently in general, but we feel a few areas could be improved upon. Some of these include:
Demo games are available, but you will need to register for an account to play them.
You will be unable to access this casino in many US States
Your winnings are tied to betting on horse races instead of how you play casino games. This can be complex for many players.
The game collection is not as extensive as we would love.
There are no table games or live dealer options available. Many players love these games, so this is a downside.
The information you are required to provide can sometimes be too in-depth. We understand the need for this since it is a regulated platform.
B Spot app does not provide a loyalty reward program. This means you don't benefit from being loyal to the platform.
Should You Play Online Casino Games at B Spot Casino?
B Spot is a legit sweepstakes casino site that we recommend you try out because of its unique approach. Not many websites can give you the best worlds of online casino gaming and horse race betting combined.
In addition, it provides a high-end IOS app with seamless navigation, reliable payment options, excellent graphics and soundtracks, and fantastic customer support. Sign up on this platform today using the promo code BONUS10 and get $10 to play for free.
FAQs
Is it legal to play on B Spot in the US?
Yes, playing on B Spot in selected US states is legal. You can go through our guide to find a list of the states above. However, you need to be a resident of those states and be 21 years and above.
Is B Spot casino legit?
Yes, B Spot is legit as it has a physical office in Los Angeles and is properly licensed to engage in horse race betting in the US.
What Casino games can I play at B Spot?
B Spot offers a range of slot titles, bingo, and arcade games.
Are there reliable alternatives to B Spot
Yes, there are plenty of great alternatives to B Spot. Good options include platforms like Pulsz casino, High 5 casino, and Fortune Coins.