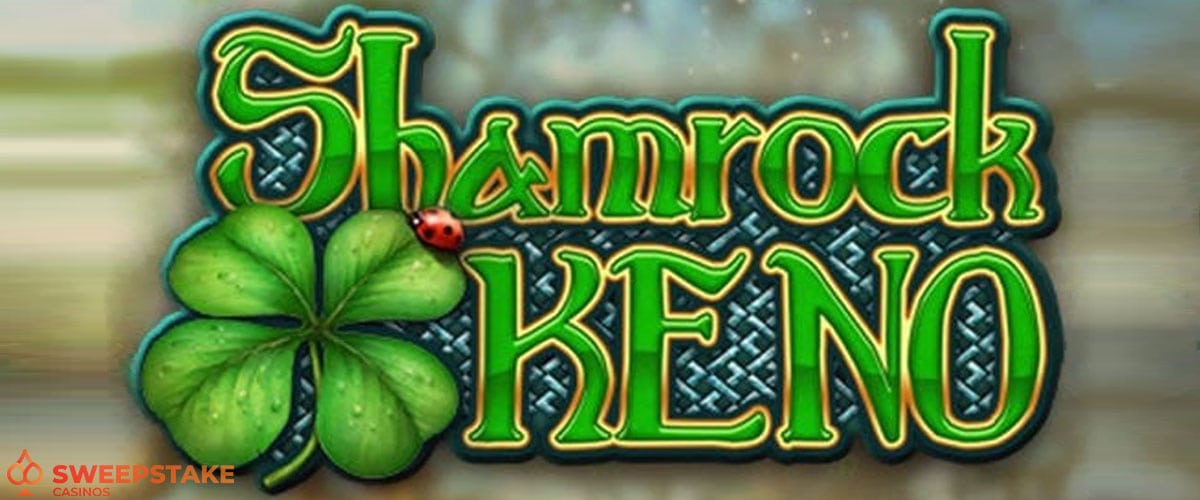 Jumping into Shamrock Keno is a real treat for fans of classic casino games that combine luck and skill. This keno game is similar to standard keno titles but stands out due to its distinct Irish theme. It will lead you to a charming Irish-themed setting with a shamrock on your side to bless your gameplay with good luck.
The RTP for Shamrock Keno is 85%, which is in line with the industry average for Keno games. The game revolves around picking two to ten numbers and hoping they match some randomly picked numbers to win. It also has a unique Free Games feature that improves your chances of scoring big wins. The game is not only visually appealing, but it can also deliver a maximum win potential of up to 50,000x per round.
Let's go deeper and discover all you need to know about this version of Keno and where you can play it. This way, you can decide whether or not giving Shamrock Keno a try is worthwhile.
🎰Shamrock Keno
🧑‍💻Developer
Riverslot
💯RTP
85%
💵Min Bet
0.1 coins
⭐Special Feature
Free Games, Autoplay, Quick Pick
💰Max Win
50,000x
🎲Similar Games
Cleopatra keno, Keno Vegas, American Keno
Sweepstakes Casinos to Play Shamrock Keno
Shamrock Keno is developed by Riverslot and can be played on all sweepstakes casinos featuring this gaming system. Sweepstakes brands with Shamrock Keno games include Riverslot, Rivermonster, Riversweeps, Bet777, and more.
Unfortunately, all these operators work through a distributor model with little oversight over the casinos featuring their games, including Shamrock Keno. But don't despair, US players can access 100+ Keno RNG-tested and fair games branded similarly to Shamrock Keno with even better RTPs and payouts at the following sweepstakes casinos:
What is Shamrock Keno?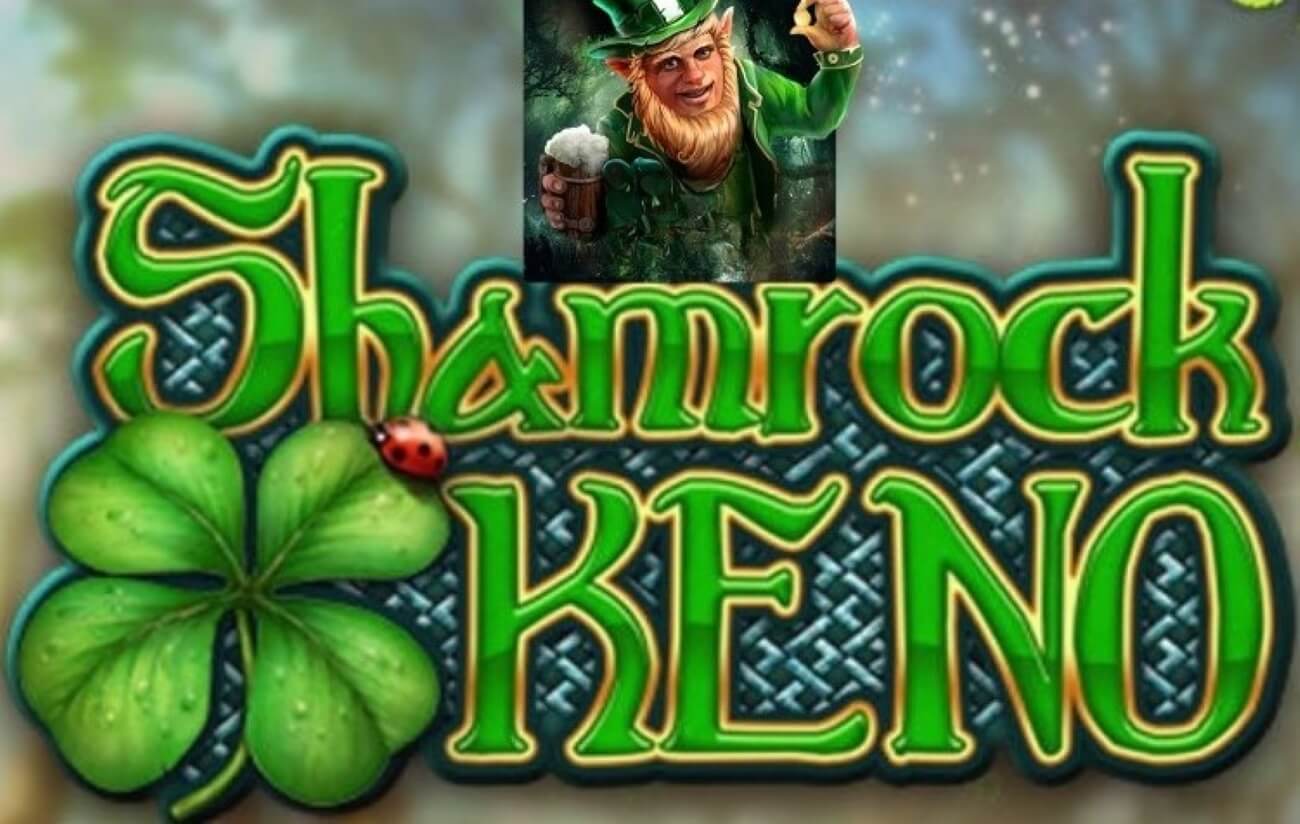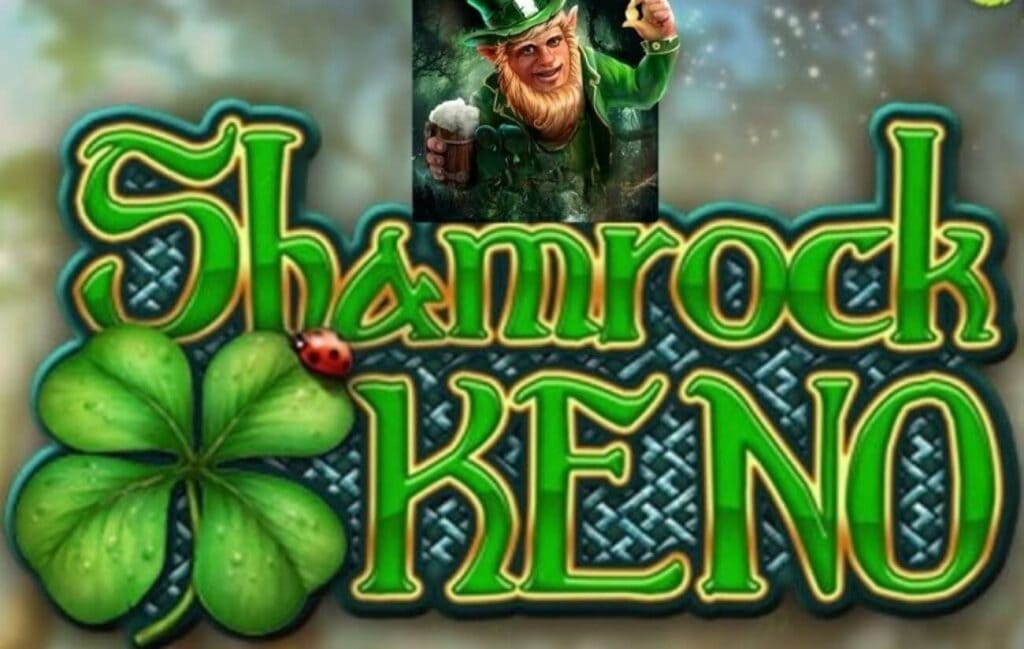 If you're unfamiliar with Keno, it's a lottery-style game with ancient Chinese roots. But thanks to technological advances, Keno has successfully moved from traditional land-based casinos to online gambling. The basic rules remain the same, with players picking random numbers and expecting their appearance on the Keno board to win prizes.
Shamrock Keno follows the same rules, allowing you to choose up to ten numbers from an 80-number grid. A random number generator then draws the numbers, and you'll get prizes depending on how many you guess correctly. Although the gameplay is like other Keno games, this one stands out for its attractive Irish design with a beautiful green field. It has a lot of trees, rocks, and birds, which add to the Irish vibe. Plus, the four-leaf clover in the game logo has the benefit of triggering free games.
How to Play Shamrock Keno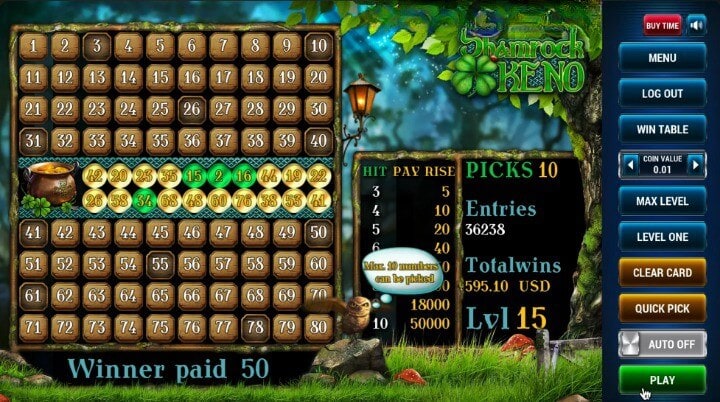 Shamrock Keno is an ideal option for both newbie and seasoned Keno players because of its straightforward nature. You can sign up at the listed sweepstakes casinos to play this keno version online, whether for free or for real money.
When you first start, you will see a grid of numbers on the left with the paytable. On the right side, you'll find details like betting options, a command board, Autoplay, and more handy options.
Begin by adjusting your Coin Value using the arrow keys. You can even tweak the game's paytable with the Level Up and Level Down keys.
Next, choose a ticket and mark a minimum of two or a maximum of 10 numbers between 1 and 80.
Hit the Play button and let the Random Number Generator (RNG) deliver 20 different numbers on the game grid. If you want, you can use the Autoplay mode, which will start each round automatically.
If any drawn numbers match the ones you picked, they will be considered hits. The game's paytable will decide your rewards based on the amount of matches.
The developer has also included two helpful features to enhance your gameplay experience. The Quick Pick button helps you to quickly mark random numbers, avoiding the need for manual selection. The Clear Card option lets you clear your picked numbers if you want to try again with other numbers.
Shamrock Keno Payouts & Odds
In Shamrock Keno, the goal is to hit as many numbers as you can in a single round to win prizes. The more numbers you match, the greater the rewards you can win. The paytable on the main screen displays the payouts based on how many numbers you picked and your wager amount.
It's possible to win by hitting only one number with only two picks. However, the bigger prizes come from matching closer to 10 numbers. Hitting one to ten digits can result in payouts ranging from 5x to a top prize of 50,000x. But remember that the odds of getting all ten winning numbers are astronomical, thus the low RTP.
Shamrock Keno Bonus Features
As this is a Keno game, don't expect to see as many bonus features as you would in slot games. The main gateway for extra prizes in Shamrock Keno lies in the Free Games feature, which can lead to big wins.
Free Games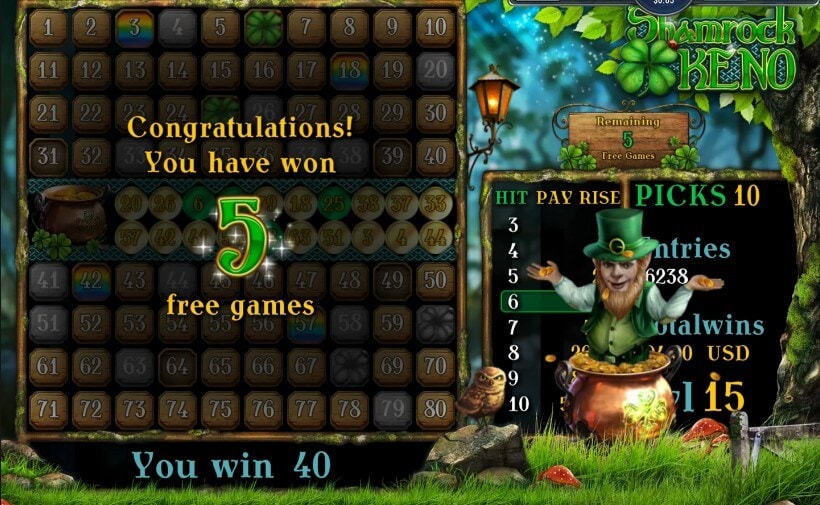 You'll notice that some random numbers show up with a four-leaf clover symbol during the RNG draw. This symbol can land on up to four of the twenty drawn numbers. Matching two, three, or four of these unique numbers will unlock five, ten, or fifteen free games, accordingly. It's worth noting that four-leaf clovers stay in play during the bonus round. It means you can retrigger more free games by hitting them.
Furthermore, all free games continue with the current stake. And you can't be able to change the numbers you have chosen during this bonus round.
Tips & Strategies to play Shamrock keno
Shamrock Keno is a simple game where luck plays a significant role in winning. It's more about chance than skill, so there is no specific method to defeat the house edge or guarantee a win. However, we put together some tips to help you enhance your winning odds and have a more pleasant gaming experience.
When playing keno online, luck may not always be on your side. To avoid such experiences, set a loss limit to protect yourself from losing a lot of money and stop playing once this limit exceeds. Effective bankroll management is always necessary, especially during stretches of low profitability.
It isn't necessary to pick the max numbers in each game, especially given the extremely low odds of hitting all ten digits. Pay close attention to the paytable as you make your picks, and pick spots that offer reasonable rewards even with a few matches. This strategy can potentially result in more favorable game results.
The best keno strategy is to choose between four and eight numbered spots. This range provides a fair blend of favorable odds and substantial prizes. Picking more or fewer spots might reduce your chances of winning significantly.
It's worth noting that Shamrock Keno is completely random, so there's no need to rely on trends like "hot" or "cold" numbers. This game depends entirely on luck, meaning there is no way to predict which numbers will come up after the draw.
Shamrock Keno Review Summary
Shamrock Keno is fun to play and offers multiple advantages over standard online keno games. It's ideal for beginners who want to learn the ins and outs of keno while aiming for big prizes. The game features excellent audio-visual effects that immerse you in a vibrant Irish atmosphere. The special four-leaf clover symbols also add an extra layer of enticement, possibly leading to free games for more winnings.
This game has the potential for big prizes, with payouts reaching up to 50,000 times your stake, making it a lucrative gaming experience. So don't wait; try out some keno variants today at one of the listed sweepstakes casinos!