With a social casino like WinStar , players can play online slots, poker, live dealer games and several table games for free. This sweepstakes site offers new players 5,000 virtual chips with several promotions set in place to make playing more exhilarating than ever.
While the hundreds of games with high RTP percentage makes WinStar Social Casino one of the leading free online casinos in the US, it still lacks some features that might discourage players from signing up there. This factor ranges from the number of games to rewards, accessibility and even mode of operation. However, regardless of what you find off-putting about WinStar Social online casino, we at sweepstake-casinos.com have researched sister social casinos that excel in all areas that WinStar Casino lacks, with many even providing special offers to players.
In this guide, we will be walking you through alternative sites to WinStar we are sure you'd love nothing more than to start playing at. You can find the best sweeps cash casinos like WinStar directly below, or read for more before making up your mind.
What is WinStar Social Casino?
WinStar is a social casino owned and operated by the Chickasaw Nation. The Chickasaw Nation is a household name in the casino industry as it's one of the native American tribes' casino operators in the US. In fact, it is the owner of several land-based casinos like Saltcreek Casino, Texoma Casino and the proud owner of the largest casino in the world – WinStar World Casino and Resort.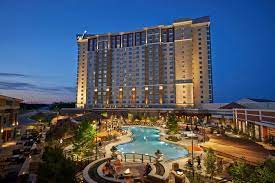 Even though the Chickasaw Nation has enormous success in the gambling industry, its reach is still relatively limited as many states are yet to legalize physical and online gambling. In response to this, WinStar Social Casino was founded to provide free real money casino games like slots, roulette, blackjack and baccarat, keno, bingo and poker games to players.
This social casino is available to all players of age 18 and above who aren't residents of Washington. WinStar Social Casino is free-to-play and is regarded as an entertainment-only gaming website, making it accessible in many states, including places where gambling laws are still strict.
Aside from providing an online gambling experience to US players by providing popular casino games for free, WinStar Social Casino is also a reward system for most players at WinStar World Casino and Resort as they get to win prizes rewards like spa credits, VIP access to shows, exclusive dinners, gold benefits and so much more. So, besides making real money from the actual land-based casino, WinStar Social Casino provides extra incentives to players.
How Does WinStar Social Casino Work?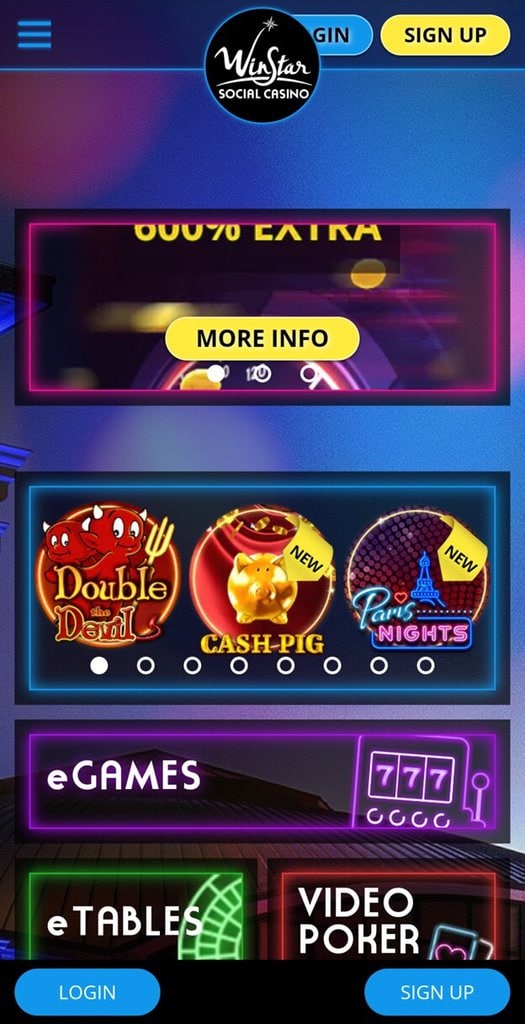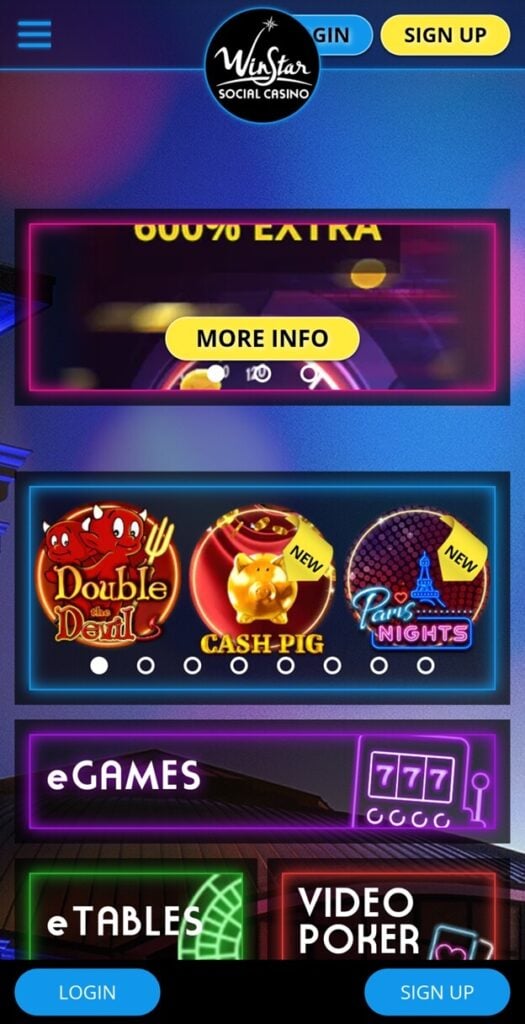 WinStar social casino uses the sweepstakes model, which means you do not require real money to play all available games. Instead, WinStar uses an in-app currency called chips to give semblance of playing in legalized online gambling sites or land-based casinos. Chips are a virtual currency similar to gold coins used by many free casino sites like Chumba Casino. They are used to play slots and other casino games like keno, bingo and table games available at the social casino.
This virtual credit is offered freely to players through a welcome bonus and many other daily promotions but can also be purchased out of one's free will to play longer. While the chips are shown like real money at WinStar as it uses the dollar sign, this is done only to make it appear real as chips do not have any value outside the game. Hence, you cannot withdraw or redeem your winnings for cash prizes.
However, being a subsidiary of WinStar World Casino and Resort, every chip package purchase of $29.99 and above offers players online gaming rewards, which you can redeem for gift cards, lunch buffet, shopping, complimentary dinner and VIP access to sporting events. New players are offered 5,000 free chips upon registration with more mind-blowing bonuses for existing players to claim to keep playing for free. We round up our views on WinStar Social Casino below.
Pros
Plethora of casino games
Games are provided by known game studios like NetEnt
Lucrative 5,000 virtual chips welcome bonus
Lots of exciting promotions and tournaments
Cons
Alternatives to WinStar Casino Games
Having shown you the benefits and drawbacks of playing at WinStar Social Casino, one could argue that there are better free casinos. You would be right to think this, which is why we offer you the best three alternatives to WinStar Social online casino.
Fortune Coins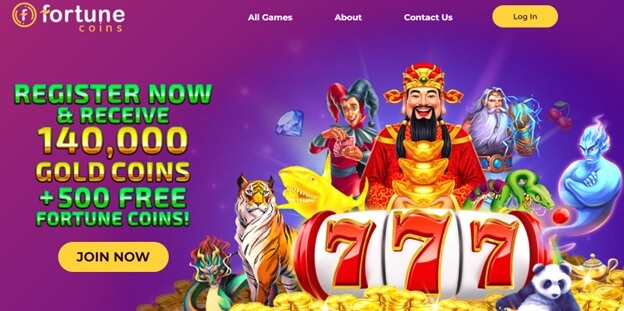 Fortune Coins might have only 50+ casino games, but this sweepstakes online casino excels as being one of the best free casino sites with predominantly high-paying games. The Fortune Coins game catalog is filled with jackpot slot machine games with high RTP percentage and several online poker, card and multiplayer fish games that up to 4 players can play.
While all these are enough to earn this social gaming site a spot as a worthy alternative to WinStar Casino, Fortune Coins' main selling point is players' ability to win real money playing games. With the help of its unique in-app currency – fortune coins – players can exchange 100FC made for a real $1.
Another exciting thing that makes Fortune Coins Casino one of the best alternatives for WinStar is its lucrative welcome offer. New users are awarded 140,000 gold coins and 500 fortune coins to start playing, and if you run out of free coins, the sweepstake site has several promotions where you can claim free gold and fortune coins.
Fortune Coins was launched in the US in 2021 by Social Gaming LLC and paid out over 250 million fortune coins which is over 2.5 million. If you are looking for an alternative social casino with free games with a high payout percentage, pay real money and multiplayer games, then Fortune Coins is your best bet at getting all these. You can signup here to claim your 140,000 gold coins and 500 fortune coins.
Pulsz Casino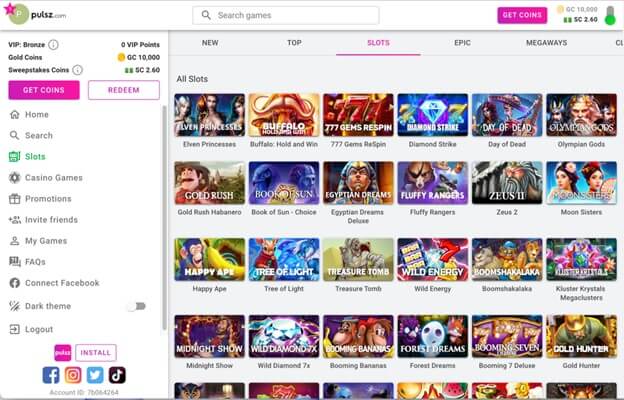 Pulsz is a sister sweepstakes site to WinStar that offers players 300+ Las Vegas-style casino games. Players can play several casino games from known iGaming developers like NetEnt and Pragmatic Play for free by using sweeps and gold coins. Pulsz is a worthy alternative to WinStar for many reasons, one being that its game lobby features games like slot machines, Texas Hold'em Poker, blackjack and scratchcard games. But more importantly, sweeps coins can be exchanged for real cash.
In addition, this free online casino site has a plethora of jackpot slots that allow players to convert their winnings to real money if they trigger the pot. Despite the Pulsz Sister Casino website being mobile-friendly, players who want easier access can download the native mobile app on Google Play Store for their android smartphones. If you want to start playing at this sweepstakes site, click the link below to claim 5,000 gold coins and a 200% first purchase bonus through the Pulsz bonus code.
SweepsSlots Casino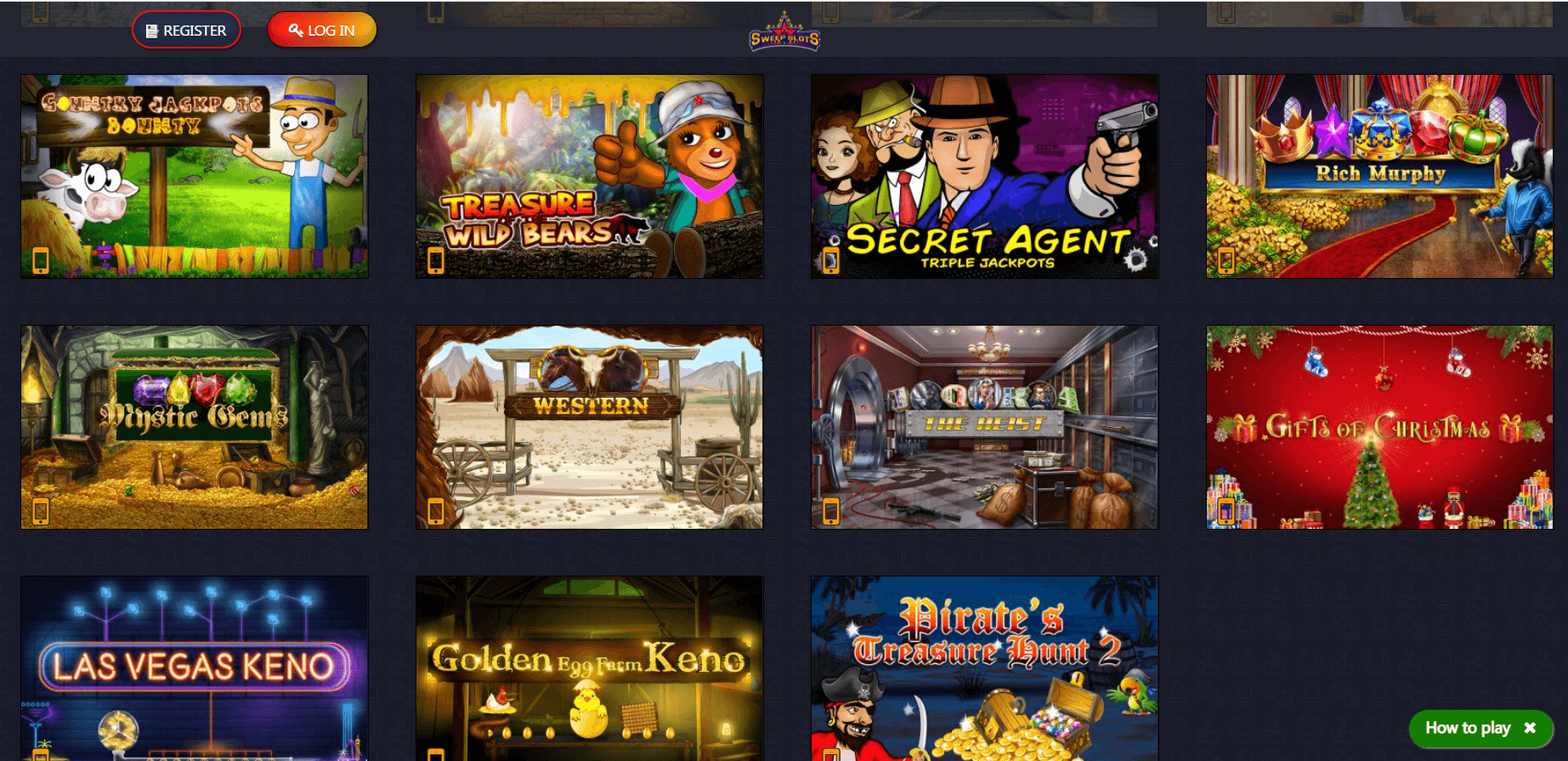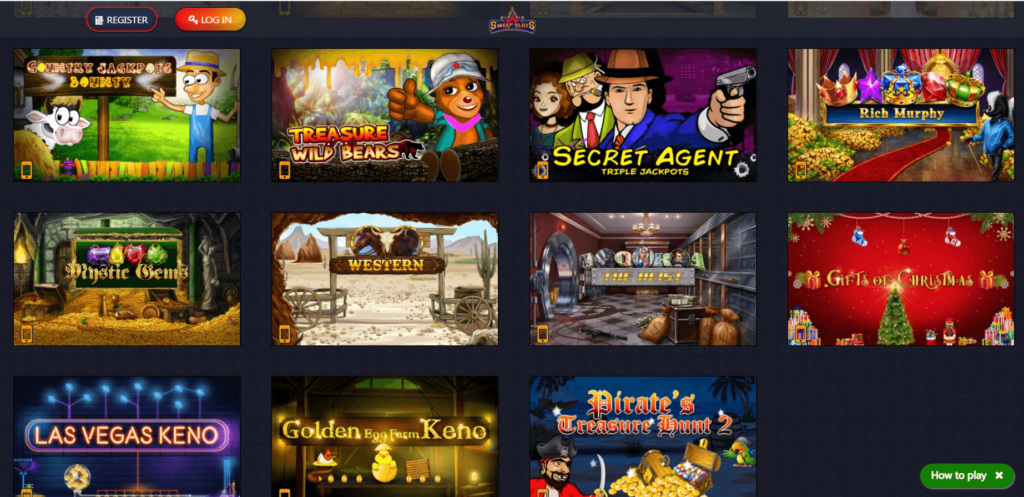 With many exciting online slots, keno and card games, SweepsSlots Casino is a sweepstakes site that offers players unlimited casino gaming experience for free. Founded by Regal Technologies, this free online casino site is home to over 30 casino games and offers players an opportunity to win real money.
Although still relatively new, SweepSlots is fast gaining traction among players with its 3 huge jackpots and tournaments. This sweepstakes online casino has one of the best tournaments of any social casino, rewarding players with over 500,000 gold coins and 50,000 sweeps coins. This brings us to the next best thing you can find at this WinStar sister casino. SweepSlots is a contemporary social casino as it allows cryptocurrencies as a payment method which isn't something you see every day, even in real money online or land-based casinos.
There is an exclusive offer of 10,000 gold coins and 100 free sweeps coins to players who want to play online casino games, which you can get by signing up using this link.
WinStar Sister Casinos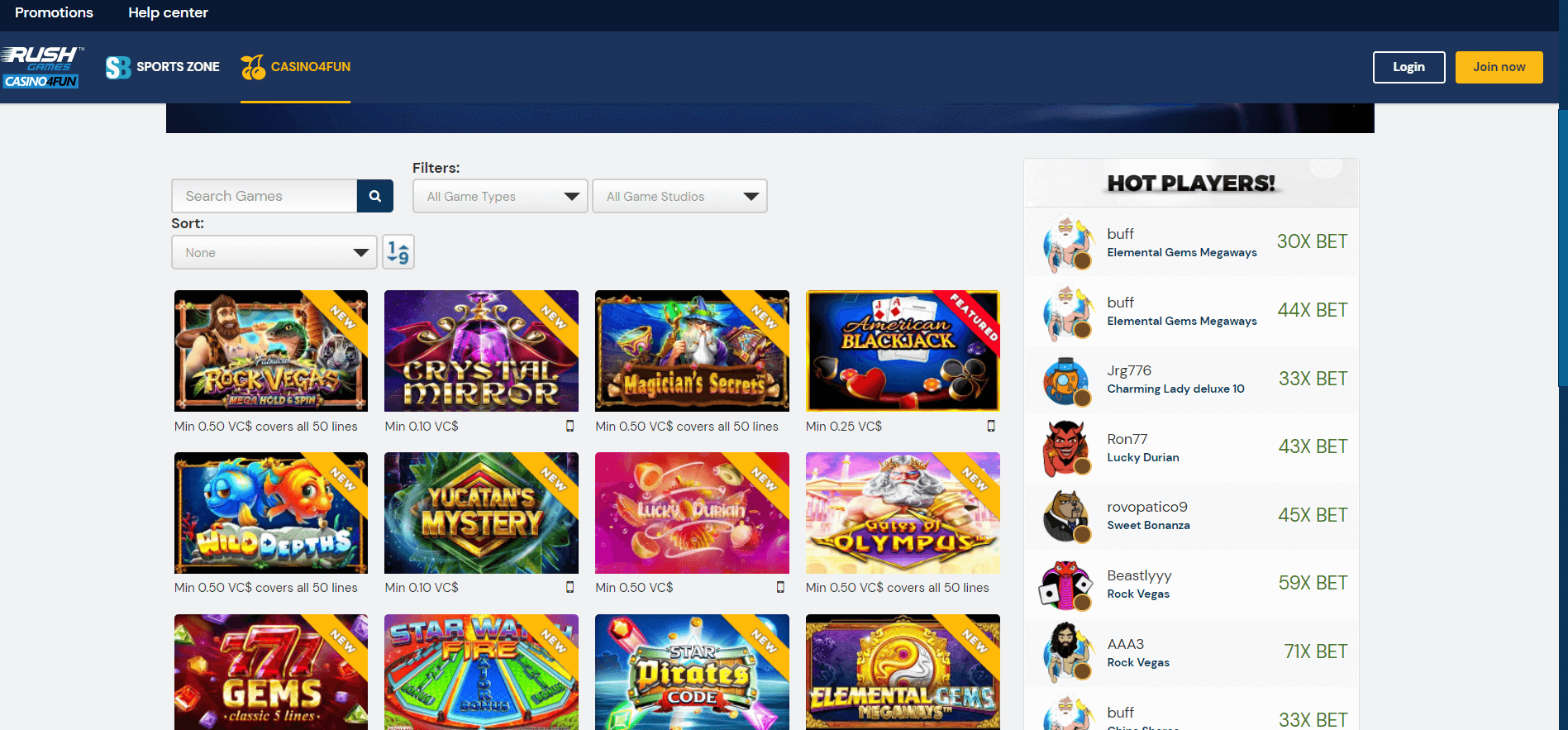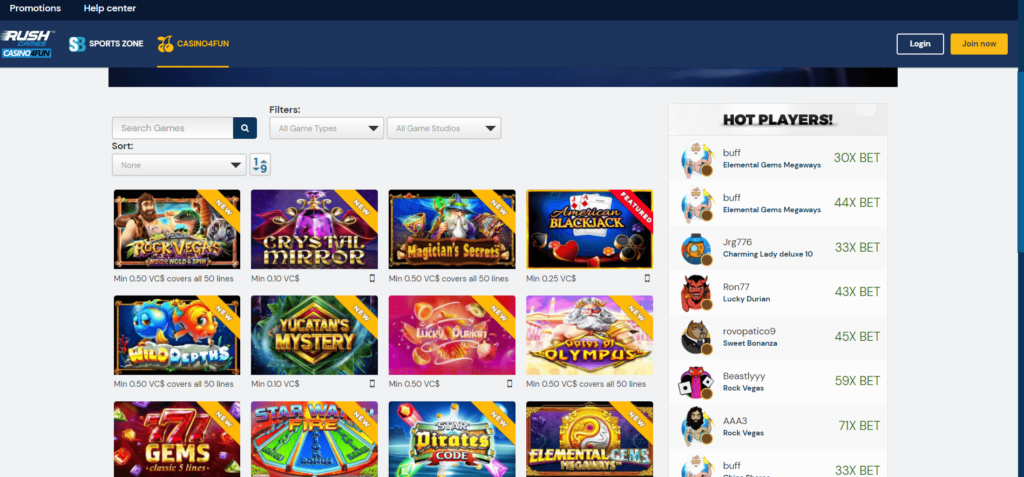 While the above alternative sweepstakes online casinos offer players the tendency to win real cash, there are some other honorable mentions that even though you cannot redeem cash prizes there, they provide comprehensive game options that include sports betting, chat room features and so on. So, if you don't mind sacrificing this for more games, you should definitely try the following free online casinos:
Like WinStar, all the above are tied to real money online casinos, which is why we consider them sister casinos.
How to Play at Sites Like WinStar Social Casino
With the sister sites you've found of WinStar, we wouldn't be surprised if you can't wait to create an account to start playing. However, before you do this, you should read this section as it contains essential tips on how to get started.
Sign up using our links
This is an essential part of playing at WinStar's alternative sites as it provides lucrative bonuses you can use on casino games. Being an affiliate, our links serve as gateways to exclusive welcome offers and promotions for existing players. This can prove more advantageous if you sign up for free online casino sites that offer real money winnings with our links, as the free sweeps coins added to your balance can be leveraged to make more and redeem for cash prizes quickly.
Claim your bonus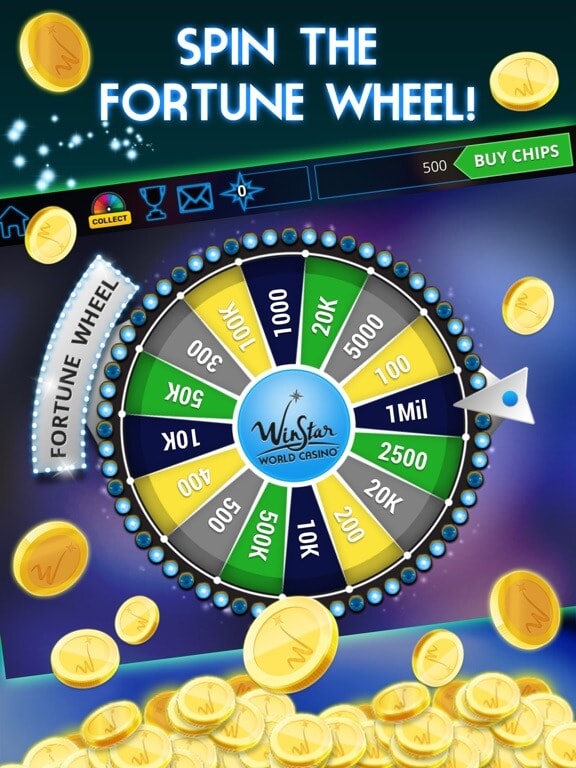 Remember we called signing up with our links a gateway? The next important step to playing at WinStar sister sites is to claim the bonus made available to you. This is a simple step as it only often requires that you log into your account and watch the bonus automatically added to it. While this is the standard way to claim your bonus, some sweepstakes casino sites like Funzpoints Casino would have players claim their bonuses by clicking the "collect" button.
Play your favorite games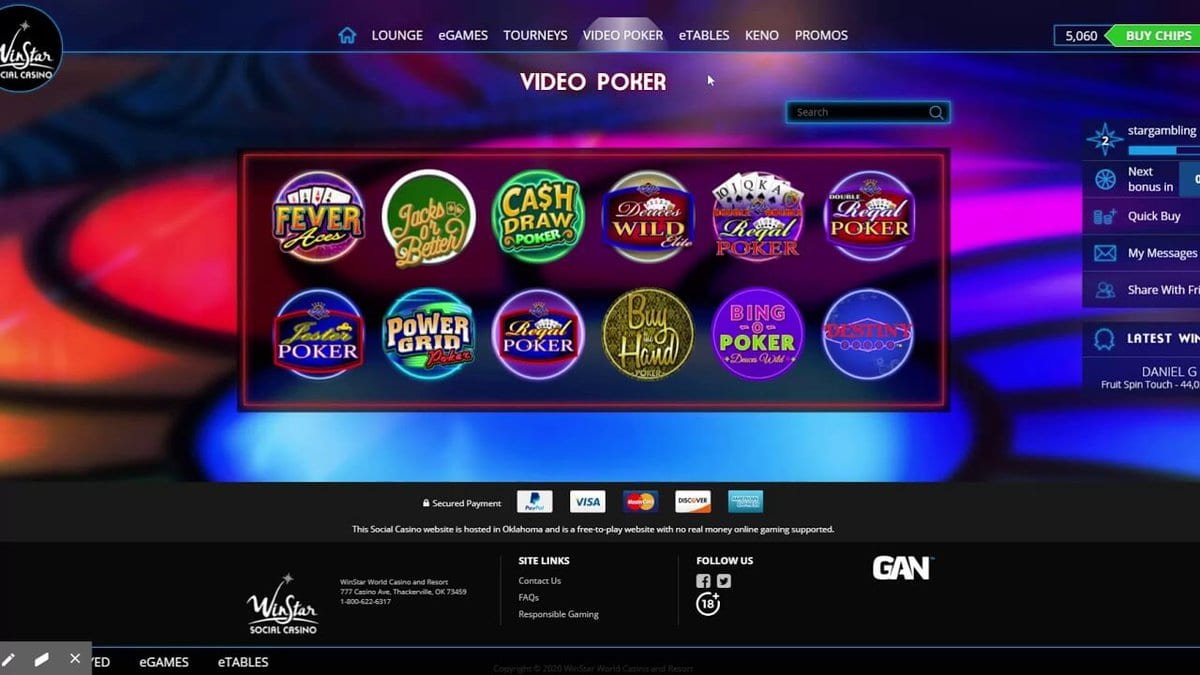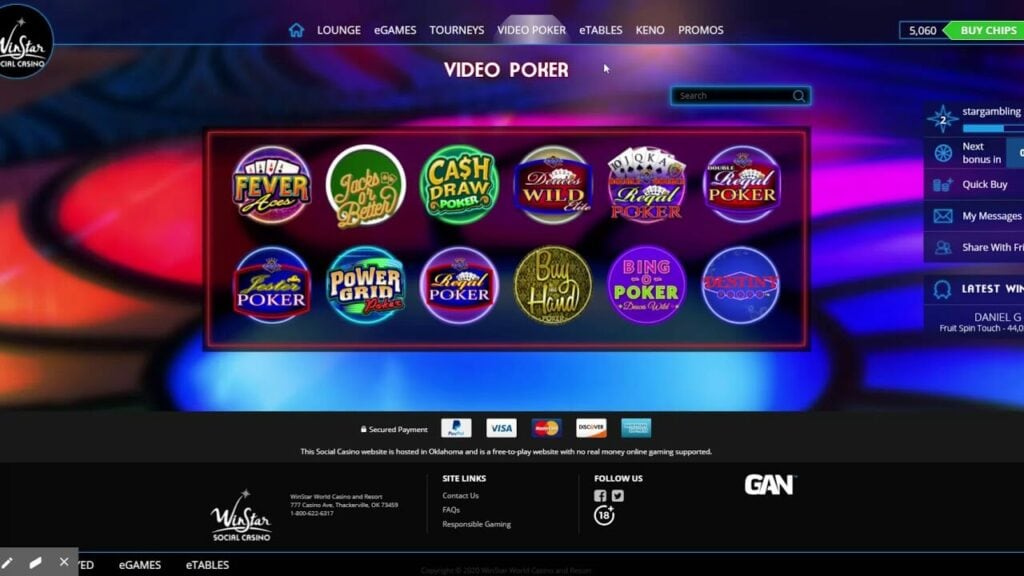 Now that you have the free gold and sweeps coins in your account, there is no limit to what you can do. You can play all casino games with your bonus coins. If you have a favorite game, you can select it from the game lobby and start playing. For players who do not have any game in mind, we recommend you use your free sweeps coin as free spins in a winning slot machine with a higher payout and RTP percentage, as that would increase your chances of big wins. You can use the same logic for other casino games like online poker, roulette, baccarat, blackjack, etc.
Verify your account
To have full access to WinStar sister sites' functionality like making a purchase and, importantly, redeeming real money, you'd have to undergo a Know Your Customer verification (KYC verification). This is essential and somewhat required by federal law and state government to ascertain that you reside within a legal state and are the actual account owner. Verifying your account also helps online social casinos to prevent third parties from stealing your identity to play casino games. To verify your account, you'd need to submit documents proving you are who you said you are and reside where you've stated you have. The three documents required for this are:
Government-issued ID (Driver's License or Passport)
Utility bill (that contains your name and address)
Statement of account not older than 6 months
Verification is only done once, and unless you want to withdraw more than the limit stipulated by similar sites to WinStar, you wouldn't be asked for additional documents.
Redeem Cash Prizes
This is the most exciting part of playing at WinStar's alternative sites, as you can make real money that can be sent to your bank account. After making enough sweeps coins through playing online slots or other casino games, casino players can head to the redeem column and click on the redeem button. This will display the amount of withdrawable sweepstakes coins you have and how much they are worth in dollars. You can input the amount you want to redeem before selecting the redemption method or where you'd like the real money sent. Most sister social casinos to WinStar use credit and debit cards, and e-wallets as part of their payment method, so you wouldn't have any trouble converting your winnings.
Summary
WinStar is clearly one of the best social casinos available to US players. There is a plethora of slots, keno, poker room, bingo and table games to play for free, and they can all be played off your mobile phone.
However, if you are looking for more than just enjoying what the online gambling industry offers, you wouldn't get much from WinStar social casino, as all tangible rewards are tied to making purchases to earn points. However, the alternative free online casinos we've highlighted above offer real cash winnings and higher payouts without necessarily making any purchases or upgrading your account. This makes them perfect for all players, especially other players living in states where online gambling is restricted.