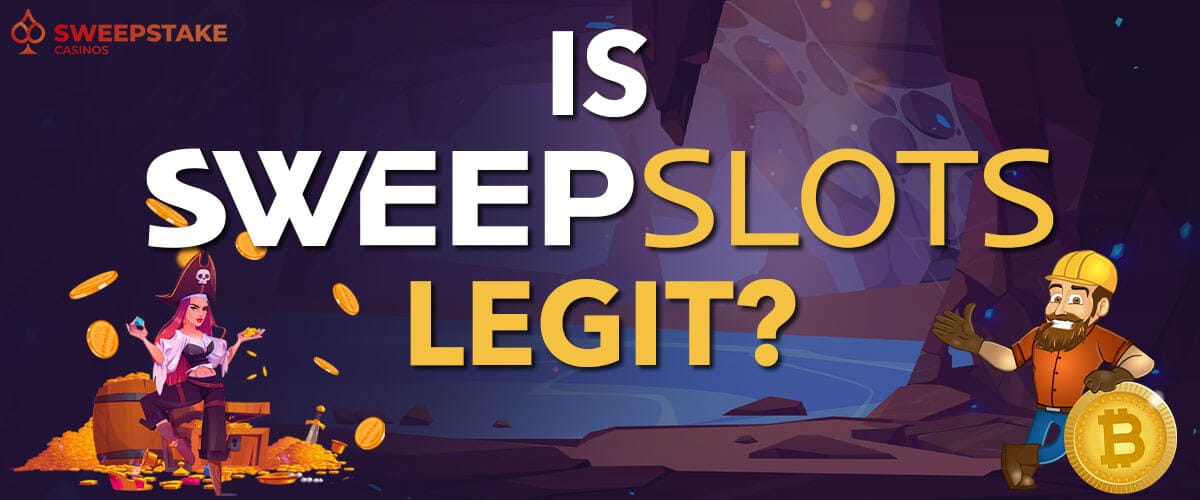 SweepSlots is an online sweepstakes casino that is operated by Regal Technologies LLC, an up-and-coming online gambling company from Delaware. The online casino platform is relatively young since it launched in 2021 but has gathered plenty of attention in the social casino market for its unique games and quick growth in popularity.
As a sweepstakes casino, SweepSlots doesn't allow you to gamble directly using real money. Instead, you use a virtual currency system to play online casino games, and you can redeem those virtual coins for real money if you win.
Through this model of operation, SweepSlots casino isn't required to have an official license in the US. However, recent reports by players of the casino not paying out their winnings have made us question the integrity of the provider. Thus, our team of casino experts decided to have a thorough look to see whether the SweepSlots online casino is legitimate.
If you're looking for a social casino to play, there are several alternatives to SweepSlots that are trusted and secure, including WOW Vegas, Tao Fortune Casino and more. These are both other sweepstakes-style online casinos that do not have the same issues with paying out players that will be discussed further along in this review.
SweepSlots Casino Review
🎰SweepSlots Online Casino
🏛️Operating Company
Regal Technologies LLC
📜License
-
👨Accepts USA Players?
✅Yes, except for residents of Washington & Idaho/18+ necessary
🇺🇸 Legal in the USA?
✅Yes
💳Payment Options
VISA, MasterCard, Paysafecard, Discover, Skrill,
🎁Welcome Bonus
100% match on first purchase up to $20
🎲Games Selection
Slots, Keno, Scratch Cards
🧑‍💻Software Providers
Casino Web Scripts
The SweepSlots online casino was established in 2021 by the gambling company Regal Technologies LLC. Despite being a relatively new name in the online gambling market, Regal Technologies made the jump after amassing a good reputation in the tech industry.
The SweepSlots casino allows players to enjoy several slot games and other casino games without gambling with real money. This makes it fall under a gray area regarding legality, but no specific laws and regulations prohibit playing on it from the US.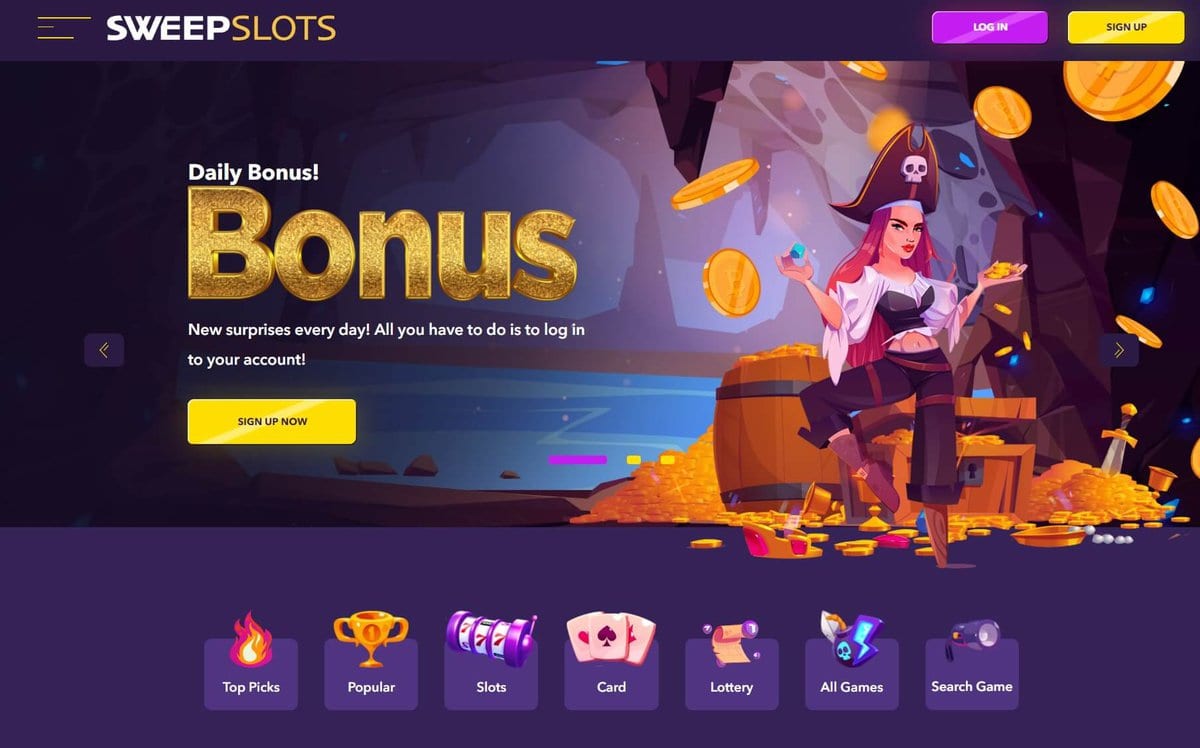 Therefore, US residents from all states, except Washington and Idaho, which have strictly banned sweepstakes casinos, can play on SweepSlots provided they're 18 or older. When you complete the casino sign-up process, you'll undergo an extensive verification process to ensure your safety and security.
Similar to most social casinos, you can play SweepSlots games using virtual Sweeps Coins and Gold Coins. You can purchase Gold Coins with several payment methods, including popular e-wallets like Skrill or with a Visa card. Sweeps coins can be redeemed after playthrough for real money.
The SweepSlots casino features 33 games that range from fun and exciting online slots to card games and lottery games like keno and scratch cards. These games are powered by the venerable Casino Web Scripts software developer and are thoroughly tested for fairness and integrity.
All the aforementioned features and traits would make SweepSlots a good sweepstake casino option for US residents. However, the recent player complaints around the web regarding unpaid winnings have made the casino unreliable and difficult to recommend for new players.
Instead, several sweepstakes casinos have much higher credibility and even a larger selection of available games. For instance, the popular Pulsz casino features more than 200 casino games, including slots, blackjack, and video poker. Additionally, the WOW Vegas Casino features some amazing bonuses, including 4.5 free Sweepstakes Coins WOW Vegas no deposit bonus.
SweepSlots Online Casino Bonus Terms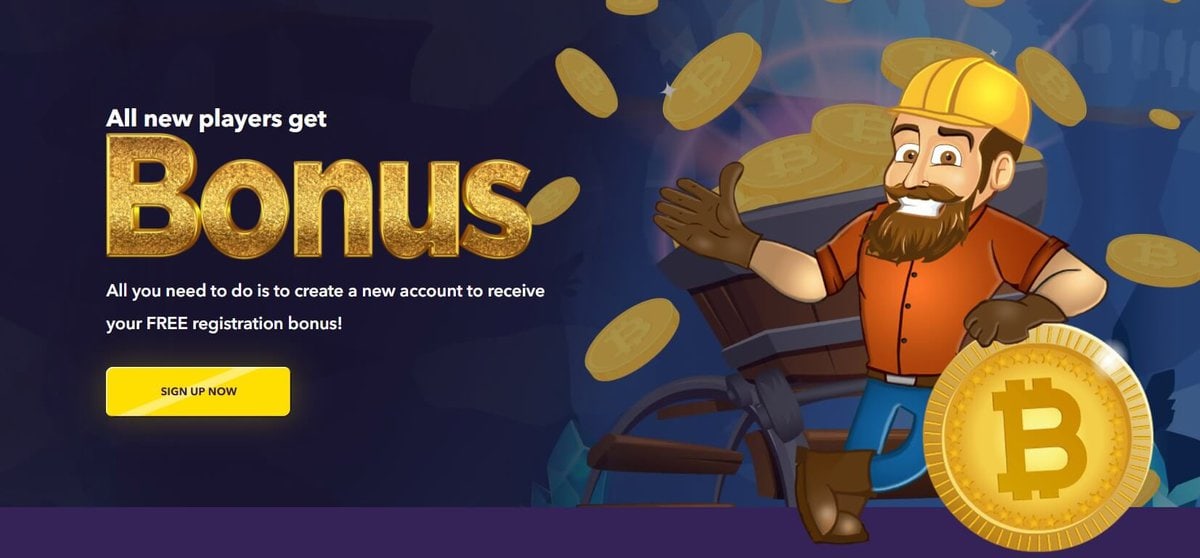 Every successful online casino needs to offer great bonuses to attract new players, as well as satisfy its existing customers. SweepSlots is no slouch in this department, as the social casino provides a decent welcome bonus for new players and a few promos for its existing player base. These include:
SweepSlots No Deposit Bonus: New registrees at SweepSlots are rewarded with a no deposit bonus of 10,000 GC and 300 SC. While this bonus isn't marketed anywhere on their site, we have confirmed its existence while testing out the platform.
First Deposit Bonus: Once you sign up and verify your SweepSlots account, you can utilize the platform's first deposit bonus for new accounts. When you purchase Gold Coins up to $20 for the first time, you'll be rewarded with a 100% bonus in Gold Coins and Sweep Coins. This way, you essentially get more than double your original purchase and can use the additional funds for a higher chance to win.
Daily Login Bonus: Even if you don't want to make a deposit, SweepSlots online casino will still give you credits to play your favorite slots and games through its daily login bonus. All you need to do is log in to your account once a day, and you'll receive 500 Gold Coins and 50 Sweep Coins that you can use for a chance to win at some of the exciting games on the platform.
Social Media Contests and Slot Tournaments: SweepSlots also hosts plenty of contests and tournaments where users can earn virtual currency. These are usually hosted through social media but occasionally take the form of a slot tournament or another online gambling extravaganza.
These bonuses allow you to play the SweepSlots games with little to no investment. However, as with any online casino bonus, they come with certain terms and conditions you'll need to read through and ensure you understand.
For instance, SweepSlots bonuses have a 100x wagering requirement, which is significantly higher than the average of around 40x found in other online casinos or the 1x at sweepstake casinos. Also, Regal Technologies may cancel or withdraw a promotion without prior notice and even kick you out of a bonus if they feel like it.
SweepSlots Casino Payouts
If you want to deposit on SweepSlots to buy Gold Coins, you'll be happy to find the platform supports multiple methods for your deposits. You'll be able to utilize standard payment options like your credit card, provided it's issued by VISA or MasterCard.
Another deposit option you can use on SweepSlots casino is Skrill. Skrill is a world-renowned e-wallet provider that allows for safe and discreet transactions. You can top up your Skrill account through a bank transfer or credit/debit card. Then, you'll be able to use it on the SweepSlots website to purchase Gold Coins and receive free sweeps coins.
You can also use a PaySafeCard or a Discover card to facilitate your banking transactions at SweepSlots. These are two legitimate banking options that can help you move money in and out of your account safely.
If you get lucky and win, you'll want to redeem your Sweep Coins for real money. You'll need to make a minimum of $50 in Sweep Coins before you can do so. You can use any payment option you want to redeem your funds, including bank transfer, but it's best to pick the method you used for your original deposit. Processing times can vary depending on your bank and range between 3 and 10 business days.
SweepSlots Online Casino Games & Software Providers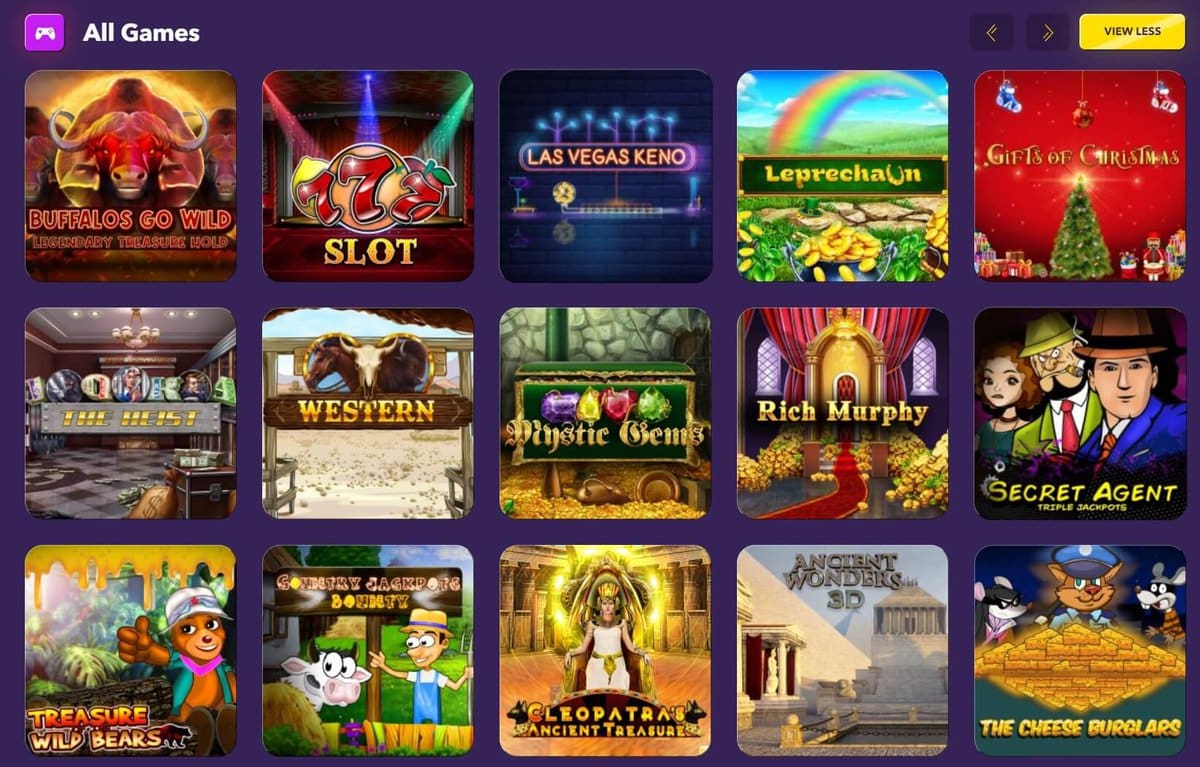 The SweepSlots casino features a unique selection of exciting casino games for you to enjoy. And the best part is you don't wager any real money on them, but you can win real prizes. The SweepSlots game catalog consists primarily of slot games, with a few options for card games and lottery games, like keno and scratch cards.
In total, you can find 33 unique titles that promise to provide you with plenty of thrills and excitement. Not to mention that the SweepSlots online casino adds new amazing games frequently, so you won't run out of options any time soon.
All the game operations at SweepSlots casino are handled by Casino Web Scripts, a popular software provider with a presence in the online gambling industry for over a decade. Casino Web Scripts provides complete casino solutions to different platforms, including regular online casinos, crypto casinos, and sweepstakes casinos. This should ease your thoughts about the fairness of the games at SweepSlots.
If you're a fan of mobile casino gaming, you'll be glad to know that SweepSlots is easily accessible through any mobile device. While it doesn't support a dedicated social casino app for your phone, you can easily visit the site from your mobile browser and enjoy the entire games catalog.
Are SweepSlots Online Casino Games Fair?
It's always important to know that the online casino games you play are fair and won't scam you. That's why having access to reputable software providers that have stood the test of time is essential for any successful online casino.
As mentioned above, SweepSlots utilizes software from Casino Web Scripts, a reputable provider that's been in business since 2010. It's not in the same league as world-renowned providers like NetEnt or Pragmatic Play, but there haven't been any serious complaints regarding the games from Casino Web Scripts.
Furthermore, all the games at Casino Web Scripts strictly use a Random Number Generator (RNG), which outputs results free of any patterns. This has also been thoroughly audited by independent testing companies, such as BMM TestLabs and iTech Labs, to ensure their fairness. An issue we have with this is failure for CWS to publish the fairness result tests over the past three years.
Is SweepSlots Casino Legal In The USA?
One thing that often comes up is the legality of SweepSlots online casino. It's clearly stated in the platform's terms and conditions that SweepSlots doesn't provide the option to gamble for real money. Instead, you play with virtual coins, and you have the chance to win real cash prizes.
This is the model that all real money social casinos operate under, allowing them to operate under US regulations for sweepstakes casinos. Thus, the SweepSlots online casino operates legally in the US, albeit without an official gambling license. However, the casino is not available in Idaho and Washington since these states have explicitly banned access to social casinos.
Is SweepSlots Online Casino Safe & Secure?
The lack of an official license for casinos like SweepSlots may raise some alarms for potential new players. While the platform isn't licensed or monitored by any gambling jurisdiction, it still has a few measures to ensure your safety and security.
To begin with, the SweepSlots online website follows the proper HTTPS protocol for basic web security. This means you don't have to worry about visiting the online website from any browser. Additionally, the platform supports the latest SSL digital encryption protocols, which means your financial and personal information remains safe.
Speaking of personal information, SweepSlots makes you go through an extensive verification process to ensure everything about you is correct. While this may seem like a chore, it's a crucial step to further increase its security.
Is SweepSlots Casino Legit – Reddit & Trustpilot Reports
The main reason our team decided to research further into SweepSlots casino was player complaints on several online platforms, including Reddit. Reddit is an online discussion platform, and it's very useful for gathering information about online services, such as social casinos.
The SweepSlots casino doesn't have a dedicated subreddit, and it hasn't stirred much conversation since it's a relatively new online platform. Still, the majority of comments and reviews we came across were mostly positive.
However, in recent months, there have been a few player complaints that piqued our interest. To begin with, one Reddit user encouraged others to simply "Stay away" from the platform in a conversation regarding SweepSlots.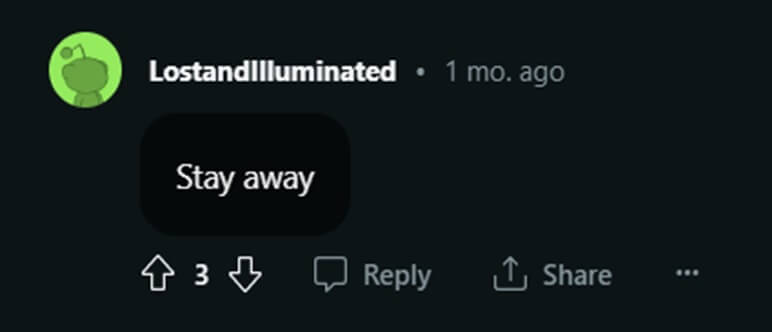 While a comment like this is hardly a novelty on the internet, it only gets worse, as further research showed several players facing issues where the casino hasn't paid out their winnings.

All this fuss got us curious and took us to another reputable reviews website, Trustpilot, only to find more of the same; users having issues with their redemptions and winnings not being paid out. One player from the US, in particular, was adamant about the bad customer support experience, with no one answering the phone or replying to their tickets. And, of course, not paying out multiple redemptions.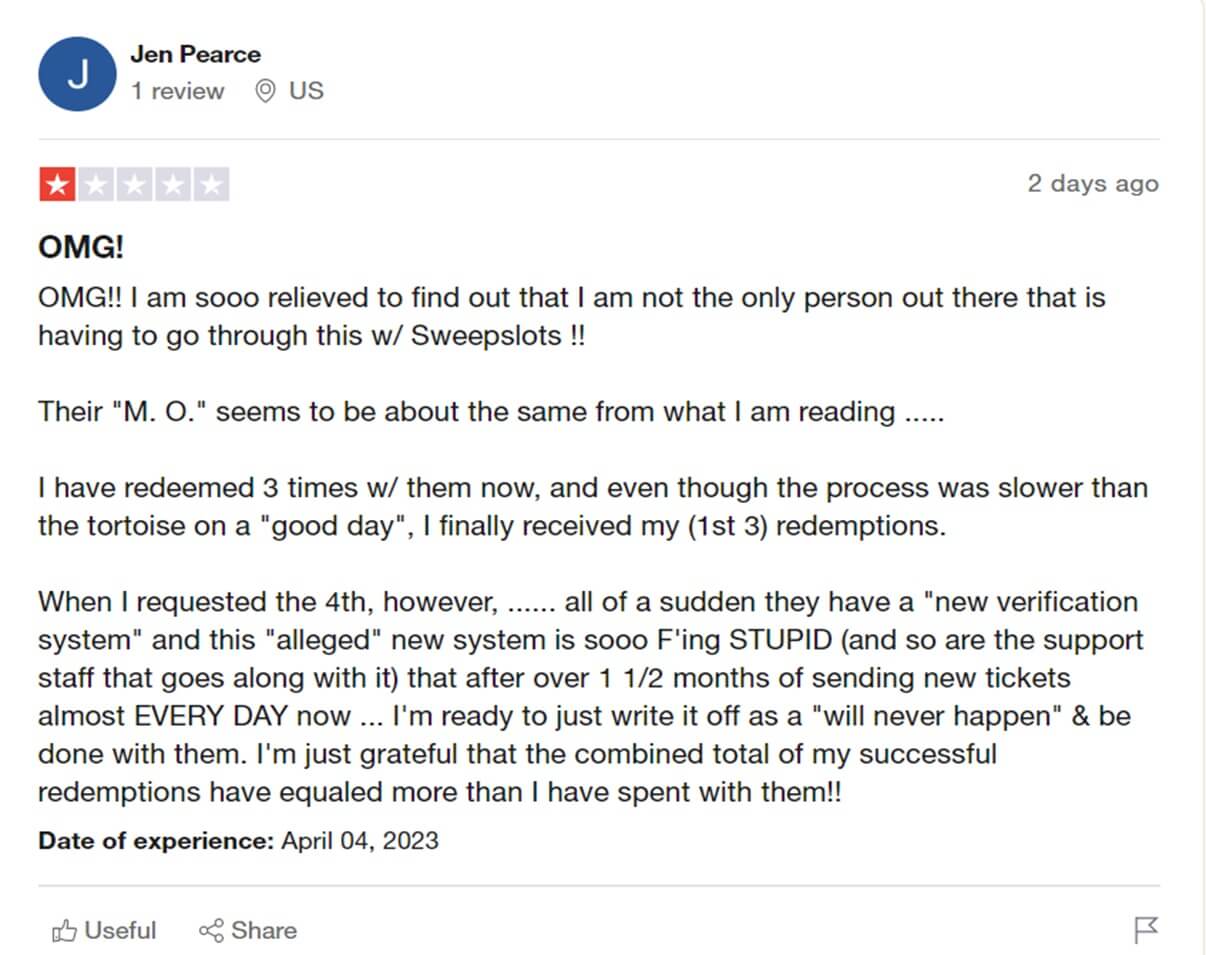 All these sudden issues have alarmed us to the point that we can no longer recommend SweepSlots casino as a trustworthy and reputable social casino provider. Unpaid winnings are a very serious concern for any players, and we wouldn't want to cause any discomfort to anyone.
Other Problems & Issues with SweepSlots
SweepSlots has changed a lot since its launch. We have been trailing its progress for more than a year, and even recommended it at some point.
However, they used to offer Bitcoin banking support, which they removed. Then, they used to implement a redemption process enabled after users played their SCs, to be transferred to a withdraw-only balance. This system was also slowly rolled out.
The constant change in features, lack of clear guidance on the SC conversion rate and steps, and various player payment issues set SweepSlots to our not-recommended list.
Should You Play On SweepSlots Online Casino?
After a thorough and extensive check on the legitimacy of SweepSlots casino, our final verdict is to not recommend the online casino to new players. If you've dealt with SweepSlots before and had no issues, then, by all means, keep using the platform. After all, there are many things to like about it, such as the variety of casino games and the multiple options for depositing.
However, the concerns and issues that many players have faced regarding unpaid winnings make us feel uncertain and unable to endorse it.
Instead, we recommend trying some of the other excellent sweepstakes casino options, which also offer a vast collection of casino games and are free to play. Some of the top alternatives to SweepSlots casino include WOW Vegas, Pulsz Casino, and Stake.us, among others.
FAQ's
Is SweepSlots real money?

SweepSlots casino utilizes two virtual currencies called Gold Coins and Sweeps, which have no actual monetary value. However, if you play with SC and win, you can redeem them for real cash prizes.

Yes, the SweepSlots online casino is a safe and secure platform that utilizes the latest digital encryption protocols to protect your data. Plus, the extensive verification process ensures your safety even more.

The owner of SweepSlots casino is Regal Technologies LLC. The company made a name for itself in the tech industry before establishing SweepSlots in 2021, although we cannot find many information on them.

How long does SweepSlots withdrawal take?

Processing times for your withdrawals can vary significantly at SweepSlots casino. You can expect to wait between 1 and 10 business days if you've completed the ID verification process, although we found reports of unpaid winnings.