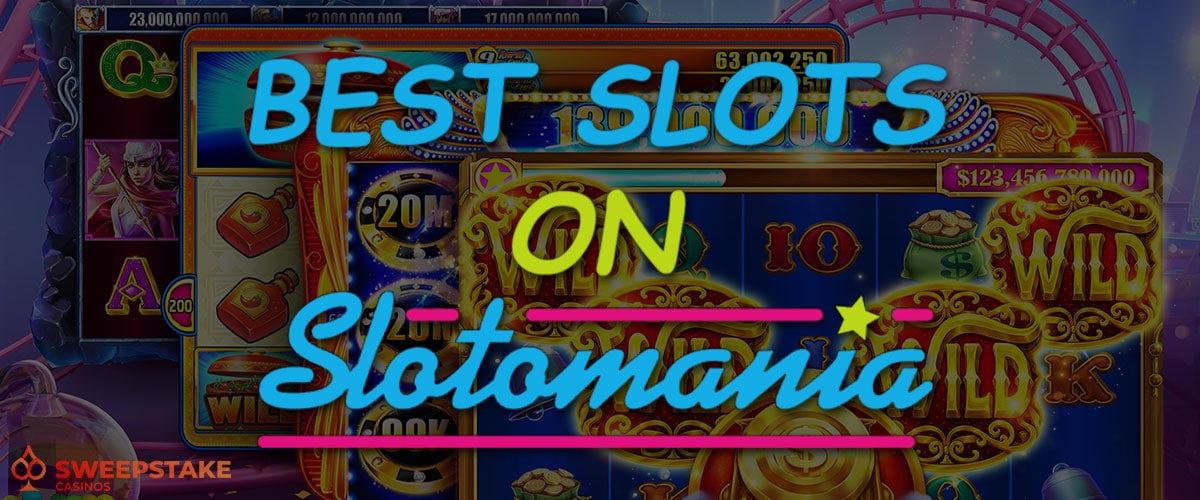 Slotomania – the name says it all! Players are just crazy about the slots games on offer at Slotomania, and rightly so. With over 180 games accessible on all devices and browsers, why wouldn't you want to join the fun? It's no surprise that regular online casinos offer bonuses on their slots; they know it's guaranteed to lead to new signups. The kind folks at Slotomania have allowed you guys to enjoy any of their games free without waiting for a promo! The games are packed with exciting features and high-spec graphics. They might be free, but they sure aren't skimping on quality.
Being a social gaming operator means Slotomania is legal in all US states (except Washington) if you are at least 21. You never have to risk real money to experience the thrills, and you'll be blown away by the diversity of the games you can enjoy. Of course, there aren't any real money prizes on offer at Slotomania; plenty of surprise rewards and free coins offers, though. So, what's stopping you? Signup and get those slots reels spinning with Slotomania. You'll receive one million free coins to play slot machines just for creating an account.
If the chance of winning real money without risking any of your own is necessary, visit one of our other fabulous sweepstakes casinos instead. WOW Vegas Casino, Fortune Coins Casino, and Pulsz Casino provide access to nearly 1,000 online slots for free, where you can also win real money in almost all states:
Five Top-Rated Slot Games on Slotomania Casino
Slotomania has outdone itself with its extensive games catalog, which grows fortnightly. Over 180 free casino games can be accessed, covering many themes from unicorns to karaoke and genies to mining. There is something for everyone.
Here are some of my favorites; I know you guys will love them too! They are the best slots on Slotomania!
🥇Medusa Magic
🥈Mermaid Money
🥉Wild Pixies
🎖️King of the North
🏅Mirror me if you Can
🥇

1. Medusa Magic
Medusa Magic is Greek mythology-themed slot machine game, set against Doric columns and Greek temples. It features symbols depicting the famous snake-haired gorgon, her defeater Perseus, and Pegasus, amongst other things.
The game is a visual triumph. The graphics are high-quality and brightly colored. The accompanying soundtrack swells heroically. It is a grid-style game comprising five reels over three rows with 50 lines to play. Best of all, the maximum bet is a giant 40,000 coins which makes for huge wins if you are a risk taker.
Being proprietary software, no RTP is detailed, but since more coins are awarded free every 4 hours, this isn't problematic. It's not your money you are risking.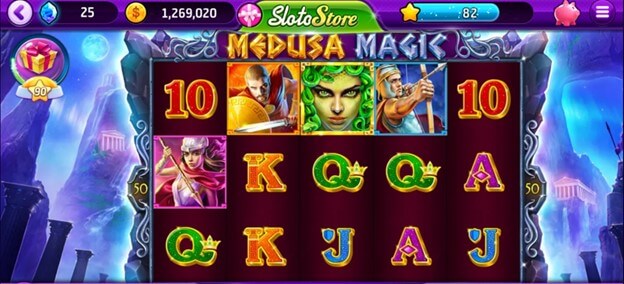 🥈

2. Mermaid Money
Mermaid Money slot machine game is an underwater fantasy and has a special place in my heart because I am crazy about mermaids, and it has its own swoon-worthy merman too. Lovers of The Little Mermaid will dig this.
Pretty to look at, with beautifully designed merpeople and Kraken symbols, this game is a real treat. Flap those fins and find the gem-laden treasure amongst the sea urchins and vibrantly colored fish.
Played over 4 rows of 5 reels with 50 paylines, this game has some quirky bonus features. The Love Bonus in the Mermaid Money slot machine is triggered when the mermaid and her merman love touch in a free spins cycle, turning their symbols wild. The Kraken's Crown bonus feature can lead to x3 or x5 multipliers on your bonus win.
The RTP of this game is not known due to the in-house software, but you can always play for free here if you like to know these things before taking a chance on your own dollar.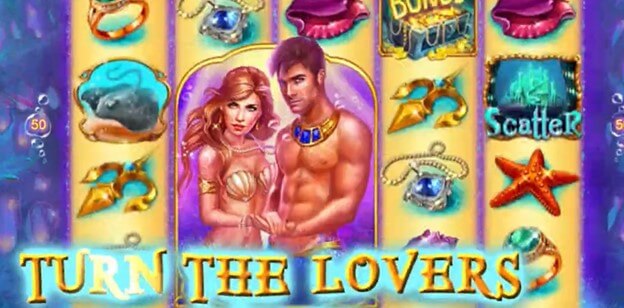 🥉

3. Wild Pixies
If you love escaping the real world and entering a wild and magical realm full of sweet pixies as much as I do then this slot machine game is unmissable.
Wild Pixies is graphically charming, set in an enchanted forest brimming with luscious foliage and curious creatures. The doe-eyed, pointy-eared heroines are brightly colored and busy spreading their mystical luck with a flap of their ethereal wings. The elusive rainbow pixie is the most fun and colorful of all.
Like many Playtika games, Wild Pixies plays on a 4×5 grid with up to 50 paylines. The sticky stacks, free spins and super stacked bonus features like the magic forest bonus keep play exciting, and small and large wins happen regularly – spin away and aim for the grand jackpot.

🎖️

4. King of the North
King of the North is a super cool slot machine game – pun intended!
Set in a frigid northern kingdom with gorgeous ice sculpture style K, Q, J, and 10 symbols, this game is a real treat for the eyes. Wrap up warm while you play – you can practically feel the chill.
A rousing regal soundtrack soars above the spinning reels. I adore this game. My favorite magic symbol is the northern monarch's crown. Set with gems and constructed from deer antlers it glimmers tantalizingly in the blueish light.
This game has an incredible big wheel bonus feature where you can spin and win – like a mini-game within a game. This slot can be lucrative, with a max per line bet of 800,000 coins and a max mega jackpot of 100,000,000 coins. It has 25 paylines and a familiar 3-row 5-reel layout. I can't believe it's possible to play this for free anytime!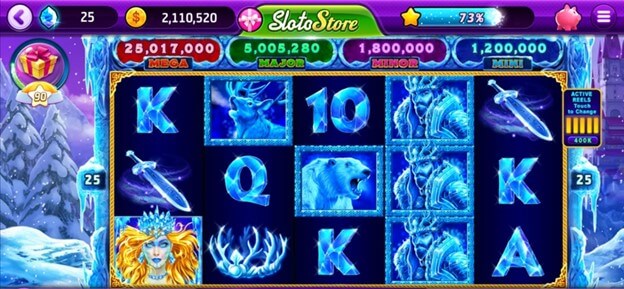 🏅

5. Mirror me if you Can
Mirror me if you Can is one of the most immense slot machine games at Slotomania – packed with stimulating bonus features not often found in slot games. It is set against the backdrop of a magnificent fairy tale castle as the sun slips low in the sky casting long shadows over the land.
It riffs on the traditional fairy tale of Snow White, who features in this game as a symbol alongside the familiar luscious apple, wicked queen, handsome prince, and seven dwarves. My favorite thing about this slot is the Who Wants to be a Millionaire-style question bonus round. Players can seek help from the 50:50 option, The Dwarfs' Vote, or The Prince's Best Guess before answering from the multiple-choice options left. If you answer correctly, you'll move up the jackpot ladder.
There are a massive 1024 ways to win – unlike any other slot machine. This game is one that you should not miss!

Highest Paying Online Slots on Slotomania Casino
The unique thing about Slotomania Social Casino is its approach to free play in an online setting. I have played for dozens of hours now, and I have never had to buy any of the coin packages that appear as popups to do so. There are so many ways to claim free coins that I can bet ridiculous amounts (or they would be silly to me if I was spending money) and keep playing.
When players can't redeem real money prizes, RTP becomes irrelevant. Since the slot machine games at Slotomania are built in-house, RTP information is kept private, but who cares when you can use free coins any time you want to play?
🎰Game
🤠Theme
⭐Bonus Features
💰Maximum Bet
🔢Number of Playlines
Silver Jr.
Big Cat Babies
Junior Cats Free Spins
Stacked Symbol Multipliers
2,400,000
50
Mighty Silver Deluxe
Jungle Animals
Coin Grab Repeat
Free Spins with Sticky Wilds
4,800,000
5
Wild Spinbad
Sinbad the Sailor
Spinbad's Adventure Free Spins
2,400,000
50
High Life Diamonds
Precious Gems
Free Spins
Super Free Spins
Mystery Coin Prize
2,400,000
30
Grand Sumo
Sumo Wrestling
Multi Coin Grab
Super Multi Coin Grab
4,800,000
50
Modes to Play Slotomania Casino Slots
Players love slot machine games because they are so simple to play. While there are sweeps slots strategies you can follow, they're not overtly complex and the base gameplay loop is extremely simple. Choose your game and bet size, and you are ready. It's worth remembering that virtual slots generally have a higher RTP than slots in land-based casinos; your money or coins will stretch further playing online.
If you are playing a paid-for game, use the demo version to familiarize yourself with its features before spending a dime.
To play slot machine games at Slotomania, you will need an account, but it takes only a few seconds to set one up. You can do this on your desktop or download the excellent mobile app for Android or Apple devices from the usual places. Below we'll take you through the signup process:
Enter your email address and create a password for use on the Slotomania site.
Hit the gray "NEXT" button.
Hit the green "REGISTER AND PLAY" button (this auto accepts the T&Cs too).
Hit the green "OK" button on the popup.
You will now see that you have received 1 million free coins for immediate use.
Select your game and play!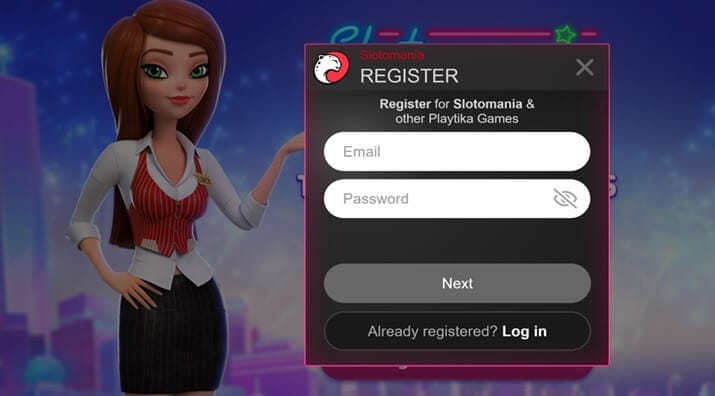 If you wish to purchase one of the available coins packages (you never have to but can move through levels and unlock new games quicker), then you may have to go through further verification procedures.
Where can you Legally Play Slots with Slotomania
Slotomania social casino is a Godsend for players who love slots but live in states where gambling for real money in online casinos is forbidden. For all you slot fans out there, you can access Slotomania's offerings legally from any state in the US except for Washington (as long as you're of legal age, which is 21). It's the same situation with all sites like Slotomania.
The team at Slotomania is well aware of how popular their games are with you guys, so they've made every effort to ensure you can access them in as many ways as possible. Download their quality app, which allows you to access all of their games from the App Store or the Play Store. Players rate it 4.4 stars out of 5 in the Play Store with over 50 million downloads recorded. If you prefer to play slots on the go, then never fear, the site is fully mobile-compatible, and all functionality is retained on iOS and Android devices.
Remember that to play slots for real money; you must be physically present in one of the states that license such activities: Michigan, Connecticut, West Virginia, Pennsylvania, or Delaware. More and more states are looking to begin extending licenses to top-quality operators, so keep an eye out for updates.
For same accessibility and quality as with Slotomania slots and ability to win cash prizes playing casino games legally, check out the new sweepstakes casinos exclusive to Americans:
How to win on Slotomania Free Online Slots?
Slotomania has been providing free slot machine games to discerning players since 2011. They have built up a loyal player base due to their games' exciting and innovative nature.
Playtika designed the games with immersive bonus features and superior-quality graphics that enhance the playing experience. There are some easy tips to remember when playing slots; we lay them all out here for you.
Always use the demo version of any slot you are considering playing first. It is free to play the demos and lets you get to know the game's features before you go ahead and bet for real. Almost all providers offer free versions of their games to let you decide if you like what you see.
Use a bonus to maximize your money and play slots for longer. Most bonuses can be used on slot machine games; check for exclusions before playing.
Check for RTP (return to player) information before you decide which game to play. The higher the RTP, the better for you; your money will stretch further. Look for games with an RTP of 96.5% or more – it's easy to find them now.
Take into account the volatility of the slot machine games you are considering playing. Volatility measures how often a slot pays out and how big those payouts tend to be. A highly volatile slot will provide large but infrequent payouts, while a slot with low volatility will give frequent but low payouts. High-volatility games are great for players with a large bankroll who can sustain long periods without a win before hitting big. The volatility ranking is average overall – winning small on high-volatility games and big on low-volatility games is still possible.
Slotomania Social Slots App
Slotomania has an app for players on the go that can be downloaded for Android devices from the Play Store and Apple devices from the App Store. It's free to use and functions in the same way as the regular site. Users can enjoy the main site's functionality from their mobile devices. All games can be accessed, and there is no loss of quality.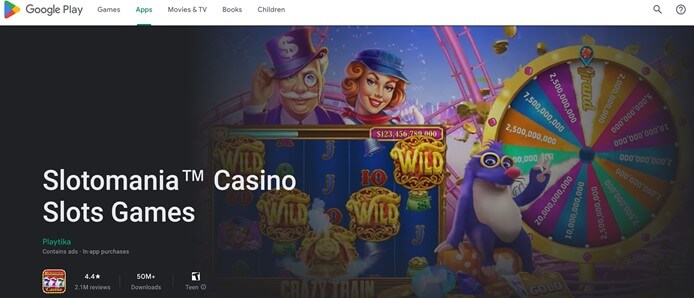 Slots Promo Code at Slotomania
Slotomania is the most generous social casino I've encountered when it comes to rewarding loyal players with free coins. For brand-new players, they offer a very generous no deposit bonus of 1 million free coins, credited to new accounts instantly. To make things super easy, players don't need to enter any promo code to claim this sweepstakes bonus offer.
I couldn't believe the number of free coins and ways to claim them offered by Slotomania. Most sweepstakes casinos offer free coins daily; once they are gone, players have to wait until the next day to replenish them. Not at Slotomania! They replenish their players' supplies of free coins every 4 hours!
Players can also grab free coins via email promotions, social media promotions, as gifts from friends, from Lucy's Daily Gift (400,000 free coins), the Daily Dash convert Dash Points to free coins via her daily gift of 400,000 free coins.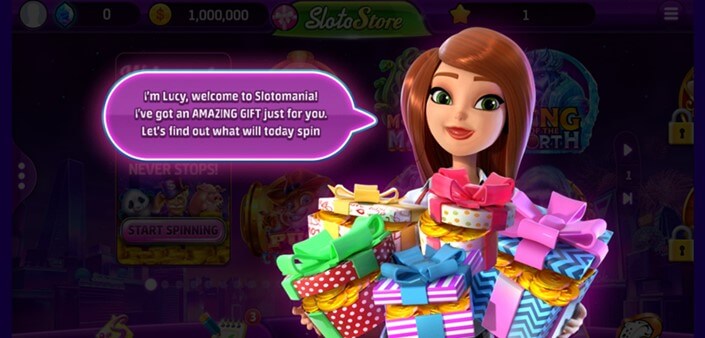 Games Software at Slotomania
Slotomania is exclusively powered by Playtika – a brand now synonymous with reliability and innovation. Most of their slots feature fun side games within the main game. Their entire product is based on following a narrative and associated challenges that unlock new features.
So, follow the road to Slotocity, complete lots of fun tasks along the way, boost your level, unlock new games, and I promise you'll enjoy every minute.
🎰Name
⭐Special Features
🤠Theme
Crazy Train
Loose Caboose Bonus
All Aboard Free Spins
Railway
Vegas Cash
Money Case Feature
Coin Grab Feature
Las Vegas
Wiccan Moon
Colossal Rewards Feature
Free Game Feature
Witchcraft
Get me a Prince
Find a Prince Wild Bonus
Free Spins
Fairy Tale
Smokin' Rapid
Rapid Fire Jackpots
Three Wild Triple Reels
Car Racing
Slotomania Slots RTP & Statistics
All slot machine games have what is referred to as an RTP or return to player, a measurement of how much it costs a player to play a specific game. The higher the RTP, the better for players, as they can expect to lose less to the casino. No slots game returns 100% to players – that would be unviable. Look for games offering RTPs of 96.5% or more – they used to be rare, but now players expect more and software developers and the operators they power must capitulate if they have an eye on player retention.
Let's take one of the most popular slot machine games of all time as our example – NetEnt's Starburst, which has an RTP of 96.01 %. What does that mean for you players out there? For every $1 you play on Starburst, you can expect 0.96c to be returned to you. It costs you 0.04c to play the game at minimum line bet.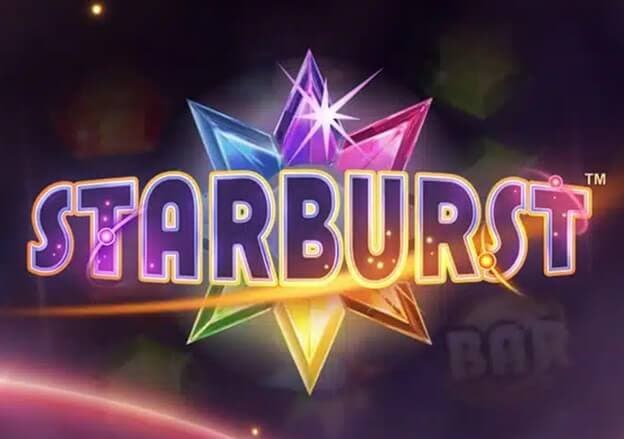 Be mindful of the fact that RTPs are a long-term average. In a single session, you may lose more or less than the expected RTP, but this number will be accurate over hundreds of thousands of spins and hundreds of thousands of players. External testing labs certify that slots games function as the software developer claims and that the RTPs are accurate.
Online slot machine games generally have more generous RTPs than land-based slot machines, such as those found in bricks and mortar casinos. So, make the most of this fact. Play online from the comfort of your home and only play slots with an RTP of 96.5% or higher – you want to make your dollars last as long as possible and hit big wins if you can.
New Slotomania Slot Games
Slotomania's slots design team at Playtika does a phenomenal job keeping their players entertained with brand-new games fortnightly. Being a slots-dedicated site means they focus on adding thrilling new titles to their catalog.
Luckily all titles are available state-wide, except for Washington, so you can access all the latest games without delay. The latest additions to Slotomania are laid out for you below.
🥇Trap a Ghost!
🥈Outlaw Showdown
🥉Puss the Cunning
🥇

Trap a Ghost!
This corny little offering is very clearly drawing on the cult Ghostbusters franchise. Billed as an "un-boo-lievably new game," this slot is bold, bright, and jam-packed with all the spooks you can handle.
You have to try and track them down to trap them before they get to you. The trickier the ghost, the bigger the prize for trapping it. The soundtrack shares a lot in common with many of the audio features in the original movie – distortions and eerie additions that will be recognizable as soon as you hear them.
This game is a lot of fun. Win free spins and hit mega jackpots to boost your coin balance when you've been tempted to blow all your coins.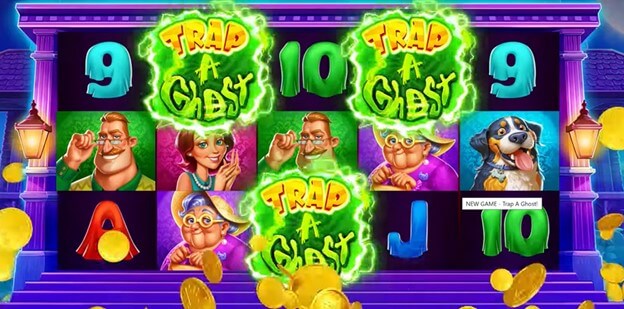 🥈

Outlaw Showdown
As made clear by the title, Outlaw Showdown is based on that classic western theme of black hats vs. white hats. The game reels are set inside a typical wood-built saloon, with a piano, lamps, and the all-important bar.
Thankfully the spittoons are kept out of sight! Symbols include a pistol in its leather holster, sacks of gold, cowboys, cowgirls, and the badge-toting sheriff responsible for upholding law and order. A typically western soundtrack overlays the visuals, and catcalls of "you little beauty," "it's high noon," "kick up those boots," and "welcome to the coin show" can be heard periodically as certain features make an appearance.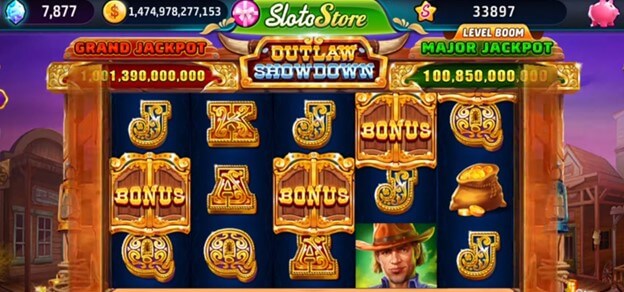 🥉

Puss the Cunning
Puss the Cunning pays homage to that most loveable fairy tale puss – the guy in boots – this time with a Mafia twist! The roguish hero of this game has a lot of appeal with his big eyes and snazzy dress sense; he's a real guy about town.
Superior graphics elevate the quality of this game, and with a grand prize of up to 50,084 coins and frequently awarded free spins, you will surely enjoy this new offering.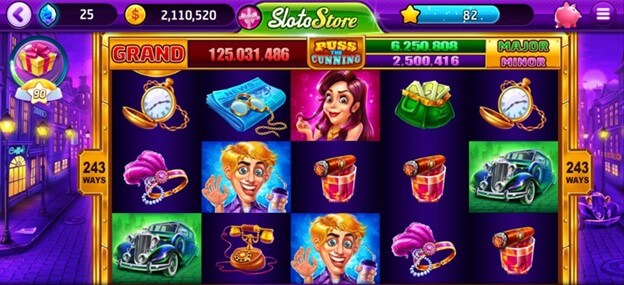 Are Slotomania Casino Games Fair?
Slotomania allows players to play exclusively for free if they wish to do so. Even when I deliberately blew all of my coins to see what happened, Slotomania allowed me ten more spins at minimum bet on them. With more free coins granted every four hours and with several ways to gather more each day, it is clear that players have no obligation to purchase ever. To this end, there is no need for Slotomania to put their games through independent testing. You don't have to spend any money, and you can never withdraw any either – what does it matter if you know the claimed RTP and whether this claim has been independently corroborated?
Slotomania is not an online casino that allows real money gambling: it is a social casino. It does not require a gambling license to offer its services to US citizens as long as they are not located in Washington. The only stipulation is that you are aged 21 or more and are in a state allowing social and sweepstakes casinos to offer their services.
Slotomania has an eye on the welfare of their playing community. They have a responsible gaming section that offers support, advice, and links to information for players experiencing compulsive gambling tendencies. It is also possible to self-exclude your account at Slotomania via a button at the bottom of their responsible gaming section.

Are Slotomania Slots Rigged?
Slotomania is not a regular online casino, so it is not subject to the same licensing and independent testing requirements as a conventional online casino. It runs on the sweepstakes model meaning its games can be played at no cost to customers and so it does not require an operating license, and its games do not have to be independently verified as fair.
Slotomania has an excellent reputation for player satisfaction that it would never jeopardize. Unlike offshore online casinos renowned for stealing player funds and operating unlicensed versions of well-known games that don't function as the original versions, Slotomania allows you to play free and at no risk at all.
FAQs
Which are the highest RTP slots on Slotomania?

Slotomania offers only proprietary games designed and built by their parent company Playtika meaning RTP information is unavailable. To be honest, RTPs are pretty inconsequential for players at Slotomania because so many free coins are awarded that you need never risk your money. Plus, you can never actually cash out real money, so no cash is ever returned to the player.

Can I win real money for playing Slotomania online slots?

Slotomania is a social casino and does not offer real money withdrawals connected to playing its games. Many other exciting rewards and surprises are offered to compensate for the lack of real money redemptions, so be sure to use them all.

Are Slotomania slot games free to play?

Lucky players can play Slotomania's games for free at any time. Slotomania cites 15 different ways to claim free coins to play their games. They can be claimed every single day. You need never deposit your own money in order to spin slots at Slotomania.

Which is the best game at Slotomania Casino?

This question has many possible answers since different players prefer different things. I think the best game is the one that has the best bonus features to keep things interesting, so for me, that has to be the Snow White-themed Mirror me if you Can with its multiple-choice trivia bonus feature.

How can I play Slotomania online slots?

It couldn't be easier to play virtual slots at Slotomania; it's the simplest signup process I've ever carried out. Just enter your email address and password, click the green "Register and Play" button, and you are all set. You'll receive 1 million virtual coins immediately just for creating an account!

Which slots pay the best at Slotomania Casino?

Different games are unlocked as you progress through different levels at Slotomania – the higher the level achieved, the more games are unlocked. Placing bigger bets changes the possible payouts, so you'd have to check the individual game rules for the games available at your level to get the answer that applies to you.

Are Slotomania slots the same as real money slots?

Slotomania slots are designed with the same care as real money slots. They offer the same innovative bonus features with multipliers, free spins, and wilds. There are games on every theme imaginable, and unlike spending real money on slots, you can always play the games at Slotomania for free.