Ocean King is a popular Arcade title that has grown to immense popularity over the years. This is because of its engaging gameplay with thrilling bosses and amazing rewards that keep players occupied. Due to the initial game's popularity, numerous series have been introduced over the years, including the Ocean King 2 Series and Ocean King 3 Series.
Each of these consists of amazing titles that further develop the amazing aspects of its predecessor. If you are considering playing the Ocean King series online for real money, this guide will tell you everything you need to know.
You'll also find out about the best fish arcade casino apps and the benefits you stand to gain from playing on them. Knowing this, let's get started!
Best Sweepstakes Casino Apps to Play Ocean King Online
Today, you will find tons of sweepstakes casinos that allow you to play online casino games and fish table games like Ocean King for free. These include Fortune Coins, BetRivers.net, High5 Casino, and Pulsz Casino.
The best part is that these casinos operate under sweepstakes laws allowing you to play legally in most US states. Most of these apps will allow you to play for free as they give you substantial bonuses when you register. With these bonuses, you can play online games for free, including fish table games like Ocean King, and win real cash prizes! This means you don't need to make a deposit to get started on this site, which is refreshing and ideal for players who want to have fun without spending a penny.
Moreover, sweepstakes sites like Pulsz offer apps you can download on your device, so you can play games free from home or any location. These social gambling apps work flawlessly and adapt to your mobile device screen, ensuring you don't miss out on anything by playing on your mobile device.
Another fish gambling game to keep in mind, as it is even better than Ocean King, is Emily's Treasure on Fortune Coins Casino.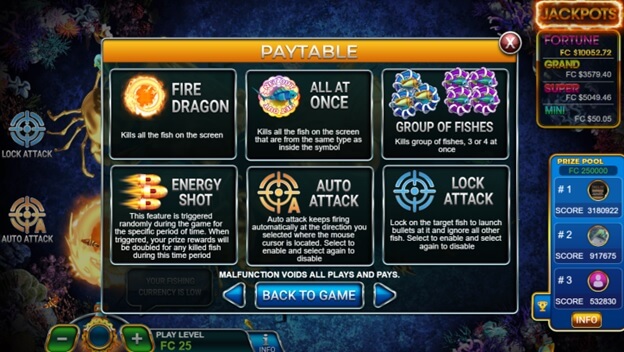 What is the Ocean King Fish Game?
Ocean King Fish game is a fish hunting game that is highly entertaining. It has managed to stand out from many other games in this genre because of its ability to keep players engaged for hours.
This game allows between 6 – 10 players to compete against one another to get the highest number of fish.
Players score points for each fish they get and the player with the most fish gets the largest payout.

Ocean King is well designed and its graphics make it amazing. Since it has a water theme, you feel like you are hunting in actual water. This game also has great resolution and a 55′ LCD display. As opposed to your typical arcade games, which provide an upright perspective, Ocean King fish does things differently. It uses a flat surface that lets you see fish by looking down in the water. This gives it a unique feel and explains why it is popular among players today.
Ocean King Gameplay & Features
The Ocean King Fish Game is very easy to play as you must catch as many fish as possible per round. To catch a fish, you'll need to shoot at it continuously. The more bullets you shoot at a fish, the higher your chances of catching the fish. Also, note that larger fishes, although more valuable, will require more bullets to capture.
However, if you manage to capture the fish, the value of the fish will be credited to your account. To make the game easier, the developer has incorporated many features that you can leverage. We'll be checking out a few of the major ones below.
Fast Bombs: This free single-player game comes up for only a short time. It can be accessed at random via the main menu. Once triggered, the player will be allowed to capture fish within the time limit. All the player needs to do is press shoot to attack continuously.
Fire Storm: This is another free single-player game that is active for a short time and can be accessed via the main game. During this period, players will be able to catch fish which could increase their available time and multiply their scores. Players can quickly press the shoot button to boost the speed of the attack. Once the round is over, the overall score will be multiplied by the set multiplier – which can give players a chance for amazing rewards.
Lightening Chain: This feature causes fish species to show up as lightning fish. These could range from clown fish, flying fish, fugu, flying fish, octopus, and lobster. If you catch any of these fishes, it will trigger a lightning chain, automatically catching fish until the time limit expires.
Vortex Fish: Some species of fish like lionfish, octopus, and saw shark can show up as Vortex Fish. Fishes in this category will pull all fish belonging to the same species into a whirlpool.
Golden Treasures: This is a multiplayer game that you can access at random via the main menu. Here, players will search for the Golden Fish and Imperial Whale using a searchlight to obtain high scores. Players may also get roulette treasure boxes that increase or multiply the overall scores.
Other Game Power-ups
Emperor Crab: This summons numerous crabs to attack all the fish using a lightning attack giving you a chance to multiply your earnings.
Almighty Octopus: This summons the Almighty Octopus's tentacles to attack any fish in the region – thus allowing you to multiply your overall wins.
Fire Dragon Turtle: if a player catches the Fire Dragon Turtle, it explodes, destroys all the fishes in the area, and multiplies your earnings.
Darkness Monster: This power-up can trigger seven waves of massive Lantern fish to attack the fishes in the sea and multiply your winnings.
Ocean King Versions
Due to the original Ocean King's amazing successes, numerous versions have been released over the years. Let's check out these versions below:
Ocean King: This was the first installment of this Arcade game that many players grew to love. It offered a few expansions, including Ocean King Arcade Fish Hunter and Ocean King: King of Treasures.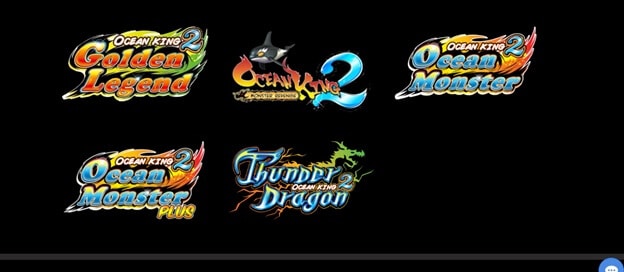 Ocean King 2 Series: This release works similarly to the original version, with improvements to gameplay and character features in the game. You'll find several games in this series, including: Ocean King 2 Thunder Dragon Arcade Fish Hunter, Ocean King 2 Ocean Monster Plus Arcade, Ocean King 2: Ocean Monster Arcade, Ocean King 2 Monster's Revenge Arcade Machine, and Ocean King 2: Monster's Revenge Golden Legend Arcade.
Ocean King 3 Series: This game series follows its predecessors with improved gameplay, mechanics, and huge rewards. Some of the titles available in this series include Ocean King 3 Plus Mermaid Legends, Ocean King 3 Plus Crab Avengers, Ocean King 3 Dragon Power, Ocean King 3: Turtles Revenge, and Ocean King 3: Monster Awaken.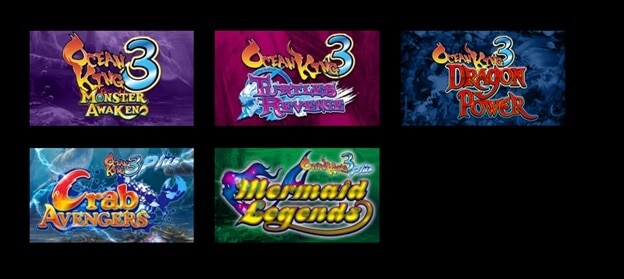 There is also a Chinese variant of the game, which has the same features. It features the same language, but the parts are not as durable as the original. The major difference is the language used, which comes in Chinese instead of English.
Getting Started with Ocean King Real Money Online
Playing Ocean King is very easy if you have the appropriate tips. We have put together this step-by-step guide to help you out if you have decided to play Ocean King online.
Choose the Ocean King Variant: The first step is to choose the variant of online Ocean King you like. As we mentioned earlier, there are numerous Ocean King online fish table products starting from the base game to Ocean King 3.
Insert your coins: Insert your coins to get credits for Ocean King online gambling. Once you do this, press the power button and pick your preferred bet level. Ocean King allows you to choose from three levels: Amateur, Junior, and Senior. Each of these comes with varying limits so pick the one that best suits you.
Start Playing: After choosing your ideal bet, you can begin the game. Use the joystick to change your gun's direction and aim at your target. Once you have locked in on a specific target, use the Shoot button to fire. You can also boost the shooting speed by pressing the shoot button continuously.
Once you capture a fish successfully, you are rewarded with points equivalent to the value of the fish. All weapons come with three levels, making catching various types of fish easier. These include the Normal and Accelerated speed and Aim for the target.
You'll find 17 different types of fish, which include:
Clownfish
Lionfish
Flying fish
Spearfish
Octopus
Killer Whale
Sea Turtle
Lantern Fish and many more.
Crabs consist of the Super Bomb crab, Drill Crab, and Laser Crab. This game also has four Boss characters which include:
Almighty Octopus
Ancient Crocodile
Darkness Monster
Emperor Crab
Note that every fish in the game offers different points, with some providing higher scores than others. If you aim right, you can land yourself massive wins.
Does Ocean King Skill Arcade Game Pay Real Money?
Ocean king is an Arcade game that does not pay out real cash. You can only play for fun alone or play simultaneously with your friends if you opt to play this skill game. Moreover, it is not available on any online casino site, so you can't play for real money online either. If you don't have any problem with these, you can have an engaging time playing this game for hours. Better still, you can check out one of the various alternatives to Ocean King listed below.
Fortune Coins provides the best fish game as an alternative. The other sites offer different types of skill games, like scratchies, slots, bingo, blackjack, poker, and table games.
Ocean King Real Money Cash App
Using the cash app payment method, many sweepstakes sites would allow you to make real money deposits in crypto. You can then use the deposit for playing Ocean King online for real money. Some sites that let you do this include Rivermonster, Riversweeps, Orion Stars, and Golden Dragon.
To do this, you will need to purchase BTC using your Cash app. First, open your Cash App and head to the BTC section. Purchase the amount of crypto you want and wait for it to reflect in your Cash App account. This should take an hour or less.
Next, head to any of the websites like those we have listed above that support this option. Register for an official betting account and head to the deposit option. Make sure you choose Bitcoin as your preferred choice and copy the Bitcoin address of the sweeps casino, and head to your cash App. Select the "Send" option here and paste the BTC address you copied. Input the amount you want to transfer from your account to the sweeps site and click on submit.
You should receive the BTC in your account within an hour. Then, you can begin to play Ocean King for real money. Even though the process is very simple, we can't guarantee your safety on these platforms. If you want to play the Ocean King Fish game for real money, we recommend you stick with any safe alternatives on our list. There, you can add real money via cards, eWallets, and banks. Alternatively, here is a list of the sweepstakes casinos accepting crypto, among which, SweepSlots being the only legit one.
Tips and Cheats for Ocean King Fish Arcade Game
The Ocean King Fish Arcade game is fun, especially if you know how to play it. Like all games, there is no guaranteed way to win. However, there are a few fish game tips and cheats you can use to improve your winning chances. Here are a few of them:
Alter your Strategy Depending on the Fish: Every fish requires different speeds and net size. It is important to note that there is not one strategy that suits all when playing the Ocean King online fish table game. Instead, change your net size, weapon, and shooting speed based on the fish you are trying to catch. Some fishes may require larger nets and weapons, while some may require more bullets which means you need to shoot faster than normal. Understand the fish and what it needs, then alter your strategy to get the best outcome.
Aim for Larger Fish: Larger fish have a higher value than smaller fish. This means landing a larger fish will provide you with more rewards than if you aimed for smaller ones. Options in this category include sea turtles, killer whales, sharks, etc. Whenever you can, make sure you aim for larger fish to quickly increase your Ocean King earnings.
Don't forget the Smaller Fish: Even though you should aim for larger fish, it does not mean you ignore the smaller ones either. Smaller fish die faster and don't require as many bullets as bigger fish. It might take time, but your score will gradually increase if you focus on the small ones when you can. What's more, smaller fish don't require as much ammo as larger ones which means you get more from your coins.
Shoot Strategically: This is a shooting game, and you have a limited amount of ammo. Even though it may seem tempting, don't shoot sporadically, as this will only deplete your ammo and coins faster in the Ocean King game. Instead, time your shots and only aim for those fishes you are sure of hitting. Doing this allows you to manage your coins and get the most from every deposit.
Can I play Real Money Ocean King on Mobile?
Yes, you can play Ocean King for real money on mobile. There are dedicated apps available for Android and IOS users. Android users can find the app on the Google Playstore or as an Apk File. The Android version currently has a 4.4 Star rating from more than 2,000 users and 100K downloads which is impressive. IOS users can also find the app on the IOS store if they have IOS 10.0 or later.
Other Games Like Ocean King Available Online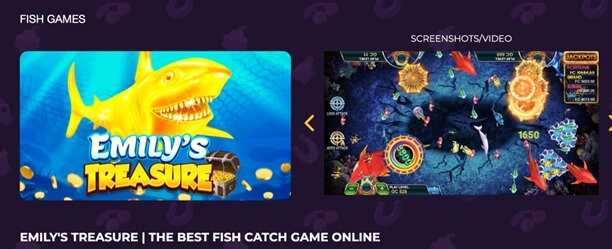 If you love fish games, there are alternative fish table game products like Ocean King that you can try out online. Emily's Treasure is one of our recommended picks available on Fortune Coins sweeps casino. This impressive fish game lets you dive into the ocean to catch as many sea creatures as you can using a special canon. You can play this title for free without spending any cash.
The best part is that you get up to 140,000 Gold Coins + 500 Fortune Coins no deposit bonus when you register on Fortune Coins. This will allow you to play Emily's Treasure and a range of other titles for free! Other great options include Wild Water, Oceans Treasure, Water Dragons, and Secret of Atlantis all available on Golden Nugget Online Casino.
Off to The Sea Hunting for Cash with Ocean King!
Ocean King is one of the leading fish table games you can find today, which is not surprising. It offers a range of features and entertaining bosses and rewards that can keep you occupied for hours. What's more, the developer has carefully invested in creating Ocean King variants that provide players with an enjoyable experience.
We have listed out everything you need to get started on this site. However, if you want to play this game online for real money, there is currently no opportunity to do this.
Fortunately, we have listed out fish tables that offer you a similar level of engagement to Ocean King. One of these is Emily's Treasure available on Fortune Coins. Sign up today and get  140,000 Gold Coins + 500 Fortune Coins to get started on this fish table game and many more on offer.