Crazino Slots is a social casino app open to 18+ players across all 50 US states. It first surfaced on the web in 2020, although the mobile apps didn't get released until mid-2021. While the exact launch date is a bit fuzzy, we do know that the free-to-play platform was put into play by Playcent Games Limited, a CTV game developer with roots in Cyprus.
Pros
Big welcome bonus
Unique slots
Good-looking interface
Various ongoing promos
Great mobile apps
Cons
No prize redemptions
No desktop platform
Only slots available
A handful of games
Few purchase options
You can join the action through multiple channels, including iOS and Android apps, Google TV, Apple TV, Amazon Fire TV, and Roku. Upon signing up, you will receive 5,000,000 Gold Coins on the house to be used on their slot games.
Although Crazino Slots appears legit, it doesn't offer real prize redemptions. Also, the slots selection is really slim, which might leave some players short-changed.
We'll take a closer look at Crazino Slots in this review. However, if you love exquisite gaming experience, you might be better off checking out sites like WOW Vegas, Fortune Coins, or Stake.us. These top-tier sweepstakes casinos host hundreds of games and offer the chance to bag real prizes in almost all states.
Crazino Slots Review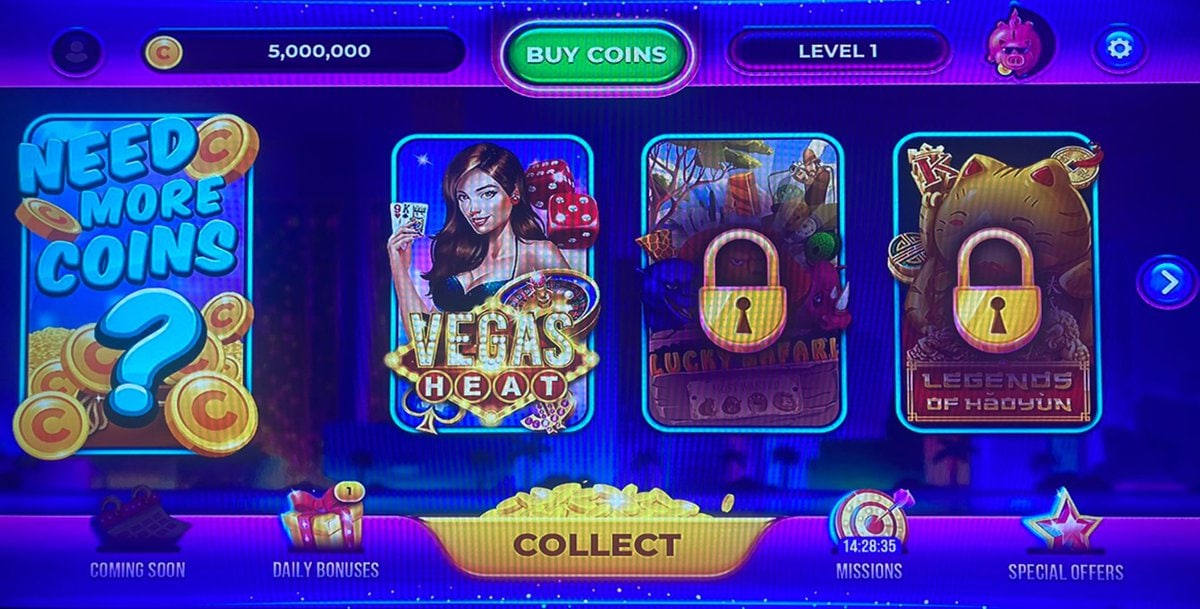 Crazino Slots is a Vegas-themed social casino that offers a little more than a dozen free slots. At the entry level, only one game is open for play, while the rest unlock as you level up — a progression that ticks along quite quickly.
When you join Crazino, you'll be given a 5,000,000 Gold Coins (GC) welcome bonus. No promo code is required to claim this offer. If you find yourself running low after some heavy spinning, more GC are available for purchase, with packages priced between $0.99 and $49.99. There are several ways you can score free coins, though, including the Lucky Wheel, daily and hourly bonuses, and more. So, unless you're really burning through those coins, you're unlikely to run dry.
Uniquely, Crazino Slots is designed to be compatible with a range of Connected TV (CTV) devices. This means you can play games not only on your iOS or Android phone but also on Google TV, Amazon TV, and the Roku streaming platform. Unfortunately, it doesn't currently support browser-based desktop play.
Crazino Slots is one of several platforms developed by Playcent Games. Its sister sites include Sloto World and Solitaire Sweet Saga, though the latter does not offer any casino games.
🎰Crazino Slots
🌐Website
https://playcent.space; https://crazinoslots.com
🎁Welcome promotion
5,000,000 Gold Coins at signup — no promo code needed
🎲Social casino games
13+ slots powered by 1x2 Gaming, Microgaming, Betsoft, and more
💵Minimum deposit
$0.99
💳Payment methods
Cards, PayPal
📱Availability
iOS, Android, Google TV, Amazon TV, Apple TV, Roku,
🇺🇸 Legal in
All 50 US states
💰Prize redemptions
❌No
🏛️Owner
Playcent Games Limited
🤝Sister sites
Sloto World, Solitaire Sweet Saga
Crazino Slots Free Coins
As soon as you join the platform, you're awarded 5,000,000 Gold Coins as a no purchase bonus. This haul should fuel your gameplay for quite a while. However, when you blow through your initial stash, don't sweat it. There are various avenues for keeping your coin supply topped up for free, as the casino is rather generous with its giveaways.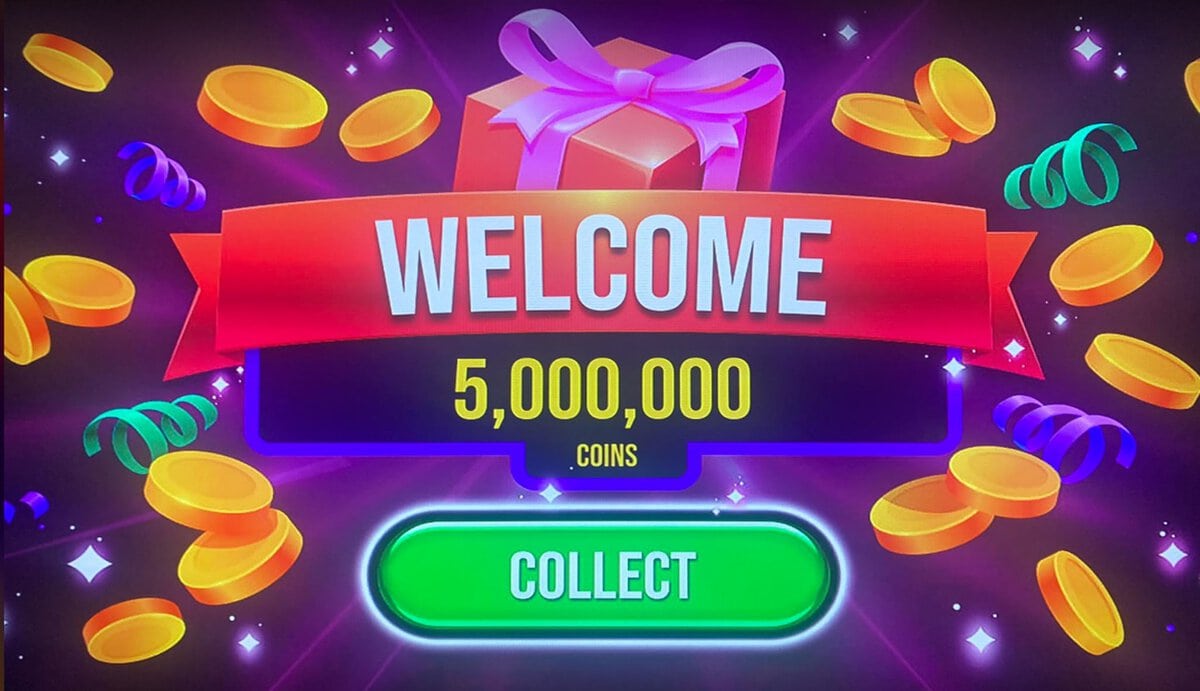 Here's how you can regularly bolster your coin stash:
Daily bonus: Each day, you can claim a hefty amount of coins that increases progressively with consecutive pick-ups. On the first day, you can collect 125k GC. Keep the streak going for seven days straight, and on the final day, you'll pocket 1,625,000 GC, plus a spin on the Lucky Wheel.
Daily missions: Every completed quest in the campaign rewards you with a hefty pile of coins. The initial tasks are pretty straightforward to wrap up. For instance, you can get 100,000 GC just for reaching a new level within a given promotional period of the daily missions.
Store bonus: By installing the social casino app on a Smart TV device, such as Google TV, you become eligible for a no-purchase bonus of 125k GC.
Special offers: These deals weren't available during our review period, but that's not to say they won't pop up for you. Such offers are likely rolled out for higher-level players or those who've made several purchases — like a VIP program.
Social media giveaways: Keep an eye on Crazino Slots' Facebook page. They dish out free SC coupons weekly, which can be a nice boost to your coin stash.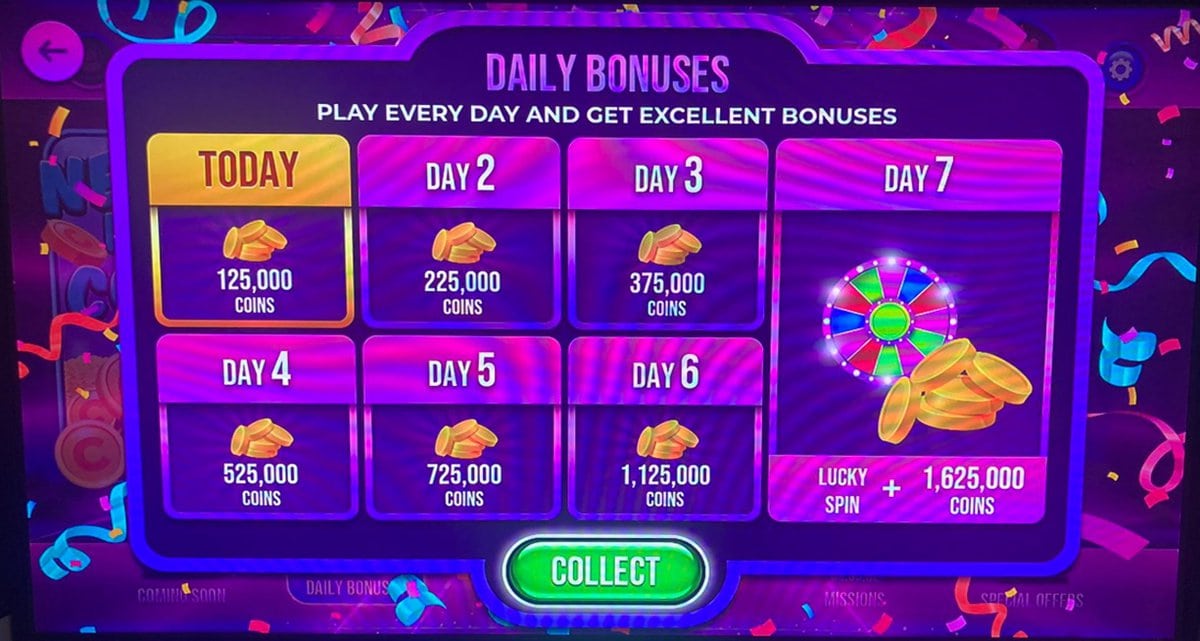 Free Coins Promo Codes
You generally don't need promo codes to unlock freebies at Crazino Slots. However, they do drop bonus codes and coupons on their Facebook and Twitter pages once a week. This presents an additional opportunity to beef up your coin balance, complementing the regular promotions already on offer for existing players.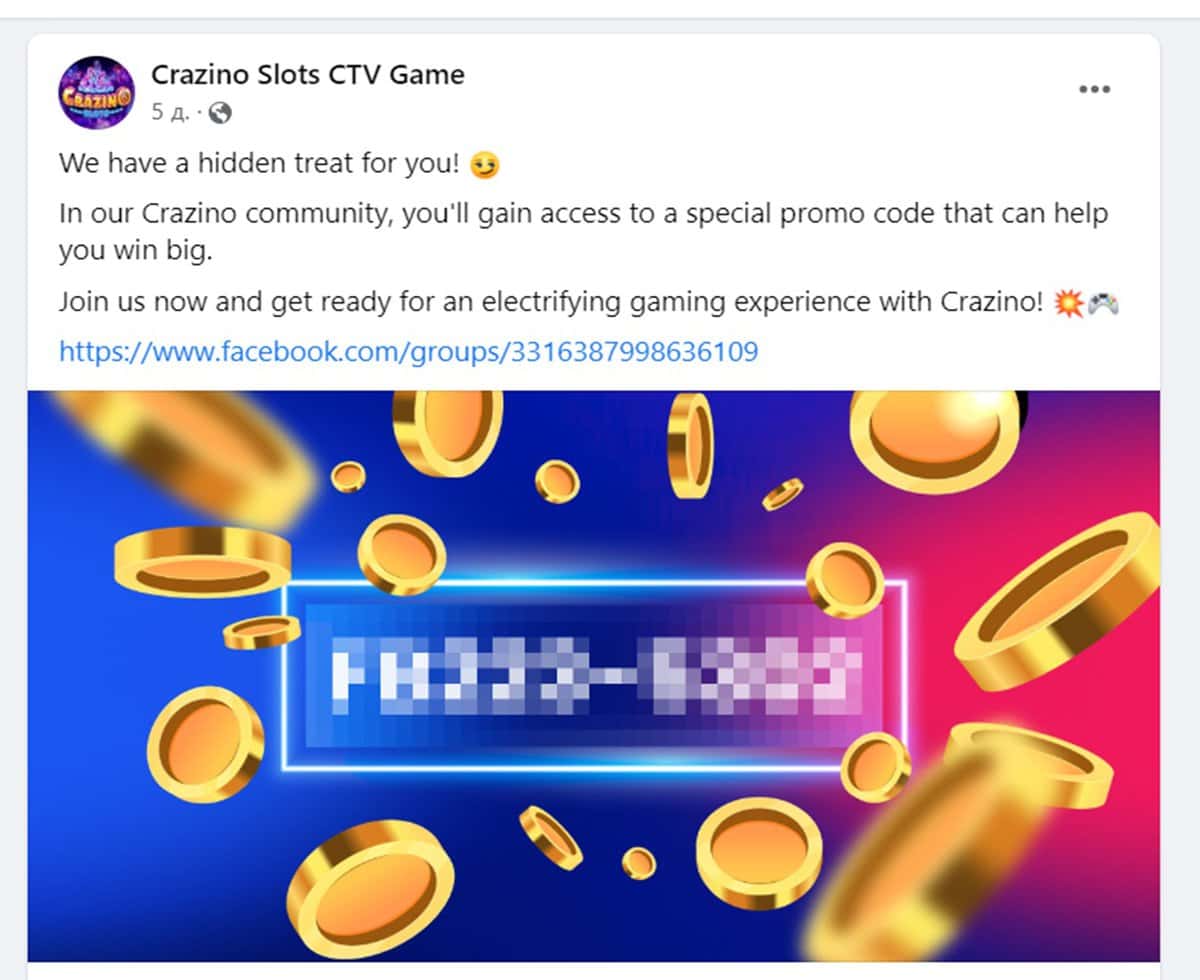 Free Coins Links
You don't need to search for promo codes or navigate through affiliate links to pick up free coins at Crazino Slots. A straightforward way to boost your coin balance would be by visiting their social media pages, as mentioned previously, and applying the coupons they share for extra coins.
How to Play at Crazino Slots
Crazino Slots welcomes US players nationwide. If you're 18 or older, you're free to join the fun.
Depending on your chosen device, there are several ways to start playing in this casino. Here are the specific steps for each platform:
Mobile apps: Crazino Slots is available on both iOS and Android devices for playing on the go. Head over to the App Store or Google Play Store, and look up "Crazino Slots." The Android app boasts an impressive 4.7 rating with over 10,000 downloads. Clearly, players are finding their time on the app well worth it.
Google TV: If you have Google TV at your disposal, you only need to navigate to the Google Play Store on your device. Run a search, download Crazino, and you can start playing right away.
Apple TV: For Apple TV owners, the starting point is the App Store. Here, you can search for "Crazino," download the game, and you'll be good to go.
Amazon Fire TV: Amazon Fire TV users need to look up "Crazino" on their device and download the app. Then, they can start playing free slots on their smart TV.
Roku: Crazino Slots is also available on Roku devices. Just search for "Crazino" in the Roku Channel Store, add the channel to your account, and then launch the game to start playing.
Crazino Slots does not currently support browser-based desktop play. However, with the range of available options, you should have no problem finding a convenient way to enjoy Crazino Slots.
Remember, you don't need to sign up for an account to get in on the action — you can jump into gameplay as an unregistered user.
Crazino Slots Casino Experience
Crazino Slots features a retro theme mixed with a Las Vegas vibe. The main website operates as a central hub where you can access the terms and conditions or find instructions that will help you set up the platform on your preferred device.
Once you join Crazino, you'll be immersed in a thrilling Vegas atmosphere. The backdrop reflects the vibrant Las Vegas skyline, complete with bright, dazzling fireworks. All essential controls are within easy reach — as a result, no scrolling is required. At the top, you'll find your coin balance and level progress meter, making it simple to monitor your status.
The casino games occupy the middle section, and you can browse them via an arrow button. Lastly, the bottom of the screen is reserved for promotions.
The design of the site certainly conveys a no-nonsense, user-friendly experience. The platform delivers rapid page loading times, and the slot game we sampled, Vegas Heat, performed seamlessly, free of any hitches or delays.
Casino Slot Games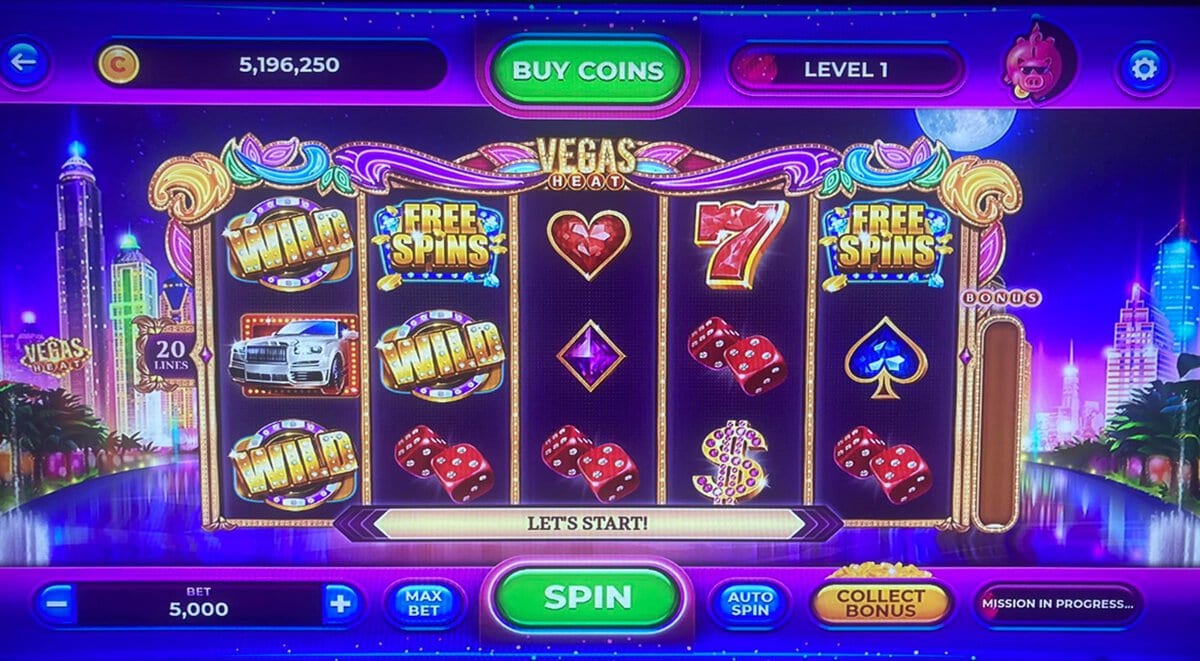 Crazino Slots may not feature a high volume of games, but it presents a decent spread that should ensure a fun spinning ride. Some of these slot games are developed in-house, which gives them a distinct identity different from anything else out there. Other titles are products of Betsoft, Microgaming, and other renowned companies.
There are over a dozen titles, the lion's share of which are unavailable at level 1. In fact, Vegas Heat is the only slot game you can play as a newcomer.
As you progress, additional games start to unlock from level 6 onward. Here's a taste of the titles you can anticipate:
300 Shields
Downtown
Fung Wong Fortune
Lucky Safari
Crazy Soul
Burger Chef
5 Reel Drive
2 Million B.C.
After Night Falls
The selection spans a range of popular themes, like cartoons, Ancient Greece, horror, and action, all nicely executed with pretty solid renders. There's also a fun Asian-themed slot machine called Fung Wong Fortune with all the trappings of the genre.
The regular extras are present — free spins, multipliers, and wilds. However, don't expect to find crazy fun features like Megaways. With an average betting range of 2k–50k in most games, the daily coin bonuses should give you a fair number of spins (between 100 and 200).
In the grand scheme of things, Crazino Slots does deliver a fun gaming experience, but it doesn't quite hold a candle to premium sweepstakes casinos like Funrize, McLuck, and Pulsz. So, if you get bored of mundane spinning at Crazino Slots, check these out. A high-flier like Pulsz is the ultimate destination for slots fans, as it features a wealth of top-tier titles from big-name providers like NetEnt, Playson, and Pragmatic Play.
Does Crazino Slots Pay Out Real Money?
You can't win real money at Crazino Slots as this is a social casino site. You can only use virtual currency — Gold Coins — to play games. These tokens have no financial value. Any winnings that you accrue can be used for further play but can't be redeemed for cash or other prizes. So, if you are looking for a traditional casino story, don't expect to find it here.
Since this gameplay model is only about fun and entertainment, it's legal from coast to coast in all 50 US states. But the flip side is that it can lead to some pretty mundane spinning when there's no real loot up for grabs. As a result, it falls short of top dogs in the sweepstakes casino world, like Pulsz and Stake.us, which offer free gameplay like Crazino but with an added kick — the chance to win real prizes.
Is Crazino Slots Legit?
The earliest mentions of Crazino Slots can be traced back to September 2020, although their mobile apps were launched in mid-2021. According to the Cyprus Corporate Registry, they officially began operations in February 2021. It's still uncertain whether that's the accurate founding date, but it seems likely. One thing is clear, though: Crazino Slots is a product of Playcent Games Limited, a company based in Larnaca, Cyprus, that develops gaming platforms for mobile and CTV devices. It's registered under the number HE 418 292.
After a thorough background check, we didn't uncover any questionable or suspicious activities. Further evidence of Crazino Slots' legitimacy is their presence on major online platforms like Amazon, Google Play, and Apple's App Store. These entities maintain stringent vetting processes and would not associate themselves with a disreputable brand. The casino also boasts a 4.7 rating on both the App Store and Google Play, with numerous glowing reviews. A detailed examination of their Facebook page didn't reveal any red flags, either.
All in all, Crazino Slots appears to be a reliable and credible operation.
Other Features
If you need to contact Crazino Slots, you have a couple of options. You can reach out through their social media pages, although given the simplicity of their platform, you likely won't have many queries. You can also drop them a message at https://crazinoslots.com/contact — typically, they respond within two hours. It's always a good idea to browse their Terms & Conditions and Privacy pages to understand their operations better.
For those interested in purchasing extra coins, Crazino Slots accepts payments via several banking methods including credit card or PayPal through Apple Pay and Google Store. Note that there are five different coin packages available.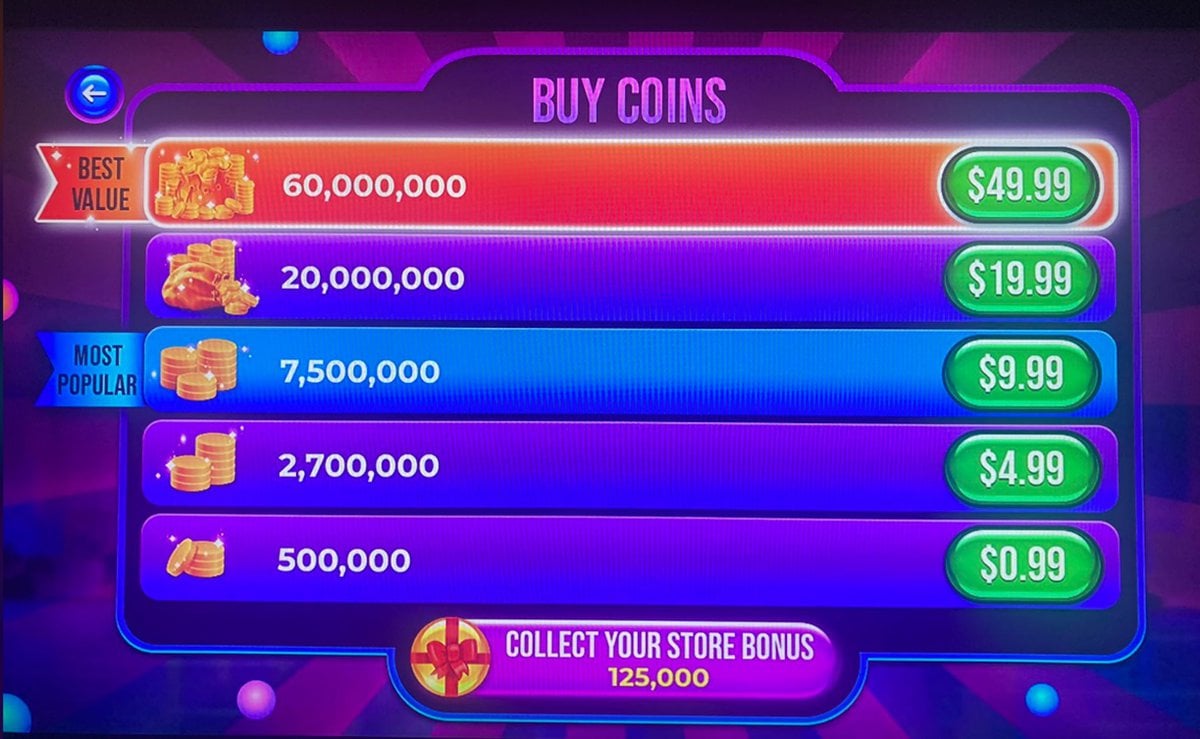 Just bear in mind that you won't be able to complete a purchase directly from your Google TV. Instead, you'll need to use an Android device with Google Play Store or a web browser. They'll provide you with the necessary link to make a purchase.
Would We Play at Crazino Slots?
Crazino Slots might be worth a whirl for folks who are in the mood for crazy Las Vegas fun gaming experiences and social casino admirers. There's a steady flow of coin giveaways, including the no-purchase welcome bonus and daily and hourly promos. This ensures there's enough on hand to fully explore what's on offer.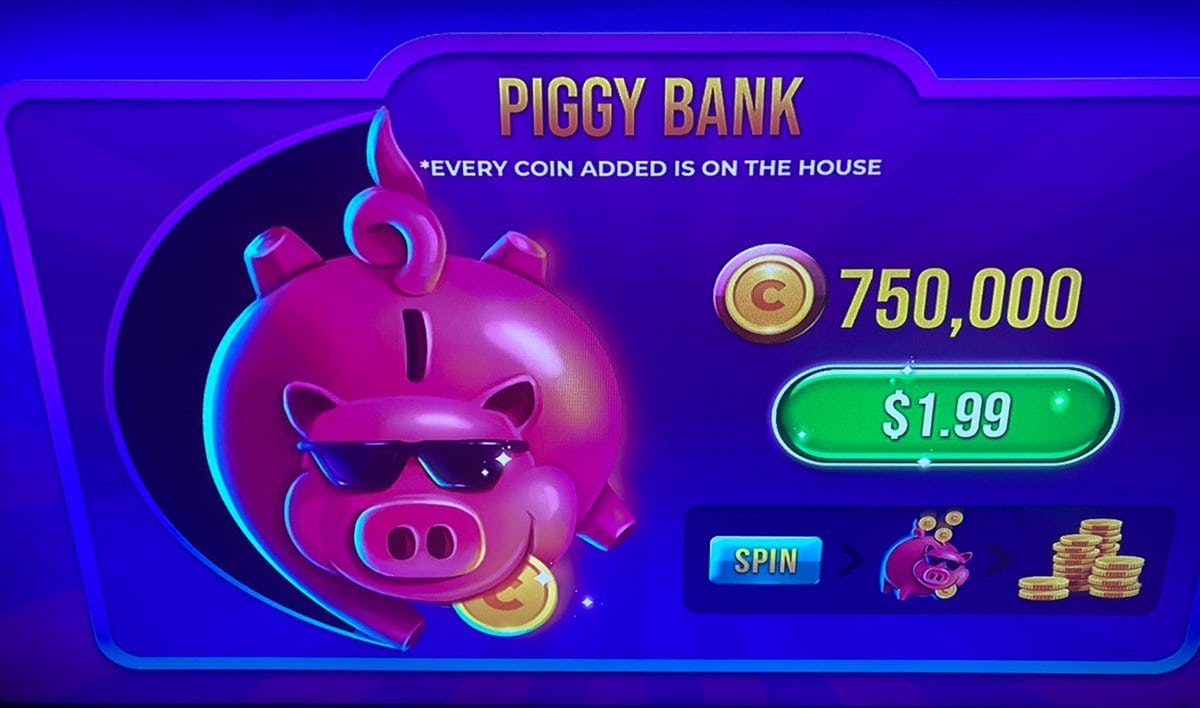 However, the limited number of games may not hold one's interest for extended periods, and the lack of real-world prize potential might leave some feeling a tad unsatisfied. For those moments, we'd likely switch gears and head to a top-tier sweepstakes casino like WOW Vegas, Fortune Coins, or Pulsz, where the gaming stakes feel more exciting and rewarding.