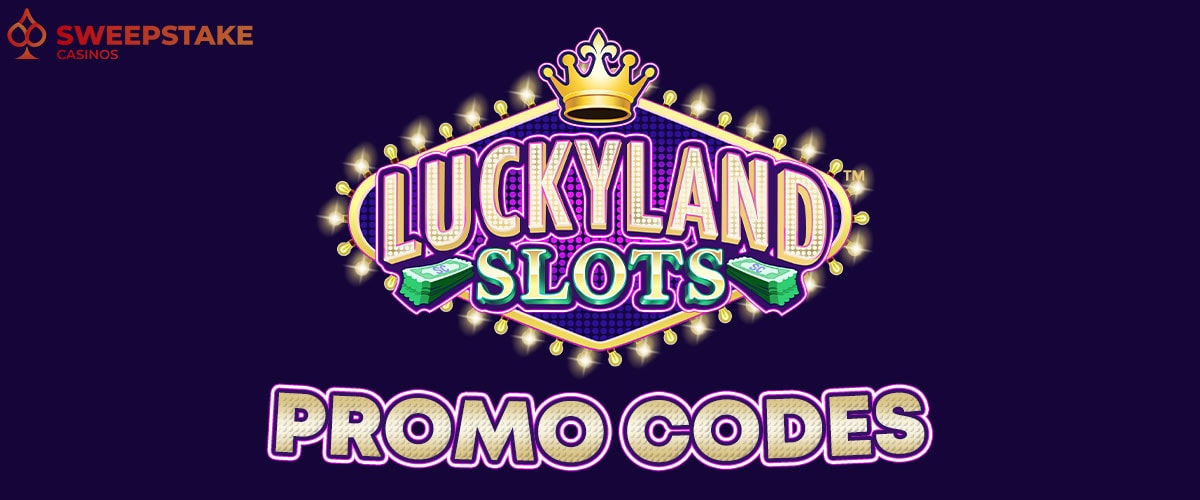 Get ready to take advantage of the exciting rewards that come with a LuckyLand Slots promo code. This social casino features an impressive bonus arsenal that spans from the signup bonus to free spins gifts and a loyalty program. Since no purchase is necessary, you get off to a stellar foot with a no deposit bonus of 7,777 Gold Coins + 10 FREE Sweeps Coins.
The casino operates on patented sweepstakes technology, so you can rest assured that your LuckyLand Slots bonus is legal and safe to use. LuckyLand Slots bonus codes are not required to claim the current offers at this casino, so you get them on a platter just for signing up or signing in. If you're looking for the next slots bonus code to use, McLuck is a great alternative that comes with a unique $2.5 no deposit bonus and 100% on your first purchase.
Keep reading to learn all the details of bonuses available at LuckyLand Slots.
LuckyLand Slots Promo Codes & Bonuses in a Nutshell
🎰LuckyLand Slots Promo Codes & Bonuses
🎲Social casino
LuckyLand Slots
🎁No deposit bonus
7,777 Gold Coins + 10 FREE Sweeps Coins
📜Bonus code
None
✍️Welcome bonus
$10 Gold Coin purchase for $4.99
🤑Other promotions
Daily login bonus, Free spins gift, Social media giveaway, Tournament prizes, VIP program
📅Last updated
October 2023
LuckyLand Slots No Deposit Bonus Code
Before we kick off with this online social casino bonus, let's reiterate that this offer requires no LuckyLand slots bonus code.
LuckyLand will offer 7,777 Gold Coins + 10 FREE Sweeps Coins as a reward for registering, and you'll find the bonus automatically credited in your GC and SC coin balances when you log in. This is a no deposit offer since you can claim it without spending any of your own money.
The sweepstakes rules that this casino abides by are the enablers of such free bonuses. With the LuckyLand slots bonus, you can immediately start playing exciting slots games for free. You can potentially win cash prizes too, which we'll explain how later on in this LuckyLand Slots review.
How it Works

It's super easy to claim this social casino bonus as a new player. Here's a breakdown of how it works:
Sign up at LuckyLand
The first step is to create a LuckyLand Slots account. Head to the official LuckyLand Slots website and click on "Play Now" to sign up. Android users can install the Android app from the site as well.
Get the Bonus
In the absence of a LuckyLand bonus code, your bonus is credited automatically after completing the registration process. Make sure you fill in all your details (name, email, address, etc.) and confirm your identity to receive free Sweeps Coins.
Use the Bonus
This social casino has a library of about 40 in-house developed LuckyLand slots games, all of which are eligible to play. Several instant win games like Lucky Numbers and Dragon Key are also available. As you play games, you can switch between Gold Coins and Sweeps Coins using the toggle icon at the top of the page.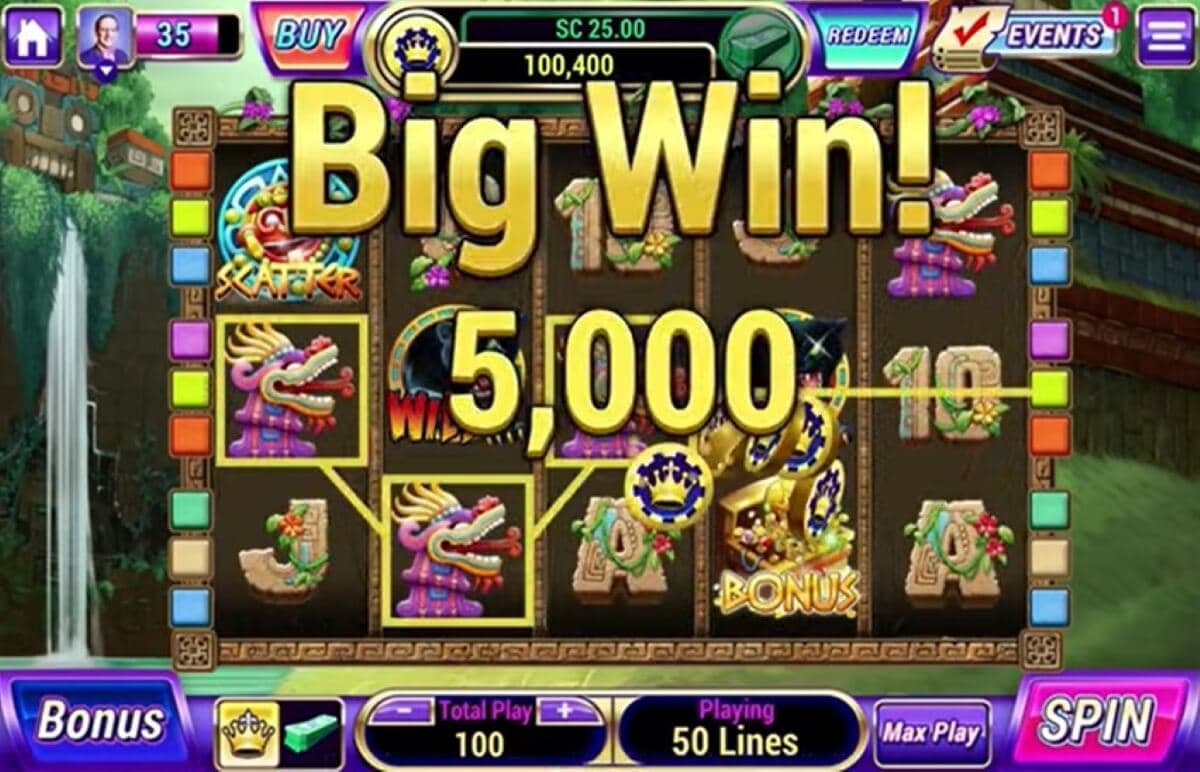 LuckyLand Slots Sign-Up Bonus
A LuckyLand welcome bonus is also available for new players at this site. It's a purchase bonus of $10 Gold Coins at the price of $4.99. This means more than a 50% discount on your first Gold Coin purchase. What you'll get is 50,000 Gold Coins plus 10 FREE Sweeps Coins in additional bonuses.
You can use this to fuel your Gold Coin play further and engage in more promotional sweepstakes games to win real prizes.
Wagering Requirements & Bonus Rules
The terms for the Luckyland Slots bonuses are the same as any other legal US sweepstakes casino. Typically, sweepstakes casino bonuses have no wagering requirements or time limits to claim them, and there are no restricted games either. These offers are a lot more lenient than regular online casino promotions, and sweepstakes operators make them incredibly easy to use.
That said, there are a couple of things you should know before using the bonus:
LuckyLand Slots bonus is valid in the USA except for Washington and Idaho.
Only players 18 years and over are eligible for the LuckyLand Slots bonus.
Promo Codes & Bonuses for LuckyLand Casino Members
Existing players at LuckyLand Slots casino can claim several more Gold Coins and Sweeps Coins offers. This casino offers the richest bonus array out of its sister sites, Chumba Casino and Global Poker. Each bonus is a way to earn more free Gold Coins and Sweeps Coins, so you can imagine that it's difficult to run out of these virtual currencies. Here also, no LuckyLand bonus codes are necessary.
Below are the bonuses for LuckyLand casino existing members:
Daily Login Bonus
Logging in to your LuckyLand social casino account brings free Gold Coins and Sweeps Coins via the daily login bonus. You get an increasing number of free coins every day. For instance, you get 0.3 SC on the first day, and when you log in for 7 consecutive days, you'll get 1 free SC on the 7th day.
Social Media Giveaway
Follow LuckyLand on their Facebook and Twitter pages, and you can benefit from special free Sweeps Coins giveaways. Social media contests and giveaways are regularly available for LuckyLand players.
Free Spin Gifting
This is the casino's version of a referral bonus. You can gift free spins to as many as 50 friends per day, and friends can gift you back. The casino will provide you with free spins along with your daily bonus. To check your free spin gifts and share your stash with others, select "Gift" under your account.
Tournament Prizes
LuckyLand keeps up the engagement and excitement with regular tournaments. These challenges come with prize pools to be shared among the top-performing players. Both Sweeps Coin and Gold Coin tournaments may be provided.
VIP Program
It pays to be a loyal player at this casino, thanks to a VIP program that offers discounts on Gold Coins purchases. There are six tiers to the program; the higher you go, the larger the benefits.
About LuckyLand Slots Casino Bonus
The LuckyLand casino bonus is the driving force behind the free-to-play gaming experiences US players enjoy at this site. Besides the purchase bonus, all other incentives at this casino can be categorized as LuckyLand Slots no purchase offers. So you don't need any financial contribution to claim them. These offers are the same whether you play online or via the Android app (the only mobile app available at the moment).
LuckyLand has been offering great bonuses since they were launched by Virtual Gaming Worlds in 2019. Typically, any LuckyLand bonus will come with a combination of Gold Coins and Sweeps Coins to enable you to try standard games as well as promotional sweepstakes games. Gold Coins support standard games, while Sweeps Coins are for playing promotional games. The latter is your ticket to winning real money prizes at LuckyLand Slots.
Can I Win Real Money from LuckyLand Slots Bonuses?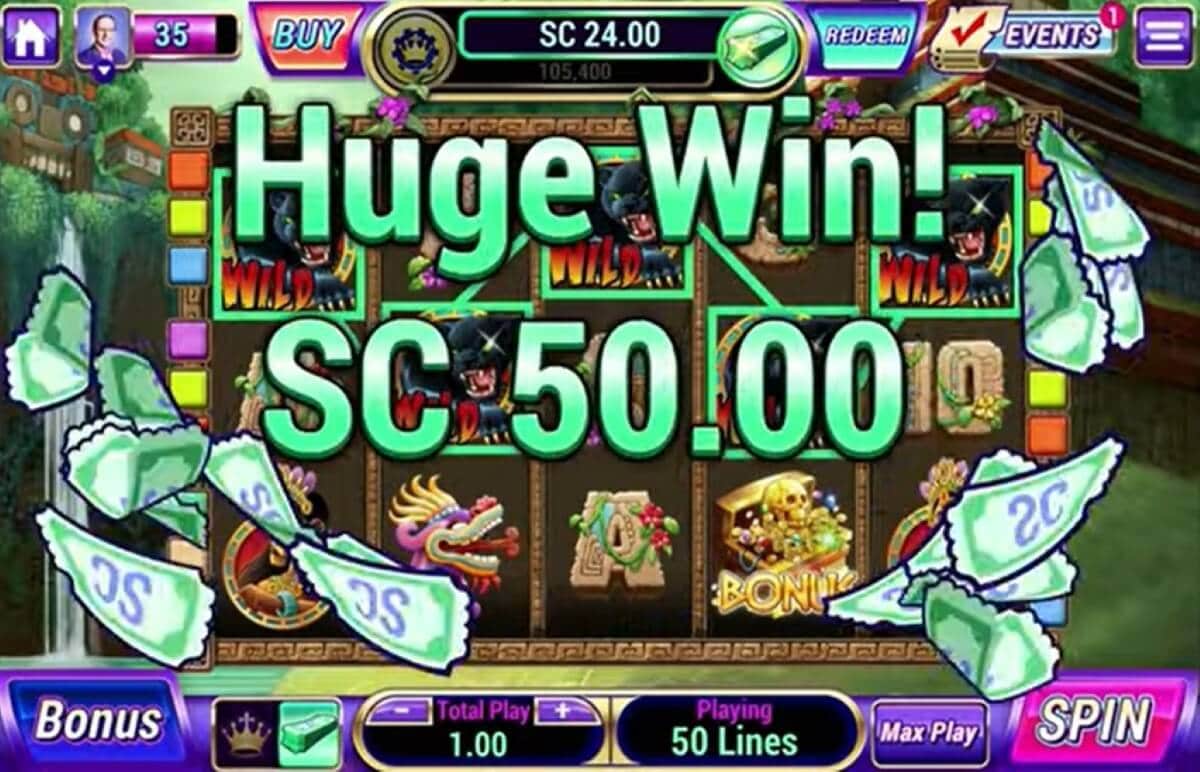 Playing at LuckyLand Slots offers access to exciting casino style games that you can enjoy for fun. It also offers the added opportunity to win real money from the LuckyLand Sweeps Coins bonuses. Although Sweeps Coins do not directly have any real money value, you can redeem them for real cash prizes.
To redeem cash prizes at this casino:
Use your Sweeps Coins to play LuckyLand Slots games.
Accumulate up to 50 free Sweeps Coins winnings. At LuckyLand Slots, the rate of redemption is 1 SC for $1, so the minimum redemption limit is $50.
Complete your ID check, including phone verification, providing a recent bank statement and government-issued ID.
Redeem your SC winnings for dollars via EFT.
Your bank account will be credited within 3 – 7 business days.
Are There Any Coupon Codes for LuckyLand Slots?
Although many players love the idea of using bonus codes, the absence of bonus codes at this casino makes it one step easier to claim these offers. Whether you wish to claim the purchase bonus or tournament prizes, you don't have to worry about coupon codes or rewards codes.
Do Free Sweeps Expire on LuckyLand Slots?
Free Sweeps Coins expire after 60 days from when you last logged in to the LuckyLand app or web browser. This applies to your Sweeps Coins bonuses and redeemable Sweeps Coins winnings. Fortunately, you can avoid this. You won't have to forfeit your Sweeps Coins as long as you regularly log in.
Tips & Tricks to Get More Free Sweeps at LuckyLand Casino
More free Sweeps Coins mean more chances to win cash prizes playing your favorite slot games. So if you ultimately play for the rewards, here are some LuckyLand Casino hacks to keep your SC balance in the green.
Log in regularly to LuckyLand – Even if you're not looking to play every day, log in to claim the daily bonus. When you do decide to play, you'll have lots of free coins to play with.
Participate in as many promos as possible – Contests, tournaments, and game challenges are great ways to earn more free Sweeps Coins, but these require active participation. So don't be shy and join in whenever you can.
Don't hoard your SC bonuses – Sweeps Coins are valuable, and you might feel like you need to hoard them. Besides, they'll expire if you forget to sign in for 60 days.
Play promotional games with SC – It's a good idea to try games with Gold Coins first and familiarize yourself with the gameplay. But make sure you regularly play promotional games too. The more you play, the more you can win SC, and only your SC winnings from gameplay hold real cash value.
Purchase Gold Coins – The idea of a sweepstakes site is to allow you to play for free, but there are benefits to making a purchase, such as the free Sweeps Coins you receive with most packages. There is also lots of value to be earned when taking advantage of the discounted purchase bonus at only $4.99.
FAQs
What is the no purchase bonus code at LuckyLand Slots?

There isn't a no purchase bonus code at LuckyLand Slots. You can simply get the bonus of 7,777 free Gold Coins and 10 Sweeps Coins when you sign up.

How to get free Sweeps Coins at LuckyLand?

At LuckyLand, there are multiple ways to get these free Sweeps Coins, from the no deposit bonus to the daily login offer, social media giveaways, etc.

How can I get free money on LuckyLand?

Sweeps Coins are essentially free money because you can redeem your SC winnings for cash prizes. So make sure to take advantage of free SC bonuses.

Can I claim a no deposit bonus on the LuckyLand slots app?

An Android app is available for LuckyLand Slots players. When playing on the app, you can claim the no deposit bonus just as you would via your web browser.

What are LuckyLand free spins?

At LuckyLand Slots casino, free spins gifts are one of the promotional features provided for players. The casino allows you to gift free spins to up to 50 other players and receive gifts from as many other members.