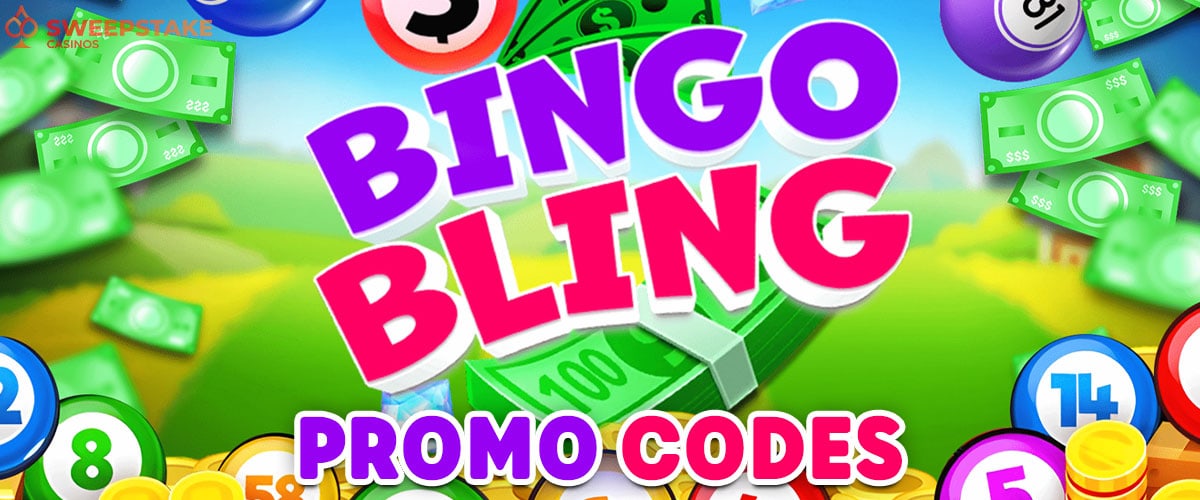 Bingo Bling gives you $0.15 when you sign up and a 33% first deposit match bonus when you spend $30, no promo code required. Bingo Bling also has a referral program – you can get $10 when your friend uses your refer-a-friend promo code and spends at least $10!
To get even more bonuses and win extra cash, sign up to these real-money bingo apps like Bingo Bling. These sites have lower fees than Bingo Bling and better promos to win even more real cash money in 48 states!
Keep reading to learn about the latest Bingo Bling promo codes, how this iOS app works, and whether or not it is worth your time.
Valid Bingo Bling Promo Codes
These are the current Bingo Bling bonuses, promo codes, and how to claim them. Make sure you take advantage of all of the rewards to maximize your bankroll!
| 🎁Bonus Name | 🤑Offer | How To Claim❓ |
| --- | --- | --- |
| No Deposit Bonus | $0.15 | Play your first game of bingo and receive |
| Welcome Bonus | $30 cash + $10 bonus cash + 1,000 gems | Hit the First Timer Deal button in the top right-hand corner and spend $30 |
| Reload Bonus | $8 extra + 1,200 | Hit the + sign next to your cash balance, hit the deposit button next to Special Offer, and spend $20 |
| Referral Bonus | $10 | Get your buddy to enter your promo code and spend at least $10 |
| Daily Gift | $1 on day 2, $2 on day 3 and $3 on day 7 | Go to Gifts and tap Collect everyday |
| Hourly Bonus | 15 gems | Click Gifts and hit Claim button next to Hourly Bonus box |
| Earn Gems | 60 gems | Click Gifts, hit Watch button, and view a video ad |
| Social Media Bonus | Cash + gems | Answer questions on their Facebook and comment under their posts to go into the draw to win cash and gems |
What Is Bingo Bling?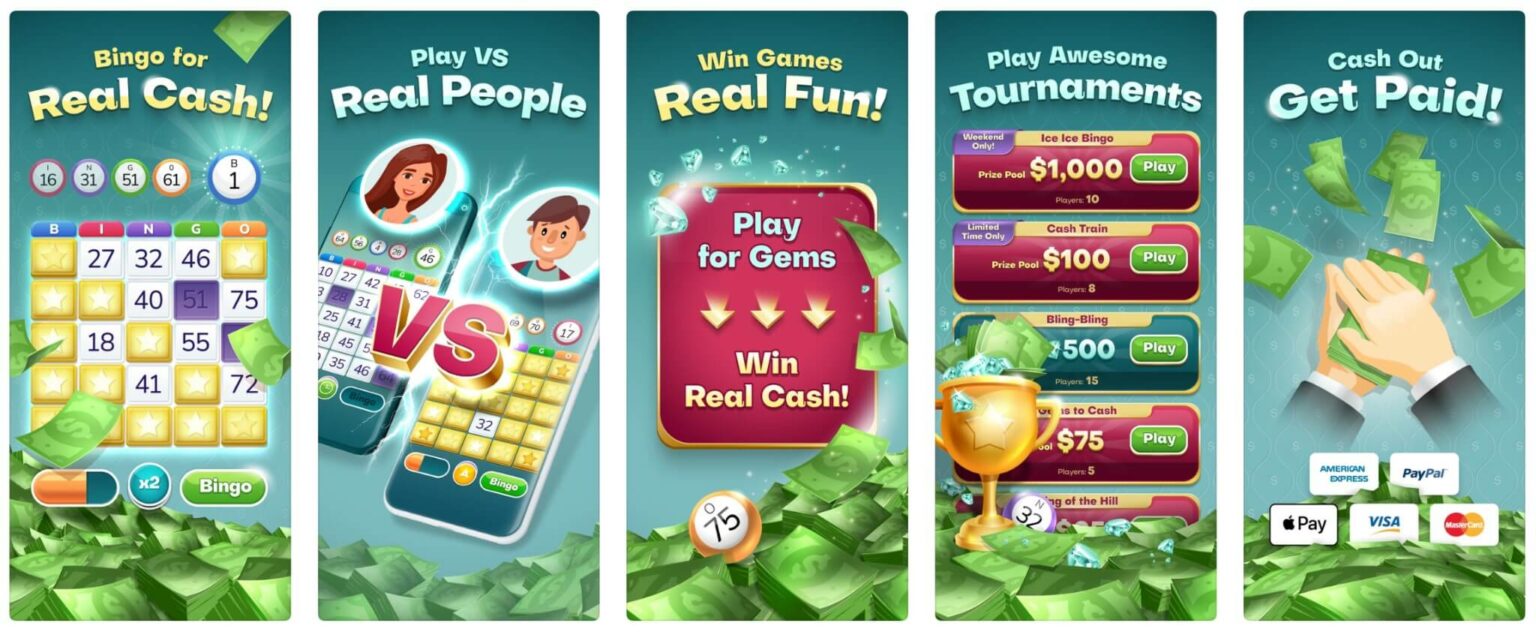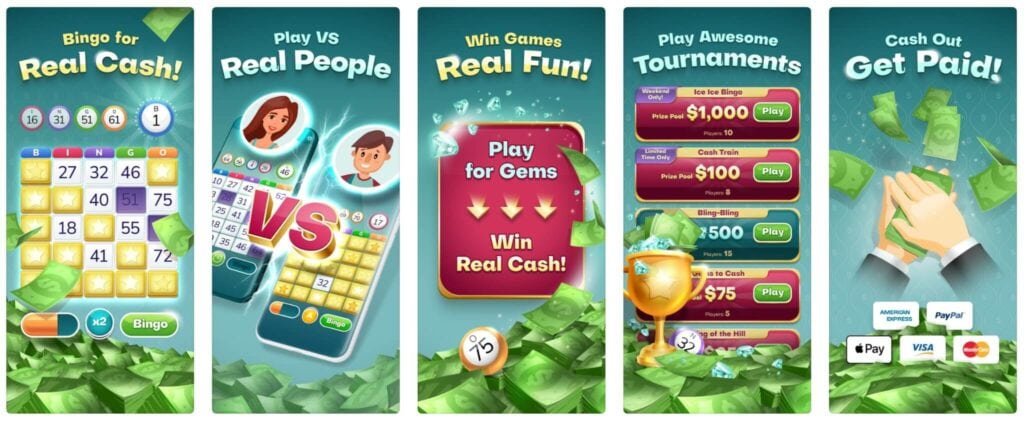 Bingo Bling is a real money app for iPhone where you can play bingo tournaments against other players across the US. They have both paid and free tournaments. Bingo Bling is available in all US states except AZ, AR, CT, DE, IA, KY, MD, LA, SC, VT, or TN, and you must be at least 18 years old.
The goal of the game is to complete your bingo card before the 3-minute timer runs out. The game is not totally random, when the announcer starts announcing balls, you need to tap on them (known as daubing) on your card as quickly as possible if they match with your card. After successfully daubing three squares, you receive a random power up. There are all kinds of power ups, including double winnings, instant wins, and daubs which give you free spaces on your card.
Bingo Bling uses two currencies: cash and gems. Cash is used to play real money tournaments and can be purchased via Apple Pay, PayPal, or credit card. Gems are used to play tournaments for fun. You can withdraw your winnings via PayPal, and the min cashout is $2.
🎱Bingo Bling
🏛️Owner
Game Story
📅Created
2022
📱App
iOS
💵Real Money
✅Yes
🎁No Deposit Bonus
$0.15
✍️Welcome Bonus
$30 cash + $10 bonus cash + 1,000 gems when you spend $30
🎲Games
Bingo
🟡Currencies
Gems, Cash
💳Payment Methods
Apple Pay, credit and card, PayPal
🔞Age Restriction
18 +
🇺🇸 State Availability
All US states except AZ, AR, CT, DE, IA, KY, MD, LA, SC, VT, or TN
Bingo Bling No Deposit Promo Code
There is no Bingo Bling no deposit promo code. Bingo Bling gives you $0.15 when you create an account and play your first bingo game.
However, you can get $5 when you make a purchase of $10 or more and use someone's promo code. Don't believe anyone who says that these codes will unlock a no deposit bonus. This is a lie people tell to get them to use their Bingo Bling promo code.
Bingo Bling Welcome Bonus
When you make a first purchase of $30 at Bingo Bling, you get $30 cash + $10 bonus cash + 1,000 gems. That is a 33% deposit match offer, but you better be quick because it expires 24 hours after you sign up!
How Does Bingo Bling Welcome Bonus Work?
To access the Bingo Bling welcome bonus, simply open the app and tap the First Timer Deal icon in the top right hand of your screen. Then click the Only $30 green button, share your location with the app so they can geo-locate you, and then pay via PayPal, Apple Pay, or credit card.
As soon as you complete the payment, $40 in cash and 1,000 gems will be added to your account. You then can use the cash to take part in fun real money tournaments. The bonus comes with a 1x wagering requirement, so you will have to spend $40 in tournament fees before you can cash out.
Coupon Codes for Current Bingo Bling Players
Bingo Bling is a little cheap on the bonuses, but you can score some free money by claiming these bonuses:
Welcome Bonus – Spend $30 and unlock $10 extra and 1,000 gems. This one-time deal is available from within the app, and you don't have to enter any Bingo Bling promo code.

Daily Bonus – Open the app, go to Gifts, and hit the Collect button. Do this every day to earn gems and cash. On the second day, you will get $1, on day 5, $2, and on day 7, $3.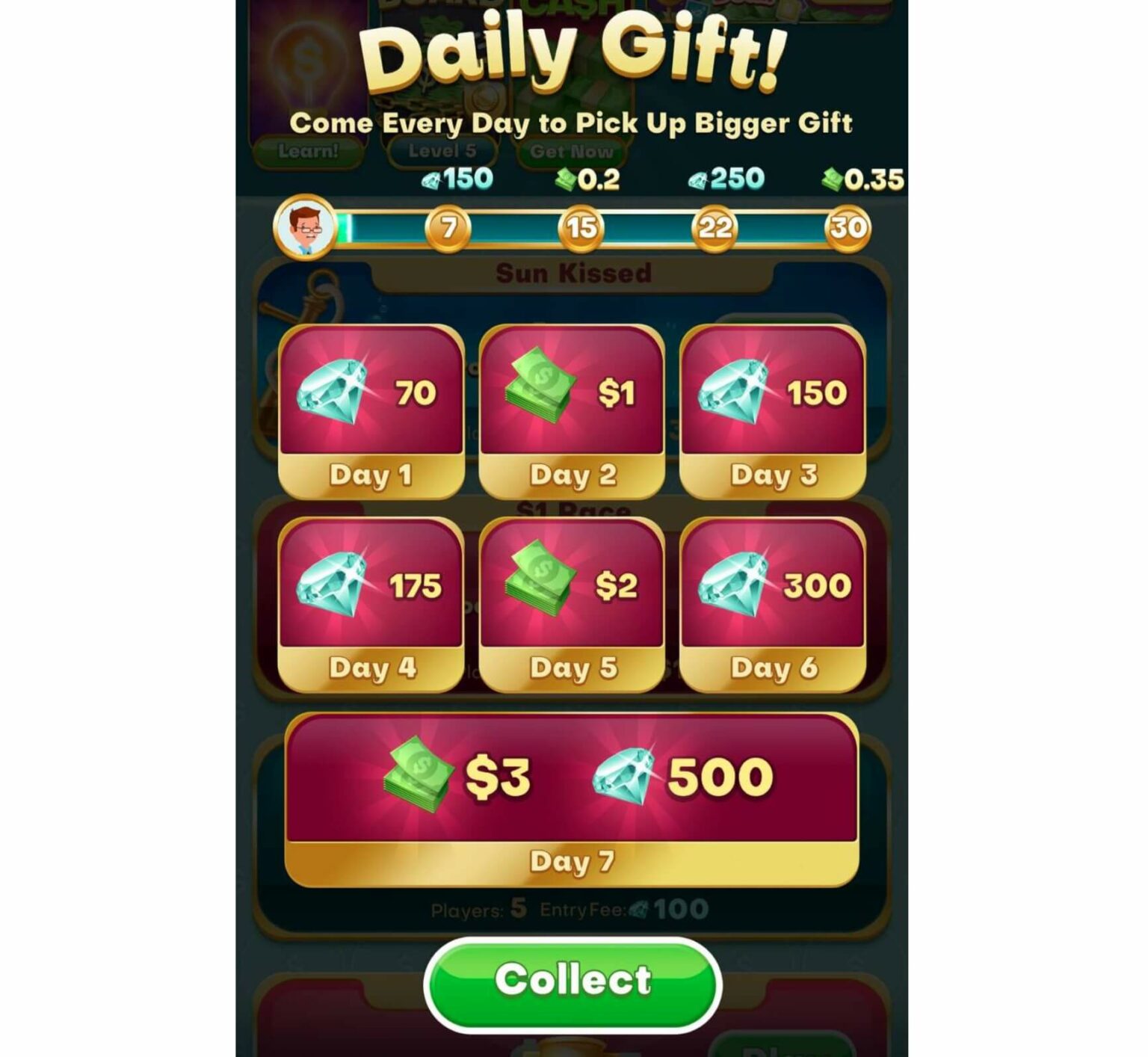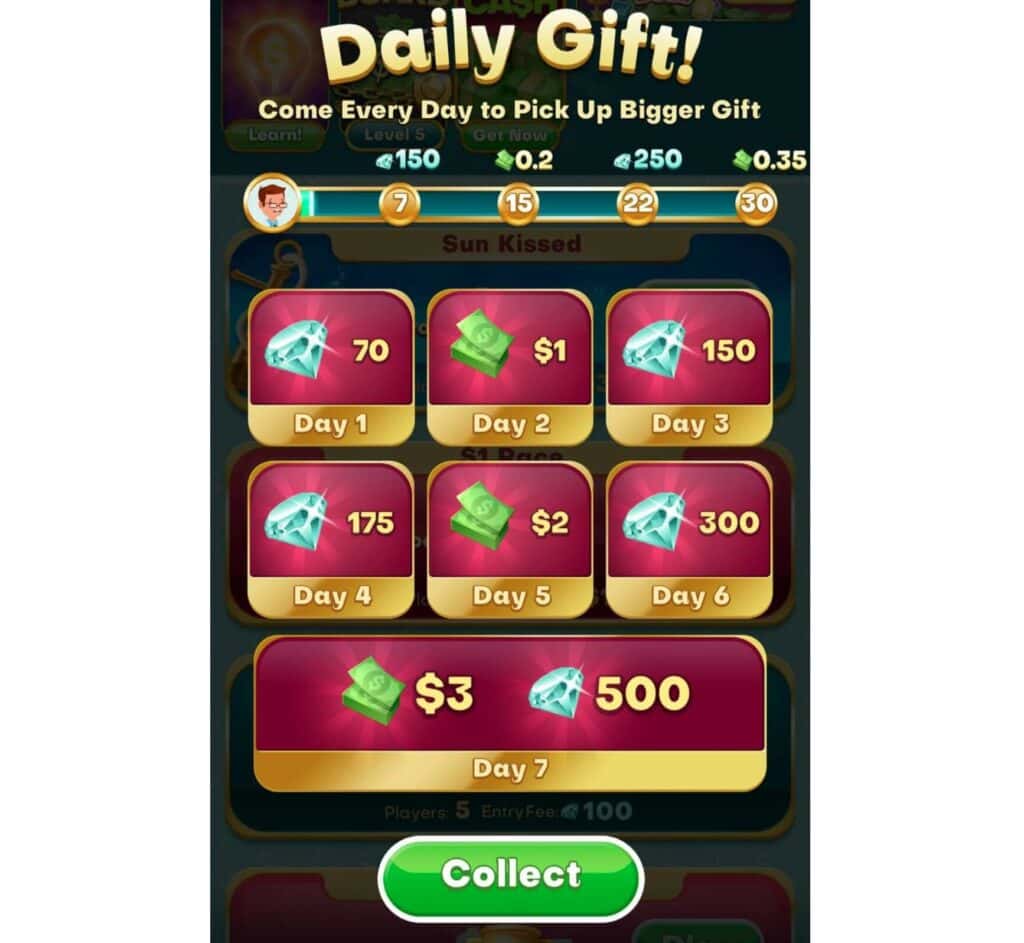 Special Offer – When you spend $20, Bingo Bling will give you $8 extra and 1,200 gems. There is no coupon code required.
Discount Packages – When you make purchases, Bingo Bling will give you additional cash. For example, when you spend $15, you will receive $2 extra, and when you drop $25, you will get $5 extra! You don't need any coupon codes for this offer.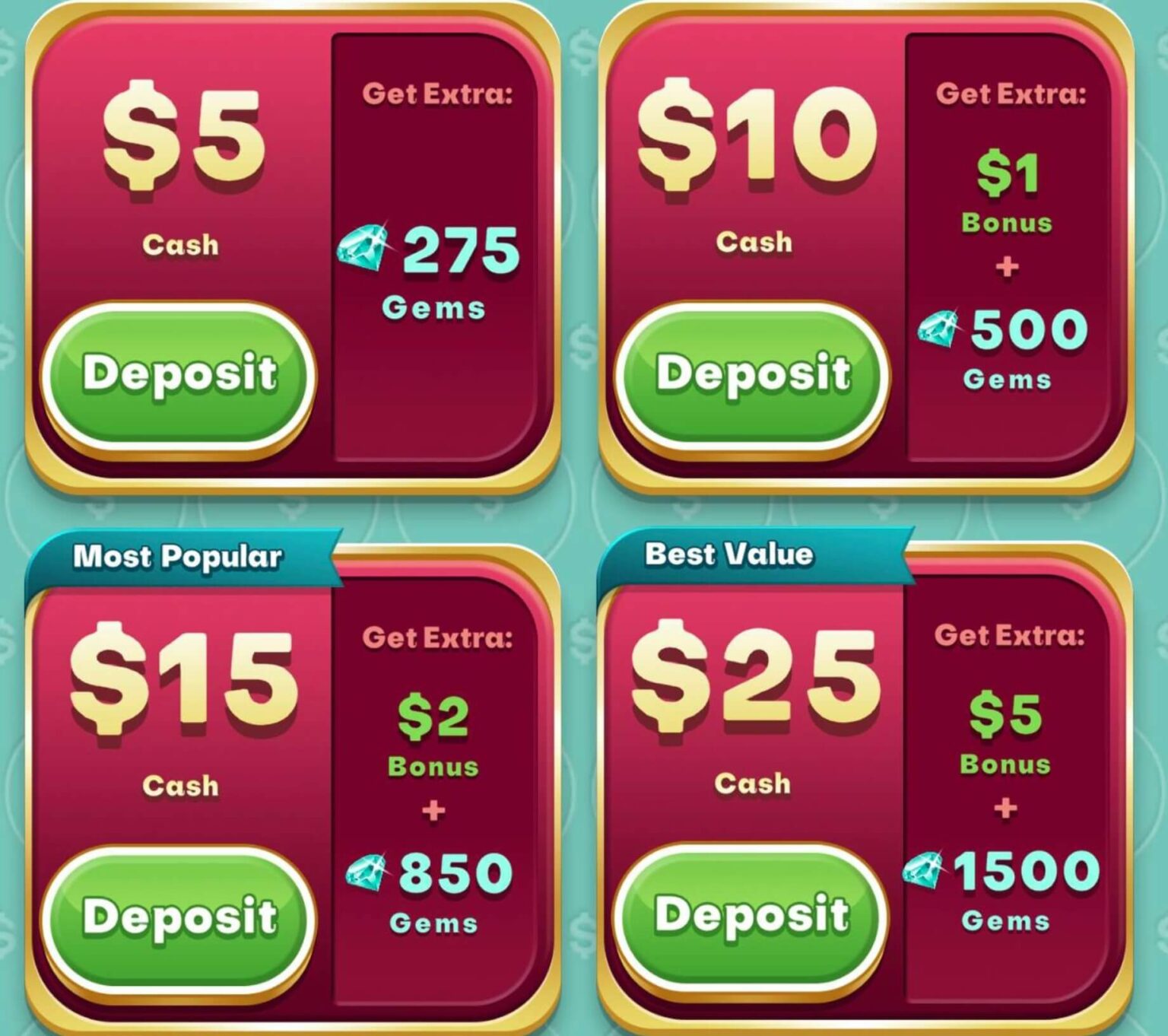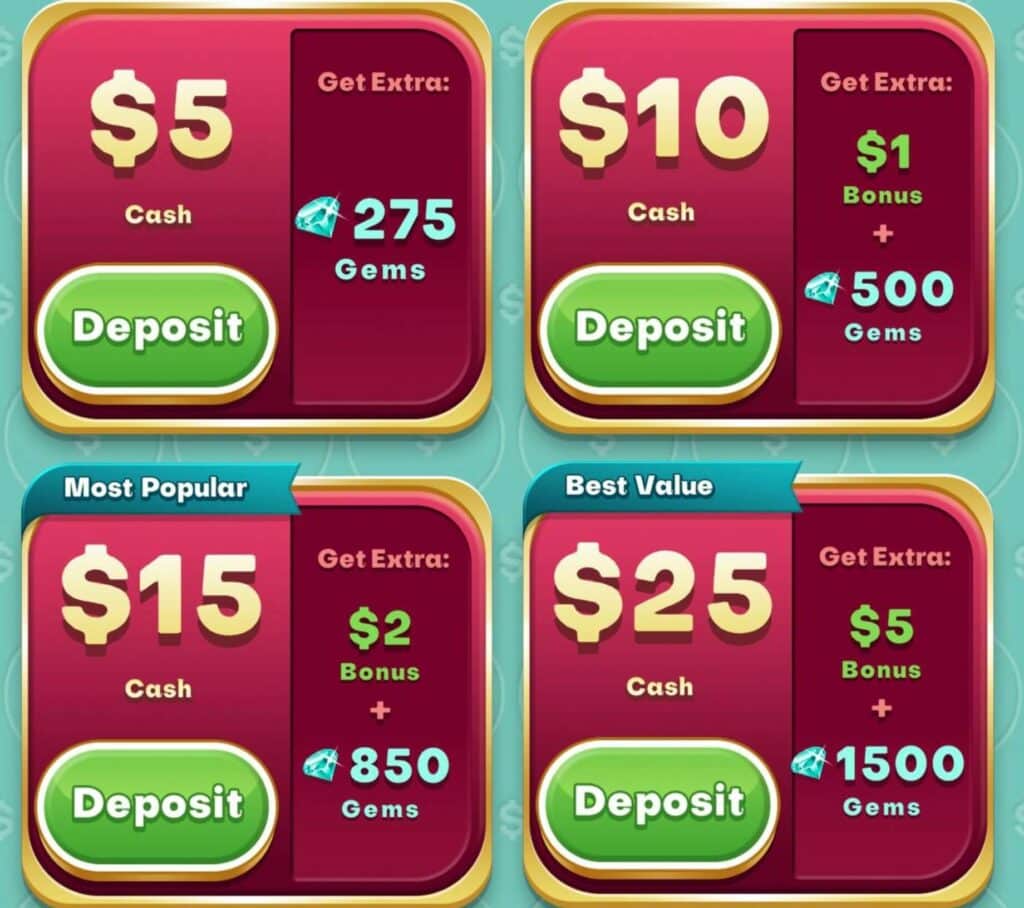 Referral Bonus – Do you have friends who want to try out Bingo Bling? Then get them to enter your promo code and spend at least $10. Once their deposit is processed, $10 will be added to your account. If you go around your local bingo hall signing up everyone, you could make a fortune!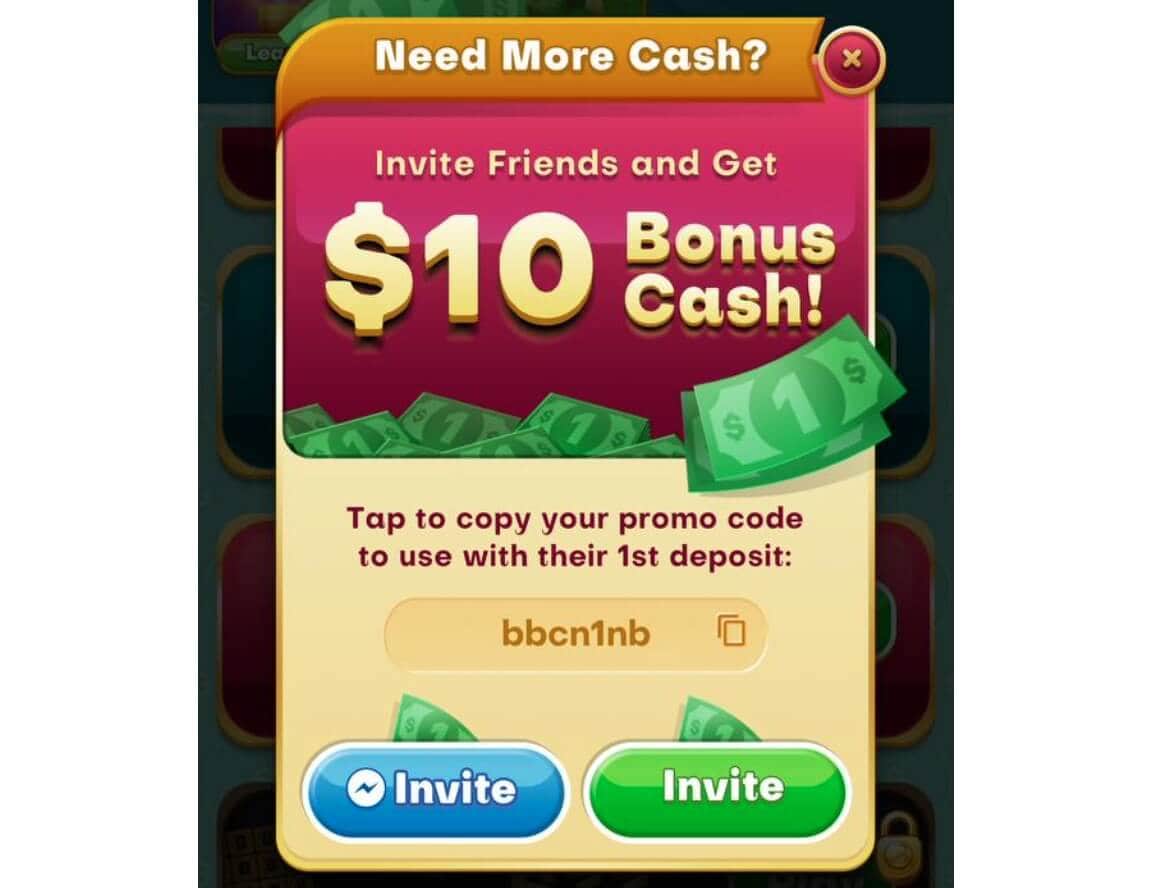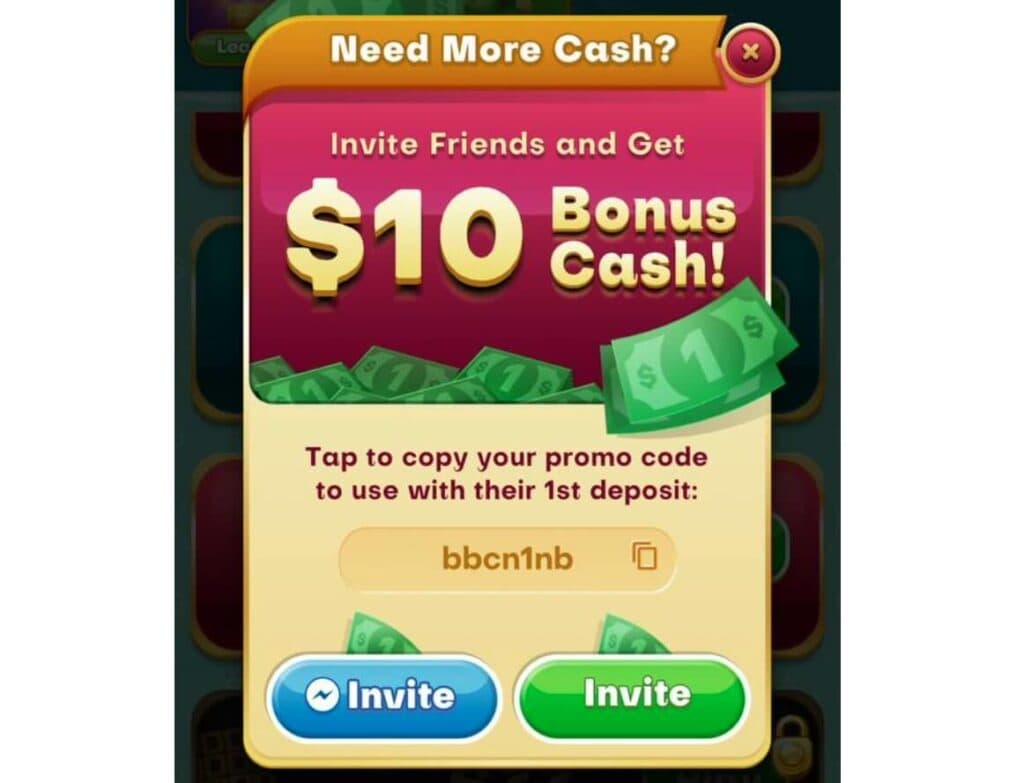 Social Media Bonuses – Bingo Bling is active on Facebook and is constantly hosting giveaways. All you need to do is comment under their Facebook posts to participate, and if you are lucky, you will be randomly chosen and receive gems and cash. For instance, in a recent Facebook giveaway, you just needed to comment where you would like to go on a cruise, and lucky players got $100 and 5,000 gems!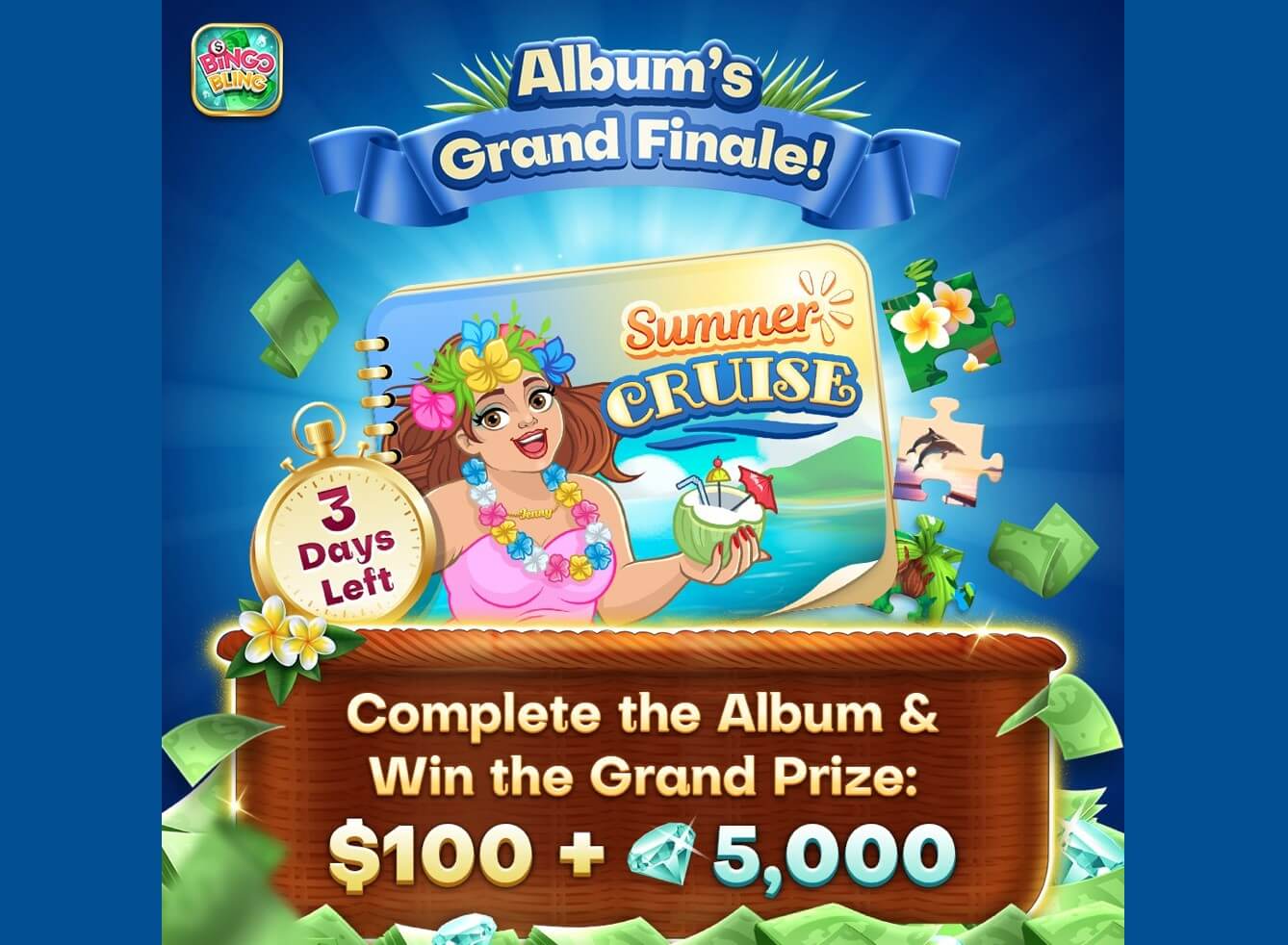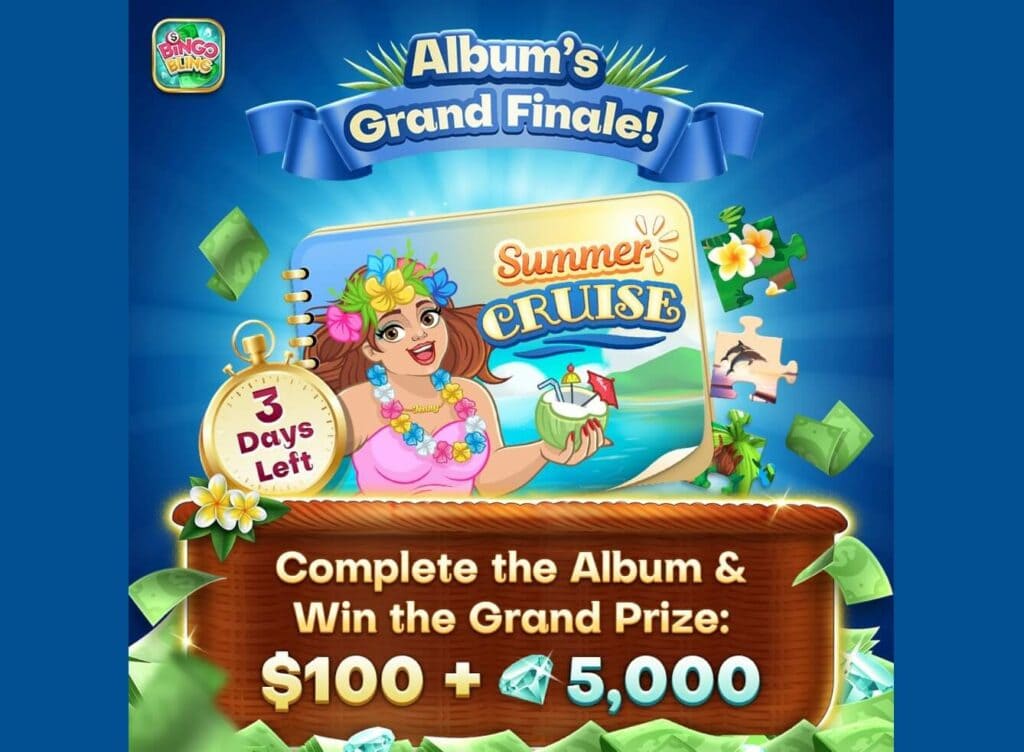 Bingo Bling Promo Terms & Restrictions
To claim Bingo Bling promos, you must be 18 years or older and must not reside in AZ, AR, CT, DE, IA, KY, MD, LA, SC, VT, or TN. The welcome bonus can only be claimed once, and the min deposit is $2 but for withdrawals under $10, there is a $1 fee. There is a 1x wagering requirement for all bonuses, which is easy to complete.
Does Bingo Bling Pay Real Money?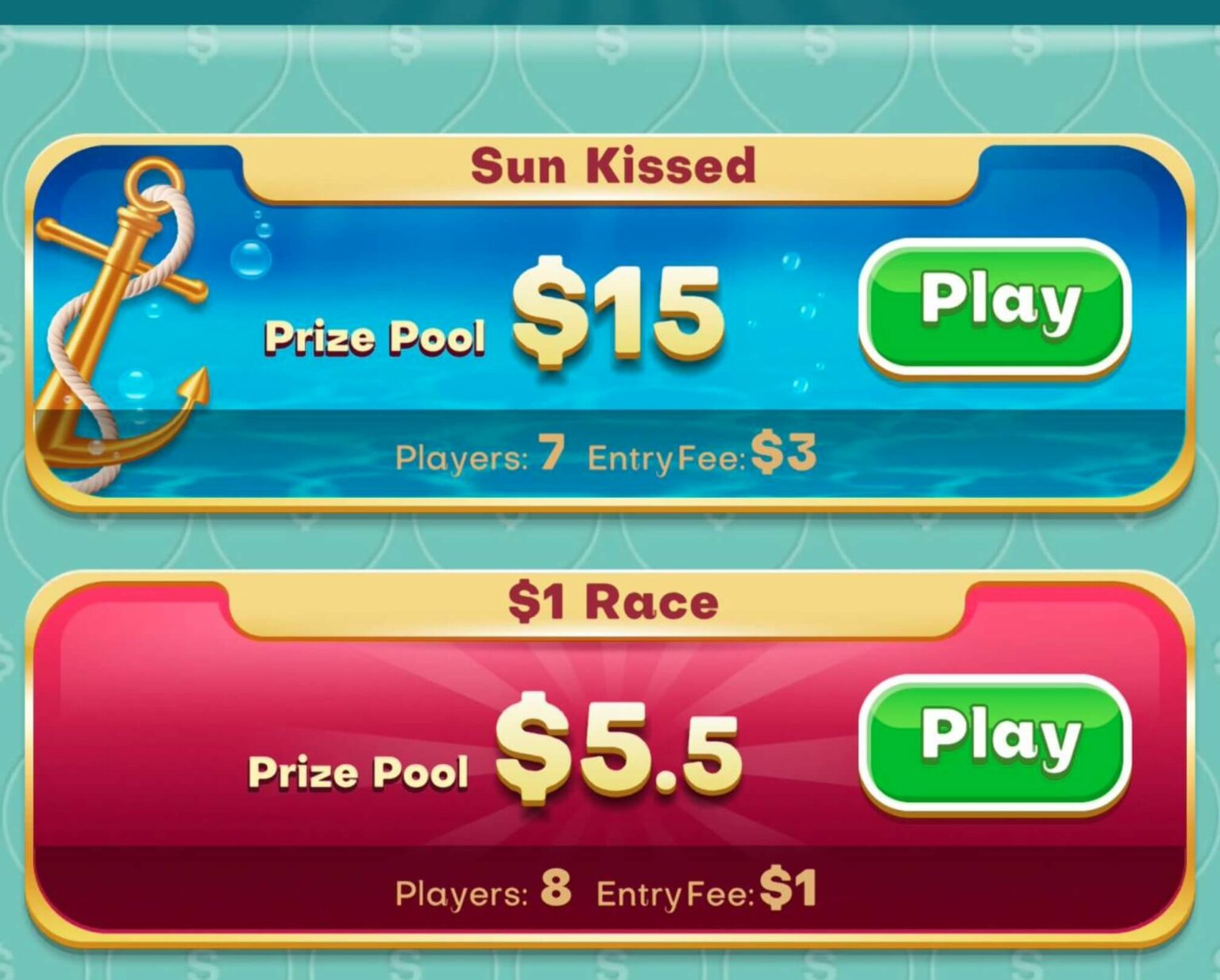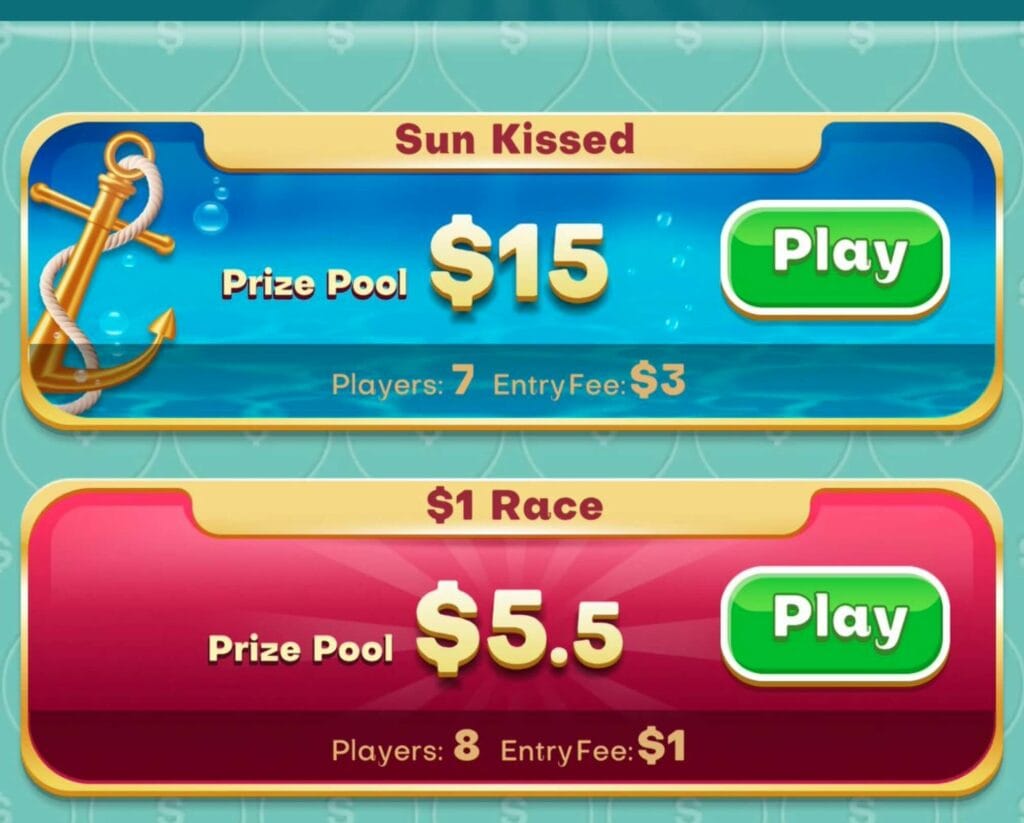 Bingo Bling does pay real money. You win cash prizes by entering in tournaments and competing against other players. When you first sign up, you can play $3 entry 7-man tournaments which feature a $15 prize pool and a $6 first-place prize. Second place takes home $5, third place scoops $3.50, and 4th place gets a $0.5 consolation prize.
If you are on a budget, you can play $1 entry tournaments which have a $5.5 prize pool and 8 players. First place wins $2, second place walks away with $1.4, and 3rd place gets $1.2.
You can also win real money by playing Bingo Bling free roll tournaments. When you spend 3,000 gems, you can take part in $3.5 prize pool tournaments where the winner walks away with $2.50, second place gets $1.30, and third place wins $0.70.
Is Bingo Bling Legit?


Bingo Bling is a legit real money gaming app. They have a 4.8-star rating on the App Store based on over 65,000 reviews. Bingo Bling has a well-designed app, and you can instantly find real money tournaments. Also, it has a low min withdrawal limit of just $2.
However, Bingo Bling charges massive fees. For a 7-man $3 tournament, they take $6 worth of rake which is 28.5% of the prize pool. For example, Pokerstars only takes a maximum of 10% of the prize pool for its poker tournaments and often as little as 6%. The high fees make it incredibly difficult to be a long-term winner. If you compete in 10 tournaments, you need to win 5 just to break even.
Another problem is the very low stakes. The max prize is just $6. You are going to have to win hundreds of bingo games to make any decent money. The free play options are also limited. They only have very low stakes free rolls, which you can enter using gems. To win real money, you have to deposit and risk your own cash.
Real Cash Apps Like Bingo Bling
Other real cash apps that offer real money bingo include Pulsz Bingo and Bingoport. Pulsz Bingo has 6 different bingo games, including Bingo Blast, Route 66, Big Apple, Golden Gate, Empire State, and Hollywood. Pulsz has everything from classic bingo to progressive jackpots to unique games which feature blasts that instantly shrink the player pool.
Bingo Bling can't compete with the variety on offer at Pulsz Bingo. Also, Bingo Bling's max prize looks embarrassing compared to Pulsz's $4,000 jackpot! Bingoport also offers excellent prizes, you can win up to $500 from a single game, at Bingo Bling, you would have to win nearly 100 tournaments in a row to hit that.
Bingoport and Pulsz Bingo also have Bingo Bling beat when it comes to availability. At Bingoport, you can legally win cash prizes in 50 US states, and Pulsz Bingo offers real money play in 48 US states, while Bingo Bling only has real money tournaments in 39 US states. If you are located in AZ, AR, CT, DE, IA, KY, MD, LA, SC, VT, or TN, then pop over to Pulsz Bingo or Bingoport.
Bingo Bling is pretty cheap when it comes to bonuses. They have a very low $0.15 no deposit bonus and only give away a few dollars per week via the daily bonus. To win real money, you have to deposit and reach into your own wallet.
In contrast, Pulsz Bingo gives you $2 when you sign up, they also have a 200% first purchase bonus which smashes Bingo Bling's 33% offer. Also, when you send Puslz Bingo a handwritten letter, they will give you $5 for free, and you can claim this bonus as many times as you want!
Summary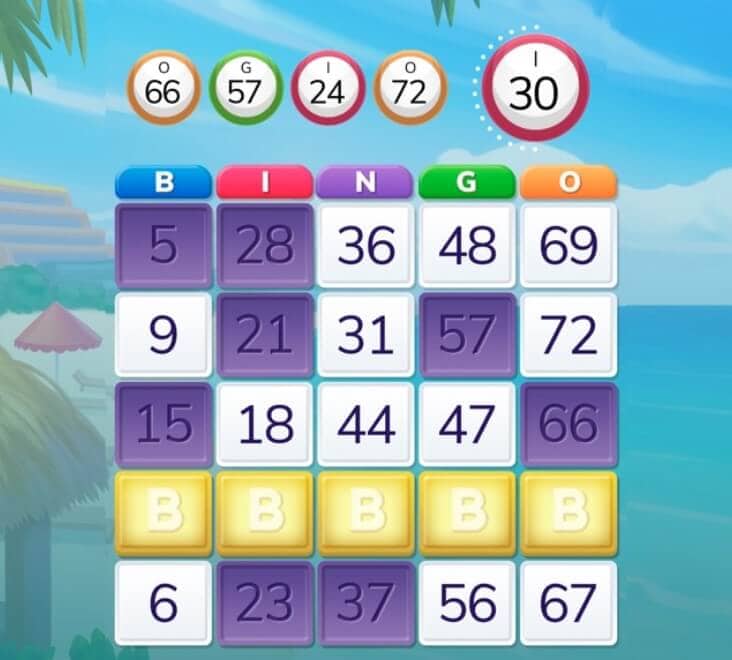 Bingo Bling is an exciting bingo iOS app which offers real money tournaments. You can battle against players all across America in a thrilling skill-based version of bingo, where you get rewards for daubing balls quickly.
While the app is fully legit, offers fast and secure payment methods, including PayPal, Apple Pay, and credit/debit cards, and has an impressive 4.8 rating on the App Store, there are a few glaring problems. The max you can win from a Bingo Bling tournament is only $6. It gets even worse, Bingo Bling takes a shocking 28.5% of the prize pool as its fees. Just to break even, you need to win every second tournament you play. Also, their $0.15 no deposit bonus is straight-up pathetic!
That is why we recommend playing at Pulsz Bingo. This exciting sweepstakes casino has 6 unique bingo games. You can win as much as $4,000 from a single bingo game! Also, if you ever get bored, you can check out their 200 + slots from NetEnt and Pragmatic Play. Sign up via this link and get a $2 no deposit bonus + a 200% first purchase bonus when you spend just $30!